Nici Wickes revels in the joy of cooking for one. Her new book is full of unique and versatile meals that can be whipped up in no time for solo diners and easily adapted if you have company.
I cook this great Middle Eastern street food for myself, or if I've got guests, it's a fun dish to eat together with everyone building their own.
Serves: 1

Ingredients

Marinated lamb
1 teaspoon each ground cumin and coriander
¼ teaspoon ground turmeric
2 tablespoons olive oil
salt and pepper
a squeeze of lemon juice
2 lamb loin chops per serving
Garlic yoghurt
¾ cup natural yoghurt
1 small clove garlic
2 tablespoons chopped mint
salt to taste
Cabbage salad
1 cup finely shredded cabbage
1 medium carrot, grated
1 Lebanese cucumber, thinly sliced
½ handful of chopped coriander leaves and stalks
To assemble
Lebanese bread, store-bought or homemade pita bread (see page 69)
store-bought chilli sauce
fresh mint and coriander leaves

Method

1. Combine all of the marinade ingredients and marinate the lamb for 10-15 minutes.
2. Cook on a barbecue or in a pan to medium rare. Rest and slice into pieces, removing the bone.
3. Place yoghurt in a small bowl and grate garlic on top. Stir through mint and season with salt.
4. To make the cabbage salad, briefly massage cabbage to soften then toss all the ingredients together. To assemble, spread warmed flatbread with garlic yoghurt. Top with cabbage salad and lamb. Top with another decent dollop of garlic yoghurt, chilli sauce and fresh mint and coriander. Fold and eat!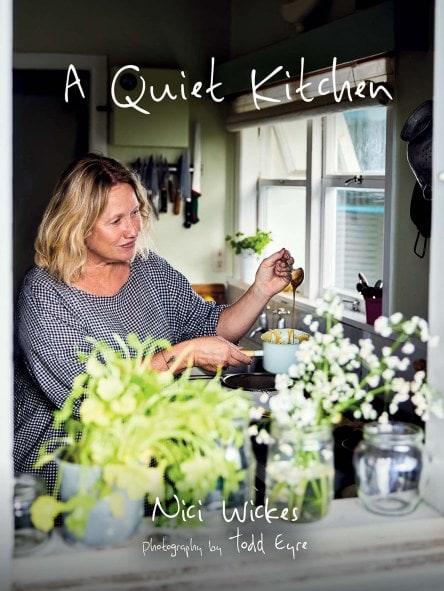 Extracted from A Quiet Kitchen by Nici Wickes.
Photography by Todd Eyre (David Bateman, RRP $45).