When the garden obsessed Julia Atkinson-Dunn first learnt to garden in her 40's not only did her backyard blossom but she found a whole new world bursting with positivity and equanimity.
On the surface, Julia Atkinson-Dunn's fabulous book A Guided Discovery of Gardening offers all the valuable basics needed to arm beginner gardeners with the confidence to create outdoor spaces that they will cherish. At a deeper level, through her beautiful photography and shared personal experiences of learning to garden, Julia opens the door to the creativity and endless positive effects the process of gardening has to offer. She has a particularly relatable tone and voice as a gardener in her early 40's.
A Guided Discovery of Gardening Extract: Bold-bloomed Perennials, The Clowns Of The Garden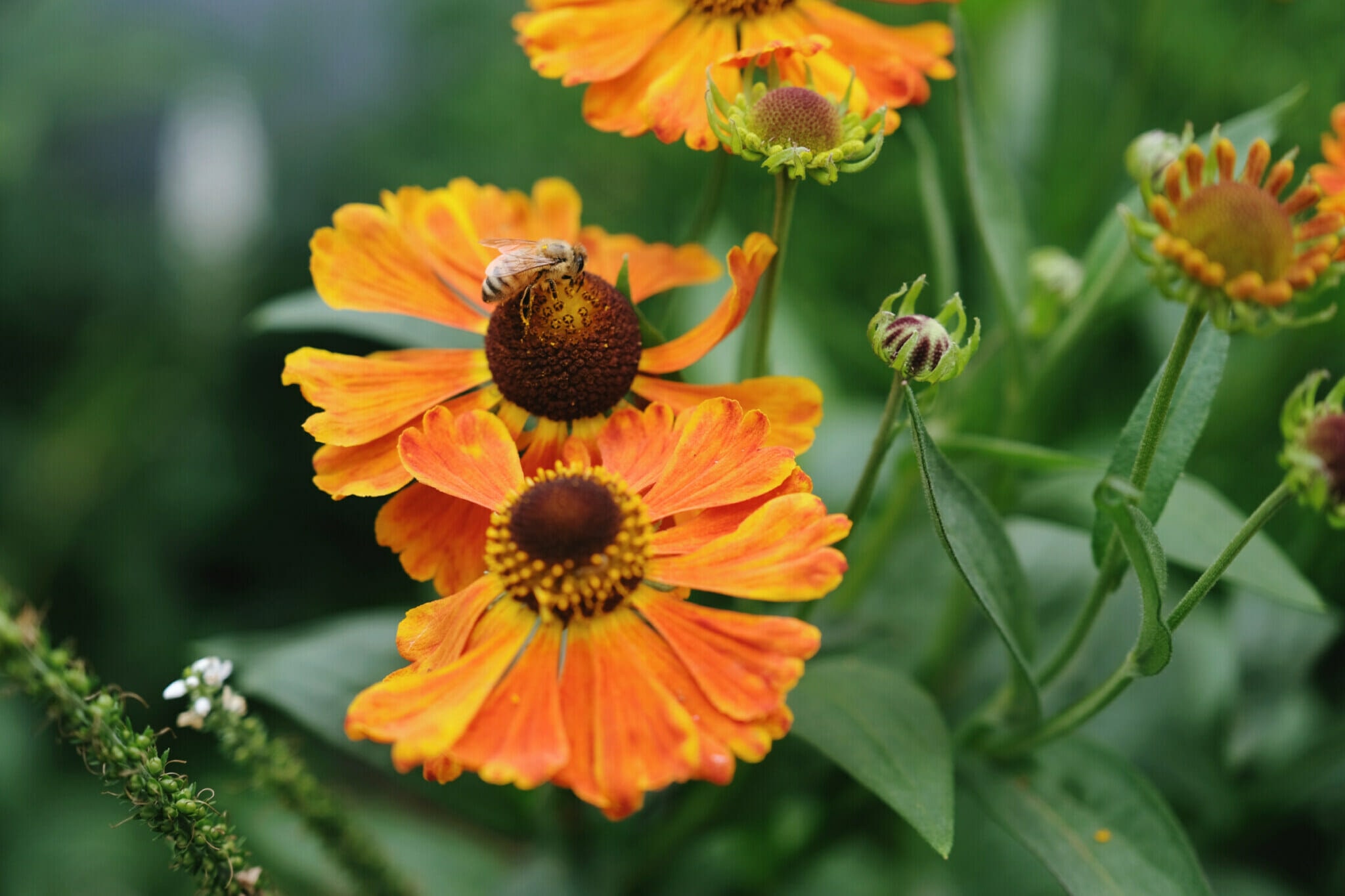 I feel it's quite common for new gardeners to want to translate their interior aesthetic to their outside spaces. And if that is very monochromatic, simplified or 'Marie Kondo-esque', then they often find themselves ruling out bright flowers (if flowers are allowed at all), thinking that colour remains their archenemy even beyond their living room and wardrobe.
What I have discovered is that colour behaves really differently when produced by Mother Nature. For instance, I would never buy a red top or an orange cushion but I have come to prize my hot geums, and obsessively collect punchy rudbeckia. Somehow my garden is full of purple blooms, my longest disliked colour – I find myself in a love affair with the entire spectrum when applied to petals. Colour in the garden comes part in parcel with texture and form, adding the dimension that any good space requires to deliver that interesting, seasonal vibe.
My love for clownish echinacea, rudbeckia and now helenium still surprises me; it reveals a part of my style-psyche I didn't know existed. They are so outrageously graphic in shape and form it is an endless wonder that they are 'natural' and not in fact 3D-printed from a child's colouring book. All present prominent cone/dome-shaped centres that change as the season progresses, offering interest well beyond the demise of their petals. Each of these species is incredibly long-flowering – right into autumn – excellent for picking, and undoubtedly adds interest when dotted through airy, soft planting.
Counting up, I found I now have nine varieties of echinacea establishing themselves around the place. They are such a terrific example of a summer flowering perennial, bringing all of the advantages – steadily increasing displays every year, pleasing cut-and-come-again blooms and an abundance of seeds to collect and feed your bird population.
My own collection began with the classic pink-petaled Echinacea purpurea, the amber cone and starry shape of which really can't be beaten. The word echinacea is derived from the Greek meaning 'spiny one' in reference to sea urchins. Purpurea means 'reddish-purple' and refers to the classic lipstick tones of the common ray-shaped petals.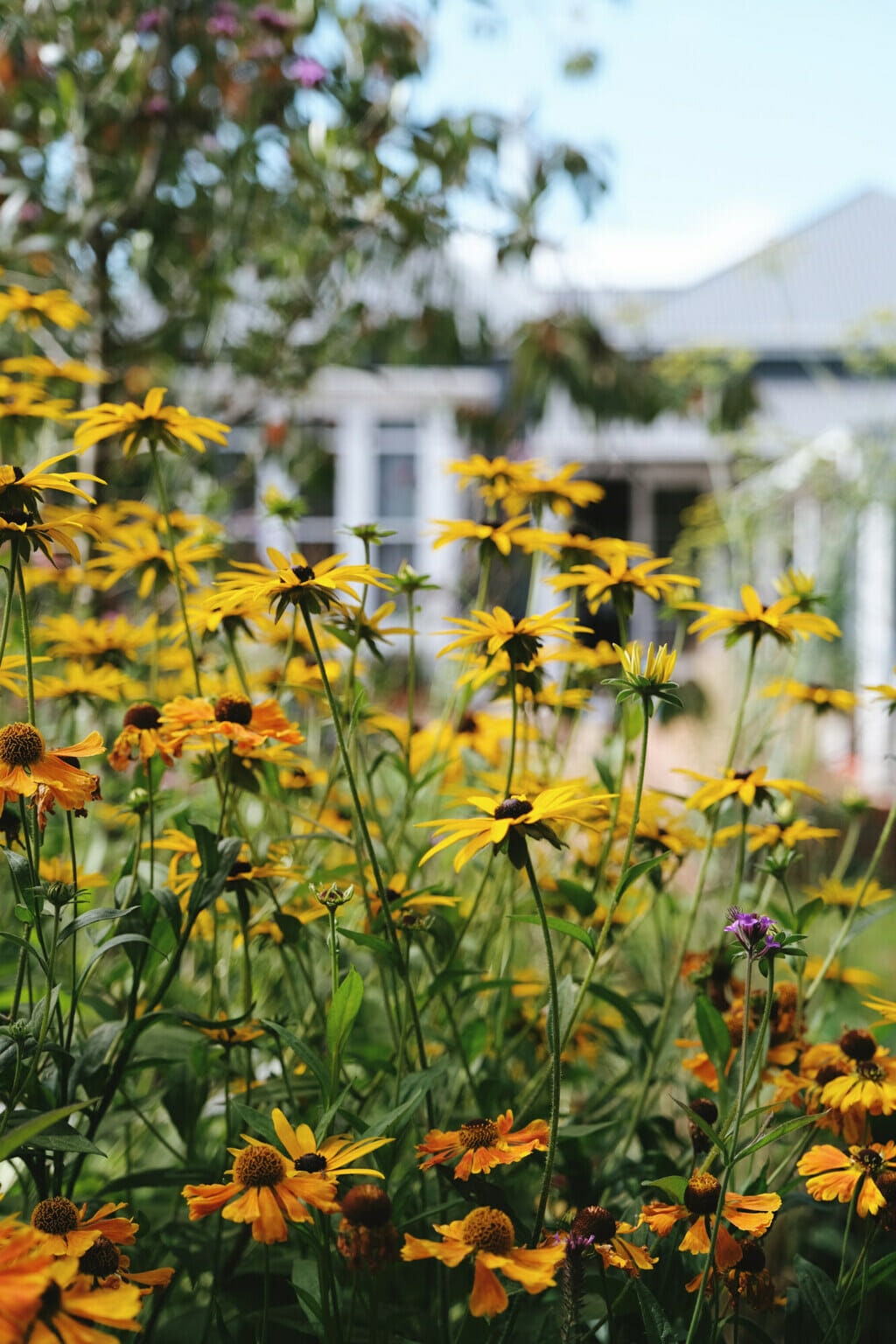 You will find many slightly different varieties under this species, with one of my favourites being bold 'Magnus', which sports a giant plump cone and flat fan of petals. A great place for the less confident to start is with the soft white varieties of 'Baby Swan White', 'Primadonna White' and 'Alba'. But once you catch the echinacea bug, browse around the options of Echinacea angustifolia and Echinacea pallida varieties, the latter with interesting droopy petals. Specifically, investigate varieties like 'Green Twister' for strange green and pink petals or attractive 'Mango', which is small and impossibly peach!
I have waded through years of experimenting with rudbeckia, testing both perennial and annual varieties. It's the former that has grabbed me and their brilliant performances have overtaken my expectations, resulting in orange explosions throughout my garden.
A standout for me is the very tall-growing 'Irish Eyes', with its large sculptural blooms and a centre that starts as pale green and deepens to brown. I especially love my thick stand of Rudbeckia fulgida var. Deamii, which is far more delicate, producing nice straight stems and delicate star-shaped blooms up to 1m high. The one I covet the most, however, is Rudbeckia laciniata, with its green cones and delicate yellow petals. I have also dipped my toe into the land of heleniums. I was initially unsure of their predominately 'hot' range of colour varieties. The old me still sends a subconscious warning when considering anything orange! But the multiple plants I have (divided from just one) are impactful and abundant, flowering right through summer. They outlast every single neighbour in a vase and their petite form is great fun to dot through arrangements.
A Chat With Julia Atkinson-Dunn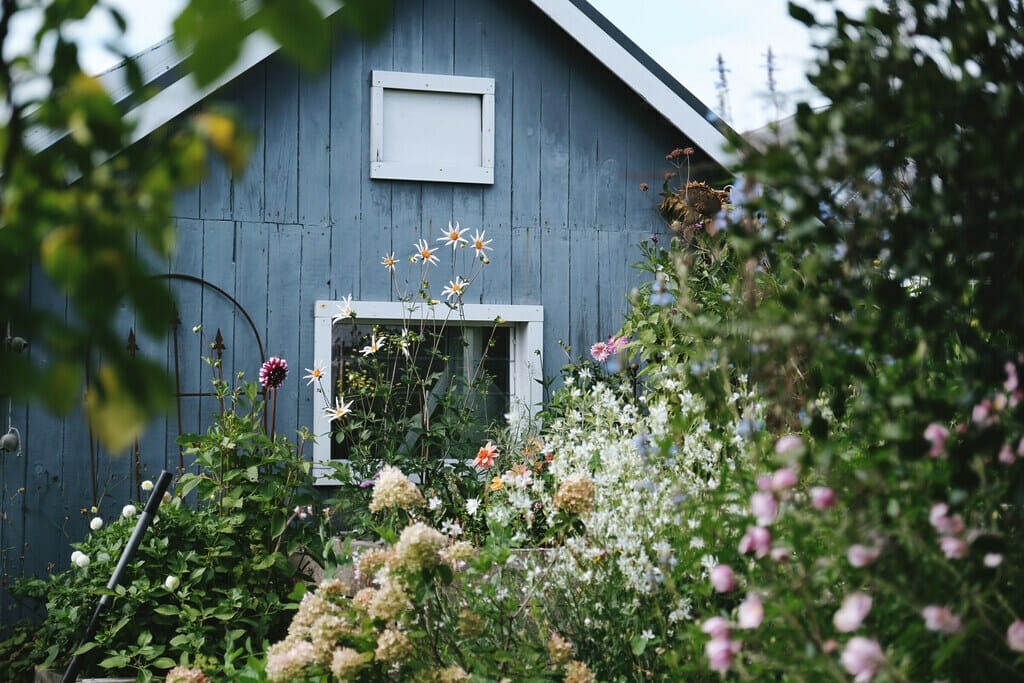 What was one incident which made you realise that your gardening interest had moved from merely interest to obsessed?
Through my twenties and early thirties, my passions lay firmly in the realms of interior design, art and architecture. I was pretty much devoid of any interest in gardening beyond my small house plant collection and I believe this was largely due to renting rather than owning the homes I lived in. While I appreciated garden spaces, I didn't have any drive to explore growing myself until we purchased our old villa in Linwood, Christchurch in early 2017. I deeply loved the house and my fingers itched to personalise it but I was surprised when I realised the nesting potential that existed for me in the garden as well. I had no idea how to start but would quizz my mum and pour over the basics in the Yates Garden Guide. Slowly I inched forward by planting (completely inappropriate plants!) and learning as I tumbled through some pretty misguided experimentation. It was in our first full summer with our new property that I found myself outside gardening with a headtorch, referring to piles of gardening books and forcing my husband to watch reruns of BBC Gardeners World on YouTube. I was well and truly enamoured by all that gardening had given me in such a short time, a state I remain in today!
Can you share some of your favourite gardening experiences that have brought you joy and fulfillment?
As a true beginner, it was the 'win' of my debut flowering plants – Iceland poppies and cosmos, nodding in happiness together. I think seeing the fruition of something you have planted and cared for, whether it be flowers or food, is the real hook that captures the emotionally rewarding aspects of growing for me. In the years since we have made some bold changes by expanding beds into the lawn, replanting whole areas from scratch and building brick raised beds. My husband is a bricklayer and a very productive and handy person, so he has pushed me forward when I've been paralysed by indecision! As a result, we have this beautiful little seasonal realm that reflects our life and work together, something that fills us both with a lot of joy!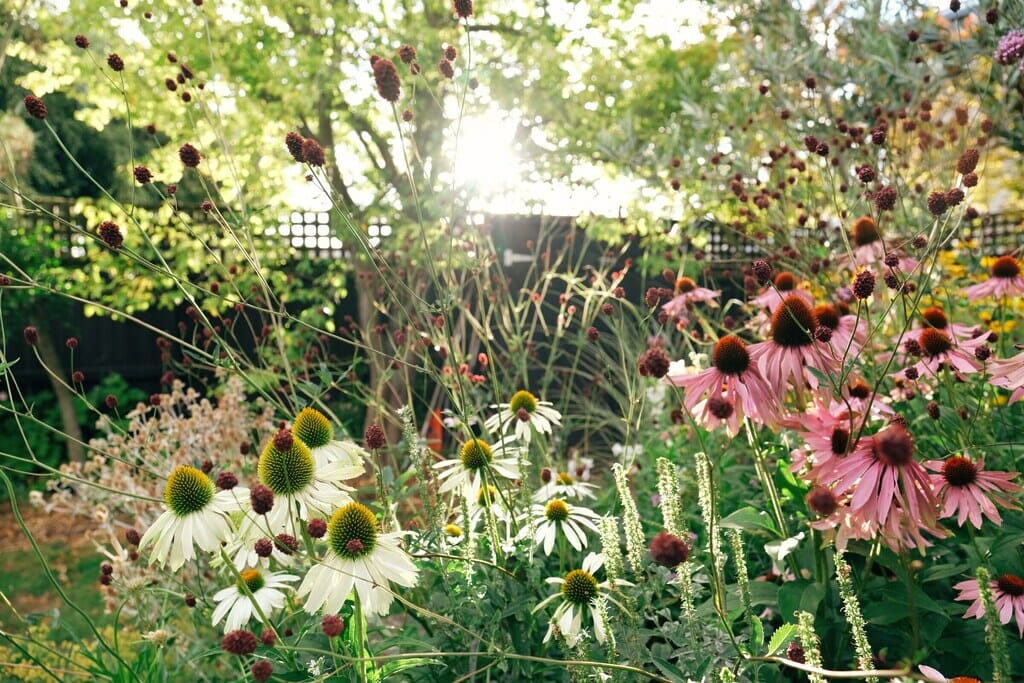 Beyond the physical work and planning of our own space, gardening has opened the gate to a whole new chapter of my professional life. For 10 years I wrote, photographed and independently published online, sharing the work of creative people from Australia and New Zealand. As I found my love for gardening I recognised the gaps of accessible knowledge and advice that were missing for me, particularly from a local standpoint and delivered with a friendly, modern angle. There was ample information about vegetable growing but very little on ornamental gardening and design for beginners. Over the last five years, I have written and shared my own experiences and researched well beyond this. The opportunity to write a newspaper column about gardening and then two books in quick succession in 2021 with Koa Press were a surprising and welcome result that encouraged me to keep sharing. Following the completion of'A Guided Discovery of Gardening' earlier this year, I launched my own online gardening magazine and archive called Unearthed, where I can continue the incredibly fulfilling work of interviewing gardeners and spotlighting approaches to growing. Gardening has allowed me to achieve more of my writing dreams than I could have hoped for.
How has gardening positively impacted your life and what are some of the specific benefits you've noticed either mentally or physically?
As a non-gardener, the perceived physical labour of gardening didn't appeal to me at all – if anything it was a confusing barrier. But as I started caring for my beds and plants, I was surprised at how energised and satisfied I would feel at the end of the day. From my own experience, it's the actual 'gardening' – weeding, planting, standing and staring that has been the most beneficial to me! A friend once said 'Gardening shouldn't feel like housework' and I thoroughly agree. In saying this, I take a pretty casual approach to my urban plot and don't push myself out there in the soggy weather or fret when my clover starts its march for domination again. I've found that my garden will wait for me and a nice sunny weekend to polish it up.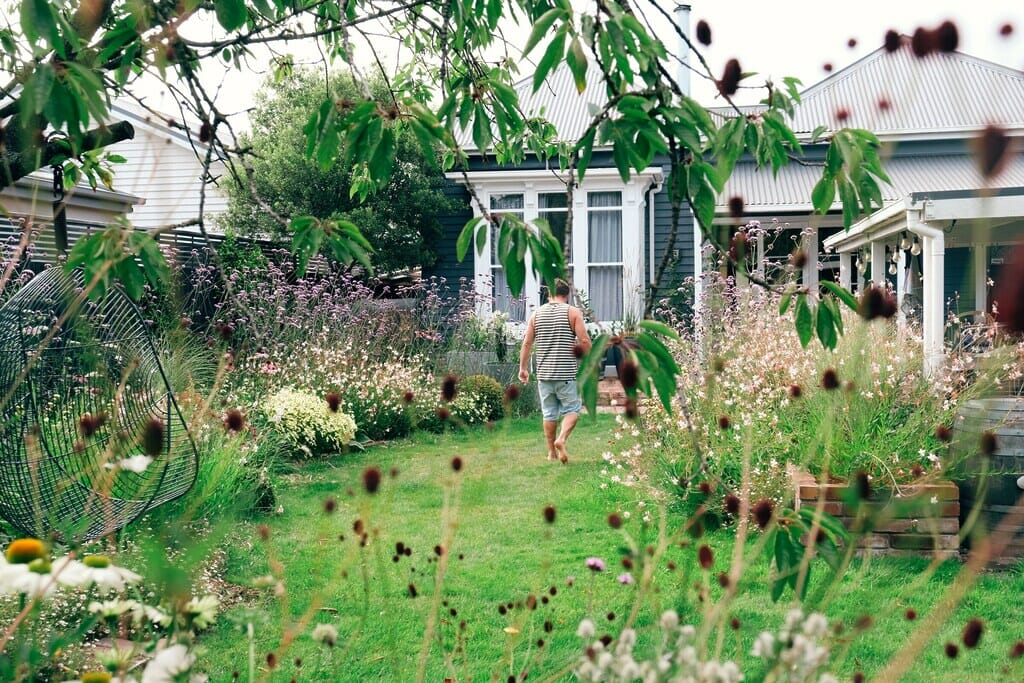 In mid-2021 my husband and I found ourselves at the end of a failed IVF cycle after a three-year journey to have a baby. I can say with honesty that my garden provided an incredible refuge and distraction through all the enormous disappointments and frustrations of this time. With our decision to move on with our lives as a small family of two, the garden was there as a positive focus as I took a fresh look at what my life might be like on this different course. On reflection, I understand now that when I am down on the ground with my hand hoe, or chopping back plants for winter, my mind isn't racing around, instead I'm simply engaged in the job at hand, in the moment and at peace. I often wonder how I would be if I didn't have this passion in my life.
Are there any challenges or obstacles you've encountered in your gardening journey and how have you managed to overcome them?
There haven't been any major ones I can think of as I think that gardening itself really is just unending learning, experimenting and problem-solving.
Recently have you noticed any changes in your gardening habits or emotions related to gardening that you'd like to discuss or explore further?
I am really curious about the approach that gardeners take with their piece of earth, no matter the size. Their choice of plants, how they curate, the design of the space and to what extent they pursue their goals. As I've settled into my own vision at home, I have found my appreciation of other garden styles widen, finding admiration for spaces that might not necessarily be of my personal taste, but reflect their gardener's personal aesthetic and passions. I've come to realise that gardens are a true creative result of a person's work and I feel so compelled to explore this further through Unearthed.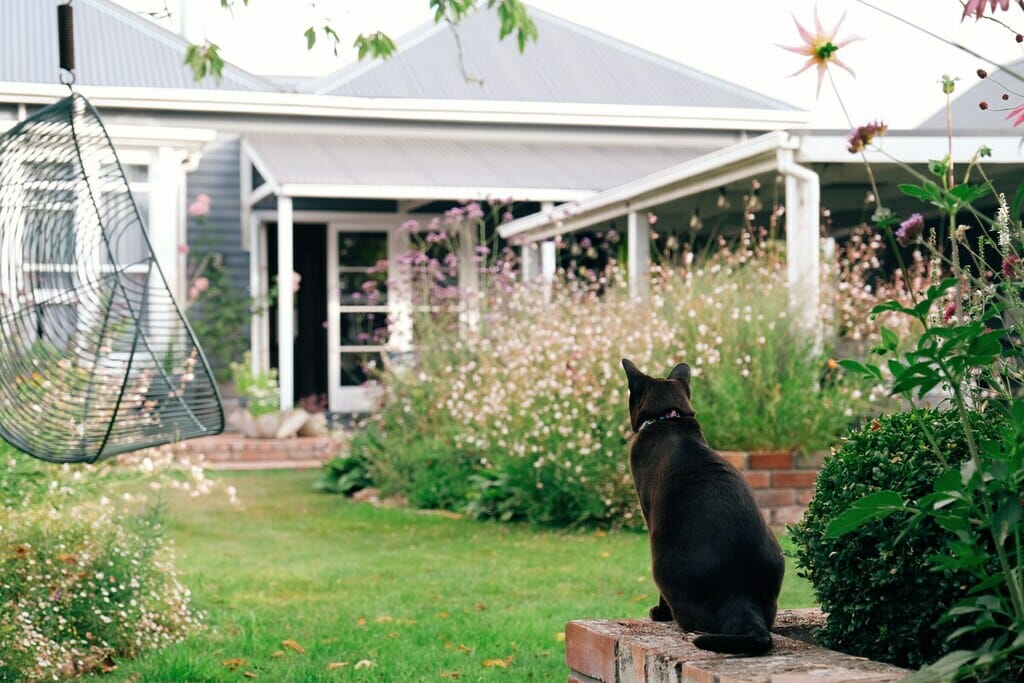 Through my writing, I have interviewed many exciting and forward-thinking gardeners who have had a huge influence on my own approach to growing as well as tipping me into deep research on ideas that I don't know much about. In the last few years, I have experimented with mixed perennial and grass beds which are really visually gratifying but equally tough and resilient when faced with the harsh swings of seasonal conditions. I've chosen specimens with low water needs and by mulching and planting tightly, I've radically reduced the ground's risk of evaporation and opportunities for weeds. This has led me to reduce my water use by at least two-thirds and I enjoy a largely 'hands-off' approach before a major cut back each winter, ready for the growing seasons to begin again. The wild vibe of my planting and very changeable display in each season has been so rewarding and of course, is spurring on further tweaks and changes!
Related Article: Steps to Becoming a Climate-friendly Gardener