Award-winning Covid-19 communicator Siouxsie Wiles tells Wendyl Nissen about why she'd like to learn to say no, her battles with online bullies and how staying authentic, no matter what others think, is so important.
Siouxsie Wiles is running late. Not late, late. Just 20 minutes late, and it's okay. Because as we all know, the microbiologist and science communicator is a very busy person.
It's thanks to Siouxsie, 46, that many of us waded our way through the beginnings of the Covid-19 pandemic last year, and understood what was happening to us through her well-written columns, and the cartoons and diagrams she worked on with Toby Morris. If you were at all confused, Siouxsie was there to take the science, interpret it and let us know what was happening. She helped us feel safe and calm.
So if she's late, that's absolutely fine with me.
It's a rainy, early-winter morning in Auckland and Siouxsie arrives, not on her bike, which is her usual mode of transport, but on the bus. Her pink umbrella matches her pink hair and she is reassuringly wearing her trusty Doc Marten boots.
Before we start to chat, she sets an alarm on her phone to remind her to get going to her next meeting, because she's going to be late all day now.
"I just finished recording my lecture for my students, which I have to miss this afternoon," she says, as she orders a hot chocolate and settles in for a good talk.
Because Siouxsie doesn't just chat. She fixes you with her green eyes and devotes herself to the conversation. She is a woman with a message, and she really doesn't have time to waste on anything else.
Before Covid-19, Siouxsie was well known as an expert communicator who was already busy answering queries from journalists on anything to do with science that we didn't understand, as well as running several research projects as Associate Professor and head of the Bioluminescent Superbugs Lab at the University of Auckland.
After the pandemic hit, she became something of a superstar, not just here in New Zealand, but internationally, and she was given the New Zealander of the Year Award earlier this year.
She agrees that her life has changed.
"I really need to learn how to say no. At the moment I'm managing week to week, but I am worried because I'm not sure how long I can sustain it."
Siouxsie's parents were strong role models, who inspired her to always work at skills that are useful to society, and that's what she does. She works to help and make change. But that can be demanding.
"An email went around our department the other day, saying people needed to take time off and take more holidays, and I'm looking at my schedule and I can't see where they are going to come from, because at the moment I'm entirely booked up for months to come."
Facing online bullies
Those who follow her on social media will also know that when you're Siouxsie you get trolled and bullied for being who you are. Which is what we talk about. Dealing with that, every day.
"There are things about me that trigger all sorts of people to react. I'm a bit of a Venn diagram. My pink hair is one, not looking like a traditional expert is another and being a woman with opinions is another," she says.
"I'm so unapologetically me, and loads of people really love that, but others find it really threatening."
And the result is some terrible things are said about her in the public arena, which have to be difficult to stomach sometimes.
"The thing is, I have done nothing wrong, so why should I stop?" she says. "I could dial back on my communication and not put myself out there to be such a target, but then who do they move on to?
"It just moves the problem around and that's something I don't tolerate very well. I would rather we dealt with them. I have chosen to stay and fight it out, which in some ways makes it worse, because they are so angry that I am vocal about how they harass me.
"I want to have conversations around how we stop this from happening, and then I want us to have difficult conversations with our friends and family and say, 'Why are you doing this? Why are you behaving this way?'"
Siouxsie says she fully appreciates and supports people who decide not to tackle trolls head on, but she feels she is resilient enough and has enough support to confront it, and so she does.
Her husband, Steven Galbraith, who is a maths professor at the University of Auckland, and her teenage daughter, Eve, provide strong family support, as well as her network of professional women, who are happy to give her an outlet and advice when she needs it.
"Other people find it better to remove themselves from that toxic environment and that is right for them."
Another criticism aimed at Siouxsie is that she puts herself out there for the attention and fame. "Listen, I'm a fat woman, why would I choose to be on television?" she says."I look at the bigger picture. My discomfort at being on television is not important, what is important is that we get through this pandemic."
Dressy Doc Martens
When Siouxsie was invited to attend the New Zealander of the Year Award function in March, the dress code was black tie and she fretted about what to wear.
"For a fat lady who doesn't wear cocktail dresses, that was always going to be a hard thing.
"So what I did was not think about it, because I was really busy until that night when I thought, 'Well I obviously haven't gone out and bought a cocktail dress because that would have been too stressful, so I'll just dress how I feel comfortable,' which involved wearing my sparkly Doc Martens because that's like my dressy version of me.
"So many people got in touch with me afterwards to say they had been wondering what I was going to wear and how pleased they were that I still looked like me.
"I wanted to be comfortable, because when you have to play a role, it's hard. It was already a stressful evening, so the last thing I wanted to be worrying about is what I'm wearing."
We then spend time discussing how a woman should dress in this day and age, and I feel ever so slightly counselled by Siouxsie and I'm very grateful for it.
"I think as women get older, we care less about what people think about how we look. There are some really great cartoons about women who are opposites but feel the same message. One is of two women – one has a positive pregnancy test and the other has a negative test but they are both saying, 'YES!' There's one woman in high heels and one woman in Doc Martens and they're both saying, 'YES!'
"The important thing is to be authentically who you are. If you're someone who feels great wearing high heels, then that's awesome. I think as women we should be supporting each other to be authentic and dress in a way that we are comfortable and represents who we are, not how society expects us to be.
"You want compliments from the people who you really respect. Why would you care what others think? When you reach that stage in life where you can say it doesn't really matter to me what others think, it's very freeing."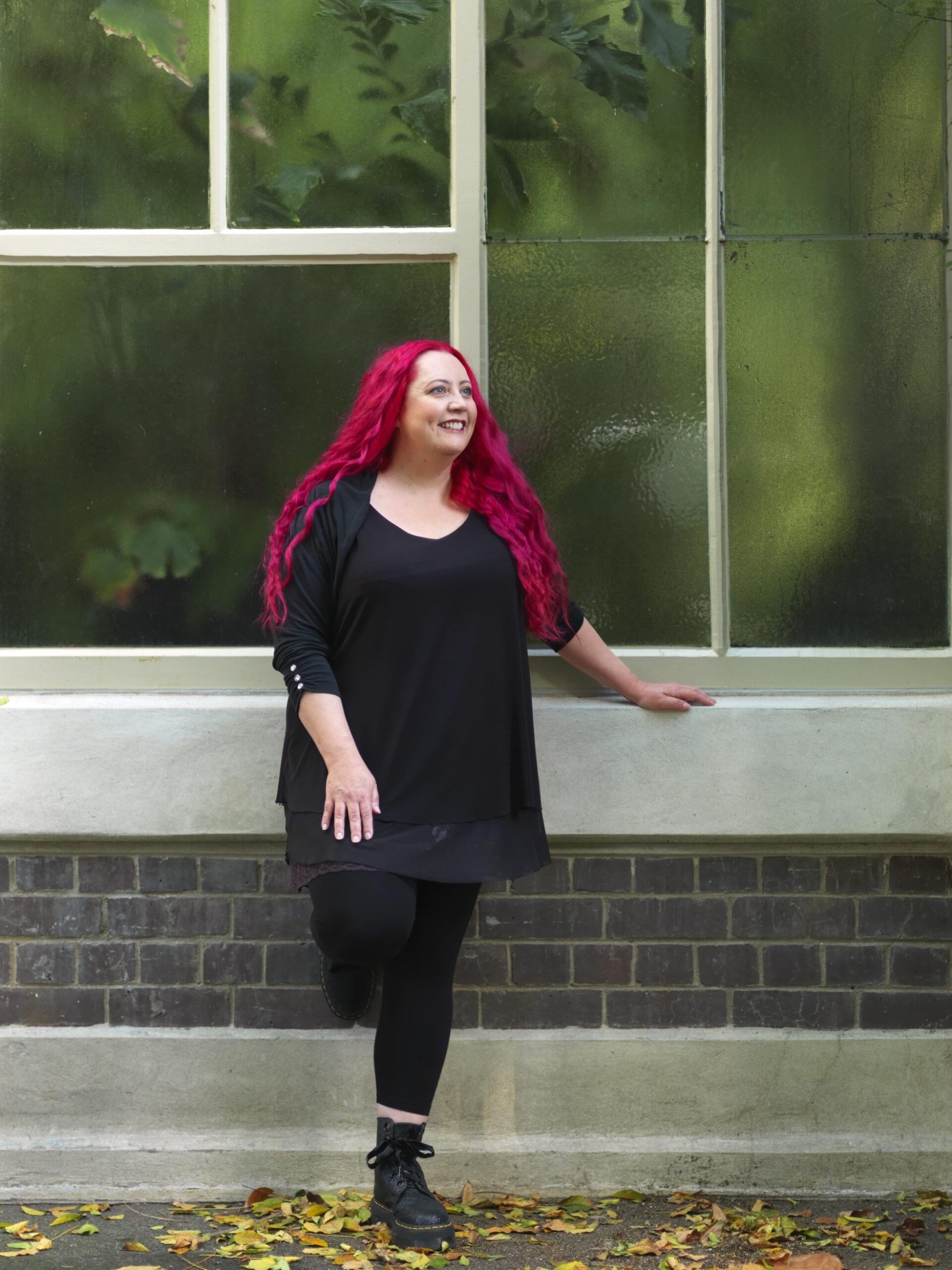 Calming words
Siouxsie does appreciate feedback on her writing, which she says she has worked hard at for the past 10 years. "It didn't come naturally. I had to really learn how to communicate science and won some awards for it back in 2013. So now it's lovely when people say reading my work calms them down, which was my aim.
"When Covid-19 hit, I knew that if people are panicked they won't act in their best interests, so I wanted everyone to go, 'Okay, this is hard, but we're going to do it together.'
"Evidence shows that those communities that come together in hard times are the ones that make it through, and that's very true of this country. My messages were, 'Keep calm and we need to work together.'"
Talking to Siouxsie, it would be easy to see her in a high-powered government position, advising and organising, but when I mention this as a possibility, she groans.
"My heart is in science, research and teaching, and I've worked hard to get here. It's really important to me that I'm able to contribute through my research even if it's a small contribution in the grand scheme of things."
Her two areas of research focus on how bacteria become infectious and finding new antibiotics. Both would seem very important in this world, but she's had two grants turned down this year so far and her funding for finding new antibiotics runs out in December.
So much of her time is spent looking for grants while her team do the work in the lab. And she says she is becoming a rare beast as she moves up the ladder.
Being a 'difficult woman'
"I saw the university's diversity report the other day and there are very few women professors in my area and that's the next hurdle I need to get over. At the moment I don't meet the criteria to become a professor at our university, which surprises many people. I want to help change things so that more of my women, Māori and Pacific Island colleagues get permanent positions and get promoted."
She realises that this means being a "difficult woman", but again, she doesn't care.
"A lot of my collaborations haven't worked out because I have clear ideas about how I want science to be done and achieved, and I'm quite demanding in that I want us to do it well, use our resources well and communicate that research beyond other academics.
"So yes, maybe I'm seen as difficult but maybe the system is the problem and it struggles with people like me who think the system is wrong and should be changed."
But back to that problem we highlighted at the beginning of our chat. Fitting it all in, week by week. Siouxsie says one of her friends recently made her a "yes/no" jar which is full of little notes that mostly say "no" in lots of beautiful ways, like, "no, no, no, no" and "No, thank you."
"So when I'm asked to do something, I'm supposed to take a little note out of the jar and it generally says 'no'," she laughs.
She says it's also a bit confronting to her that her friends need to do that for her.
"Several years ago, my daughter bought me a 'no' button for Christmas, so this is a trait I guess."
Siouxsie's phone alarm goes off, signalling to us both that it is time she moved on to her next appointment, albeit a little late. But she's not leaving before she has a bit of a talk about where we're at with this pandemic.
"My daughter plays in a band, so I was at the Smokefreerockquest a couple of weekends ago watching young people playing in bands, and I was so glad we made the decisions we did, so we don't have lots of dead people. Or people with long-term health effects from this. All our kids have basically been in school, they're in their bands, they get to do their practices and get to perform in front of a live audience. It's not the same in other countries.
"Now I just worry about complacency. People aren't checking in with the app as much. We're not doing the things we need to do. We are living a privileged life. Some people don't feel like it, but actually we are, and to maintain it we need to do these things, so please do them."
Siouxsie knows communities that come together in hard times are the ones that make it through, and her messages about Covid-19 reflected this. But she's worried we are becoming complacent and might risk our privileged status in this pandemic-plagued world.