A story about dying that is as deeply funny as it is sad is a hard feat to pull off but Catherine Newman does it with terrific style in her winning debut novel "We All Want Impossible Things".

We all wanted to read We All Want Impossible Things in my house where my chortling and compulsive 'head inside the book' presence was too hard to ignore. Here is a novel about having a BF, a bestie, and about losing that someone, who is so close to you that it feels as though part of yourself is being erased.
We All Want Impossible Things main characters are Ashley and Edith (Ash and Edi) who have been best friends since they were kids growing up five blocks apart in Manhattan. As the author puts it, "Edi's memory is like the backup hard drive for mine." Now, Edi has ovarian cancer and is on the way out, exiting through the hospice where the story first opens. Though Edi has a 7 year old son at home and a devoted husband it's been decided that her lifelong friend Ash should be by her bedside to spare Edi's son the trauma of watching his mother die. Okay so far, so not funny right? And yet the aching grief which flows through this story is matched with equally aching gallows humour; a coping mechanism Ash has for dealing with the death of her lifelong friend, which Catherine Newman delivers with brilliant wit.
There is plenty of material for humour in the hospice itself ("death's departure lounge") which is a place that exists outside of everyday life yet houses its own; a dog who loves cheese, a 'hottie' guitar player, the communal kitchen with its post-it notes and fridge treats. The other coping mechanism Ash has developed is an appetite for sex. . . a lot of it. And the reader is introduced to an array of sympathetic characters willing to provide that relief. Edi's brother Jonah, Dr Soprano the hospice doctor, a sports teacher from her daughter's school, all serve a useful and horizontal purpose over this period.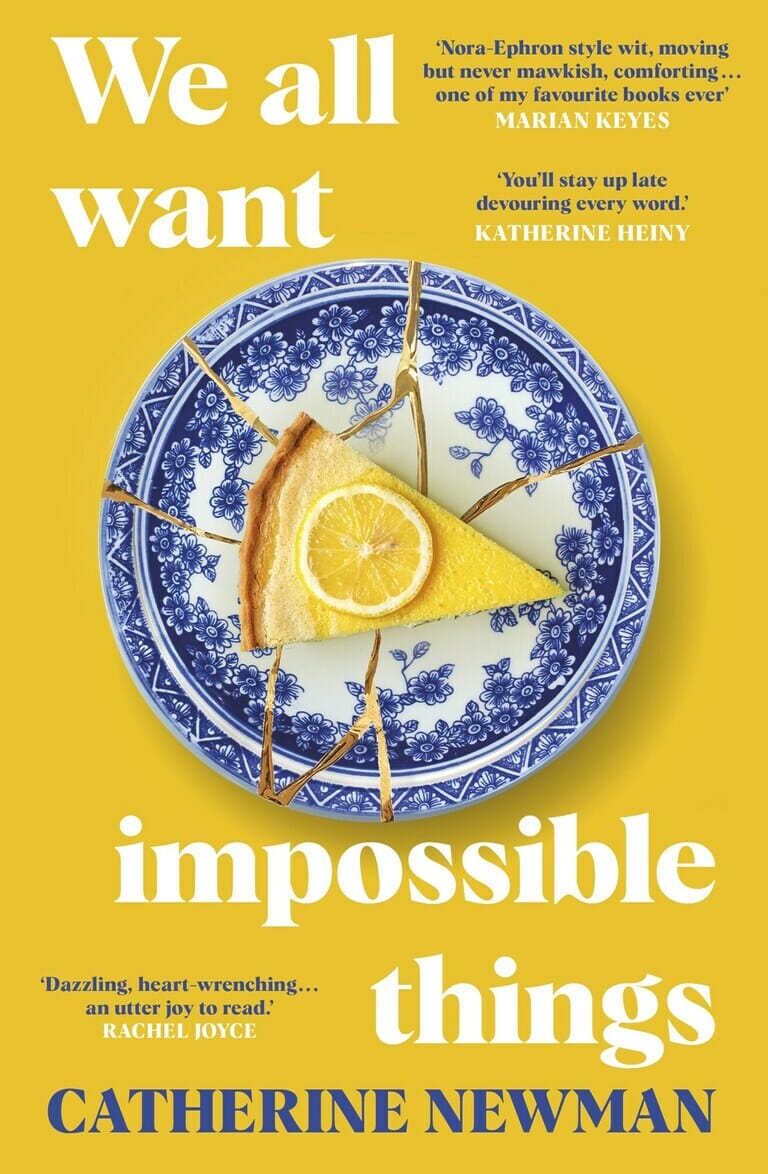 The journey of Edi's last days in We All Want Impossible Things are chronicled in a way that will be familiar to anyone who has lost someone to cancer, and the author never looks away but bears witness with a humanity and an understanding that the savvy reader will recognise as closer to nonfiction than to fiction. I can think of few books in fiction that dare to go the full way at death's bedside. The physical trajectory of dying from cancer needs more 'daylighting' and more of the treatment that Catherine Newman brings to it – humour, compassion and love.
It snows outside the room Edi lies in but inside the pages of this book it is warm and snug and the things that matter are friendship, food and laughter. Don't fear sadness; it sits next to love.
"It's just Edi and me" says Ash" and lots of fake flowers and real plants and inspirational sayings. THE WAY TO HAVE A FRIEND IS TO BE ONE, reads a needlepoint pillow. True! GOOD LUCK! reads a helium balloon, floating up by the ceiling. Good luck dying!"