Matcha is a finely ground powder made from specially processed and shade-grown green tea leaves, specifically from the Camellia sinensis plant. It has been a central part of Japanese culture and traditional tea ceremonies for centuries. The word "matcha" comes from "ma" (meaning ground or rubbed) and "cha" (meaning tea).
Are there any health benefits?
Matcha is considered to be healthy due to its various benefits, which are primarily attributed to its high concentration of antioxidants, especially catechins. Some of the potential health benefits of matcha include:
Rich in antioxidants: It contains a high concentration of antioxidants, which help protect the body against free radicals and cellular damage. These antioxidants, particularly a catechin called EGCG (epigallocatechin gallate), are known for their potential cancer-fighting properties.
Boosts metabolism and aids in weight loss: Some studies have shown that matcha can help increase metabolism and fat burning, which may support weight loss efforts when combined with a healthy diet and exercise.
Enhances cognitive function: Matcha contains a unique combination of caffeine and an amino acid called L-theanine, which together are thought to promote alertness, focus, and concentration without the jitters or energy crashes associated with other caffeine sources.
Supports heart health: Regular consumption of matcha green tea has been linked to a reduced risk of heart disease by lowering bad cholesterol (LDL) levels and improving blood flow.
Provides a natural source of energy: It moderate amount of caffeine, providing a sustained and natural source of energy without the adverse effects typically experienced with coffee or energy drinks.
It's no surprise that matcha is becoming increasingly popular. The team at Honest Food Talks has created some incredible dessert recipes that will leave you feeling happy and satisfied.

Matcha Pudding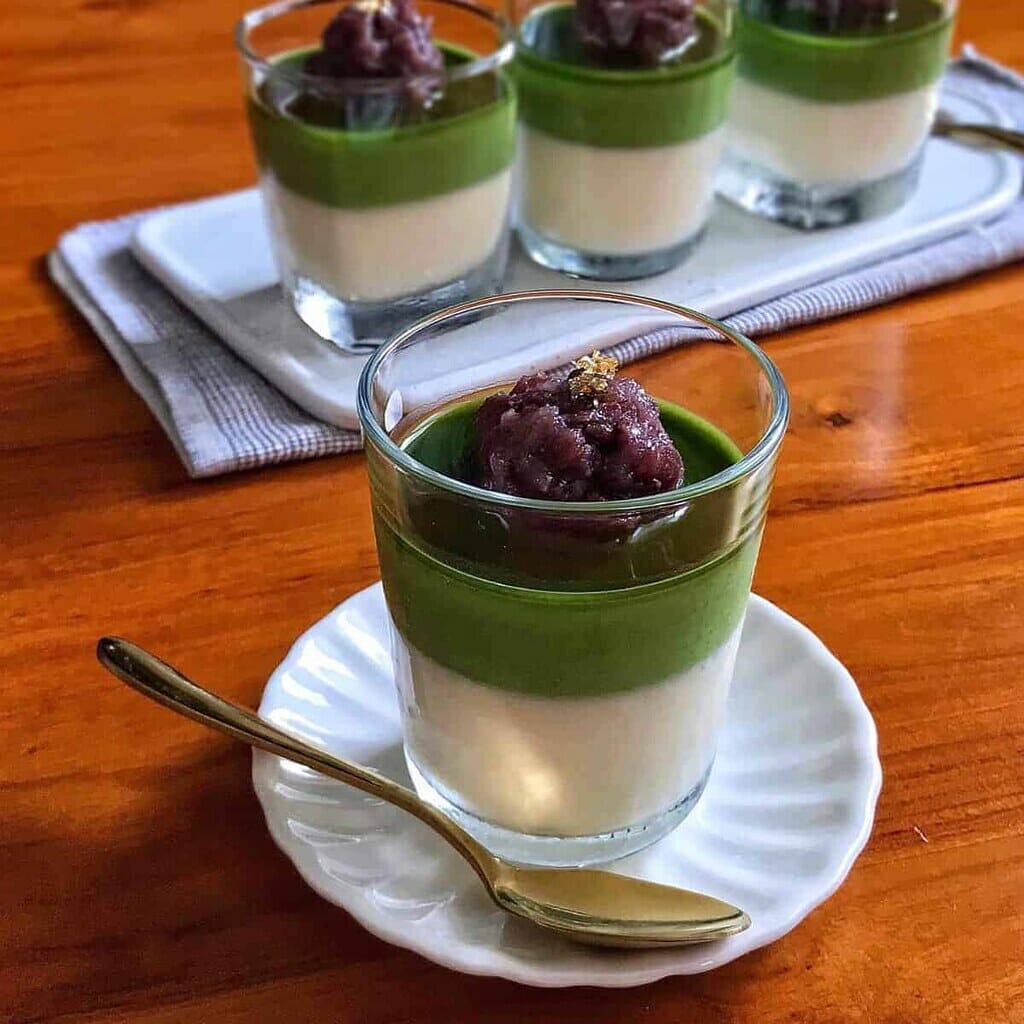 Ingredients:
1 ½ tbsps culinary-grade matcha powder
2 gelatin sheets
2 tbsps hot water
1 ¼ cups whole milk
¼ cup sugar
3 tbsps sweet red bean paste
Whipped cream (optional)
Salt to taste
Instructions:
Cut the gelatin sheets and melt them using the double boiler method.
Pour the whole milk into a saucepan and bring it to almost a boil. When there are small bubbles around the edge of the saucepan, turn off the heat. Add sugar to the milk and whisk well until dissolved.
Add 3 tablespoons of the milk mixture to the matcha powder. Whisk until the mixture is silky smooth and lump-free. Pour the mix into the remaining milk mixture and whisk until well combined.
Add the gelatin liquid into the mixture and whisk well. Add salt to taste. Add a tablespoon of the matcha mixture to the red bean paste and mix well.
Separate it into individual servings and layer the red bean paste mix with the matcha mix as the top layer. Refrigerate your pudding for 2 hours, and serve with whipped cream on top.

Vegan Matcha Ice Cream
Ingredients
3 tbsps culinary-grade matcha
1 can sweetened condensed coconut milk (about 350 ml)
1 can coconut cream (about 350 ml)
Pinch of salt (optional)
Instructions:
Begin by combining sweetened condensed milk and matcha powder in a medium-sized mixing bowl. Whisk the mixture thoroughly until the matcha powder is fully blended and there are no visible clumps. Next, gradually pour and whisk in the coconut cream until thoroughly combined with the matcha mixture.
Divide the mixture into a bowl and freeze it. Remove it after an hour to whisk it so air gets into the mix and turns creamy. Pour into ice trays. Then leave it back to freeze for another hour.
Remove the ice trays from the freezer after freezing the base until solid. Let them warm up at room temperature. Next, remove the cubes from the trays. Place them into a blender. Blend the frozen base until it becomes smooth, ensuring to scrape down the sides as needed.
Transfer the final product into a chilled storage container. Freeze the dessert for 30 minutes to let it firm up.
Finally, enjoy your vegan matcha ice cream after leaving it out to soften for a few minutes!
Related article: Elevating Your Smoothie Game. Creating Nutritious and Delicious Smoothies with a Fashionable Twist