Made without gluten, nuts, or soy, Angel Food Dairy-Free Feta is suitable for plant-based diets, while providing all the flavour of traditional feta, making it ideal for all feta lovers to enjoy. With a similar creamy, crumbly texture and moreish salty, savoury, flavour profile as traditional feta (which is made with sheep's milk), it's hard to believe it's not the real deal!
But what makes this feta even more special is that it's environmentally friendly – a win for health and the planet. Feta is great on its own or in a variety of recipes. Try it on pizza, in salads (Greek salad, pasta salad, etc), add it to savoury muffins, or bake with roasted veg for an easy and delicious dish. Whatever you choose, you can't go wrong.
Since 2006, Alice Shopland, the founder of Angel Food, has been striving to make plant-based food mainstream via its range of delicious NZ-made vegan foods that are suitable for all diets, whether that be vegan, vegetarian, or flexitarian – without having to forgo favourite foods. With a range of scrumptious vegan foods that are very close to their dairy-based alternatives, it makes it easier for everyone to choose plant-based meals more often and eat more sustainably.
A great recipe to make with Dairy-Free Feta is Creamy Whipped Feta. This delicious Greek-inspired dip requires just a few ingredients and is perfect for entertaining at any time of year.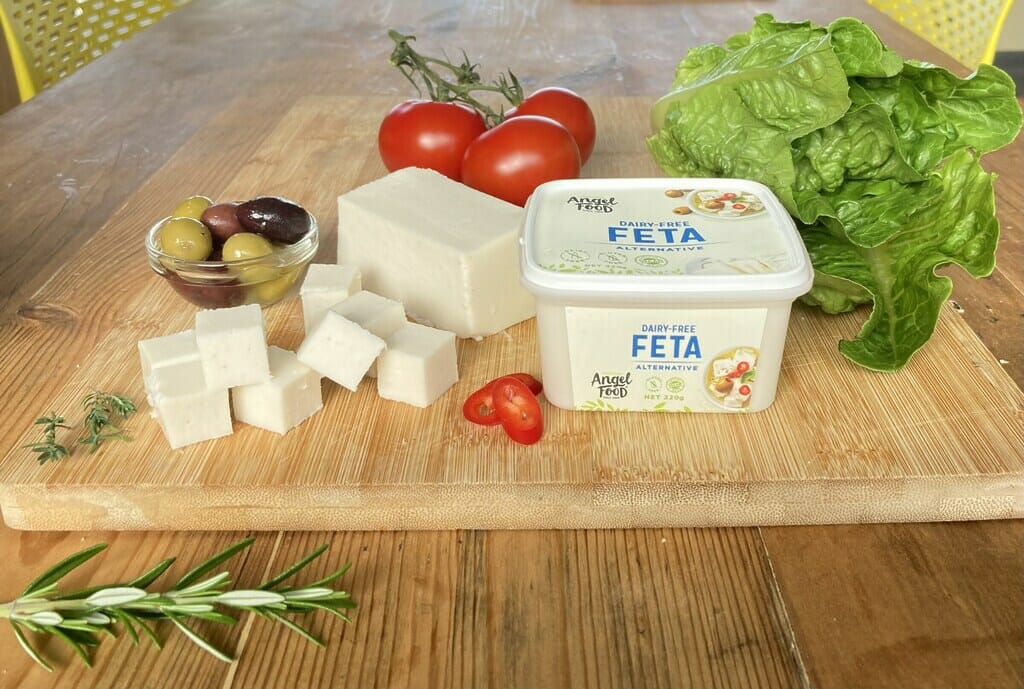 Ingredients: 
80g tinned cannellini beans
60g liquid from tinned cannellini beans
1T vegetable oil (extra virgin olive oil adds a nice flavour but isn't necessary)
220g Angel Food Dairy-Free Feta (ideally at room temperature)
Topping suggestions: 
Toasted sesame seeds
Chilli flakes
Smoked paprika
Lemon zest
Extra virgin olive oil
Chopped olives
Capers
Pistachios
Fresh thyme leaves
Method: 
Blend cannellini beans, cannellini liquid and oil in a food processor until very smooth and creamy.
Chop the Dairy-Free Feta into small pieces (or grate it) and add gradually to the pureed beans until it's all blended and smooth.
If you're serving it straight away, put it in a serving dish and top with toppings of your choice. If you're making it ahead of time, store in the fridge in an airtight container for up to 3 days. When the time comes to serve it, let it come to room temperature and stir well before adding toppings.
What to do with the rest of the cannellini beans? Make crunchy cannellinis! Squish the beans gently (you don't want to puree these, just slightly flatten them) then toss with oil and seasonings (smoked paprika and vegetable stock powder is a great combo). Bake in a hot oven (in a single layer) for about 10 minutes until the outsides are crispy. Serve as a snack – or as part of the toppings for the whipped feta.


Related Article: 6 of the best dairy-free milk alternatives to choose from in New Zealand