Jump on a bike for health, happiness and an adventurous way to explore our own backyard. Here are some cycle trails for both beginners and experts.
As well as providing exercise, time in nature, and a hit of serotonin, it turns out that cycling could help you live longer, according to a recent study led by Dr Caroline Shaw from the University of Otago, based in Wellington.
The study, published in the International Journal of Epidemiology, analysed data from 3.5 million Kiwis using the New Zealand Census-Mortality Study and found that people who cycled to work had a 13 percent reduction in mortality compared with those who drove, walked or took public transport. Dr Shaw says this is likely to be due to the increased physical activity – although interestingly, there was no reduction in mortality rates for those walking to work.
So the message is clear: For a long, healthy life, get on your bike! You may not live close enough to work to cycle, but there are other ways to enjoy the sport, whether you're a beginner or a pro. And with the increased access to electric bikes and city cycleways, it's even easier to get into biking. From urban routes to rail trails, here's a range of ways to hit the road.
Pedal for a new perspective
Cycling can also be a fun way to explore a city you are visiting – or an enjoyable way to get to know your own hometown better. Most councils have information on cycling routes on their websites and some cities have dedicated cycling organisations.
The Bike Auckland website offers info on the best routes in the city, from the fabulous pink Lightpath/ Te Ara I Whiti, which makes use of a decommissioned motorway off-ramp, to a waterfront ride along Tāmaki Drive. Bike Auckland also has lists of good rides for children and a list of "bike burbs" or community biking groups, with advice on starting your own.
Hilly destinations are also easier than ever to get around now with plentiful access to rental e-bikes and e-scooters. In cities including Auckland, Dunedin and Wellington, you can use an app to hop on one of the many bikes or scooters dotted around.
In the capital, Cycle Wellington's website has info on bike groups and cycling routes, while Switched On Bikes is a good spot to hire or buy e-bikes (and hire regular cycles). The company also offers a guided Electric Bays Tour around the city.
Christchurch has appealing riverside rides, with the City Promenade providing space for walkers and cyclists to cruise through the city, and the city-to-sea Te Ara Ōtākaro Avon River Trail taking you from town to New Brighton in two and a half hours.
Try a tasting trail
If riding isn't your main motivation, biking between wineries and restaurants might be more your speed. There are tasting trails throughout the country, from Hawke's Bay to Marlborough and many spots in between. The Pedal 4 Pinot Trail is a new route, incorporating the Alexandra to Clyde River Track and the Otago Central Rail Trail (the first rail trail in New Zealand and the inspiration behind The New Zealand Cycle Trail). Stopping for drinks and nibbles ensures this already appealing ride is even more of a hit, while e-bike hire makes it that much easier.
The Tasman Great Taste Trail, another of New Zealand's Great Rides, is a good option for the snack-oriented set. You can ride all the way along the coast from Nelson to Kaiteriteri (the gateway to the Abel Tasman National Park), with a ferry taking you from picturesque Rabbit Island to Māpua, or take one of the back routes through the hills of the Motueka Valley. Stop for craft beer in Stoke, smoked fish on Māpua Wharf, and real-fruit ice cream in Motueka.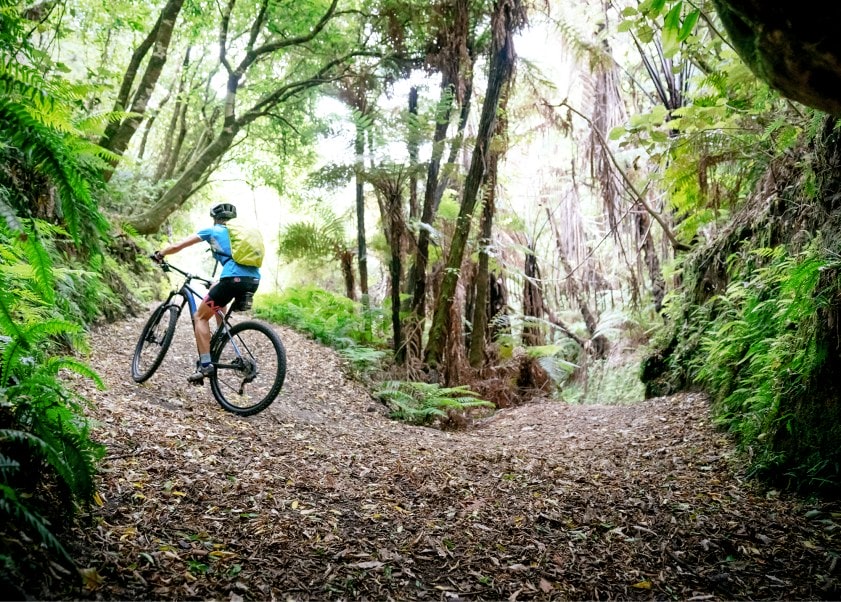 Cycle your way around the country
While New Zealand's Great Walks are well known, not as many Kiwis are aware of the country's 22 Great Rides. Ngā Haerenga, The New Zealand Cycle Trail, was launched in 2009, and features a network of bike trails traversing coastlines, mountains and quaint towns throughout the country. The flexible nature of the rides, and access to shuttles, bike hire services and luggage transfers makes it easy to plan a multi-day adventure or pop in for a half-day ride.
As well as the 22 Great Rides, there are numerous connecting Heartland Rides. On the Ngā Haerenga website and app (ngā haerenga means "the journeys"), you can find all the info you need to plan a trip, along with Covid-19 updates and the grades of each trail.
One of the easiest rated rides is the Hauraki Rail Trail, a leisurely ride along old railway lines, between the historic gold towns of Thames, Paeroa, Te Aroha, Waihi and Matamata. The trail cuts through the stunning Karangahake Gorge, and is suitable for all ages and biking abilities. You can even hire an e-bike if you want to take in more scenery in a shorter time span.
Take your adventure up a notch
More experienced riders have a wealth of options for exploring via forest trails, mountain bike paths and waterfront rides.
The Far North Cycleway, one of New Zealand's Heartland Rides, gives cyclists the chance to ride from Cape Reinga to the Hokianga, with 80km of the ride on the sands of Ninety Mile Beach.
Alps 2 Ocean is a Great Ride that takes you on a dramatic downhill journey from the Southern Alps to Ōamaru over five to six days, with highlights including views of Aoraki/Mt Cook and the limestone formations of Elephant Rocks. The route, which is graded a mix of easy and intermediate, can also be done in smaller sections.
Rotorua's Whakarewarewa Forest (aka The Redwoods) has a large number of trails carved through the towering trees, and caters to newcomers and families as well as hardcore bikers, with bike rentals available at the start of the trails and hot pools to soak in afterwards (at Secret Spot Hot Tubs).
For more North Island mountain biking inspiration, see the Ride NZ website, where trails can be filtered by grade, region, style of biking and number of days.
IMAGES: Alamy & Getty