The Marriage Portrait by Maggie O'Farrell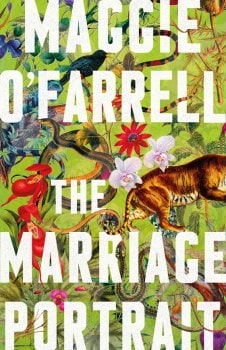 It's 1560 in Italy, the height of the Reformation. A young girl of 15 leaves her family home to live with her new husband, the Duke of Ferrara. Her name is Lucrezia di Cosimo de'Medici, and she wasn't supposed to marry the Duke – it was supposed to be her eldest sister, Maria. But after her death, Duke requested the younger sister to be her replacement. Within a year, Lucrezia too was dead.
Maggie O'Farrell, author of the Women's Prize-winning Hamnet, returns with her new novel The Marriage Portrait, in which Lucrezia is given a voice denied to her in history books.
While Robert Browning's poem My Last Duchess is widely believed to have been inspired by her husband, Alfonso Il d'Este, O'Farrell instead chooses his first wife as inspiration, following Lucrezia from conception to her "death".
Lucrezia is unlike her siblings before or after her – as a newborn, she "roars and writhes and throws off its swaddling bands, a baby who will not rest or sleep or be comforted" – and this innate wildness, this inability to be tamed, is with her forever. Her maid, Sofia, is the one person who seems to cherish and appreciate Lucrezia's gritty and curious nature. She's the sort of child who reaches through the cage of her father's captured tiger to feel its coarse fur; a wilful bride who won't let her violent husband take command of her mind.
There's an incredible sense of despair when you read about women who married like this – for power, for alliance, for money, for procreation; yet O'Farrell's depiction of Lucrezia allows her a sense of dignity, at least to the extent that she would have been able to maintain in such circumstances. Her confusion around whether Alfonso loves or hates her is so familiar, and it's dire to consider these issues still exist today. When Lucrezia realises she's been bred only to breed, she's desperate to both get pregnant and to escape.
O'Farrell departs from the true history with a perfect ending – a possible thread of hope for Lucrezia. With its attention to detail – gorgeous descriptions of Italian landscape, fashion and Lucrezia's talent for painting – The Marriage Portrait is historical fiction by one of the world's best writers.
The Stranger by Katherine Hore
Darkwater's a dark town, enclosed by a high fence to control who can come in and who can go out – all in the name of keeping its inhabitants safe from a mystery virus.
Darkwater's swirling with secrets and shadows; controlled by powerful men, this is not a town that's kind to women. Sounds a bit familiar, doesn't it: but the feminist Western The Stranger, by Australian novelist Kathryn Hore, subverts these common character tropes and narrative ploys all the way through.
Chelsea's mother died from sickness, the worst way to die in a cloistered town fearful of a disease ravaging the world outside the gates. After her father's accused of carrying the illness too, he's pushed out and left to fend for himself, leaving Chelsea alone, hungry, dirty and poor. When she catches the eye of the town leader, Granger, she knows he's the best chance she has to survive, so she moves into his big house, wears the flimsy silk dresses he gives her, and submits to his every whim.
Then one day, a stranger comes riding into town. This isn't just any stranger: this stranger is a woman, and she bests the men with wit, strength and cunning. When Chelsea sees her, so powerful and autonomous in a world where women aren't allowed to be these things, she feels a fire start to kindle inside her. Of course, Darkwater ain't the kind of place to allow a stranger to come and disrupt the order of things, so Granger and his posse set about to bring the stranger down.
Hore doesn't leave out any allusion to the Western genre – there's a saloon, a gnarly old crone, horses, dust and cussing – and yet she moves the action squarely into the feminist, centring female voices, and layering in similarities between women's struggles in those times and modern society. The language has the twang of the cowgirl and the dark taste of fear – this is a gritty and gripping novel that spins genres and features one of the most badass yet compelling strangers I've encountered in fiction.
PHOTOGRAPHY: GETTY