A committed conservationist hatched an audacious plan to save the few remaining kokako in an area of bush he loved. Lucy Corry finds that, with the help of a hardy band of helpers, the project has been an outstanding success.
The kokako's dark grey plumage has the same subtle gleam as rain-slicked slate. It's a look that's all business, topped with an arresting black eye mask and electric blue wattles that look straight from a 1980s-era music video. Had it not been for dedicated conservation efforts across Aotearoa, this quirky bird might have disappeared from our forests forever. Instead, its deep, haunting call is echoing in places where the population was all but extinct.
"The first time you encounter one, it's like 'wow, the mythical kokako'," says long-time conservationist Laurence Gordon. "They call them the grey ghost because they're hard to see up in the tall timber."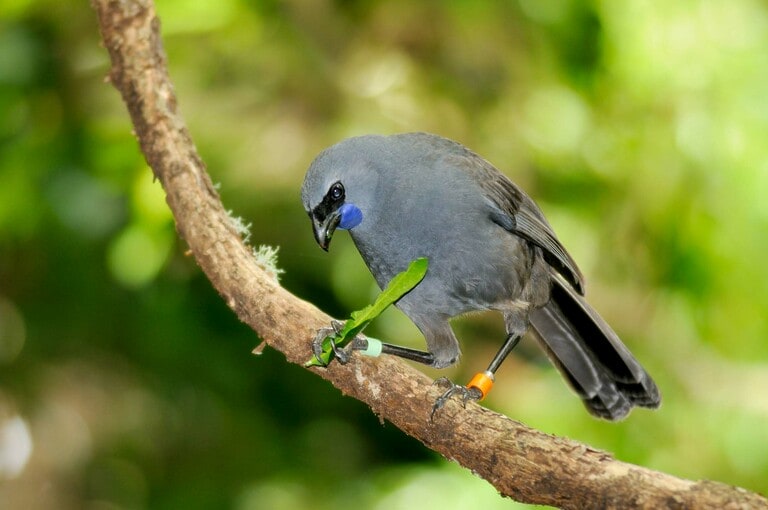 Saving endangered native birds like the kokako from extinction makes for an eye-catching headline but it's not exactly glamorous work. Protecting native birds like the kokako means dealing with their predators, particularly big, black ship rats that climb trees and decimate bird and insect life. It's a hard slog; a marathon, rather than a sprint with a glorious photo finish. It takes foresight, funding and a fair amount of grit, as well as knowledge and understanding of the bird's habits and habitat. Laurence Gordon had plenty of tenacity when he started getting interested in kokako protection back in the mid 1990s, and he was determined to acquire the rest.
"In those days, it wasn't easy to get involved," he says. "But I'd always been interested in conservation and I thought, 'one day I'd like to look after those birds."
Laurence's involvement began at Rangitoto Station Reserve, a 427-hectare block of regenerating native forest high up on the Rangitoto Range, south-east of Otorohanga. He'd gotten to know the area after spending a couple of years helping two retired farmers to pull out more than 36km of deer fencing on the property. One of those farmers, renowned conservationist Arthur Cowan, was a driving force in the Native Forest Restoration Trust, which had acquired the land. The reserve is adjacent to the 1000-hectare Mangatutu Ecological Area, a rare remnant of unlogged tawa and podocarp forest adjacent to Pureora Forest Park in the King Country.
The farmers knew that there were kokako in the area (Cowan had even installed a few bait stations in the forest) and their talk got Laurence interested. Once the fence posts were out, Laurence realised he needed another reason to stay and explore further.
"For me, it's one of the most pure environments you can get," Laurence says. It's an unlogged native forest, it's remote and there was relatively little human influence. I loved it, but I knew I needed a purpose to be there."
He also knew he needed help. While the Department of Conservation was working on kokako projects elsewhere, Laurence didn't fancy his chances of getting them involved at Mangatutu given his lack of experience. When he saw State Insurance was offering to financially support kokako protection, he saw a chance.
"I got to know a couple of important people, then I went to a meeting where I stood up and said, 'my name's Laurence and I want to save kokako'," he says.
Feathers were ruffled by his direct approach and lack of prior experience ("I think they thought I was going to take the money and grow pot," he laughs), but Laurence's determination won out. He won the naysayers over by telling them he planned to replicate a successful kokako recovery project that DoC was running at Mapara, near Te Kuiti.
"In 1984, 10 years before I started, they'd surveyed the area and only found one pair. They were sceptical, but I was sure my idea would work."
For Laurence, eliminating predators (first and foremost, the aforementioned rats) was his first priority. The hilly terrain meant he couldn't exactly mimic the same approach used at Mapara, so he adapted as he went along.That meant setting up around 700 bird-proof bait stations in as many parts of the 1000-hectare block as he could. That first season brought a learning curve as steep and rugged as the land he was working on. Kokako are elusive by nature, but tracking them down was even harder than he'd anticipated.
"I didn't understand their behaviour and I couldn't work out where they were," Laurence says. "Then I realised that was because they were nesting. I had to develop the skills to find and monitor the nests."
While the kokako population in other areas was so scant that male birds would pair up for companionship, Laurence realised he had seven breeding pairs under his watch.
"In my first year, there were 17 chicks! I couldn't believe it. I felt like I was doing the best job in the world, and it was working."
Over a three-year period, Laurence's diligence with baiting and DoC's occasional 1080 poison drops enabled the kokako population to thrive.
"In the third year, I identified 55 nests and not one failed, they all produced chicks. I told DoC that we didn't need to monitor the birds, we just needed to keep the rats out.
"Kokako were the focus but we were always looking at the big picture, so all the birds did well," he says. "Kereru and robins, baby moreporks, rifleman, all these birds started to recover. It was such a neat job."
Laurence's enthusiasm didn't wane, but when the funding ran out after three years it was clear that he would need more boots on the ground. Help came from an unlikely source: the Howick Tramping Club. A member had met Laurence in the late 1990s and committed to supplying the area with regular bait-laying volunteers.
Since then, Howick Tramping Club members have been visiting the area about six times a year leading up to and during the kōkako breeding season in spring and early summer. It's a chance for some outdoors multi-tasking as they monitor rat density, fill and empty bait stations while getting to know the environment and its now-abundant bird life. They've now expanded the area under surveillance to about 1600 hectares, populated by more than 1600 bait stations. Predator control has benefitted other birdlife too, with kereru, bellbirds, robins, whiteheads, tui, pied tit and fantails among those flocks increasing in numbers.
Pest control was new to club member Colleen Grayling, then a medical lab scientist, when she joined the club in 1999. Since then she's regularly made the four-hour journey by car from her home in Auckland's Eastern Beach.
"I've always had a fascination with nature and the natural environment and I wanted to do more in terms of conservation.
"I enjoy doing this because you're with likeminded people and you're away from everyday demands. Being in the bush is good for the soul."
While she generally makes it to Mangatutu once a month in spring and summer, Colleen devotes several days a week to organising other volunteers, applying for funding and other related tasks. In 2022 she received a Queen's Service Medal (QSM) for her services to conservation. Laurence's work with the kokako at Mangatutu and with other birds on Northland's Russell Peninsula has also been recognised in this way – in 2019 he was awarded a MNZM for his services to wildlife.
There's no doubt that their work (in tandem with 1080 poison drops by DoC) is having an impact, with more than 250 breeding pairs now found in the area. In 2020, a four-yearly DoC survey found that the Mangatutu/northern Pureora is the first place in Aotearoa where the kokako population has recovered to more than 1000 birds.
The project has been so successful that 89 kokako and 160 North Island robins have been relocated from Mangatutu to other areas, including Mt Bruce, the Hunua Ranges, Maungatautari and Kapiti Island.
Kokako in the nearby Tunawaewae catchment, about 10km away, have also increased in numbers. This area, along with Mangatutu, is believed to have the highest density of kōkako on the mainland.
"It's such satisfying work; it's meaningful and sociable and it gives me purpose," Colleen says, admitting she still gets a thrill from hearing or seeing the birds.
"We hear them now most times that we're there. They have a beautiful haunting call and when you hear it and it's all misty, it's quite an experience."