Sarah Lindsay never meant to be a teacher or open a yoga studio, but a trip to India changed everything and the universe had a plan.
One day last month I went along to Sala, a yoga studio housed in a former industrial building on Brown street Ponsonby. The access from the footpath through full length glass doors leads up to room width stairs bringing you into a cool painted interior that is the gateway space to some of the hippest movement classes in Auckland.
It is rare to find yoga studios that are not squeezed spaces with lockers but I was surprised to arrive at an entire entrance room abuzz with sleek women in black Lululemon gear, resembling a school of otters. There were two immense wooden tables, a selection of books to peruse, a kitchen bench with the makings of tea and coffee and an air of excitement that was not the usual pre yoga solemnity.
In one of the high windowed airy rooms our instructor Sarah warmed us up with a sequence of stretches and adjustments that are normal at the start of any yoga class but pretty soon something else began to happen. From out of her mouth part prayer, part poetry, part spiritual-based wordplay was uttered in an almost unbroken stream while moving us through poses like a dolphin through water. Later I asked a friend if she knew who Sarah Lindsay was.
"Sarah from Sala?" She said
"Oh everyone is obsessed. She has cult status."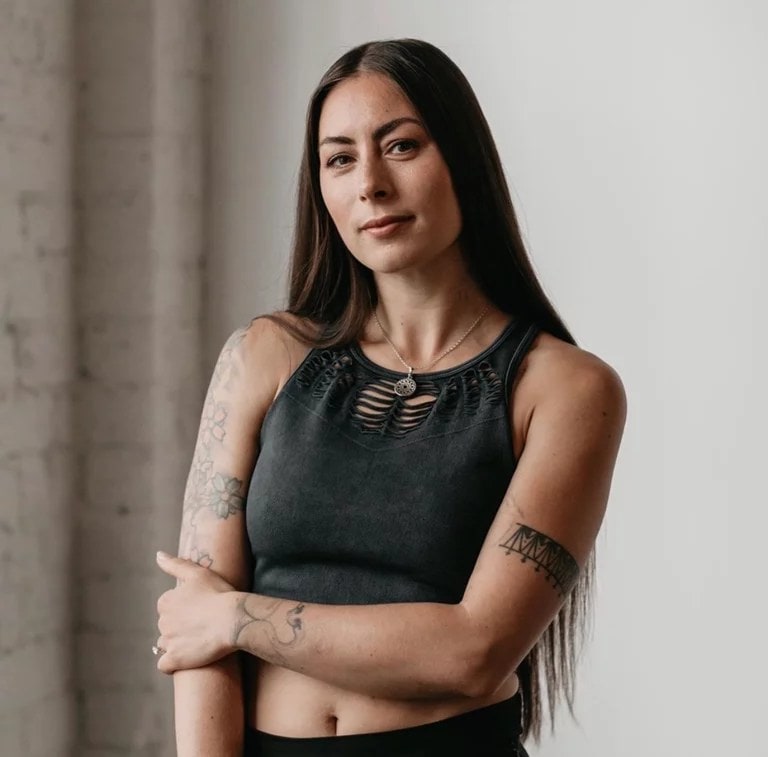 That Sarah finds a spring of words to connect with her class is made more astonishing when I discover she grew up in a household that was entirely silent. "My mother was at times nonverbal and when she was verbal she was incohesive with words", she says of her childhood in a tiny mining town outside of Birmingham.
Both her mother and brother were acutely autistic and she developed her own internal monologue as a way to cope. Leaving school she managed to obtain a scholarship to Goldsmith's in London. "A lot of the yoga I teach is reframed around a spiritual narrative but backed by physics. I did a BA in sociology and philosophy and I use what I learned everyday – Why do we make community? Why do we come together?"
University might have opened her up but India, you might say, formed her. It was there she started work on her own psyche and began working through the layers. Doing CBT, learning to undo years of toxic trends. Yoga did not come naturally "In the beginning every class was hell. When the teacher would say 'take a rest in Downward Dog' I would say who is resting? Nothing about yoga felt natural."
It was a yoga teacher who told her she had a gift. She did the training and her teacher commented that she had a unique way with teaching. When she got back to London a friend asked if she could teach yoga in their office and within a few weeks she was teaching full time.
"When I teach yoga I feel as though I am naturally tuning myself to energy. From a young child I was always good at picking up on my mum's energy. Her nonverbal status made me work harder. I had to play the necessary role to not be in trouble. Through that atunement it has become natural for me to feel people's energy fields."
She admits she's been through a huge journey but opening a studio wasn't on her Bingo card. She met her kiwi husband Josh in London and he said to her on their first date. "I don't usually date British girls because I really want to go home." So it was no surprise that she ended up here. "I always thought of myself as a 'yes girl' the kind people would ask, 'Do you want to get the Eurostar and go to Paris at the last minute? So let's go to NZ? Yes!"
He took her immediately to his father's house in Dargaville and she was like 'is this where we live now?'
In Auckland she looked hard for a space that resembled an East London studio – bare bricks. An ex textile factory. She says she was looking for the container for her community. It needed to have the essence of her past homes to help her tap into what she wanted to create.
Sala is a success. People are floating through the doors in a harmonious flow. Classes are well attended and the business has recently upgraded its rooms to allow for a Sauna and a weights room. There are other plans. You get the impression that she is a person who is open to the river of life and it's a fast moving current.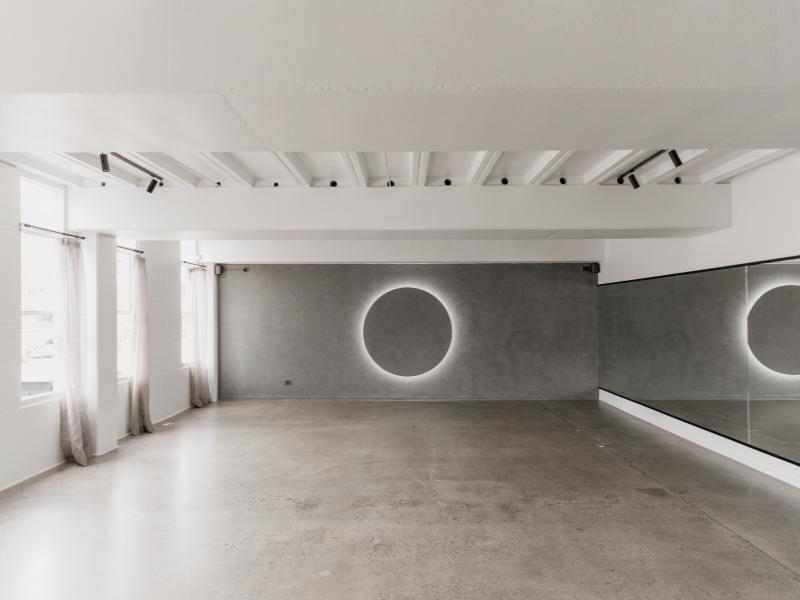 Running the business is attributed to her partner who she says, has all the business sense. These days with a 2 year old she only teaches 4 classes a week because she needs to have the space to really be there in a class. Sometimes people ask her about the class afterwards and she tells me "I am so present that I disappear."
For her, Yoga is part of the whole experience of being alive. "We constantly go through moments of awakeness in our lifetime and it's about expanding those moments so you can be more consciously and deliberately there. You can't live there because you would be Buddha and that position is taken" she says laughing. The studio is her home away from home "I would not be able to live here (in NZ) without my community. What's the point of being able to wake up if no one is around you?"
She wants the whole conversation about wellness to be mainstream and she credits Gwyneth Paltrow ('whatever you think of her') as doing just that "auras, sexual health even if you start with the matcha drinks and the candles… the more people that we bring the more that will be in conversation.
Sala has been open for four years, two of which have been through Covid. She shoulder tapped her team and was strict about the right energy for the studio – a subscription to a way of living that is authentic. "I am always looking for that in others. I don't care what you do, just really do it."
"Here is who I am," she says, humbly and proudly, a vibrant spirit that is a vessel for making people move.