Midlife has proved a double-edged sword for Kiwi favourite Robyn Malcolm. She tells Nicky Pellegrino about the lows of menopause, the highs of motherhood and why her new knickers really satisfy.
There are reasons why Robyn Malcolm might not feel so great about life right now. At 56, she has a lot going on. She's in the grip of menopause and it hasn't been pretty, her work and personal lives were upended by the pandemic and she has just come through a major house renovation while launching her first business.
You could forgive her for feeling a little overwhelmed by all that. But chatting over coffee in her Auckland villa, Robyn seems as vibrant as the colour scheme, and that is very bright.
Pink, coral, lemon and green on the exterior, striking wallpaper and even more colour inside – this is the home of a woman who isn't interested in being boring.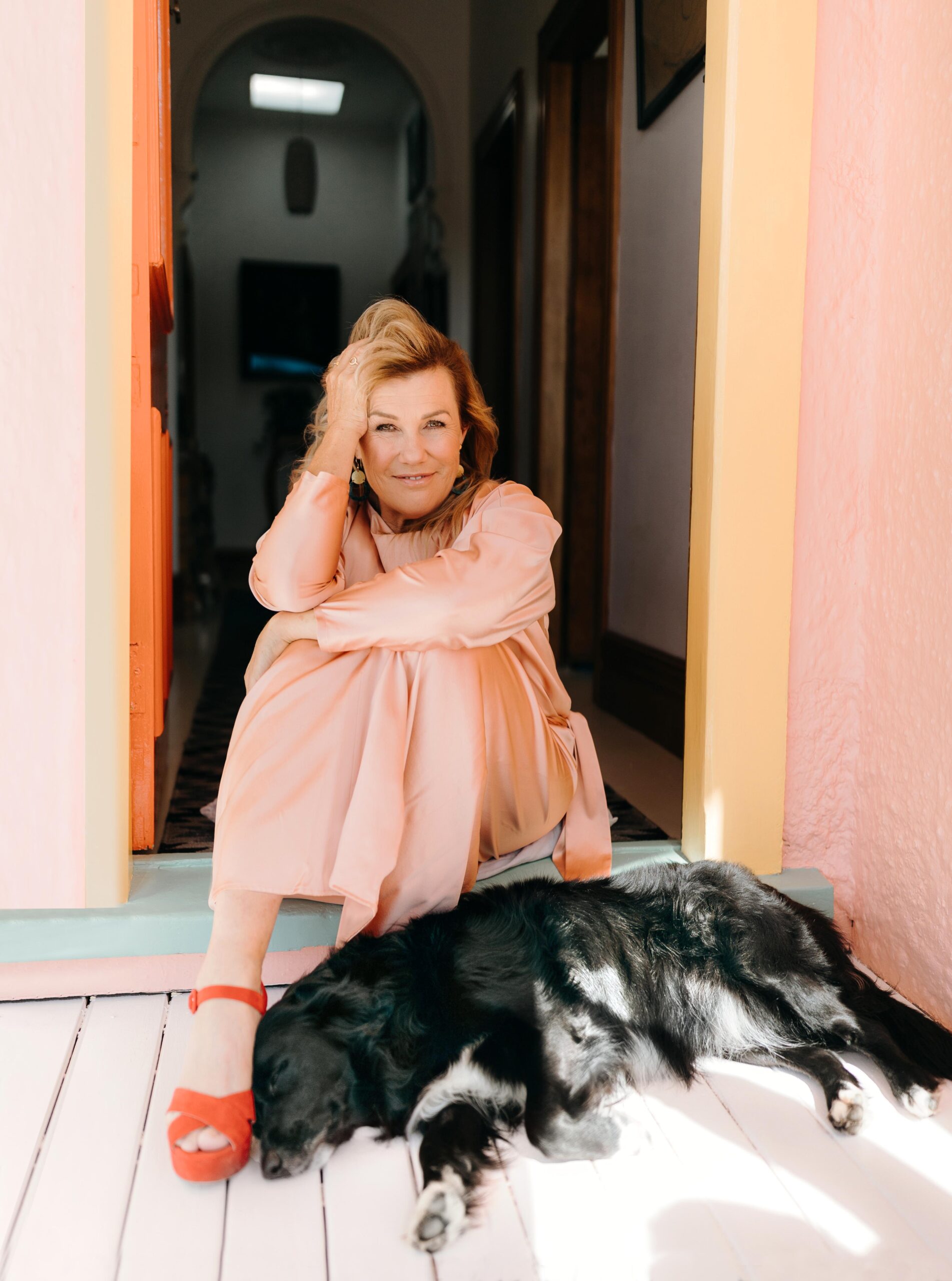 And in a long career that has seen her tackle iconic roles in New Zealand drama, which have led to international success, Robyn has certainly never been that.
Now there is a bold new venture that came about by happy chance. Robyn and her younger sister Jen share a love of what she calls "girly stuff" – shoes, lingerie, lovely things in bottles, etc. For ages they'd been talking about setting up some sort of business as a side hustle. It might have stayed as just talk except last year Robyn was approached by Yellow, who provide digital platforms for small businesses and wanted to work with her to promote that.
And so Robyn's Undies was born, a range of knickers produced ethically and sustainably right here in New Zealand, that are, promises Robyn, beautiful and wearable.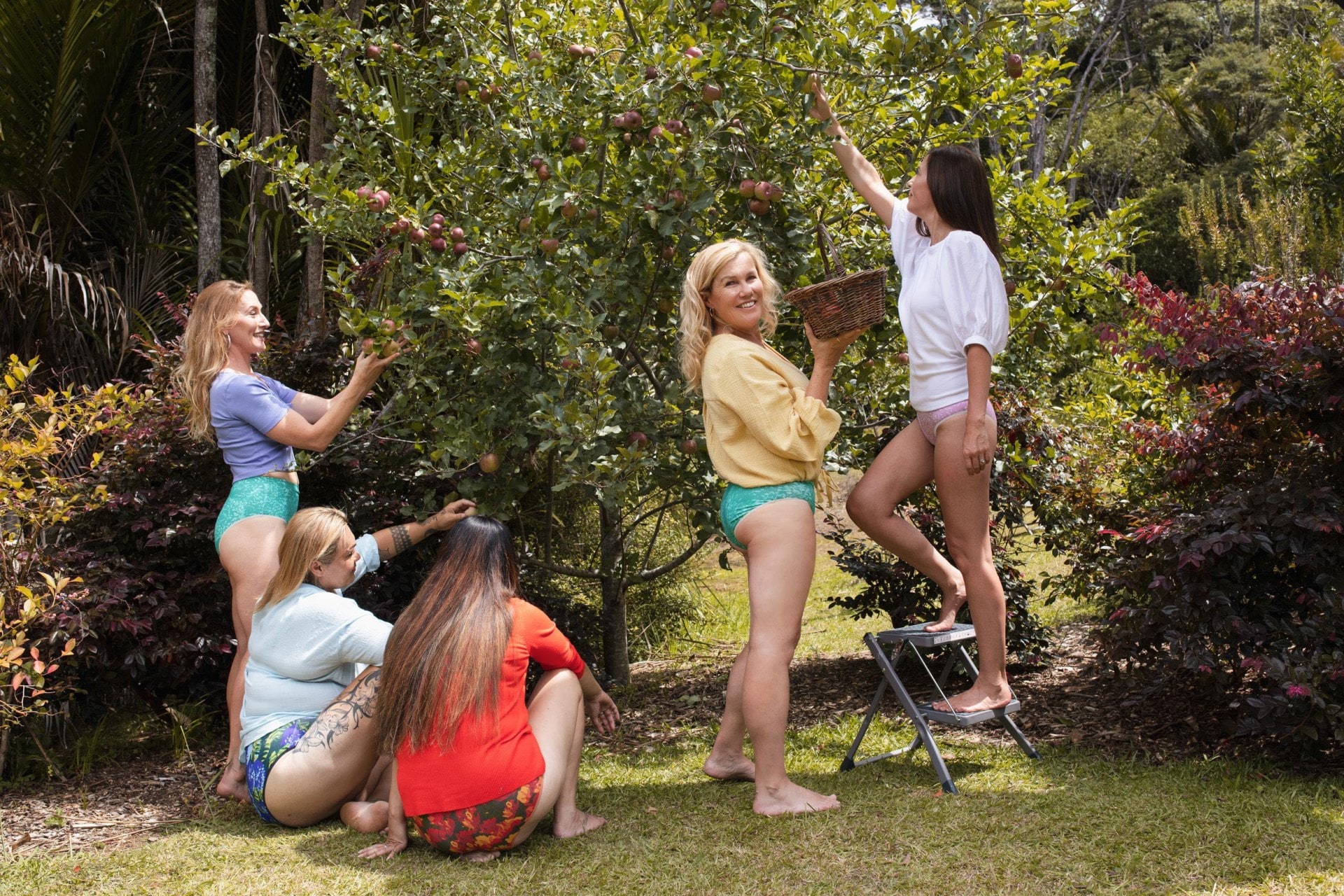 "I've been known to buy Agent Provocateur in my time," she confesses. "I've spent up on my share of fancy lingerie and that's fine, but you have to take it off after a couple of hours. Undies are really specific. I don't know about you, but I've actually left the house and an hour later come back to change my undies because it's just not working for me that day. It's like, if you're premenstrual, or you're menopausal, or you ate too much the night before, or you're wearing jeans…"
What Robyn wanted were styles that would make the wearer feel great all the time, regardless of age or body shape. Fittingly, in the guise of Cheryl West, her character from hit TV drama Outrageous Fortune, she had a fictional underwear brand called Hoochie Mama, which was big on possum-fur trim and animal print. This is not that at all.
At the moment, the offering is limited to four classic knicker shapes covered in stylish floral designs by artist Karl Maughan – and no G-strings in sight.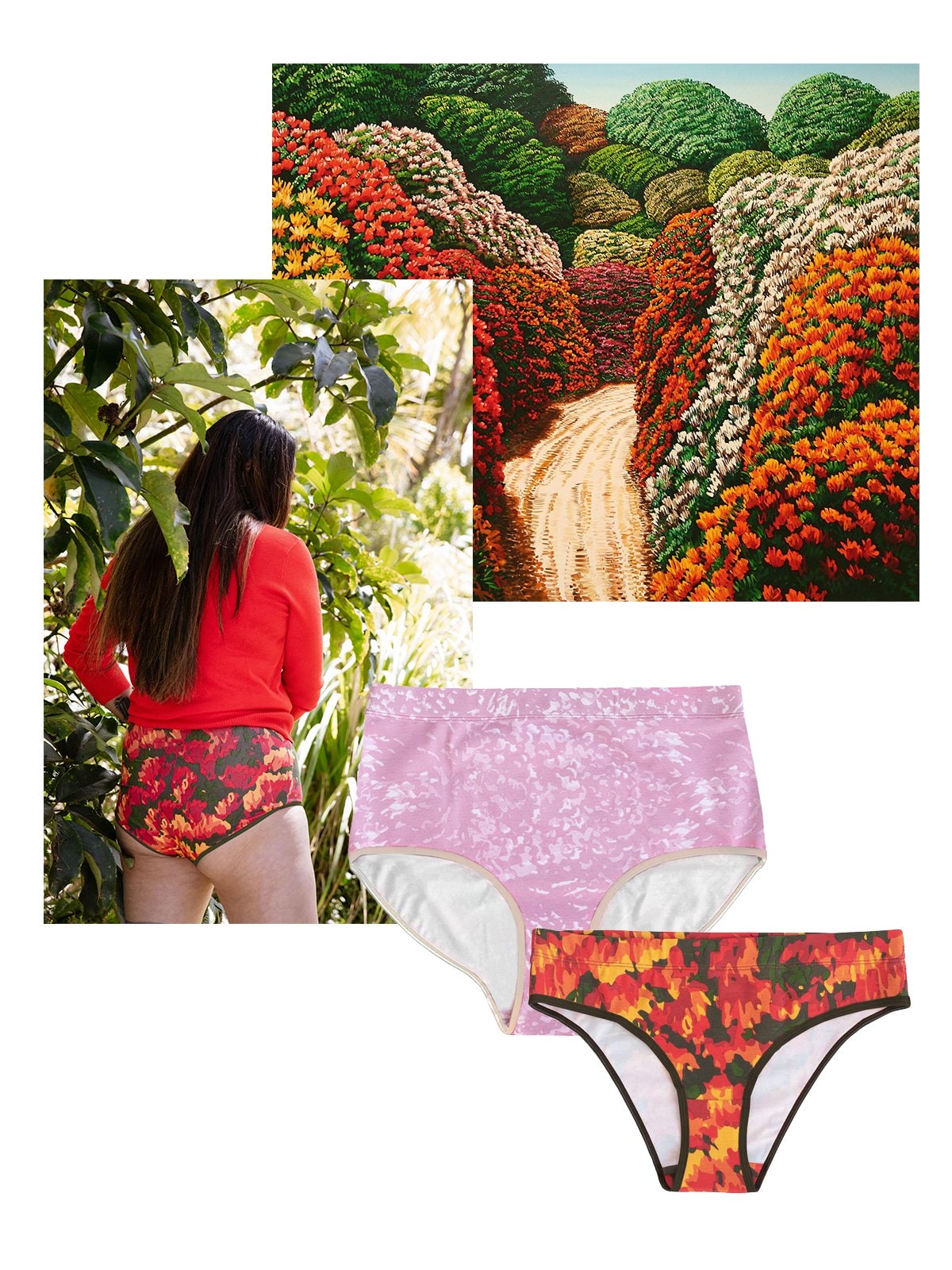 "I've been doing a lot of research with women over glasses of wine and there's a trend towards the big pant," Robyn says. "It must have been some man who decided G-strings were sexy. I don't know that women did. I think the big pant is foxy – it's comfy, it looks good – I love it."
As far as "down below" is concerned, this is a fine time to be a woman, Robyn reckons. "The bush is back and the big pant is back – we can be hairy, comfortable and gorgeous!" She is not the business brain here. That is sister Jen, a lawyer who works for New Zealand Rugby. What Robyn brings to the endeavour is passion, ideas and creativity.
"I know what I believe in and what is important," she says. "I know what I like and what I don't like. And I know how to talk about something and how to get behind it. But I don't want to give up acting… this is not me giving up acting at all."
She's there loud and proud on the website, modelling in her knickers alongside a group of other women.
I've got cellulite and broken veins, but I don't worry about that stuff… If people are going to judge me, then f*** them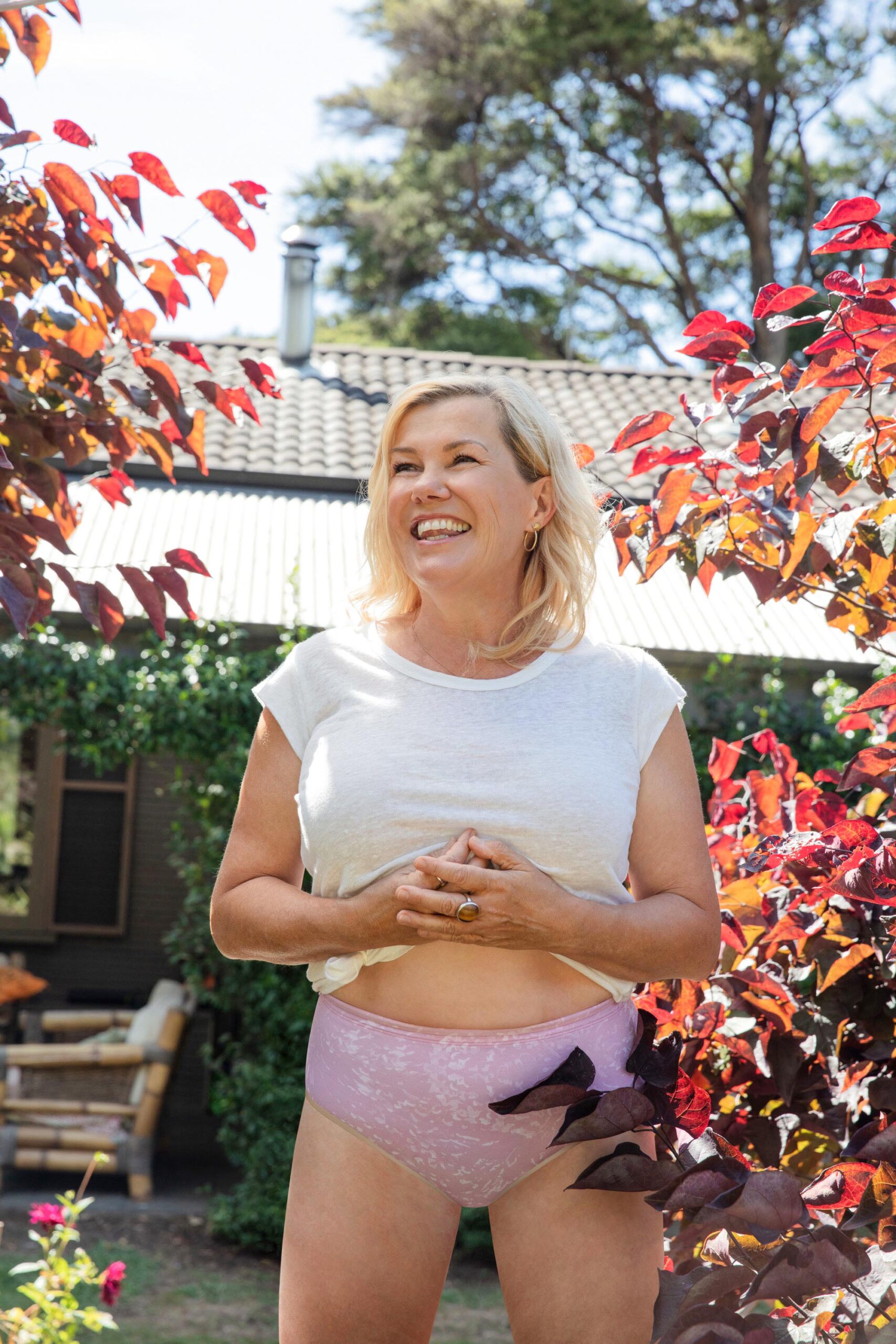 "I've got cellulite and broken veins, but I don't worry about that stuff anymore," Robyn says. "If people are going to judge me, then f*** them, whatever. Personally, I like seeing photographs of older women, it makes me feel good. All women are beautiful and deserve to be seen and celebrated."
When she was young, Robyn battled with a few issues around body image and food, and what helped change things for her was doing some life modelling to earn money while she was at drama school.
"I remember the first day, it was terrifying. I had to take off my clothes and lie in front of about 30 people – men and women – while they drew me. But it was the most incredible therapy because there was no judgement in the room. They were having an aesthetic relationship with what they were looking at. You'd hear them say, 'See that lovely soft line of her belly and the shadow under it' – they were talking about my body in a way I'd never talked about it, and that made a huge difference."
More recently, Robyn's body has been through some staggering ups and downs. Menopause has been a rough ride, she admits. The hot flushes, aching joints and brain fog came at her more forcefully than she ever expected.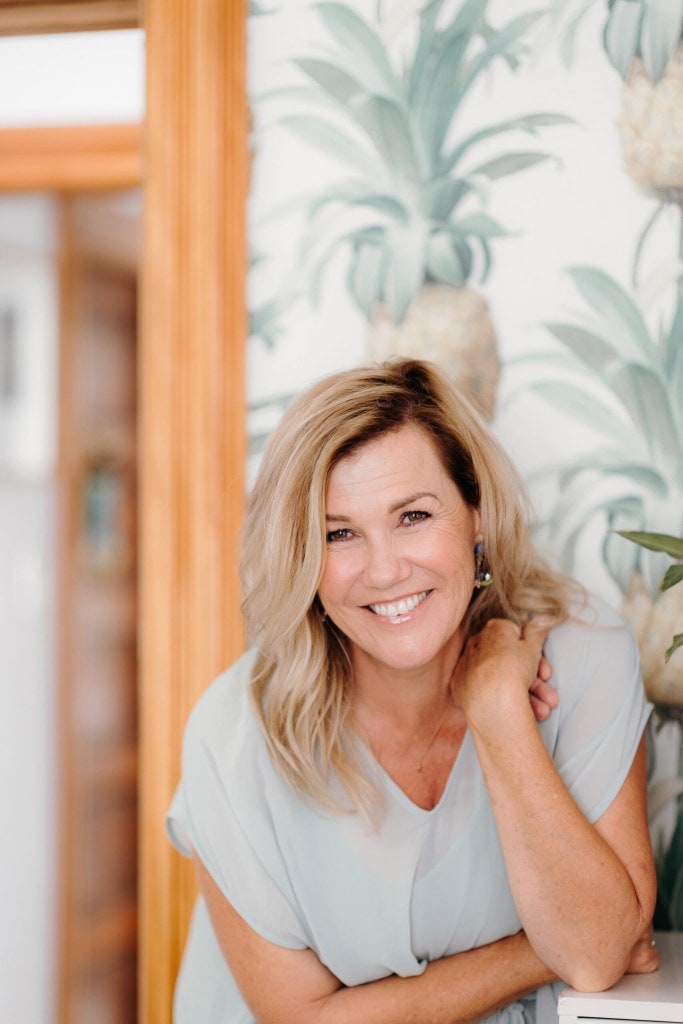 "I started to panic because I thought I was getting early dementia," she confides. "I'll meet people I know really well, and their name will have gone. I got really depressed and anxious and wasn't coping at all. So I took some bioidentical hormones and antidepressants for a bit. I took magnesium and did yoga and meditation. I thought, 'F*** this, I've got to get up and moving.'"
Being in midlife is a double-edged sword for a woman, she has decided. On the one side, you have more confidence so you might take a risk like launching your own brand of knickers. On the other, there is this huge biological shift that changes so much about you.
"I do feel on the whole much better about myself as a human than I did 20 years ago. I feel much more settled, stronger in what I know and what I believe, I'm less of a people pleaser and I'm not suffering doubt so much. But that first year of menopause kicked the s*** out of me, as I know it does a lot of women. It's a roller coaster for sure," says Robyn.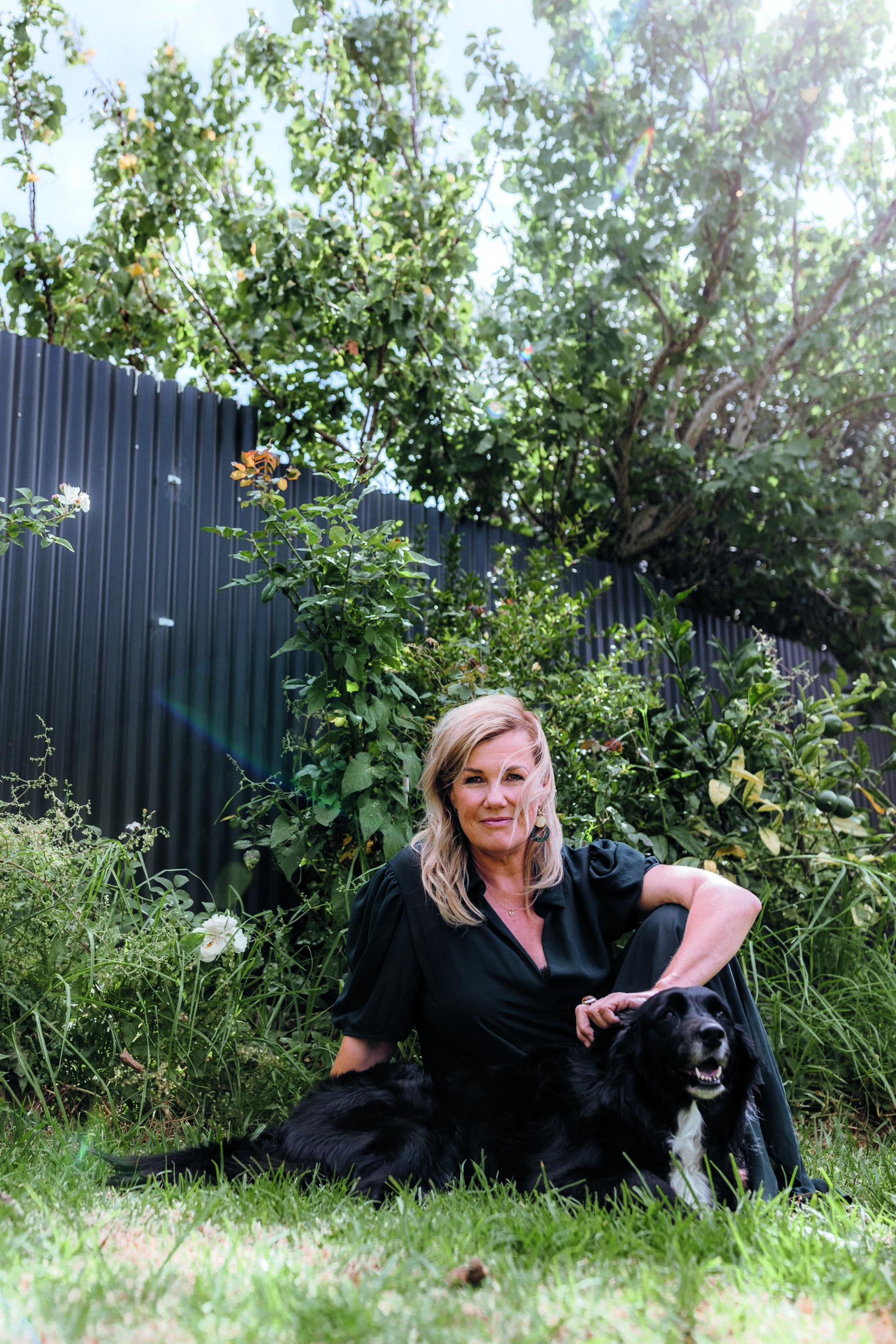 She makes a point of being frank about her menopause experience in the hope other women going through the same things don't feel quite as alone.
"I'm noisy about it. I tell people I'm having a hot flush, so we all need to stand out in the cold because I'm not doing it on my own!" Robyn is all about keeping it real, and is pretty good at being noisy. The one topic she continues to remain uncharacteristically quiet about is her love life.
"I have a relationship with someone offshore, I have had for a long time. We're very happy. It's good, it works," is all she will say. Any long-distance relationship means frequent separations, so the Covid-19 travel restrictions have been manageable. "We just did what we always do," says Robyn. "We Skyped, FaceTimed, talked… we talk a lot."
The pandemic also affected her work, with Robyn losing her role in an international feature film because she caught a cold and had to be replaced. That wasn't ideal, but insecurity is something she has grown very used to as an actor.
"I know what it's like to sit around and have no idea where your next job is coming from, to be unclear about what the future holds and to be really scared," she says. "I'm also quite good at existing in my own head, pottering along and being quiet."
In many ways this has been a full and rich time for Robyn. Working on her undies brand has kept her busy. The profits from the first production run are to be donated to The Aunties, a charity that works with people coping with domestic violence, and Robyn is hoping for lots of feedback from women on what they think of the sizes and shapes, before launching into another run.
She's also been having fun working with Australian production company Lingo Pictures and Kiwi screenwriter Dianne Taylor to develop the script for a new show. And she's acting too, fairly consistently, with film work both here and in the US. So while there have been times when she hasn't felt so great, Robyn knows she is fortunate.
"In my fifties, I've got my health and two incredibly healthy, happy kids [sons Charlie, 17, and Pete, 15], although God knows how because they haven't had a conventional upbringing. They're good. I mean, they're teenage boys. I ran those undies photos past them and one of them said, 'Can you just not show us? We know you're going to do it, but you don't need to include us.'"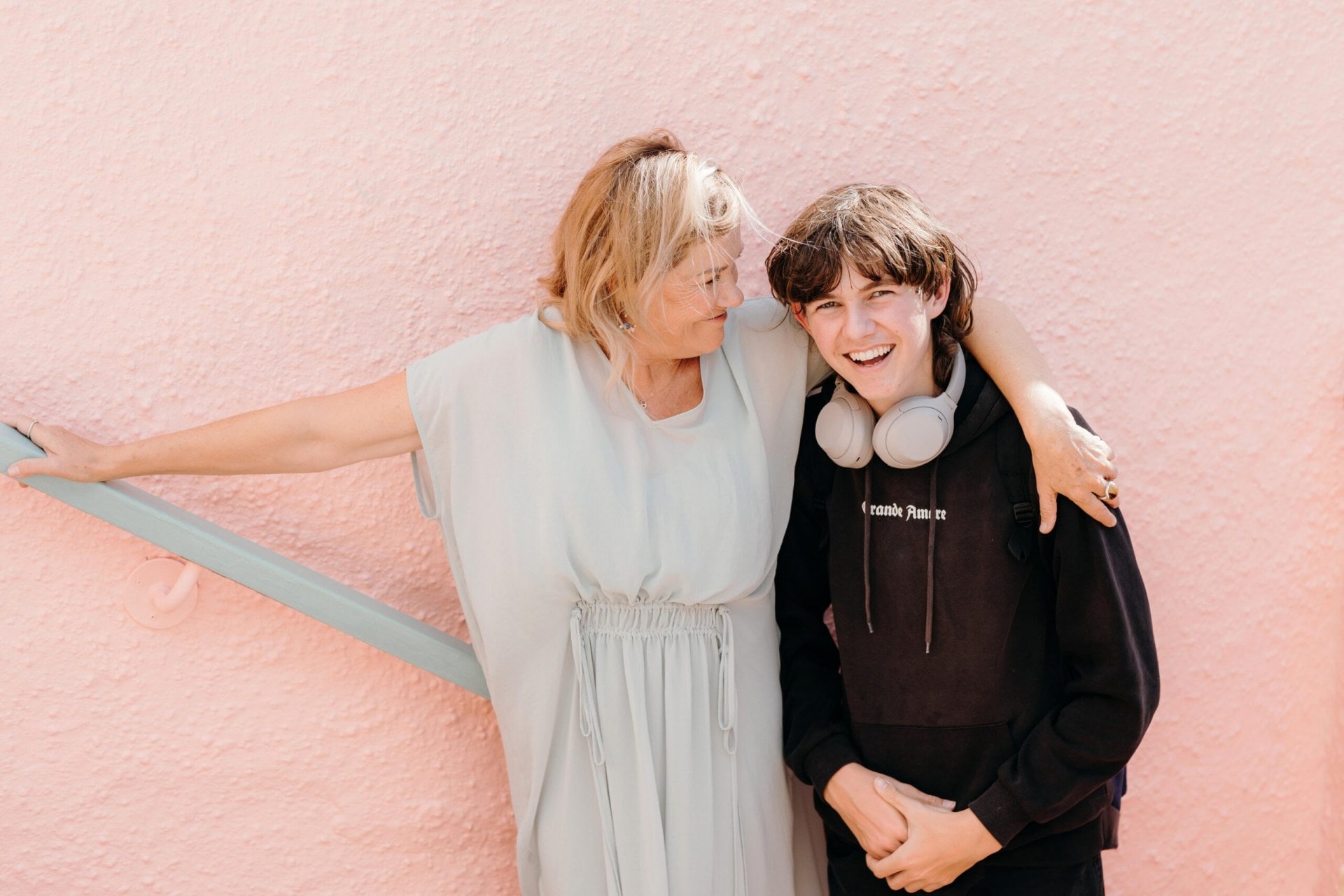 Robyn has been a solo mother since the moment Pete was born, so she has done some hard yards. The boys do still need her, but they're more independent now and before too long, they'll be heading out into the world to start their own lives, leaving Robyn alone with her dog Tara in that big, beautiful, bright house. She doesn't seem too fazed by the idea. "Maybe it's the good fortune of having them later in life, but I know what it's like to be an adult without kids," she explains.
Instead of a loss, she's hoping the coming years will bring more opportunity to strike out and try new stuff, and keep on making life rich and full.
I feel like I'm more equipped to fail now than I was in my twenties
"I feel like I'm more equipped to fail now than I was in my twenties," she says. "Somehow there is this messaging that as you get older the exploration and the journeying and discovering has to calm down. Actually, it feels like I'm in a better position to go the other way."