The kindness of strangers helped Helen Shirley find a silver lining to her Covid struggle.
Ideally, Helen Shirley's Covid-19 silver lining story would look different. The joy of being pregnant with her precious baby should have overridden the hiccups of 2020.
But for the Auckland psychology graduate, who was homeless throughout most of her pregnancy and for the start of the pandemic, it was the kindness of complete strangers that changed her world.
"It turns out having a tertiary education and full-time, well-paying job didn't make me immune to homelessness," says Helen, 37, mum to one-year-old daughter Indiana, aka Indi, who was born during New Zealand's first lockdown. "But for roughly eight months I was terrified I'd be living in my car with my newborn baby."
In mid-2019, Helen was surprised when a positive result appeared on a pregnancy test. Up until then, the Aucklander had been told she'd never conceive naturally because of endometriosis, but just six months into a new relationship, the hospital receptionist's dream of becoming a mother finally came true.
For the first 12 weeks of her pregnancy, Helen suffered hyperemesis gravidarum, a condition that causes severe, ongoing morning sickness, which landed her in hospital four times for treatment.
"I was trying to hold down a full-time job, but in the end it got too much," she recalls. "I had to take a month's leave from work, unpaid."
At the time, she was living with Indi's father and his parents, having moved out of the long-term home she'd shared with family friends. When her new living situation became shaky, Helen says, she was asked to find her own place, which triggered the beginning of a long and hard search for a rental property in Auckland.
As a newly single expectant mother, Helen's options were limited, since rent for a modest Kiwi home averaged $520 a week last year. Demand for properties had risen by 20%, and trying to find somewhere affordable on her own, as well as warm and dry, proved impossible.
"My mum came down from four hours up north to get me, and I spent a month in bed at her place, very sick," Helen says.
"Then I had to go back down to Auckland for work, but was still unable to find anywhere to rent. I'd been applying online for multiple rentals with no luck, because being pregnant meant I wasn't exactly the ideal flatmate."
Fortunately, the hospital she works for put her up in staff residences, letting her move in immediately.
"I considered myself very lucky to have had such an option, where I could pay a $500 bond and come in without judgement on being pregnant," Helen explains. "I spent most of my pregnancy alone in what I called 'the dorm'. It was essentially a tiny room with a single bed and a desk with drawers."
But she knew that once she gave birth, she couldn't bring her baby back to the accommodation. Midway through her pregnancy, Helen went to multiple flat viewings and applied, still without luck. "I did a short stint in a basement unit in another town, but after one week found out it was mould infested, so I ended up sleeping outside because I couldn't handle the smell," she says. "So, back I moved to the dorm and kept looking for places."
When she was 34 weeks pregnant, the pandemic hit and New Zealand went into Level 4 lockdown. A doctor advised Helen against staying in the communal facility because of the threat of Covid-19, so she frantically began searching for emergency accommodation.
"By then I was suffering severe depression and not eating, even though I knew I had to," she shares. "There were no hotel vacancies, except some that were really expensive. I was able to stay with a couple of friends, but only until I gave birth, as they didn't want a baby in the house."
Panicked and overcome with worry, Helen remembered a conversation she'd had earlier in her pregnancy with a supportive midwife, who referred her to a maternal social worker. At the time Helen hadn't made the call, but after a week of sleeping in her friends' spare room, she decided to contact them.
"I was very blessed to have the maternal social worker jump into action fast and connect me with a wonderful agency called Kāhui Tū Kaha, and they got me into a hotel in the first week of Level 4," Helen says. "I arrived in my car with all my things, heavily pregnant and feeling defeated and pathetic. Before then, I'd experienced judgement from support groups who said I'd had nine months to find a place, but it wasn't that straightforward."
I'd had nine months of feeling totally alone, and all of a sudden I was being helped and shown so much empathy
From the moment Helen arrived at the Leroy Suites Albany, a hotel on Auckland's North Shore, she relaxed.
"I was put in a lovely room, and for an entire week I slept, ate and watched TV. It was like I could finally breathe after everything," Helen says. "The security guards and the manager, RJ, were absolutely amazing. They looked after me like I was family and brought my groceries up to me. I'd had nine months of feeling totally alone, and all of a sudden I was being helped and shown so much empathy."
Just seven days after arriving at the hotel, Helen went into labour, almost two weeks ahead of her due date. After an evening's labour and a caesarean due to pelvic floor issues, her brown-eyed bub was born on April 15, 2020, happy and healthy.
Indi's dad was allowed in the theatre for 30 minutes before having to leave due to Covid regulations, leaving Helen to grasp first-time motherhood on her own. "He dropped off care packages for me, while I spent the next week recovering in a hospital room with my newborn girl," says Helen, who was recently accepted to study applied social work. "But the biggest thing for me was just knowing I had somewhere warm and secure to go with her once we left hospital."
When the new mum arrived back at her hotel with Indi in tow, the manager had moved all her belongings into a bigger room, stocked her fridge and even arranged her personal photo frames on the windowsills. "He put teddy bears on my bed and the agency had bought me bags of baby clothes, blankets and nappies," Helen says. "I was gifted a wahakura, which Indi slept in for many months."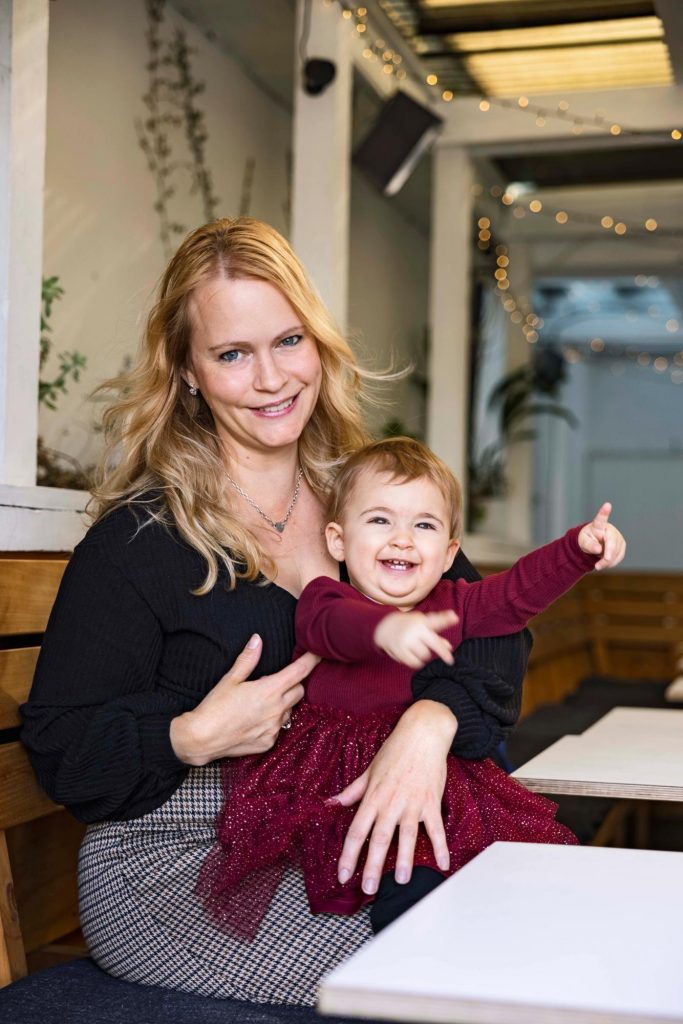 While the trauma of 2020 still rattles her some days, as she grieves the happy pregnancy she didn't have, Helen is appreciative that things took a positive turn four weeks after giving birth, when a colleague messaged to say his dad's unit had become available in Mount Eden, and she could move in.
"Even though it was the lowest time in my life, my beautiful baby girl made it all worth it, as did those people who stepped up with so much kindness. Caring people were my silver lining," she says. "I feel endless gratitude towards all of them."