Sophie Hansen and Annie Herron share a selection of their favourite recipes, guaranteed to warm your belly and your soul over winter.
This is a cross between a galette and a potato bake, with some greens thrown in for good measure. It's especially lovely with chard-stalk pickle on the side. If you're in a hurry, use two sheets of store-bought shortcrust or puff pastry.
Prep time: 25 mins, plus 30 mins chilling
Cook time: 1 hour
Serves 4-6
Ingredients
500g waxy potatoes, peeled
1 large bunch rainbow chard or silverbeet (Swiss chard)
2 tbsp olive oil
1 brown onion, finely chopped
3 garlic cloves, finely chopped
1 tbsp thyme leaves
½ tsp ground cumin
½ tsp smoked paprika
200g crème fraîche
2 tbsp Dijon mustard
3 eggs
Salt and black pepper
1 cup grated gruyère or other mild, nutty cheese
½ cup finely grated parmesan cheese
2 tbsp sesame seeds (optional)
2 tbsp nigella seeds (optional)
Tomato chutney to serve
Sour cream pastry
⅔ cup sour cream
2 cups plain (all-purpose) flour, plus extra for dusting
250g chilled unsalted butter, cut into cubes
½ tsp sea salt
Method
1. For the pastry, blitz the sour cream, flour, butter and salt in a food processor for a few seconds or until just combined. Turn the pastry out onto a work surface, then gently bring it together into a disc. Cover the pastry in plastic wrap, then pop it in the fridge to chill for 30 minutes.
2. Add the potatoes to a saucepan of water, bring to the boil, then cook until tender when pierced with a knife. Drain and set aside to cool.
3. Pull the chard leaves away from the stalks (reserve the stalks to make chard-stalk pickle. Tear the leaves into smallish pieces.
4. Heat the oil in a large saucepan over medium heat. Cook the onion for 10 minutes or until softened. Add the garlic, thyme, cumin and paprika and cook for a few minutes. Add the chard leaves, then toss everything around for a few minutes so the chard cooks down and softens. Remove from the heat and set aside to cool.
5. Preheat the oven to 200°C. Line a large baking tray with baking paper.
6. Combine the crème fraîche, mustard and two of the eggs in a bowl. Season with salt and pepper, add the cheeses, then whisk to combine. Stir in the chard mixture.
7. Cut the pastry disc in half. On a lightly floured surface, roll one half out into a flat round that's about 5mm thick. Repeat with the second piece. Place one round on the baking tray. Thinly slice the cooled potatoes, then arrange them in a circle on the pastry, leaving a 4cm border. Carefully pour the onion and chard mixture over the potato. Place the second pastry round on top, then crimp the edges to seal. Whisk the remaining egg and brush it over the pastry. Sprinkle the sesame and nigella seeds over the top, if using.
8. Bake the pie for 30-35 minutes or until puffed and golden. Cut it into wedges and serve with tomato chutney and chard-stalk pickle.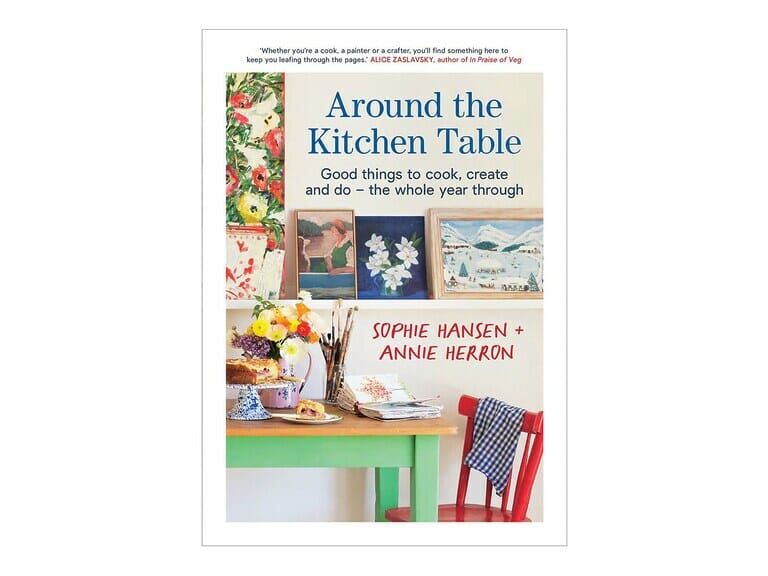 Extracted from Around the Kitchen Table by Sophie Hansen and Annie Herron. Photography by Sophie Hansen. Murdoch Books, RRP $45.