This content is the 1st story of a series. Find the follow up article here.
I recently embarked on a new romantic relationship and, as is often the case with new love, intimacy has played an important part in our union. Although we both agree we most definitely do not want to procreate. We have a combined age of 105 and four children between us, so there is no need to breed, no matter how giddy our newfound infatuation might make us feel.
In order to indulge in worry-free and eventually unprotected sex, I had a full raft of sexual health checks, because I've had more relationships than my new beau, who's had just one careful lady owner. But, to pull his weight with regards to our passion project, this lovely fellow offered to have a vasectomy and I thought to myself, 'what a good man', to share the contraceptive load. After all, the ball is as much in his court as it is in mine.
Talking of balls, as luck would have it, this good man of mine is friends with a doctor who performs vasectomies so, within two months of us meeting, my new boyfriend made an appointment for the snip, and it seemed like the most natural thing in the world for me to come along for the ride. He was having a life-changing operation partly for my benefit, and I wanted to hold his hand.
Ordinarily I would cycle into Auckland City, because everywhere you turn the streets are being dug up and the congestion is horrendous – but the prospect of doubling a full-sized adult male who's recently been knocked out on Midazolam did not seem practical, so I drove. But to locate the side street where I was to park proved nearly impossible. I took quite a few wrong turns and my map app was no help whatsoever. It had not been informed of the disruptions and detours.
With the operation scheduled for 2pm, at 1:58 I entered a bus lane although I was only to discover this later. Finally, I found the clinici, and once parked, I flew into the central city medical centre in a bit of a tizz – how could I be late for my boyfriend's vasectomy? But I found my man in the waiting room, all calm and collected. I quickly matched my mood to his, because if anyone was entitled to flap it was him, and he was as cool as a cucumber.

Ushered into the consulting room, the doctor talked us through the procedure. He performed his preamble with a couple of quips about snips. He double-triple-checked that we were certain we didn't want any more children, because we needed to understand that reversing a vasectomy is a lot more expensive and complex than the vasectomy itself.
In the operating theatre, the big fella was gowned up and asked to lie on the examination table, Midazolam was administered, his eyes fluttered shut and the procedure began. First, the nurse taped his penis to his stomach. Who knew that would be part of the deal? Maybe I shouldn't have come. Then she pulled his testicles through a hole she'd made in the middle of a square of green surgical paper. There they rested, a pair of light burgundy testes, partially shaved to mark the occasion. They looked so lonely, resting there. Sensing I needed to feel useful, and do something other than gaze at my new boyfriend's 'nads, the nurse asked if I wanted to hold the patient's arms, to prevent them from flailing and potentially knocking the surgeon out.
I was grateful to have something to do and I took my role very seriously, in spite of the patient's deep state of relaxation, his gentle snores.
"You'll feel a wee sting," the doctor said to you, as he inserted slender needles into your balls, but you felt nothing. As the doctor went about his business, his plastic splatter-proof visor perfectly polished, he gave me a basic anatomy lesson. 'Here's the vas deferens,' the doctor told me, pulling on a white tube, as if it were a dropped stitch in a testicle-inspired knitting project. I thought it looked like spaghetti, or a squid ring. I wasn't too perturbed though, and briefly I thought about taking a picture. But I had not discussed that with the unconscious one and it would be rude to do so without having been granted permission. I dearly wish I had a picture now though, to illustrate this story.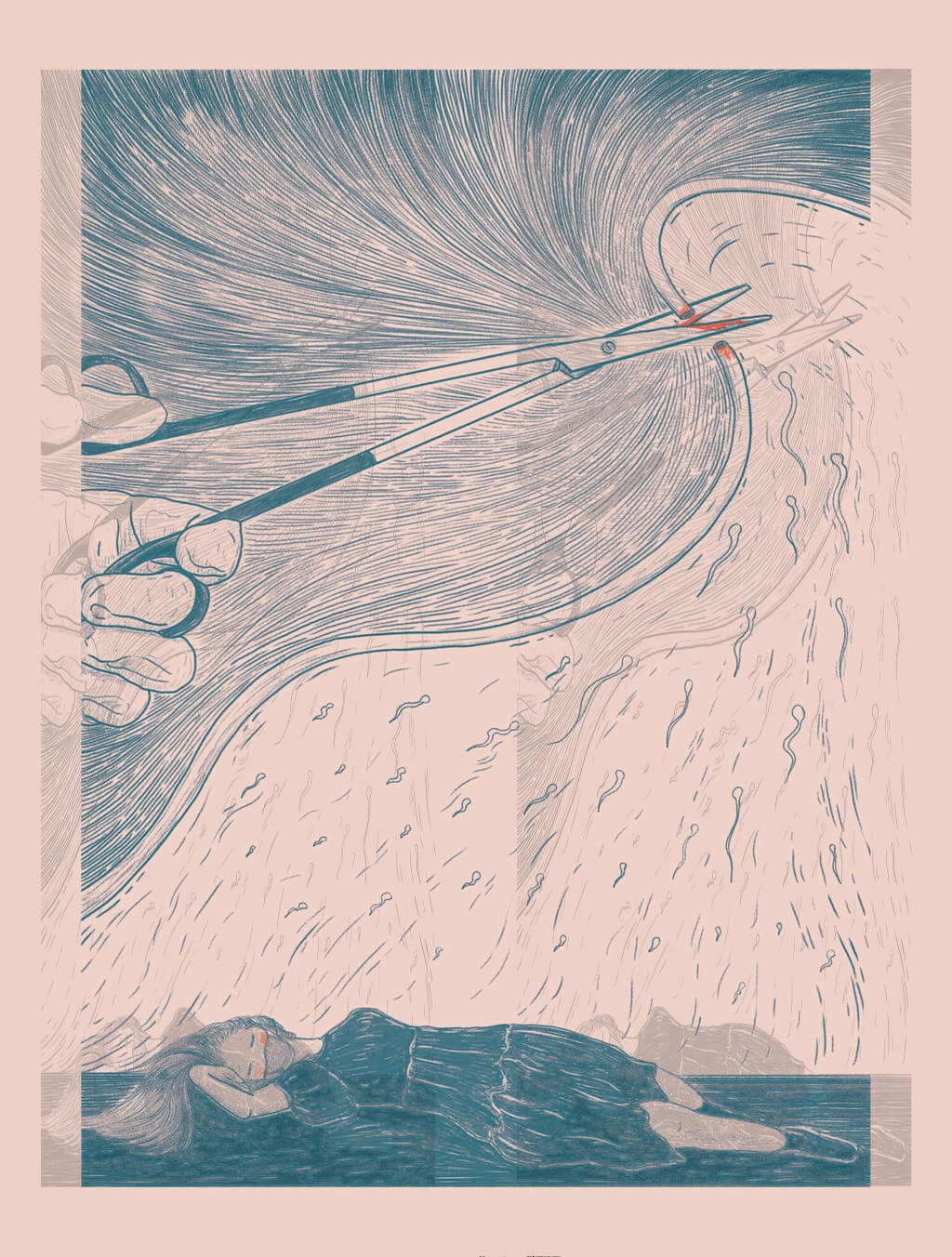 I thought about recreating the scene for a photo shoot, but the editor of this fine magazine said that would not be necessary. As the procedure continued, I began to feel strange. A little off-colour, as if I'd been reading in a moving car. Then I heated up. My face started sweating and a cascade of perspiration ran down my cheeks. I had an urge to vomit, which happily I suppressed. What was going on? I must not puke on the patient, I said to myself as my mouth filled with saliva and, most important of all, I must not distract the doctor lest he damage the goods.
Just at the moment I thought I was a goner, the nurse returned. Simultaneously the doctor said we would smell burning, the cauterising of the flesh. I believe I changed colour. I was offered a drink of water but I am certain if I had just one sip I'd be sick, then I slipped to the floor.
Without knowing how I got there, I realised I was lying on the linoleum. It was smooth and cool on the floor, and it didn't feel inappropriate to be there at all. In fact it felt like the most natural thing in the world. I felt quite at home on the floor.
Later my paramour with the knackered knackers would say that the only thing he remembered about the procedure, was opening his eyes and seeing me slip to the ground in a lady-like swoon and, possibly because he was still mildly sedated, it did not feel inappropriate to him either.
Happily, once I'd fainted, I instantly felt better and, after a sip of water, I recovered my equilibrium and was able to play nurse again and out we went to my car, off home to soothe his tender sac with frozen peas. A week later I was sent a souvenir from our medical adventure, a ticket for being in that bus lane.