Erica Lloyd loves solving problems, which is why her role with an AI company that's helping to put digital people into the workforce is so rewarding.
It's a rainy Sunday afternoon and I am booked in for a Zoom call with Erica Lloyd to talk about her life and work. A bundle of energy, she recently married filmmaker Naashon Zalk, and together they are raising two young children. Erica also has three grown-up children who have peeled off and left home. Frequent get-togethers are lively and full of banter in this tightly knit blended family.
Erica and Naashon split their time between city offices and their homes on and offshore, working across multiple countries and time zones.
I can't quite visualise what this means other than special effects in the movies.
I click on the link that Erica has sent me and woosh! I instantly land in her Auckland home.
Just before the pandemic, Erica joined Soul Machines as general manager for healthcare and education worldwide.
She's just returned from four weeks in Europe and the US. After more than two years of Zoom calls, she wanted to meet her colleagues and clients in person. Most of Erica's work is in Pacific Time, meaning her day usually starts around 5am.
How has motherhood in the Zoom bubble been? "The working-from-anywhere vibe is a huge step forward, more inclusive of family life but… it feels late coming. With parental flexibility… we should have had this a million years ago.
"In my early days of working at senior level, I often had to hide issues around childcare. I even wore Spanx to postpone talking about my pregnancy. I sacrificed my own sick days for my kids' sick days. To be looked at seriously, you had to manage [motherhood] away from any scrutiny, as if it was a weakness, but this pandemic has normalised the mix of home and work and it's way healthier."
Erica recalls "taking the early news shifts at TVNZ and TV3 so that I could pick my kids up after school and school activities". She was then a news journalist, both on-and-off-air, doing current affairs and business reporting. She noticed there were very few senior roles for women and how fast the internet was moving.
"I could see that the broadcasting mechanisms were not able to meet the speed people wanted information." She takes me back to the day of the London bombing in 2005, "when citizen journalism became a thing, with people posting pictures from their phones, and I realised that authorship of content had been moved to the public as well as the broadcaster and I realised it was time for me to move, too."
The rapid evolution of technology made and then ended her first business in the film industry. In her 20s, Erica owned a film post-production start-up that navigated the move from analogue to digital.
"I bought a house, made some money and sold the business. It wasn't long before the whole practice was gone, vanished, superseded by the newer technology."
In 2008, Erica moved into global corporate PR, followed by a stint in banking before spending the next half-decade as an executive for Datacom, New Zealand's biggest IT services company, as it expanded across the Asia Pacific. Being immersed in this world saw Erica's curiosity about emergent technologies grow into a mission… the "commercialisation of deep science for the New Zealand Government, which was my Callaghan [Innovation] role".
While she's saying this, I am surreptitiously googling "deep science" to read that it can range from being "discovery-oriented", such as "what is the universe?" and "what is life?", to being mission-oriented, addressing the challenging problems of our times. It requires huge financial investments for technological infrastructure and ongoing collaborations between and within organisations.
At Callaghan Innovation, Erica delved into where "our own brilliant deep science can be commercialised to build new businesses. I was lucky enough to do a few years of working with R&D Funding, tech incubators and accelerators and connecting up our start-up ecosystem."
Another quick google reveals Deep Tech as "being micro businesses based on high-tech solutions in engineering and science".
"My view of technology is that it should add to human empowerment rather than reduce it. At Soul Machines, our mission is to advance collaboration between humans and machines, to humanise technology and make it more empathetic."
Think emotionally responsive avatars that look like us, not the blue Na'vi people of Pandora.
Of her move to Soul Machines, Erica says, "I was intrigued because an AI firm of that calibre was here in New Zealand. It's now co-located in the US, although much of the R&D base is still here."
I have heard about Florence, the World Health Organization's first virtual health worker, who assists laggard smokers like me to quit. The organisation's website has a demo video showing how this interaction between human and machine might work. This is very considerate. I click on the button that introduces me to Florence, who smiles back. She's really polite and I can choose whether to get to know more about her or to "jump straight in" with the smoking cessation session. I am aware I never embraced Siri and have a lot of catch-up to do in regards to talking with machines. This screen encounter feels strange, but not scary.
"My favourite part of this job is bringing the benefits of this type of technology to sectors where they can resolve massive problems," Erica says.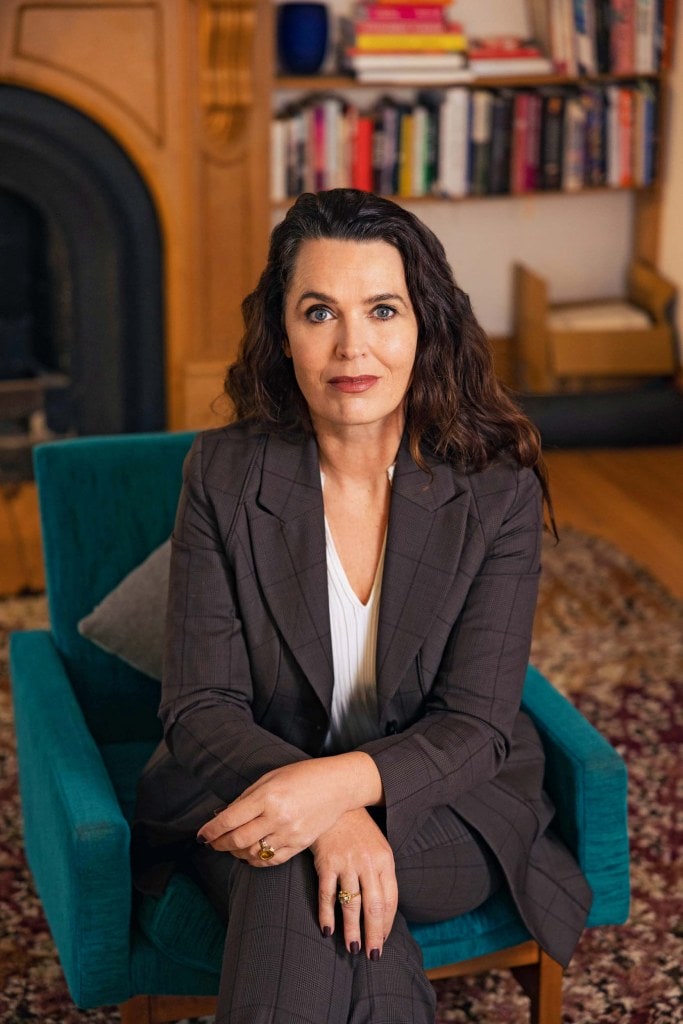 In Geneva, she met her WHO client, and she says, "One example is what to do about the forecast of more than nine million too few nurses and midwives in the coming decades. And we know that with the Great Resignation and skill shortages in every country, some sectors are acutely impacted. Healthcare and education are.
"We want to put this empathetic technology in the hands of organisations that have gaps in service delivery. Because they might not have enough staff, or need their own human capital – doctors, nurses, and radiologists – extended in a way our technology can do. It's why I'm in AI. I love solving problems."
Erica can sense across the screen that I'm still not fully comprehending. She reassures me, "Humans are remarkable and uniquely complex to replicate… what we can do is extend human capital, which means giving a hospital or university extra reach with our digital workforce. Their workloads have become extraordinary, burnout is skyrocketing, and the digital shift has been accelerated by Covid, where we're doing stuff like having this video conversation. No one is going back.
"We're fully into hybrid life; this combination of real world and 2D (like Zoom). We're already creating 3D interactions with immersive and metaverse-type experiences. You and I will put on a glass or something and we'll be in a space that we choose; it might be a concert hall or it might be a medical setting. Obviously, we're in our real life as well… so it's around getting the best of that combination."
This ability to better work with each other long distance has to be great news in regards to air travel and carbon concerns. Erica agrees. "You make travel worth it. I don't think we'll ever fly with the same abandon again. Nothing beats being in the same room with someone you are working with. Once you've had some real time, which you can augment with digital."
I ask what it was like to be out in the world again.
"Wonderful!" Erica exclaims. "It was like Covid was a memory, even though we know it is present. My sense is of a lot of pent-up enthusiasm for being together."
Regarding a work conference she attended in San Francisco, she says, "There is a lot of effort dedicated to evolving the next phase of technology, or the next phase of the internet or the next phase of web3, or whatever we call it. In a way, because of the lessons of the big social media platforms with issues around people's privacy being compromised or their mental health being impacted… this next phase of tech must be more focused on inclusion and empowerment; on ethical ways of communicating and engaging. The big platforms are being regulated now because they've made a mess. Being part of Soul Machines is to do it better and learn from the mistakes that have been made."
As if on cue, my screen freezes and I can hear Erica telling me I've gone "all jaggedy". A couple of impatient clicks and then, like magic, we're both back on.
I want to know what she loves about her city, as a born and bred Aucklander.
"I love its promise, its dysfunction, its enthusiasm for how it's the biggest Pasifika city in the world and an Asian city, too. You can't go very long without wanting to go for chicken rice or nasi lemak."
Erica acknowledges Tāmaki Makauraui is "going through a spotty teenager phase". She is looking forward to seeing some of the bigger infrastructure projects giving Auckland a backbone that it can really prosper from.
"I mostly love volcanoes, the maunga. There's 53 of them. In my last house, I lived on the edge of a volcano, in a volcanic basin."
Another place that Erica and Naashon love, and where they now spend more time (thanks to faster broadband and Starlink), is Kohukohu on the Hokianga Harbour in Northland.
"This working-from-anywhere experience means you can have an exciting, complex and challenging career in remote corners of New Zealand. This ability for people to use huge amounts of data dissolves the tyranny of distance, which has always been the problem for us Kiwis.
"For me, it means that at least a couple of my five children will find interesting careers in New Zealand and, like Naashon, who is producing documentaries remotely, or myself, work for offshore companies from home.
"Of course, because we can now work all the time, we have to be quite disciplined in balancing when it is on and off and managing our energy over the 24/7. We can get more done without burning so much carbon, but must be mindful of what our home is. To not wreck the intention of the space."
It's this need for flexibility and embracing change that keeps Erica moving towards the cutting edge. From her experience, she says, "Whatever you think is a sure thing, it won't be. It's going to change and it's going to change faster than you think. Anticipating that is really useful and also, being curious, not just fearing it. Go jump in and find out about it because uncertainty is the only certainty."
Erica shares her digital staples
1. Communication: Zoom, WhatsApp, Messengers, FaceTime, et cetera (especially when I'm way up in North Hokianga for mobile coverage reasons); and because wrangling time zones is a constant mission from here, Boomerang and the very simple, exactly what is says it is, Time Zone Coverter app.
2. Playful: Meet our digital AI "Astrologizer" for a horoscope reading, as well as a fun way to try Soul Machines' Digital People technology. Astrologizer is available in the Apple App Store and on Google Play.
3. Privacy: being a card-carrying Gen Xer, I love my privacy, so I use Signal Private Messenger and DuckDuckGo Privacy Browser.
4. Transport: The Air NZ app is faultless at everything it is designed to do, including custom coffee orders. Uber works so well it has basically become a verb, although Zoomy is a hometown alternative, and Parkable is ace for parking.
5. Random: AllTrails for bush walks, Bitmoji to enrage my millennial kids, Calm for "Mama can't get to sleep soundtracks", and writing this has made me go get the gorgeous BeReal.