The world of financial investment might be dominated by wealthy, middle-aged men, but Brooke Roberts and Sonya Williams are bucking the trend. The two friends behind Sharesies tell Sharon Stephenson that they want to make investing accessible for all.
In the late 1980s and during a sixth form economics class at a Lower Hutt college, someone asks the teacher how the sharemarket works.
That teacher, a gruff Irish nun, tells her all-female class they don't need to worry. "Investing is difficult and better suited to men," she declares.
Brooke Roberts and Sonya Williams laugh when I tell them this story. It's true, I say; I was in that class.
The co-founders of Sharesies – an online investment platform that aims to make it easy for everyone to invest – believe that while those archaic attitudes thankfully aren't as prevalent as they once were, there's still some way to go in terms of female financial literacy and expertise.
"When I wanted to invest in shares a few years ago, I didn't know how to do it or how the system worked," recalls Sonya, 32.
"I was effectively shut out of the market. So our aim was to create a financially empowered generation by making investing more accessible," she says of the idea she had five years ago.
In fact, when the patron saints of Kiwi investors (and their four co-founders, including Brooke's husband Leighton Roberts and Sonya's partner Ben Crotty) started researching the viability of an investment platform where "anyone could have a crack, whether they had $5 or $50K", what they found shocked them.
"Our research showed investors were primarily men over 60 who lived in Auckland," tells Brooke, 33. "Not surprisingly, the perception was that you needed heaps of money to invest or had to be an old white guy in a suit."
Of the 4000 or so Kiwis the founders talked to, 99% wanted to invest in the sharemarket but didn't know how. "They felt they had been priced out, jargoned out and left out of investing."
Their research coincided with 2016's tsunami of media reports about millennials not being able to afford homes because of their love affair with smashed avocado.
Says Sonya, "They were such negative stories, so I wanted to change the Kiwi narrative about property being the only real investment. With homeownership becoming less attainable, I thought there had to be a better way to invest our money." Also chipping away at their conscience was the guilt and shame associated with money, particularly with what people were and weren't doing with their cash. "We realised there was a massive opportunity to start having these conversations and help people grow their wealth".
I wanted to change the Kiwi narrative about property being the only real investment
They were encouraged by Leighton, who started an investment club when he was 17.
"Leighton and 13 of his friends and family each committed to saving $50 a week, and since then they've invested in everything from commercial property to a sustainable chicken farm in the Philippines," tells Brooke. "He showed us that you don't need a lot of money to invest."
Their start-up has been like financial catnip for Kiwis and, four years after launching Sharesies, more than 300,000 people have joined, investing a whopping $1.1 billion via the platform in both New Zealand and US shares.
They range from newborns signed up by their parents to 97-year-old investors. There are currently 117 staff on the payroll at Sharesies, most of them dotted around a swanky office in central Wellington, as well as in Auckland and Australia.
But one of the things the friends are proudest of is having a gender-equal pool of investors.
"We've got around 48% women and 52% men on the platform, which I'm pretty sure is very different from other investment platforms," says Brooke.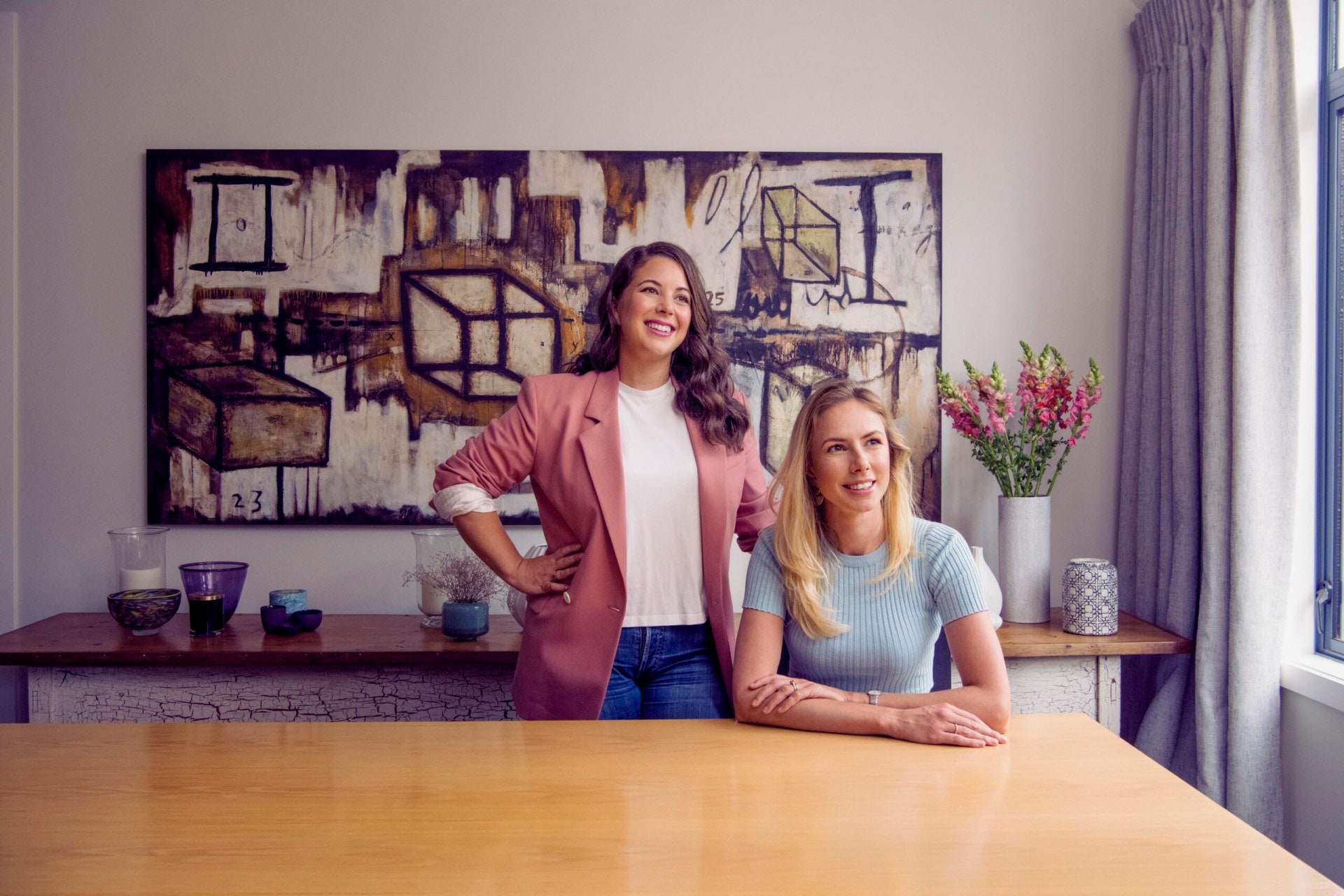 Women, they believe, are drawn to Sharesies because it allows them to find investments that align with their values and ethics, as well as helping them create wealth over a lifetime.
"We're not a get-rich-quick scheme," says Sonya. "Sharesies is a wealth-development platform that you can build over your lifetime. You can start with as little as one cent and put some money in each payday to build up not only your portfolio, but also your financial confidence."
Ironically, for a group marginalised by financial markets for so long, women are the ones who should be investing, given that we live longer, are generally paid less than men (thanks, gender pay gap) and are more likely to take a career break.
"Research shows that women actually make good investors because they tend to buy and hold shares longer than men. It's also a way for them to make a difference with their money, by investing in companies they care about."
It's also a way for them to make a difference with their money, by investing in companies they care about
Sonya, who was born and raised in Levin, tried on a number of hats before she found her groove. There was a law firm, a call centre, even a debt collection agency, before she enrolled for a marketing and accounting degree at Victoria University. At her first job, Sonya discovered a "magical intersection of technology and people, of creating solutions with technology in the kinds of jobs you don't get exposed to when you're from a small town".
That segued into roles in the marketing teams of Xero and Kiwibank, where she met her fellow co-founders.
Sonya dreamed of doing "something important and meaningful" with her life and, thanks to a strong history of self-employment in her family, knew she'd eventually start her own business.
Brooke has a similar story, having been involved in several start-ups, including a business staging fashion shows. During a marketing class at Victoria University, she recalls the lecturer asking who was interested in finance.
"Out of 300 students, only three of us put up our hands!" she says. "So I went down the finance route, but was looking for a role that combined both marketing and finance."
Brooke – who was born in Manuwera and educated in the US – fits Sharesies around her two children, Elle, three, and 10-month-old Louie. She too has a tale of woe when it comes to early investing efforts, being put off by the high fees charged by brokerage firms for each trade. It's why Sharesies structures its low transaction fees around the amount invested with each trade, and why there's with no subscription fee for balances under $50.
Even in a chaotic Covid world of spiraling global debt and job losses, Sharesies managed to achieve a 277% growth rate last year.
"During lockdown we had a major spike in new sign-ups," reports Sonya. "People had a lot of time on their hands and I'm guessing they started to worry about their financial futures."
Having planted their flag at the pinnacle of Kiwi investing, the friends are now looking to Australia, where they're launching Sharesies in the next month or so. And eventually they hope to push into Asia.
"Grateful" is the word they use when describing the feedback from customers, including the women in an office who meet once a week to discuss their share portfolios, and someone Sonya recently met at an event.
"This woman pulled me aside and said when she was growing up, no one ever talked about money," tells Sonya. "But she, her daughter and her mother now get together once a week to discuss their share portfolios. She was so grateful to us for starting Sharesies, for making it more comfortable to talk about money and easier to invest."