After losing her husband and son within weeks of each other, Julie Zarifeh knew she couldn't let the pain control her life. She explains to Sharon Stephenson how active mourning helped her heal.
On a Saturday evening in December 2017, Julie Zarifeh is sitting in a darkened cinema, admiring Colin Farrell's cheekbones.
It's one of the few times the clinical psychologist and mother of three has left her Christchurch home since her husband Paul lost his battle with pancreatic cancer 16 days earlier.
But as Julie and her friend drive home, she receives the kind of phone call every mother – heck, every person – dreads. A neighbour rings to say the police are at Julie's house and want to see her.
"I immediately knew it was bad," she says. "The police don't turn up at your house at 10pm on Saturday night for a parking ticket."
Julie was right: her eldest son, Sam, had been killed in an accident. The 27-year-old teacher had been rafting with colleagues on the West Coast when his raft flipped and he drowned. Just 11 days after her husband's funeral, Julie, 56, had to plan another one.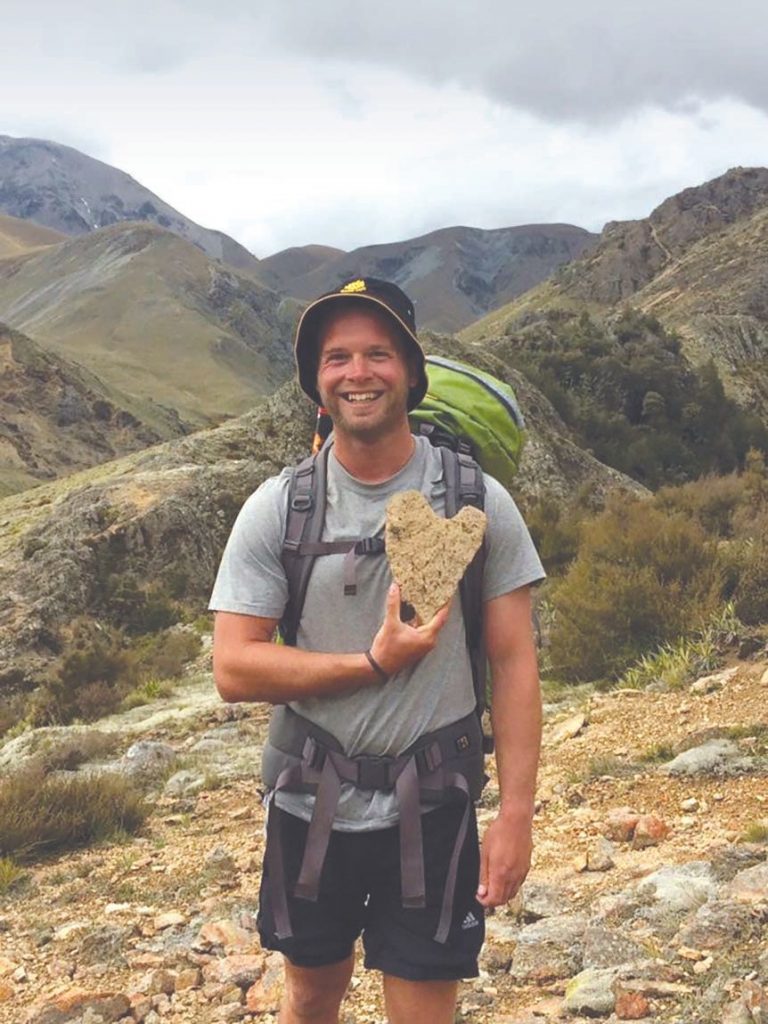 "I had this visceral, physical sense of feeling utterly sick," she recalls. "Adrenaline was coursing through my veins and for days I couldn't eat or sleep. I think it was the incredulousness of it all – this huge thing of losing my husband of 30 years and then my son two weeks later. Even though, as a psychologist, I've spent my career helping others process grief, there are still days when I can't quite believe it."
It's the sort of sucker punch that can derail a person forever. Not only that, Julie had earlier lost her only brother to a brain tumour, her father passed away 18 months before Paul, and, nine months after her beloved son died, Julie lost her mother to dementia.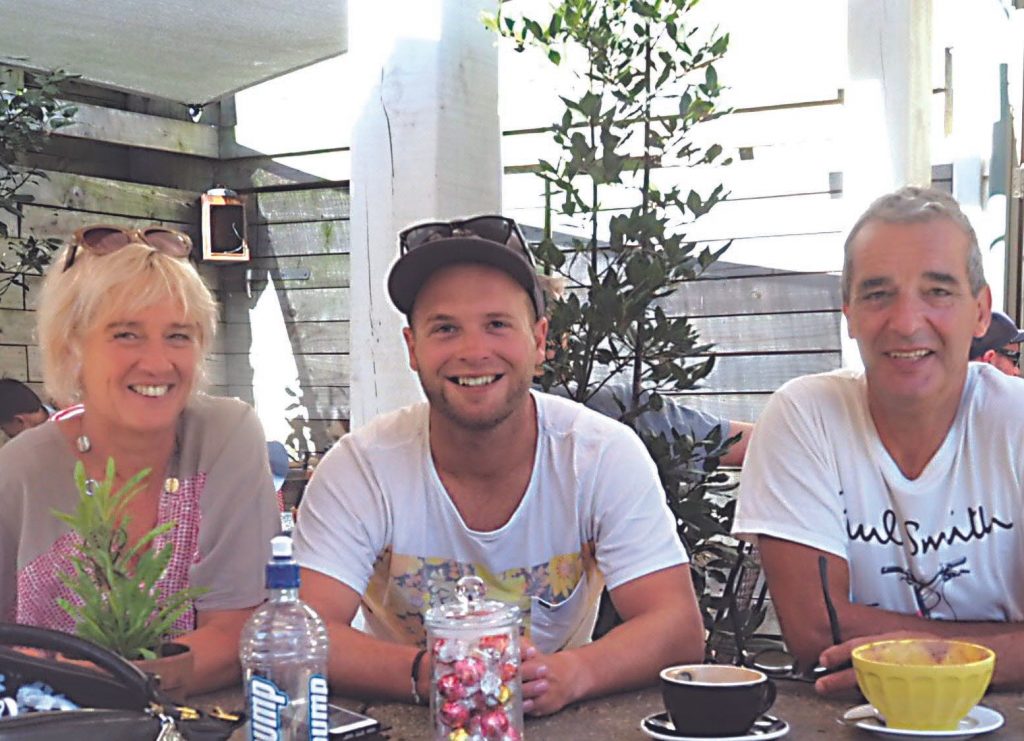 "Sometimes I call myself the black widow," she jokes, reaching for the sense of humour that got her and her children Jared, now 29, and Kristi, 27, through the cataclysmic uprooting of their lives.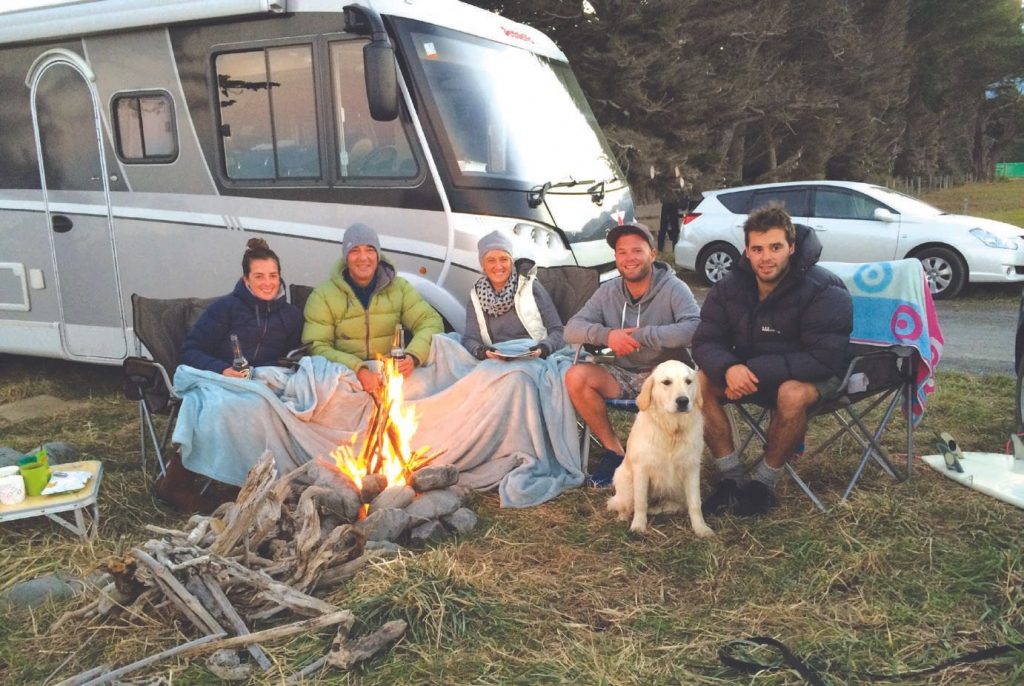 It's a similar no-nonsense attitude that lurks beneath Grief on the Run, Julie's story of how she overcame her tragic double whammy via what she and her fellow psychologists refer to as "active grieving". In other words, physically pushing ourselves out of our comfort zones to outrun grief and achieve goals. In Julie's case, that included a fundraising cycling trip around Sri Lanka, running the New York City Marathon and walking the Camino de Santiago, the famous 800km pilgrimage route through Europe.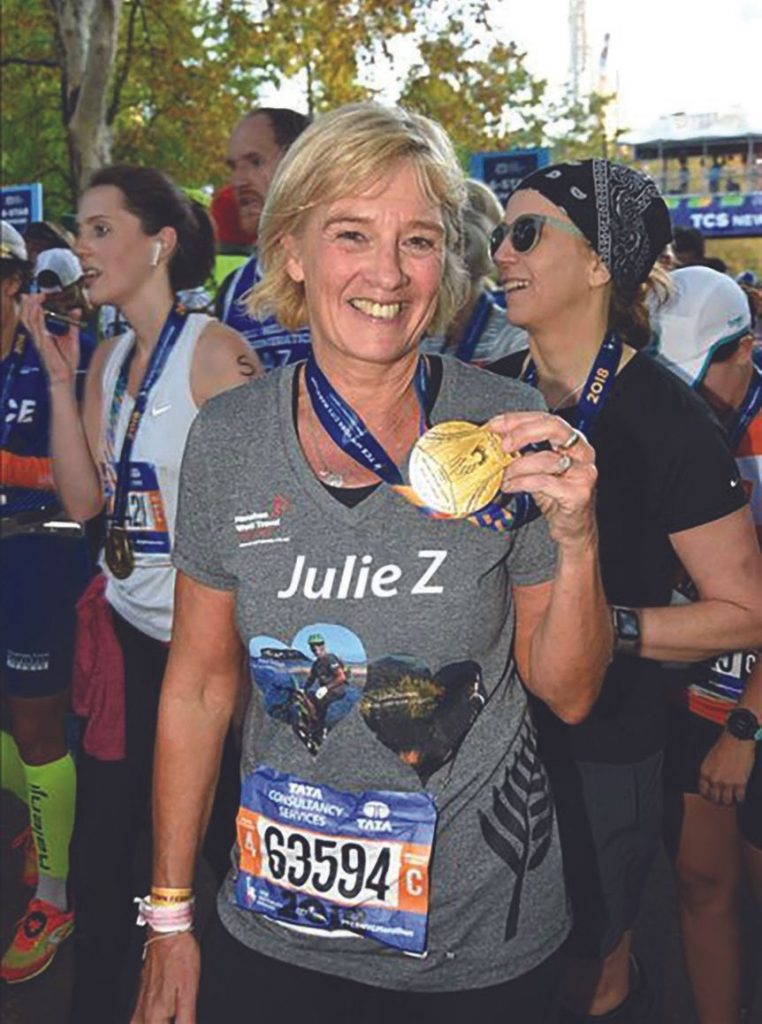 Julie lives in the postcard-pretty village of Sumner – I do not, so we're peering at each other through our laptop screens. Today, the mercury is nudging 35°C, causing Julie's potted roses to droop. But inside the two-storey apartment she and Paul bought shortly before his death, all is calm.
Julie's short blonde hair is still damp from her daily meet-up with the Scarborough Dippers, a group of locals who convene at 7am at Scarborough Beach, 100m from her home, for "a quick dip in the ocean". She's always been fit and her late husband loved the sea so much he started a wetsuit company. It's one of the reasons Julie took the active grieving route. "I don't want to diss models of grief that work for others," she says, playing with the gold necklace she never takes off, which is inscribed with the initials of her late husband and children. "But I've seen family and friends adopt the classic Kubler-Ross model, where you move through the five stages of grief: denial, anger, bargaining, depression and acceptance.
"People are told if they progress through these stages, they'll come out the other side two years later good to go. But I don't believe that, and it certainly doesn't always work, because grief doesn't fit a structured plan – it isn't orderly and can sneak up on you at random moments. My plan has been to keep going – to keep living, loving, laughing and enjoying the things I've always enjoyed. That way I'm managing the grief, not the other way around."
Grief doesn't fit a structured plan – it isn't orderly and can sneak up on you at random moments
Besides, Julie needed to heal far from the close- knit Sumner community. "I wanted to be anonymous with my grief. I didn't want people's pity or to be the centre of attention, I just wanted to get away."
So she did, firstly on a two-week cycle tour of Sri Lanka with a group of Kiwis raising funds for Variety's Bikes for Kids programme. Pedalling 450km alongside her was Three journalist and presenter Mike McRoberts, the charity's celebrity ambassador. Not only did the team raise $30,000, Julie's toe-dip into the active grieving pool helped her enormously.
As she writes: "I look back on that trip and wonder how I was able to conduct myself so normally. I think the distraction, physical activity, making new connections and altruism were key components in allowing me to simply live with profound grief that I carried, but wasn't ready to lift the lid on."
A few months later came the Camino pilgrimage, which Julie signed up for after seeing an advert seeking Kiwis and Australians to do the walk as part of a 2019 documentary, Camino Skies.
Julie wasn't the only person in her group to lose a child or feel broken, and at times the group's collective grief was so raw you could slice it with a cheese grater.
"But the beauty of the Camino is how simply you live," tells Julie. "You get up and put one foot in front of the other for 25km a day, carrying everything yourself. You sleep well because you're exhausted and you're so busy focusing on the beauty around you and making friends, you're distracted from your grief."
A few months later, there was a holiday to Jordan and Greece with her two children and then, in November 2018, she and daughter Kristi flew to New York so Julie could run "my first and last marathon!". Fundraising for the Mental Health Foundation, she completed it in four hours and 57 minutes, and felt proud but emotional when crossing the finish line in Central Park.
"Paul and Sam would have been ardent supporters if they were alive and chuffed with my dedication to the cause."
Julie acknowledges she was fortunate to have the resources and employers willing to give her the time off to travel as part of her healing process. "Not everyone is able to do that, so I feel very lucky."
She's always loved to write and thought she should record the events of the past few years
in chronological order for her family. But then friends told her it might inspire others, so she cast around for a publisher. In April 2019, she signed a contract with Allen & Unwin to produce the 300-page book by November. In her home office, filled with candles and sadness, Julie began to write.
"It just flowed out of me," she recalls. "Sometimes I had tears streaming down my face, but the process was cathartic."
There were, however, a number of 3am worries about whether she was doing the right thing. "I'm not a 'look at me' kind of person, so I did have my moments of doubt. But ultimately I want to inspire people and to show how active grieving worked for me. You don't need to do what I did, because grief works differently for everyone, but anyone can use the same strategies."
Four years after losing her husband and son, Julie is back doing the job she loves. Several jobs, in fact, as a self-employed consultant whose week is split across private consultations with clients, work for the Employee Assistance Programme (EAP) and speaking gigs for the New Zealand Institute of Wellbeing & Resilience, which was set up by Dr Lucy Hone after she lost her daughter in a car accident in 2014.
Julie is also working on a University of Otago research study interviewing victims of the Christchurch mosque attacks to ask how they're coping. "And to investigate what could be done differently for a Muslim community if such a tragic event happens elsewhere," she explains.
But life isn't all work and no play; a few months before Covid-19 crashed into the planet, Julie signed up with an online dating agency.
"It wasn't so much to look for romance but to meet like-minded people and make some new friends. It's nice to go out to dinner now and again."
She set her parameters 50km around Christchurch and had enjoyed a few coffee dates when Henare Howard, a Wellington-based public servant, contacted her to say that, according to the site, they were a 98% match.
"I looked at his profile and thought, 'You're tasty!' As it happened, I was flying to Wellington for the Queen concert on Waitangi weekend last year, so we arranged to meet for a coffee."
That coffee turned into a nine-hour date, taking in dinner, karaoke and dancing. Two weeks later, when Henare flew to Christchurch for the weekend, they both knew they wanted to pursue the relationship.
"But then New Zealand went into lockdown, which actually turned out to be good for us, because we had a Zoom courtship and really got to know each other during those weeks."
Last September, the couple got engaged and are currently planning their wedding for April 2022 in Russell, where Henare's whānau is from.
Julie says family and friends are thrilled for her. "Paul died just shy of our 30th wedding anniversary so we had a long and lovely life together. But Paul's not here anymore. After he and Sam died, I honestly thought I'd never be happy again, but here we are and life is good once more."