Bring the outdoors in with small-space gardener Isabelle Palmer's unique and inspiring houseplant displays.
Decorative moss
Walking down the high street in north London's Hampstead one day, I was struck by a scene in one of the store windows. Here lay a luscious carpet of moss and some cloches containing shoes. This got me thinking: why not have such "scenes" in your home? House plants don't need to be kept in traditional containers, and you can definitely have fun creating scenes with different themes. I really love this particular display, as it's a real showstopper that reminds me of a mysterious woodland landscape. It would also be a lovely way to showcase your house plants when you have friends over for dinner, or just to please yourself.
To create the scene, I laid a lush carpet of mosses, using a mixture of bun, reindeer, and sheet moss, which I then interspersed with succulents to provide additional texture and interest. I used a variety, including Sempervivum tectorum (common houseleek or hens-and-chicks), Echeveria elegans (Mexican snowball), Anacampseros rufescens, Jovibarba hirta 'Andreas Smits', and Echeveria 'Imbricata', but any can be used for this display. Pieces of driftwood create a wonderfully earthy feel and are further enhanced by shells and more clumps of moss. The fireplace is the perfect spot for the display, while the glass cloches, housing tiny terracotta pots planted with more moss, create an air of mystery, suggesting that you may find hidden treasures nearby.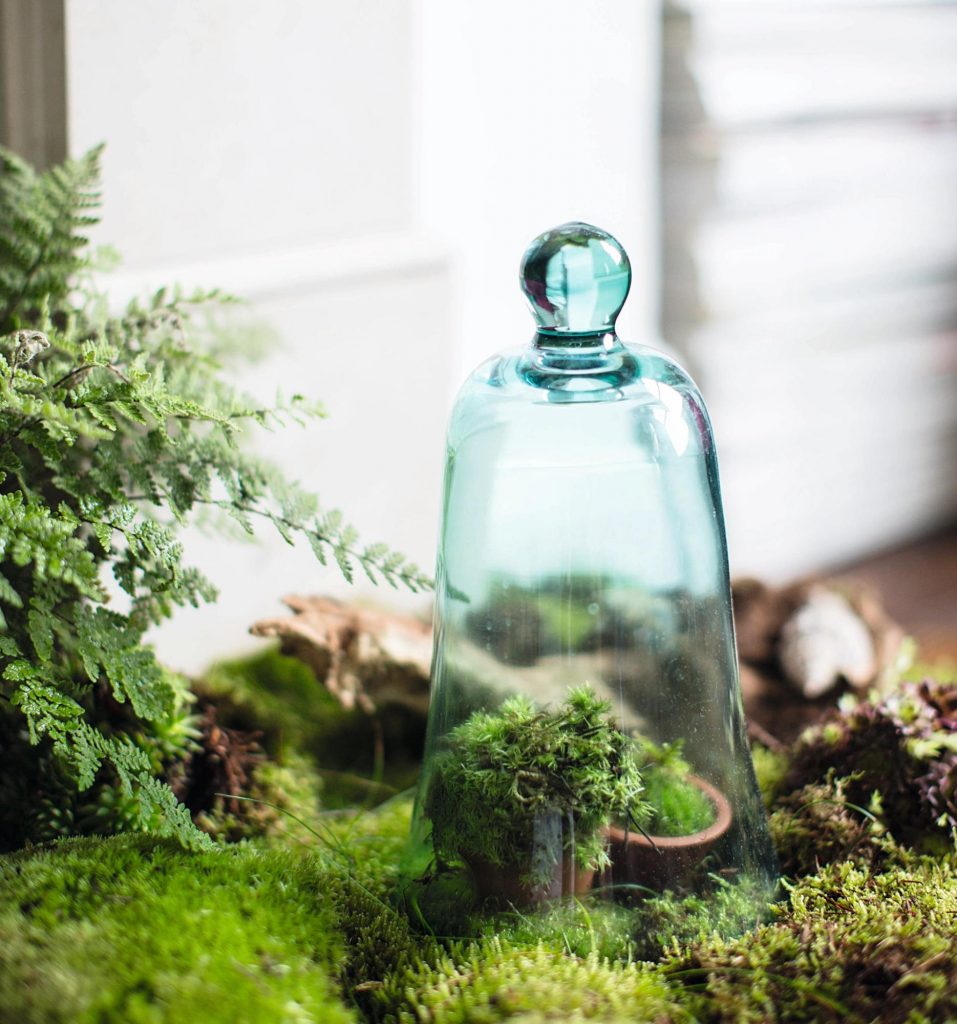 I also used three different kinds of fern, including Dryopteris fi lixmas 'Linearis Polydactyla', a type of hardy fern, and a species of Adiantum (maidenhair fern), both of which I placed within the moss carpet. I put a Cheilanthes lanosa (hairy lip fern) in the fireplace. These all add height and create the illusion of a forest – texture is really important in this display. As house plants, ferns make great air purifiers. They also bring a real Jurassic Park feel to this display. There are endless ways in which to embellish a scene like this, so let your imagination run riot and create your own secret garden.
Please note that this isn't a "forever" display, but you could contain the moss in trays, ensuring you water them regularly, if you wish to keep it for a couple of months.
TIPS ON GROWING MOSS
It is possible to grow moss on a tray. Take some samples of moss from roofs and footpaths. Divide the moss into squares measuring approximately 4-5cm, and place these on a layer of well-watered potting mix. Moss takes quite a while to grow, but growing your own means you can use different types that aren't readily available from floristry suppliers.
Soak the moss well with water. It can be stored in the refrigerator or freezer if you don't need to use it all at once.
Mosses need to be kept moist at all times if they are to grow and retain their lush green colour.
Carnivorous cocktail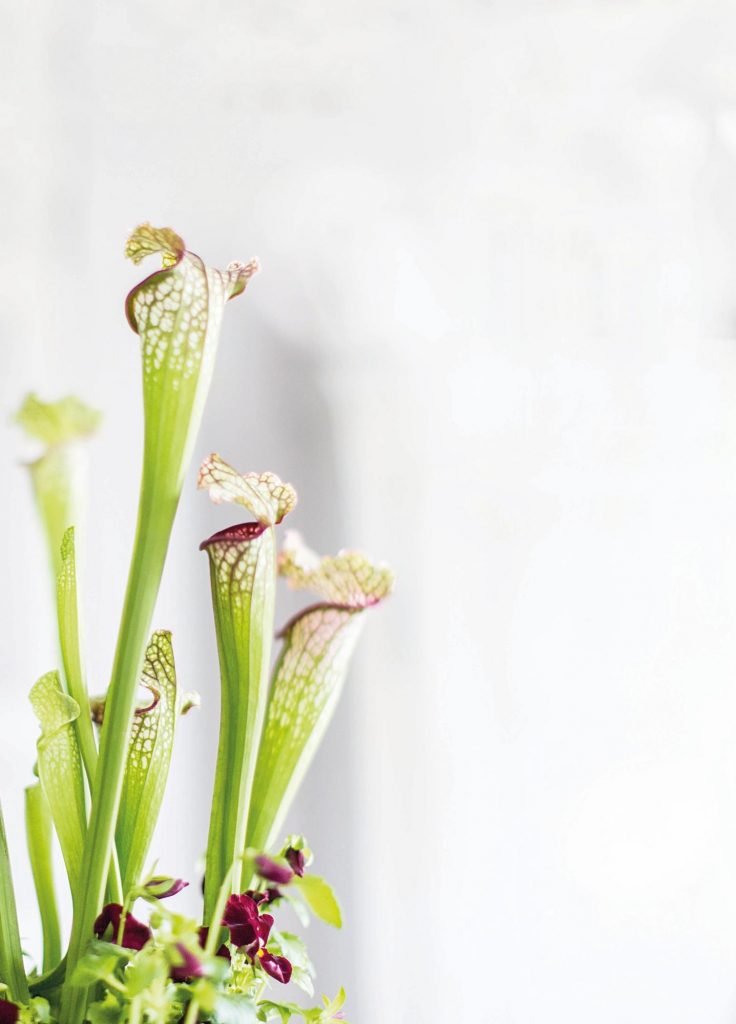 Cocktails on a Friday night are always something to look forward to, particularly after a long, tiring week, and this fun and flirty display is a celebration of that. It's a heady mix of both colour and structure, and like all good cocktails, it's a real attention grabber. You can't be shy about this display; it needs to be put in a prominent position for all to admire.
Rather wonderfully, the tall plants in the centre of the vase are a type of pitcher plant called Sarracenia leucophylla, which, for me, is a comical reminder of those sugary cocktails served in large pitchers. Not so here, however – in this display, the pitcher plants are elegant and sculptural. Be aware, though, that pitcher plants are carnivorous, featuring a deep cavity filled with liquid, which is known as a pitfall trap for capturing hapless insects. Although this may sound ominous, plants as small as those pictured are dormant and pose no risk (yet!) to passing flies.
Pitcher plants prefer boggy, humid environments, so make sure the potting mix remains constantly moist. Rather than using tap water, it's advisable to use distilled water, rainwater or perhaps water collected from condensation, even from an air conditioner or dehumidifier. I also recommend planting pitcher plants in a soilless potting mix, combining one part peat substitute with one part sterilised sand. I put a layer of bark chips on top of the potting mix to help retain moisture. Pitcher plants also need plenty of sun, so be sure to place them in an area that receives at least six hours of direct sunlight each day.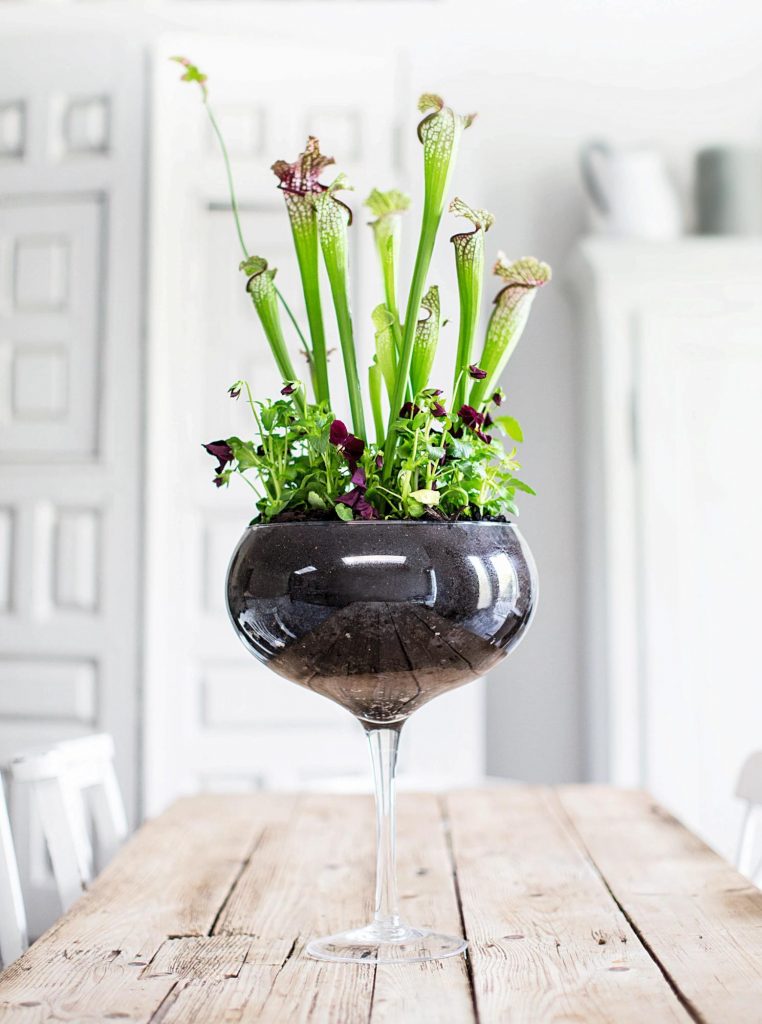 Surrounding the pitcher plants are handsome Viola x wittrockiana (pansies), pretty little flowers which, in this case, are a beautiful deep colour. Pansies are a large group of plants that are the
result of a cross between two wild violets, and are said to attract love! They are available in many colours.
Floating fern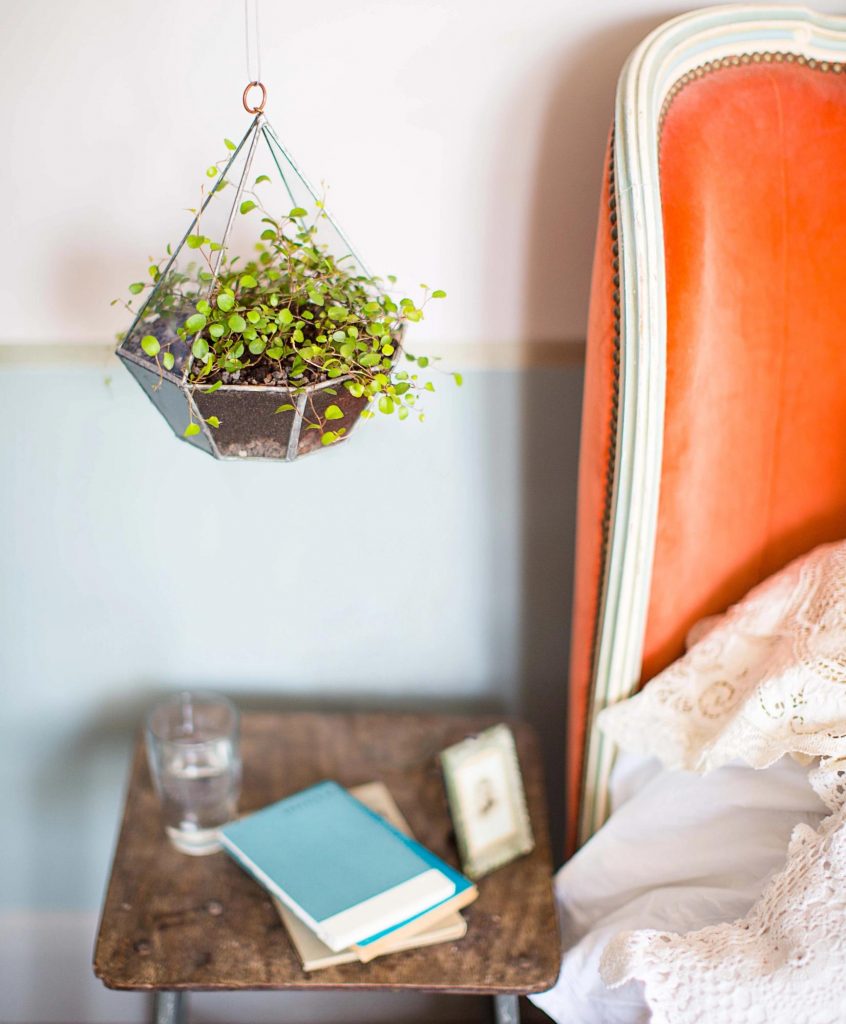 Hanging displays can seem staid and fussy, with too many plants crowded into a small, often ugly basket. This beautiful glass container breaks the rule, however, as it's both striking and simple – great for a stylish bedroom or perhaps displayed at the top of a flight of stairs. The delicate, glossy leaves of the plant tumble over the edge of the container, making for an easy, uncluttered look. In this display, I used Pellaea rotundifolia, a New Zealand native, commonly known as the button fern. A small fern, it is easy to grow and creates a unique look with its small, rounded leaflets.