Because margaritas are my all-time favourite beverage, I prepared this guide of the best recipes to answer all your questions about this famous drink. Of course, I'll also share some of my favourite margarita flavour profiles that spice and sweeten the classic. So, which margarita recipe do you think you'll love the most?
What exactly is in a Margarita?
A typical margarita contains three essential ingredients:
Lime Juice
Tequila
Triple Sec or Contreau
Agave Syrup
That's all you'll need to build a traditional marg. Of course, you may experiment with different components to produce new flavours. I have done my fair share of experimentation, especially when it comes to the balance of sweets and sours. Nothing is more fulfilling than a batch of margs that blows your mind with flavour.
You'll also need lots of ice and ALWAYS remember to salt the rim of your margarita glass. Below is a traditional margarita recipe that is as straightforward as it gets. This is the recipe you use when you just want to create a quick and easy margarita for yourself.



Simple Margarita Recipe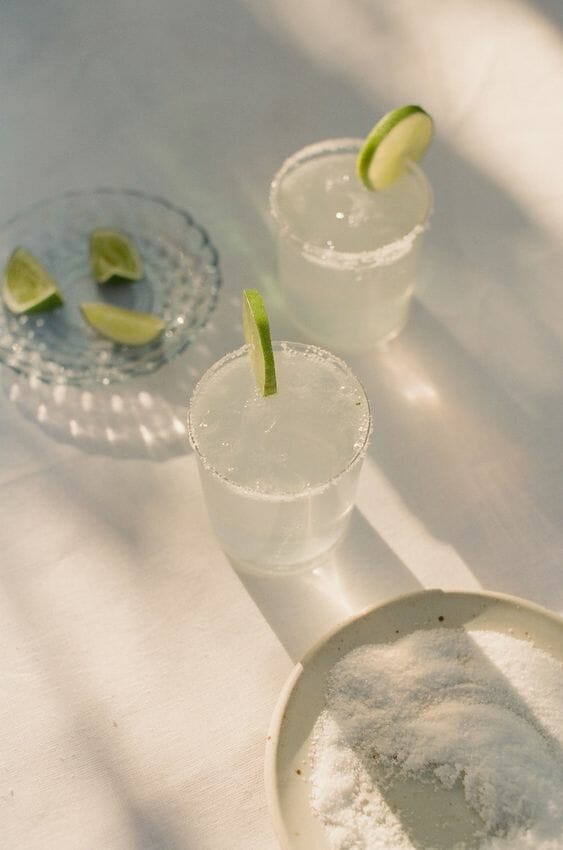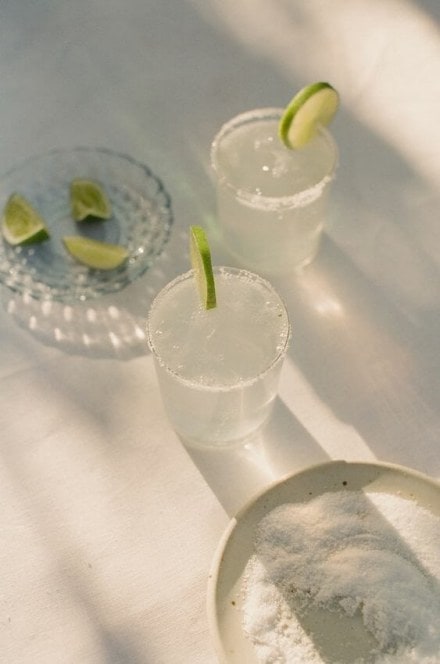 Ingredients (1 serving)
1 cup ice
1 ounce Triple Sec
1-ounce lime juice
2 ounces Tequila
1/3 ounce Agave syrup
Method
Salt the glass rim
Half-fill the cocktail shaker with ice.
Add all ingredients and shake for 10-15 seconds.
Pour into a glass and garnish with a slice of lime
Enjoy
Cucumber Jalapeno Margarita Recipe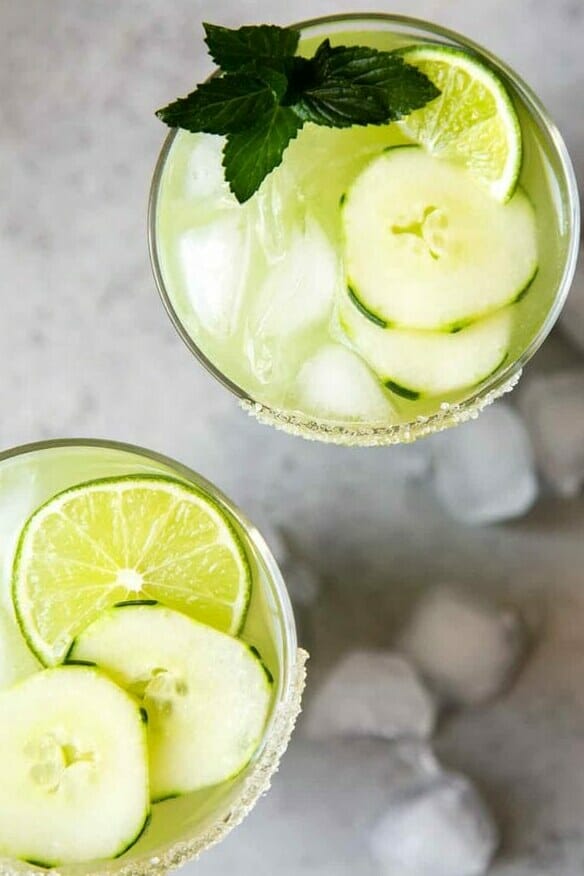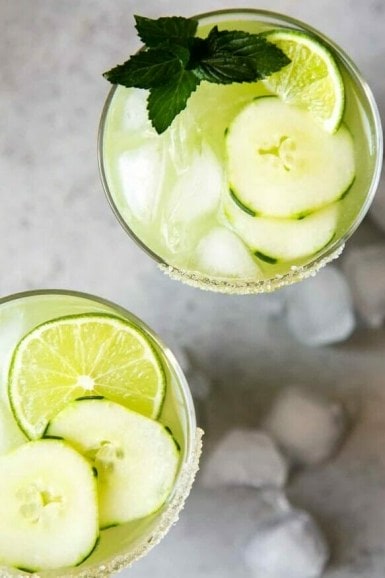 Now, to spice things up. Cucumber Jalapeno Margaritas are the ideal combination of cooling and stimulating. Perfect on a hot day before a tasty meal. This recipe requires a few steps, but I promise it's worth it. Pile the group into the kitchen and delegate tasks for maximum efficiency.
Ingredients (4 servings)
1/4 cup water
1/4 cup lime juice
1/2 cup sugar
1/4 cup fresh coriander (not chopped)
1 jalapeño pepper split in half lengthwise
Two large sliced cucumbers
1 cup tequila
1- 1/2 cup triple sec
Garnishing
Green salt – made by combining cilantro and salt in a food processor.
Slices of cucumber
Method
Heat a small saucepan over medium-high heat. Bring water, lime juice, sugar, cilantro, and jalapeno to a boil.
Stir to ensure the sugar melts. Once boiling, lower to a simmer and cook for 2 minutes more. Remove from heat and transfer to a small bowl, discarding the jalapeño and cilantro. Allow cooling in the refrigerator.
While the jalapeno simple syrup cools, purée the cucumbers in a high-powered blender.
Press the cucumber puree through a fine mesh metal strainer to get all the liquid. Refrigerate until completely cooled.
When ready to serve, combine the jalapeño simple syrup and cucumber juice in a pitcher. Stir in the tequila and triple sec to mix.
Pour over ice into glasses with a cilantro salt rim and garnish with cucumber slices.
Enjoy!



Passion Fruit Margarita Recipe
Get a taste of the tropics with these delectable passion fruit margaritas! This pitcher cocktail is simple to create and goes down a bloody treat.
Ingredients (4 servings)
3/4 cup passion fruit pulp
1 3/4 cup tequila
1/2 cup Cointreau / Triple Sec
1/2 cup lime juice
3/4 cup honey
Salt
Slices of lime, jalapeno, mint, or basil
Method
In a pitcher, combine the passion fruit pulp, tequila, Cointreau, lime juice, and honey until thoroughly combined.
Fill the pitcher halfway with ice and top with lime slices.
When ready to serve, run a lime wedge over the rim of the glass and dip it into the rimming salt.
Garnish the passion fruit margaritas with lime slices, jalapenos or fresh herbs.
Black Plum & Cinnamon Margarita Recipe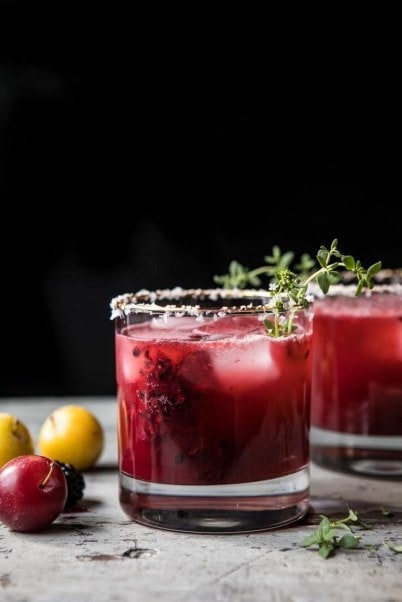 It was love at first sight for me and this particular margarita recipe. I ordered this from Mexico's Margarita menu as I am a die hard fan of sour and sweet plum and fell in love. After careful experimentation, this menu below gets you close to the one you can order for Mexico, and it is delicious!!
Ingredients (8 servings)
1 1/2 cups simple plum syrup
1 1/2 cups fresh lime juice, plus serving wedges and slices
12 ounces tequila
1 tablespoon of sugar
1 tablespoon of cinnamon powder
8 short sticks of cinnamon (garnishing)
Method
Combine simple syrup, lime juice, and tequila in a small pitcher.
Place sugar and cinnamon powder on a small dish.
Use the lime wedges to moisten the rims of the glasses.
Dip glasses in salt, fill with ice, and then top with tequila mixture.
Garnish with a cinnamon stick if desired.



Frozen Strawberry Margarita Recipe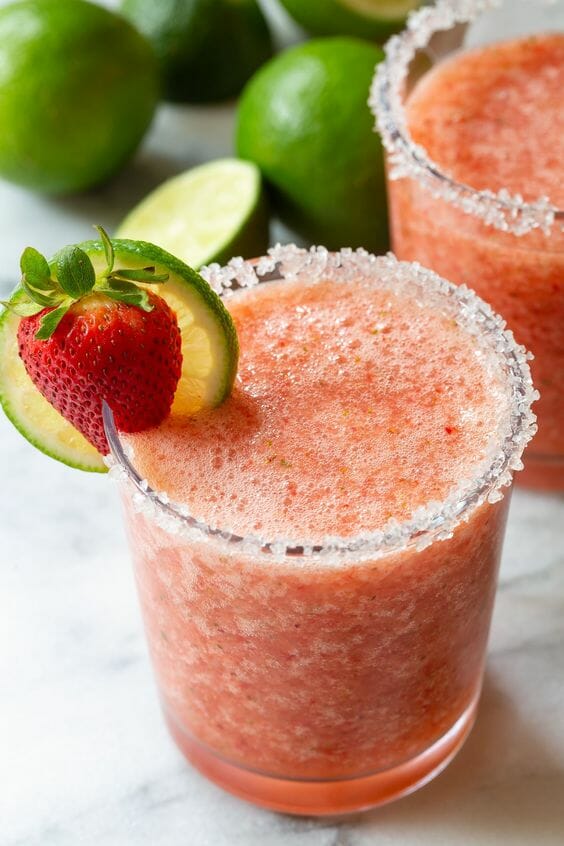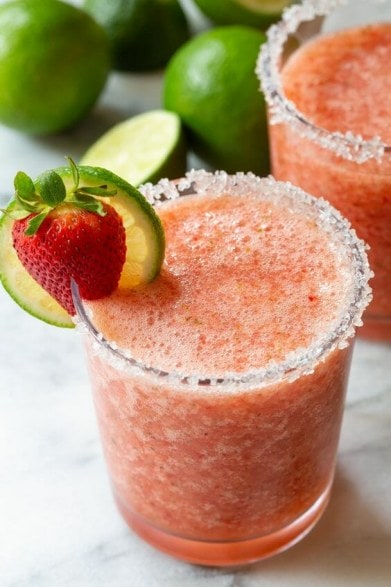 Nothing is more delightful on a hot summer's day than a frozen strawberry margarita. This strawberry margarita recipe will blow your socks off whether served poolside, with chips and salsa, or on your front porch. These top-rated strawberry margaritas require only five minutes, a few ingredients, and a reliable blender.
Ingredients (4 servings)
2 cups ice cubes (or as desired)
6 ounces of tequila
2 ounces triple sec
8 ounces chopped frozen strawberries in syrup
4 ounces of frozen limeade concentrate
Method
Fill a blender halfway with ice cubes and process until the ice is pulverised.
Pour in the tequila, triple sec, strawberries and limeade concentrate.
Blend for 30 seconds or until smooth.