Whether you're an avid drinker of the precious amber hued liquid or a newbie who's only just whetting her palette, you will not want to miss The Macallan Harmony II. And I don't say this in some pushy salesy way like a car dealer with a thick gold chain around his neck. This is a PSA – a public service announcement. No lie – it's a once-in-a-lifetime kind of thing. 
The Macallan Harmony Collection Inspired by Intense Arabica is already sold out all over the world with the last few bottles being auctioned at head spinning prices. And of course, New Zealand is the lucky last country to launch this exquisite water of life nearly half a year later than the U.K. If you know your whisky, you've probably already secured one of these bottles. 



On the 14th March, I was lucky enough to get an invite to the Arabica Garden Experience and I can well and truly say that it was worth the $350 ticket as I got to take home a bottle to imbibe in the comfort of my own armchair with a book and crackling wood-wick candle. This drop gives major 'Succession' vibes and for a moment, while you sip on this not-so-cheeky tipple, you can pretend to be a white whale who owns a piece of the world. If you were sorted into Slytherin, then you'll know what I mean. 
The Macallan II is the second edition of a limited annual release series in which innovation, social and environmental sustainability lives at its core. Everything about the drop is considered, right down to the packaging. This year, it celebrates the Ethiopian Arabica coffee bean and the otherwise discarded coffee bean husks have been repurposed to create the gorgeous rich red pantone packaging, inspired by the coffee fruit.




A little bit about Macallan as a brand – it was founded in 1824 above the River Spey in north-east Scotland and the reason as to why whisky drinkers seek their juice so much is because their single malts are aged in sherry oak casks. I love bourbon and I love sherry – peat and smoke isn't quite my thing (yet – I know I'll get there in a decade or so). I've yet to fall head over heels into a barrel of whisky but last week, I did. It was love at first sip. I mean… I think I love this drop as much as Charles loves Camilla. 
The Macallan Whisky Maker Steven Bremner created The Harmony Collection to pair perfectly with coffee. And because The Macallan doesn't do anything in halves, Bremner hosted a masterclass at the estate to fill his cup, so to speak, with Ethiopian coffee grower Kenean Asefa Dukamo, whose family works with the Arabic variety; Scottish coffee roaster Lisa Lawson, an acclaimed pioneer of speciality coffee in Scotland; Andrea Allen, an award-winning American barista; Dhan Tamang, a UK-based coffee artist; and Professor Jonathan Morris, a leading coffee historian to bring it full circle.




"Exploring the world of coffee with our masters in the industry, who shared their knowledge, creativity, and love for their art, was both an education and an inspiration. There are many parallels between the approach to creating incomparable whisky and coffee. Each requires unique skills and craftsmanship to achieve depth and complexity of taste and both worlds aim to deliver an extraordinary consumption experience, " Bremner said.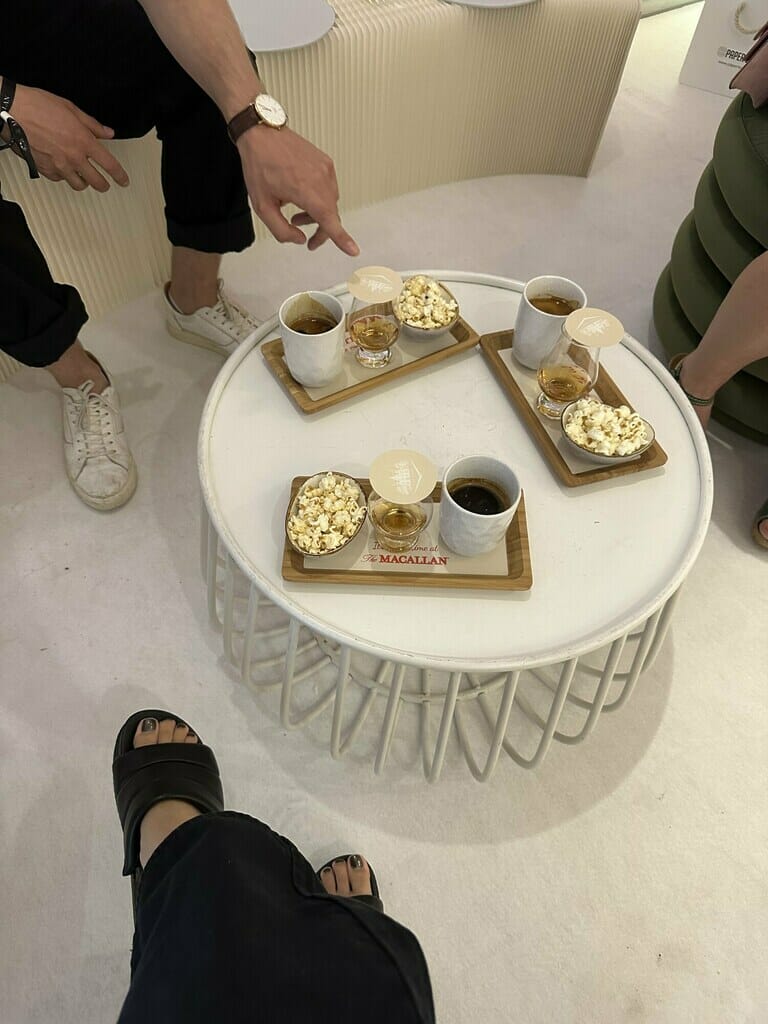 The Macallan Harmony II Arabica Garden Experience was in collaboration with none other than Ozone Coffee Roasters to share the full sensorial experience of drinking this wicked drop. By enjoying both the coffee and whisky side by side, the tasting notes of tiramisu, cappuccino, vanilla, gingerbread and berries swirled intensely in the mouth and gave an almost euphoric feeling. If you haven't had your a-ha moment when drinking whisky, this particular whisky will most definitely awaken your inner hedonist and help you understand the expressive language that Bremner speaks.