Acclaimed novelist Emily Perkins returns to full-time writing; not with a book, but a play that is a complex, cosmopolitan, contemporary and funny story which could be a game-changer for New Zealand theatre, writes Dionne Christian.
Emily Perkins perches on the edge of a green velvet armchair in the foyer of Auckland's ASB Waterfront Theatre, where deep crimson carpets and cushions perfectly match the luxe seating, gold lampshades and silver beaded curtains.
It's sumptuous, neat – even the artificial flowers look well-groomed – and cool on a day when unexpected sunshine hints at spring and new growth. But the carefully coordinated environment is in marked contrast to what Emily, 52, is discussing.
She's talking about mess: lives lived at a frenetic pace, family/work life balance, ageing and its differing impacts on women and men, the need for connection, science and art and what all of us – the entire human race – might be hurtling towards, given our ever-growing experimentation with and reliance on artificial intelligence.
Then there are the nerves Emily may be experiencing, given that in just over a month her play The Made, which dives into all of the above, will be the reason this chic foyer throngs with people.
It is the first professional play she has written from scratch – seven years ago, she "re-imagined" Henrik Ibsen's domestic drama A Doll's House for Auckland Theatre Company – and her first new full-length work since 2016 when she co-wrote a film adaptation of Eleanor Catton's The Rehearsal.
"Having work out there is nerve-wracking," Emily says. "It's a funny conundrum that I think a lot of writers feel. You want the work published and out in the world, you want to try to connect with people and the quality of that connection really matters, so I guess that means it does feel really high stakes."
Perhaps more so given her reputation. Most will know Emily as a writer of novels and short stories who, aged 26, released Not Her Real Name and Other Stories, which won the UK's Geoffrey Faber Memorial Prize and our own Best First Book of Fiction at the then Montana New Zealand Book Awards. She was instantly tagged as one to watch, and made good on those predictions, releasing four acclaimed novels which brought further international accolades, awards and recognition.
The Christchurch-born, Auckland-raised author spent years living in the UK with her husband, acclaimed New Zealand artist Karl Maughan, where she was able to secure international publishing deals and socialise with literary A-listers like Martin Amis and Geoff Dyer. The return to Aotearoa, when the couple's third and youngest child, Mary, was a baby, did not slow her down.
Along with raising three children and writing novels, there were appearances at global literary festivals, ambassadorial roles to promote books and reading, editing an anthology or two, judging book awards, hosting The Good Word – a TV series about "books and the people who love them" – and long-running columns and review essays for local and UK newspapers.
Her family moved from Auckland to Wellington in 2012, when she became one of the youngest New Zealand writers at Victoria University's International Institute of Modern Letters, teaching creative writing to Masters students. For a writer married to a painter, the lure of a regular salary and stable hours proved too good to pass up.
"Karl's work was insecure and you never, ever know what's going to happen, do you? There were medical things Karl had been through and while he's totally well now, I did think if it comes to it, I need to be able to support our family. What that puts in your mind is the sense that anything can happen."
That anything can happen has been aptly demonstrated by the events of the last two years. Emily describes her latest move – leaving the security of regular employment she'd had in for seven years – as "Covid-adjacent".
"Like a lot of people, I started to think about what I really wanted to make sure I had time to do. I really deeply loved that job and it was incredibly rewarding, but for those exact same reasons, I wasn't finding time to do my own long-form projects," she says. "The reason I took the job was because I am a writer as well and you want the students to have people around them who are modelling writing and I got further away from feeling like that was a major part of what I did. I did feel like they [students] should have an active writer modelling that."
Then there is the fact that her children are now 22, 20 and 17; two have left school and home while the youngest is about to finish high school. When asked about this, Emily leans ever so slightly forwards, almost conspiratorially, and says even speaking about the greater freedom of having children less reliant on Mum and Dad makes her feel a "tingle in my feet."
"I haven't been rushing it because I love having the kids around, but I feel there is a sense of other possibilities. A combination of parenting and working meant that I had 'shaved off' time from other areas – thinking time, dreaming time and the time to experiment, and I think that all of those are things you need with writing."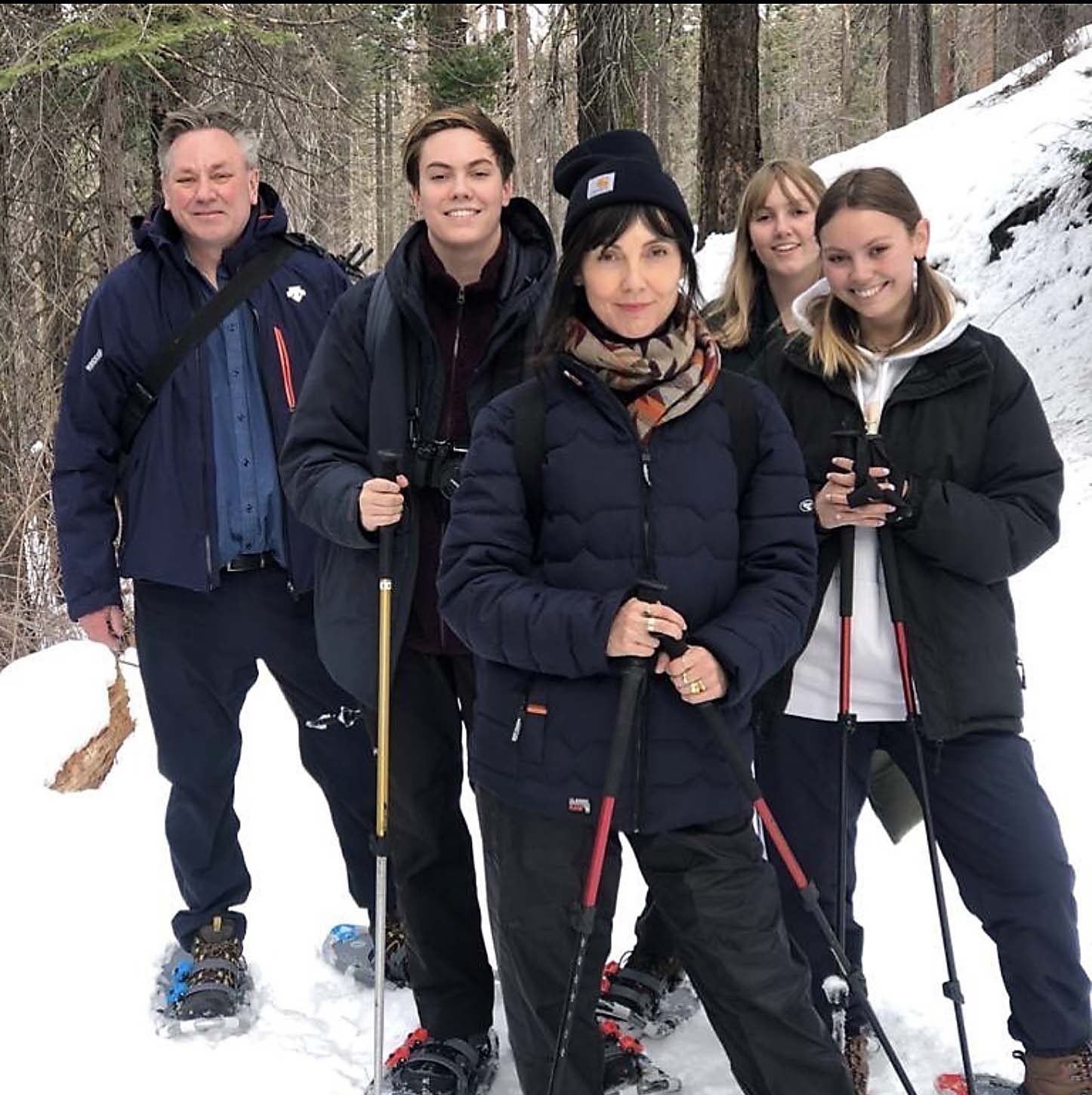 Now she is back to the more precarious life as a full-time writer because there were two projects she badly wanted to complete – The Made and a novel. While Emily worked on both adjacently, she politely demurs to talk about the novel, saying she is still "refining my way" of speaking about it, but it should be out next year. "Quite a lot of my thinking in the play about loneliness, for both the creator and the creature, came from there. I thought a woman who feels a bit unseen for herself might be looking for
a friend."
Originally trained as an actor, Emily graduated from Toi Whakaari: New Zealand Drama School, so feels comfortable in the theatre despite never having worked full-time as a performer. Instead, she found herself spending more time working in bars and cafés, so studied writing but didn't finish that either (she did get an MA later). Those years in hospo provided enough grist for stories which have been variously described as sensitively rendered, demonstrating a special gift for portraying characters and complex lives, and "squarely informing how we live now."
Which is exactly what the deft, funny and relatable The Made does. It centres on Alice, a scientist in her 50s who should be at the top of her game as an expert in the creation of humanoid robots, with the re-programmed sexbot Arie, played by Hannah Tasker-Poland, as her greatest creation. However, Alice's life is fast unravelling as her only child leaves home, her marriage breaks up and she becomes increasingly frustrated by her younger male colleagues and boss.
"Early on in the drafting I posed the question to myself, 'If Dr Frankenstein were a woman living now, what would she create'?" Emily says.
"I like work that pulls us out of that trance to see things through another lens – or work that just draws our attention to those things we have internalised, that makes us question it. I feel like, to me, it wants to explore the mess and the ironies and the struggles and the pain and the delight and roll around in it, and I know this sounds horribly indulgent, but I think I've said it's about knowing that it's in the mess, that's where life is."
She wrote it as a play rather than a novel because her early theatre training meant she could see the dramatic and visual potential of a story about a scientist working with AI and humanoid robots to make them more "feeling". There's irony in having Alice, who tries increasingly unsuccessfully to keep her feelings contained, programme a robot to show its emotions. Emily says Alice's difficulty in being open shows how hard it can be to be vulnerable, to need other people and be interdependent.
"I think that's something I didn't have very consciously in writing the play but I've seen it in working the play, that interdependence is the only way through and when you've been striving, striving, like someone like Alice has, you can lose sight of how much you need other people."
The more Emily wrote, the more her characters had to say about ageing and what it means to women as they hit midlife, when pay and career disparity can hit harder as "the future" becomes more real, when family responsibilities can stretch in two directions and fall more often to them, and the pressure to look a certain way might intensify. We are, she says, saturated in an environment where the so-called male gaze shapes and reflects our thinking about ageing and appearance.
"We've absorbed it, and in mainstream terms, it defines not only what we think of as sexually attractive but what we tolerate in all kinds of ways like the ways we listen to male and female voices. There's a male voice as well as a male gaze! Where's the female equivalent of the silver fox? So yes, these things all contribute to being conditioned to fear ageing – even though it beats the alternative!"
But there's a flip side to this: "Perhaps because of these disparities and others, I think midlife and being older can be liberating for women. If you haven't already been questioning things, it becomes impossible not to!
"And yes, culturally we are in a youth-centric environment, but I think there's a danger of disregarding experience. I also have a lot of sympathy and respect for the younger generations, because of all the crap they're having to deal with. I loved working with younger people in my teaching job, and I really love having teenage and young adult children. I get that the generation gap is real but I think we need to try to make connections with all ages, otherwise we risk seeing people as demographic categories rather than human beings."
While they're centuries and worlds apart, Emily sees The Made as a natural evolution from her adaptation of A Doll's House because both centre on preoccupations about society's creation of women, expectations and perspectives on motherhood, work, life and family: "I was quite consciously wanting to explore those themes further on from where they sat in A Doll's House, when they are about a different time of life."
But, she is adamant The Made is not autobiographical or a manifesto, but the product of disparate interests and observations. Would she – could she – have written it without being a working mother? That, she says, is a question impossible to answer because she cannot separate parenting from the rest of her life.
"I think I would probably have different interests. I think I wouldn't feel as desperately interested in this stuff as I do! You are trying to work things out. My writing process isn't to have an idea and think, 'I must express this and pass it onto the world!' I write it in order to try to explore and make some discoveries and then, hopefully, have a laugh with it."
Through the extensive research it required – a greater amount, she says, than for any other work she's written – it provoked her to think more about the links between creativity and science, especially given the impact climate change may have.
"The way our kids are coming into such a different concept of the future than we were coming into is the thing that gives me the biggest pause. That is the reality we will have to apply our best imaginations to."
Suddenly she segues into talking about mushrooms, saying they're giving her hope because of what scientists are discovering and learning about their importance to the natural world.
"I'm making a kind of strange thread here from talking about the climate but we have to be able
to think of really strange and bizarre and un-thought of things if we are going to navigate this uncertain future. I really feel that that's the role of the imagination."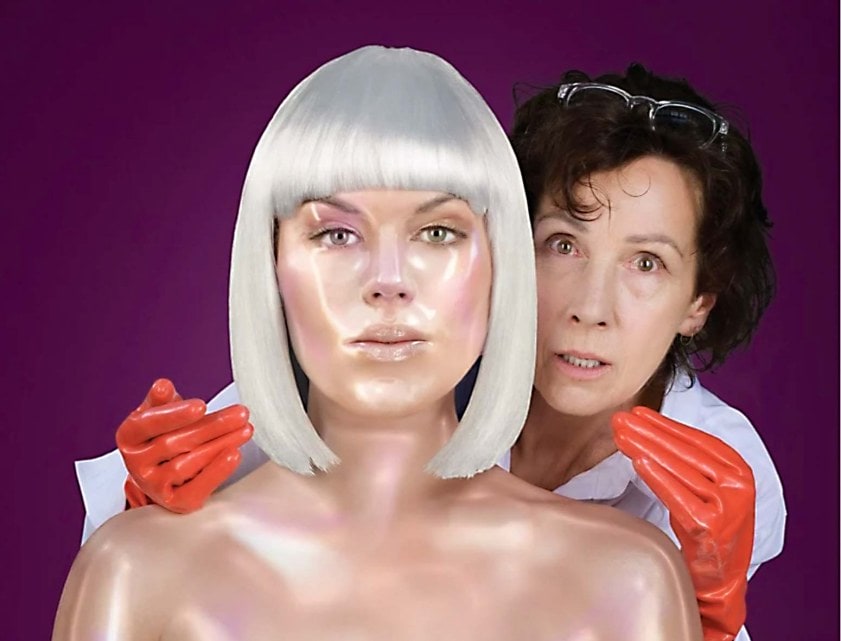 Towards the end of our interview, actors Alison Bruce and Hannah Tasker-Poland join us to talk about how taking lead roles in The Made might be changing the way they look at the world. Alison, a seasoned stage and screen professional, says it has emphasised to her the frantic nature of many women's lives.
"Everything is so messy! I think that's very much part of a woman's world and I think, 'that's my life, it's like that all the time.' You are scrabbling to keep the bits together all the time and you think you've got it and then something knocks you because things won't stay in their boxes."
She says it prompts questions about why we are expected to behave in a certain way: "I think the play busts up those unconscious paradigms that we've imbued."
Nodding in agreement, Hannah, a dance artist and movement coordinator, says it makes her think about intergenerational relationships and how there's a societal separation, especially between generations of women.
"I have been watching a lot of videos of AI; my Google search history is now full of 'AI', 'AI fembot', 'sexbot', 'AI sexbot' and it's a real wormhole! The thing that pulls me in, and what I am personally interested in, is this idea of the archetypal perfect feminine – clichéd, submissive, compliant, all appearance and no substance.
"Society, in various ways, has always tried to put women in these pleasing roles and seeing it so heightened is provocative."
Auckland Theatre Company's world premiere season of   The Made plays at ASB Waterfront Theatre, September 20-October 8. Visit atc.co.nz.
PHOTOGRAPHY: LULA CUCCHIARA