For a relaxed weekend where time really does stand still, you can't beat Waiheke, says radio host Leah Panapa, who admits she's more into good food and cocktails than hot, sweaty bike rides.
What is your favourite place in New Zealand?
Without a doubt, Waiheke. It's corny but I feel like it's a second home. I've got such a connection to it. The most important things in my life have happened on the island. It holds a lot of special memories.
Tell us about some of the special times?
My husband [Mike Nesbitt] and I got married at Saratoga vineyard in 2007 – my friend's family owned it. They really looked after us. It was such a wonderful day. Now it's called Tantalus, but Saratoga was a bit more relaxed.
We actually had lunch with 10 of our friends at Tanatalus for our 10th wedding anniversary. We stayed at this lovely big house that looked out over Matiatia. It was a surprise to our friends, but we renewed our vows the next day. We went and stood out on this beautiful lawn with our friends and just said a few words to each other. So that's another reason why Waiheke is in my heart.
Funny story – halfway through the day, two big burly firemen arrived in full gear. Because we had been champagning it up in the afternoon, I was like, "This is a bit weird. My friends have got me strippers for our anniversary!" But the chef had obviously smoked out the kitchen a bit much and the silent alarm went off.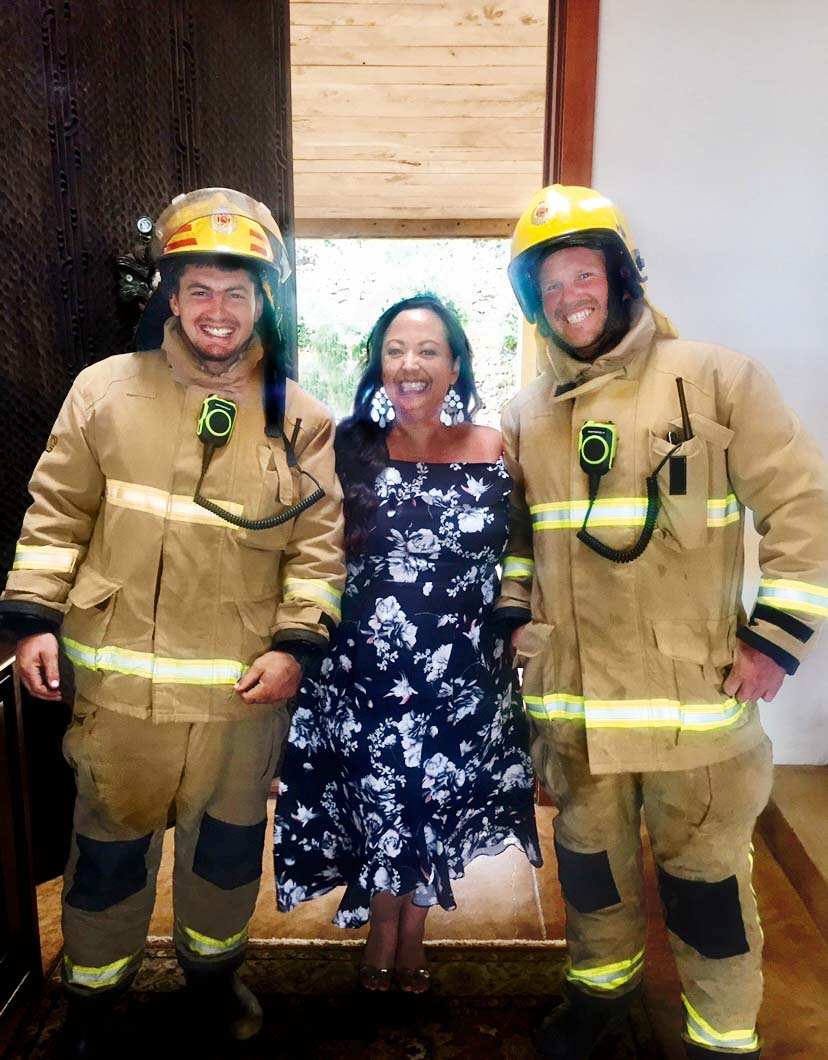 What else do you love about it?
I've been going there for 20-odd years – weekends with friends, girls' weekends, holidays with my hubby. I've never had a blah time. The beauty of Waiheke is that two days on the island really feels like a long break because you can get there so quickly on the ferry.
There's this "time stands still" feel to it. If you have a girls' weekend in Queenstown, it's like boom, next minute you're catching the plane home again. On Waiheke, they joke about island time, but I actually think it's real. I always feel at peace on the island.
My dad used to manage one of the Wattie's farms in Hawke's Bay. Our little cottage was in an orchard and I had horses, ponies and dogs. Nothing gives me more pleasure than looking at rolling hills and a lot of space. It just reminds me of when I was a kid and being free outside.
What do you do while you're there?
I would like to tell a nice big fib and say that we spend hours tramping, but we pretty much get into whatever little house we're staying in for the weekend and then head out for a bite to eat and some cocktails.
To be honest, I always say to my husband when we come off the island, "You know, we should hire one of those bikes that we see people biking around on." He's like, "Yeah, we should." Then, of course, we never do.
Where would you recommend first-time visitors to Waiheke go?
Oooh yes! Tantalus and Mudbrick are wonderful, but they are really top-end. I love Wild on Waiheke. You can do archery and clay pigeon shooting there. The food is amazing, the activities are really fun and it's lovely and relaxed. You also don't have to chop out a kidney to pay the bill.
The other place is Aperitivo in Oneroa. It's small, they do live music, the best cocktails and it's really friendly. If we're waiting on a taxi to get the last ferry, the owner will drop us off. Now that I think about it, he might be just double-checking we're leaving the island!
Leah Panapa is the host of Magic Mornings, weekdays 9am-12pm on Magic Talk.