The South island is home to some of the most incredible overnight trails in New Zealand such as the Milford, Routeburn, Heaphy tracks and Abel Tasman National Park. To say that the views that you experience on those walks are spectacular are an understatement. Given the huts for those hikes usually book out months in advance. However, I'm here to point you in the direction of some equally rewarding shorter (no advanced prep) type of hikes.
So if you find yourself in the South island wondering what walks are around that provide breathtaking views, here are my top picks!



Ben Lomond – Queenstown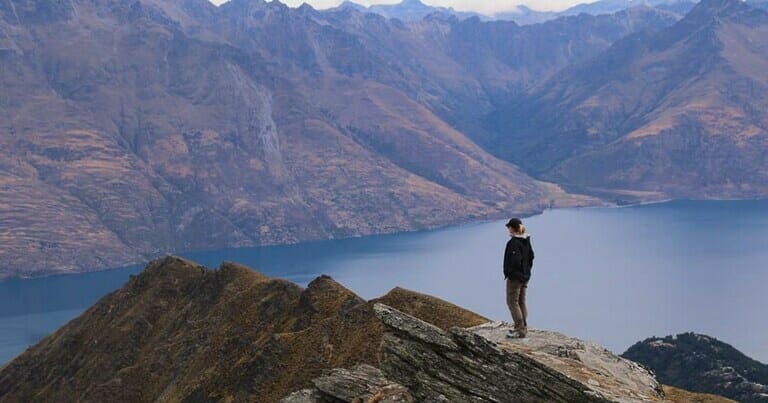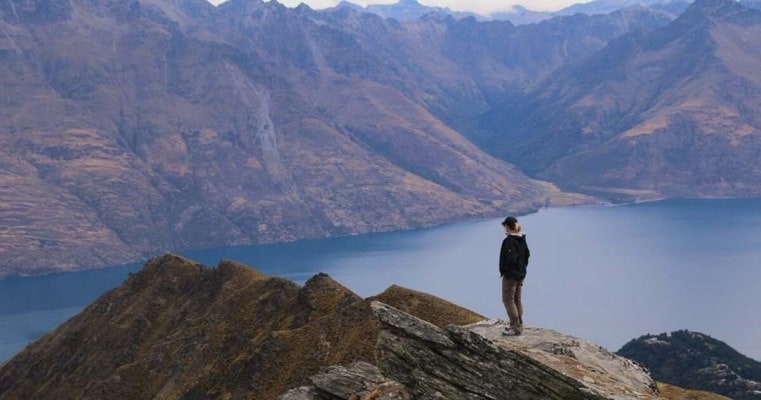 The Ben Lomond track is an easy grade popular track in the South Island as it provides a great day hike option if you're in the Queenstown area.
The full track is 40km starting in the heart of the Queenstown area and takes you to the Ben Lomond Mountain. You should prepare for a 6-8 hour day if you want to do the full hike.
The hike begins by the skyline access road (Gondola viewpoint) in Queenstown and takes you through alpine terrain. Many people choose to stop at the Ben Lomond saddle (making this a 3-4 hour walk instead) and it provides you with beautiful panoramic views of the Queenstown Lakes.
The walk to the summit is significantly more challenging as you gain considerable elevation quickly, but you're again rewarded with phenomenal lake views and of Mount Earnslaw and Mount Aspiring.



Roys Peak – Wanaka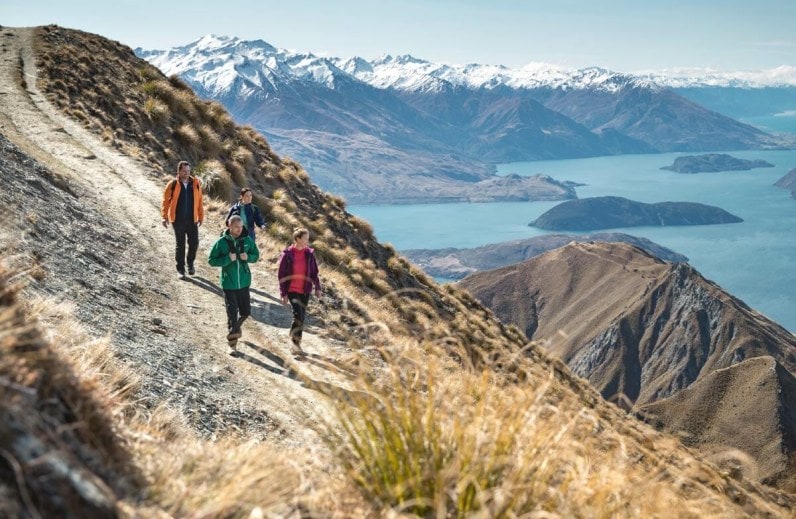 To say Roys Peak has breathtaking views would be a severe understatement. The trail starts in the Roys' Peak car park on Mount Aspiring Road in Wanaka and is approximately a 6 hour advanced track.
The reason it's classed as advanced is because it is a 3-hour uphill, then 3 hour down-hill climb, which although the terrain is largely grasslands until the summit, does require a reasonably good level of physical fitness.
Despite not being for the faint of heart, you'll definitely reap the rewards at the top and not regret it in the slightest as the summit provides you with panoramic views of Lake Wanaka and all surrounding mountainous peaks. This hike is one of my top picks in terms of the views that it provides.
A climb during the winter months requires ice picks and other gear, so it's perfect for a summer's day. You won't regret the hard slog once you make it to the top.



Hooker Valley Track – Mount Cook National Park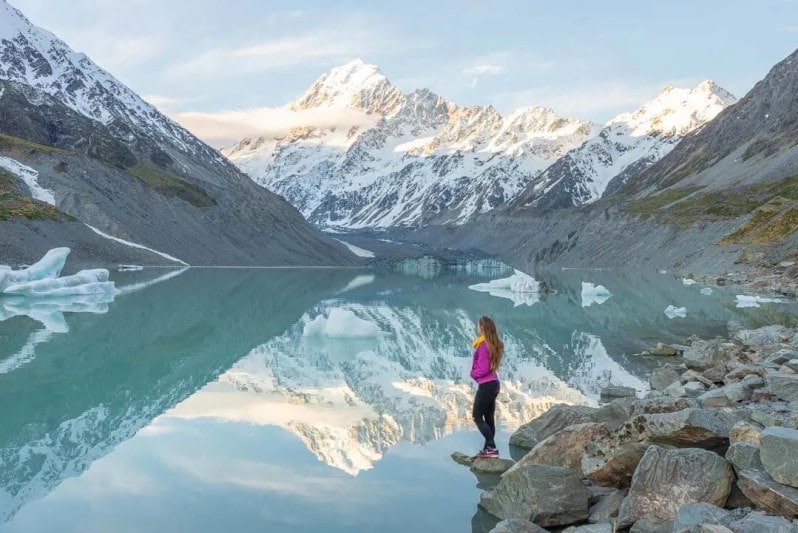 Hooker Valley, located in Mount Cook is an easy, commonly-walked and well-signposted track. Due to its popularity, it's very well maintained.
A 10km track, it boasts some of the best views of the Southern Alps. The walk is a 3 hour return loop track (likely less, depending on your fitness) with the journey back commencing at Hooker Lake; a scenic photograph spot.
The walk is flat and feels more like a leisurely stroll with a mixture of rocky, flat and bridged terrain that consistently rewards you with views. There are three swing bridges, and as you cross them, you often see glaciers and floating icebergs.
As Mount Cook is New Zealand's highest mountain, doing this walk even in summer does require you to dress for the elements so definitely layer up!



Lake Marian Track – Fiordland National Park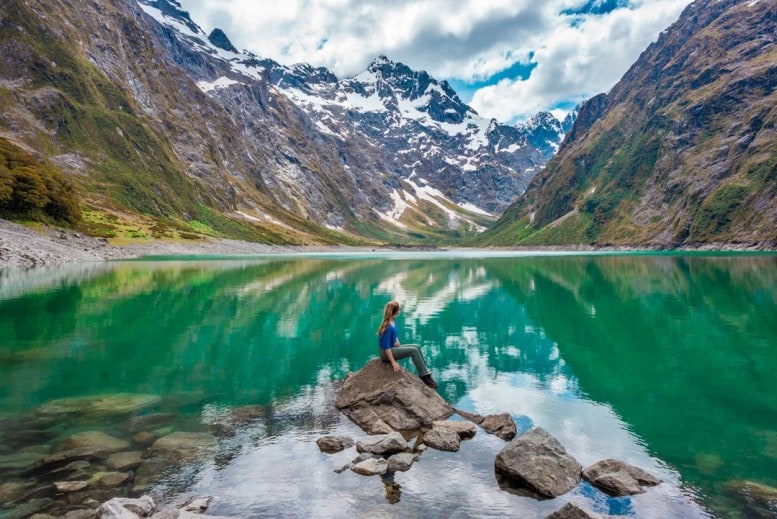 Lake Marian is, in my view, an underrated walk. Located off Hollyford Road in the Fiordland National Park in the South Island, it makes for the perfect day hike if you're on the Lake Marian Track is nothing short of an absolute treat.
A 3 hour return, 2.5km hike, this track is labelled an advanced track as it does require you to endure a steady steep climb through the forest before reaching Lake Marion. It's extremely well-marked but does have undulating terrain which switches between rocks, tree roots and swing bridges. I would recommend dusting off the hiking boots for this track!
The entire walk provides great views as you pass a number of different waterfalls, but once you reach the lake, you'll be treated to the most picturesque of views.
Lake Marian is an alpine lake that was formed by glacial action, and is surrounded by a number of mountains meaning that the end point of this walk provides the perfect photo opportunity with picture perfect reflections.



Mount Robert Circuit – Nelson Lakes National Park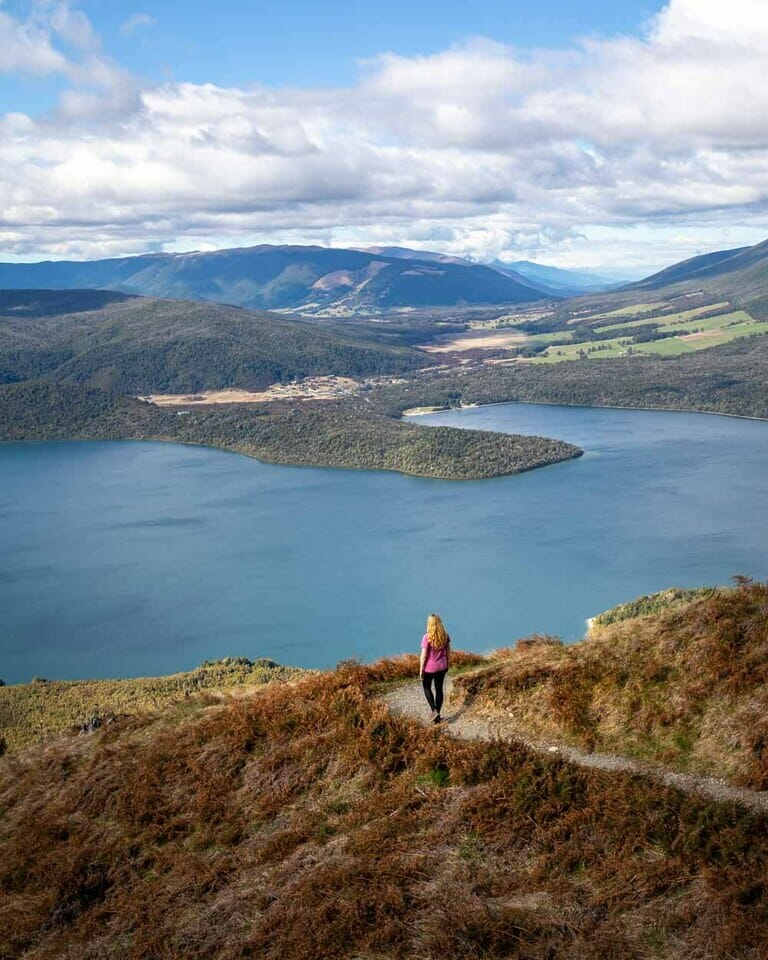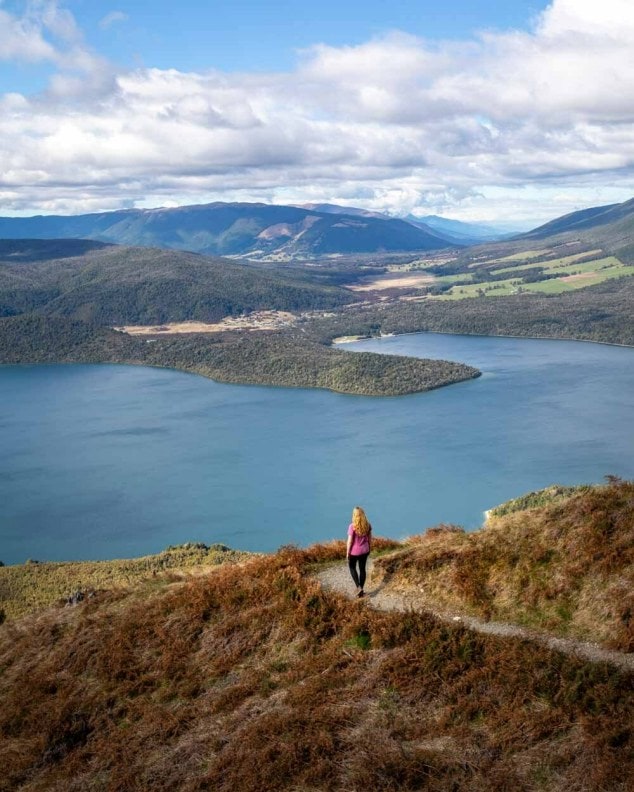 Last, but most definitely not the least, Mount Robert Circuit is a 9km loop track located in the Nelson Lakes region.
The Marlborough and Nelson regions are a stunning part of New Zealand, and the national park is home to a variety of different tracks.
Classed as an advanced tramping track, most climbers would say this takes more of a moderate level of fitness. Most trampers take around 5 hours to complete the loop walk here and the track begins at the Pinchgut track which is a zig-zagged gravel pathway and heads immediately uphill. Once you've completed the Pinchgut track, you'll cross over to Paddy's Track and complete the circuit. You can start this walk from either direction.
The views are of Lake Rotoiti and are again panoramic. A magnificent reward at the end of a big walk, the views make this well worth the uphill battle.
If you're looking for hikes in the North Island, we would recommend that you read our article on 5 Not So Typical Hikes to do in the North Island! Happy walking.