Beer festivals, birthday parties and airports are not your usual wedding venues, but to these Kiwi couples they were the perfect place to tie the knot. Vegas bride Sharon Stephenson shares their celebrations.
1. Sharon Stephenson and Martin Haughey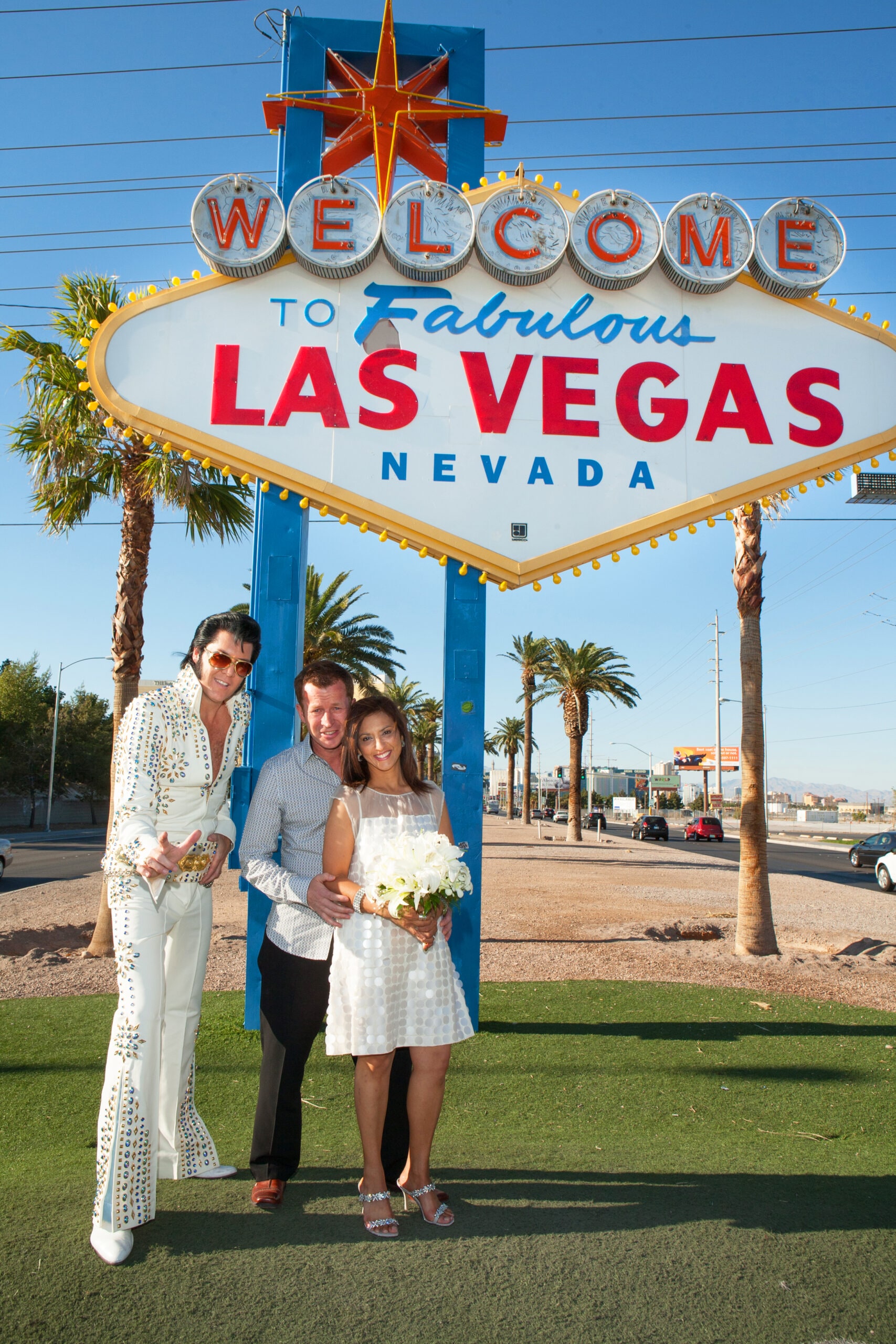 The bride wore white, the groom wore blue and Elvis' outfit has so many rhinestones it was probably visible from space.
I was that bride and that was my 2008 wedding in Las Vegas.
I met my husband Martin in a grimy London pub during my OE and we'd spent years dodging the marriage bullet. It's not that we're philosophically opposed to marriage – both of us love attending other people's weddings – but the thought of being the centre of attention and spending so much money on something we could neither drive nor live in, left us cold. Plus, we've never been terribly good friends with tradition.
So when the chance to get married in Vegas for a magazine story came along, we jumped at it.
One April afternoon, under a sweltering Nevada sky, an Elvis impersonator walked me down the aisle at Graceland Chapel, north of Vegas' infamous Strip. It was just us, the chapel owner and a photographer who doubled as our witnesses. Elvis cracked dad jokes and crooned "Love Me Tender" and "Can't Help Falling in Love" as we made our union legal.
It was cheesy, it was hilarious and it was "us".
Apparently we're not alone. An increasing number of couples around the world are saying "I Do" in all sorts of non-traditional ways, from Klingon and Harry Potter weddings to underwater ceremonies, dangling off a cliff, parked in a drive-though and everywhere in between.
As we hit peak wedding season, I speak to three couples who took the unconventional wedding route.
2. Penelope Johnson and Sam Gruar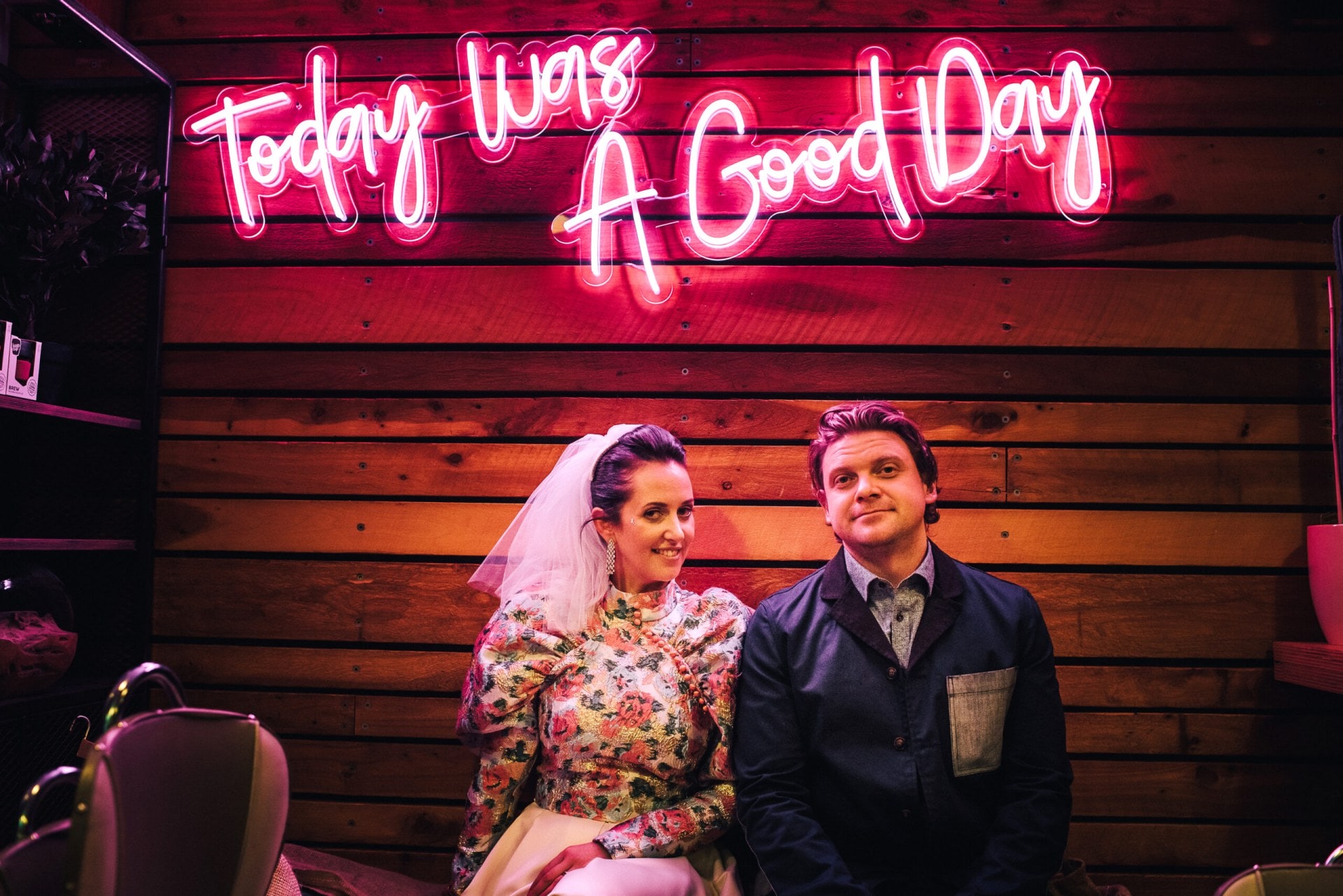 Penelope (PJ) and Sam know all about weddings: they've lost count of the number of ceremonies they've hosted at their three Arrowtown restaurants during the past decade.
But when it came to their own nuptials, they weren't keen on following the well-trodden traditional path. "I love other people's weddings, but the thought of organising things like place settings and a wedding register gives me a headache," laughs PJ.
The couple had been engaged for five years, after Sam, 38, proposed while they were on holiday in Peru.
But they'd put all their savings into their restaurants, as well as a brewery they opened last year, so there simply wasn't the cash or time to "throw at a big meringue wedding".
To celebrate her 40th birthday last July, PJ, Sam and 20 of their friends were due to fly to Ibiza, where the couple had previously worked at the world's biggest nightclub.
"But then Covid happened. We thought, why don't we have my 40th at our restaurant but turn it into our wedding?"
We thought, why don't we have my 40th at our restaurant but turn it into our wedding?
They sent out 220 birthday invites, ensuring Sam's Auckland-based family and PJ's Christchurch whānau would be there. "It was just after lockdown restrictions so people were itching to get out and travel. We ended with more than 220 people!"
PJ, who loves to get dressed up, found a top at an Arrowtown boutique and a designer friend made her a cream satin skirt. The only ones they let into their secret were the bridesmaid and best man, PJ's hairdresser, skirt designer and mother.
"When the flowers started to arrive, some of our 36 staff did ask if it was a wedding not a 40th."
The first of August dawned warm and sunny, and at 5.30pm, PJ headed upstairs to get changed into her wedding dress. "Sam gave a speech about how he was tired of my Facebook relationship status reading "It's complicated" and that tomorrow I'd be changing it to married! Everyone starting clapping and laughing."
A bagpiper led PJ into the room before she walked through the bar to Ladi 6's song "Like Water".
The couple had written their own vows – "Sam's was, 'I will never make you listen to UB40 or Simply Red,'" PJ tells. "And mine was, 'I will always allow you to have mad crazy ideas'" – and their two dogs were ring bearers.
There followed much eating and drinking across their three adjacent restaurants, as well as dancing to the two DJs the couple had flown in from Auckland.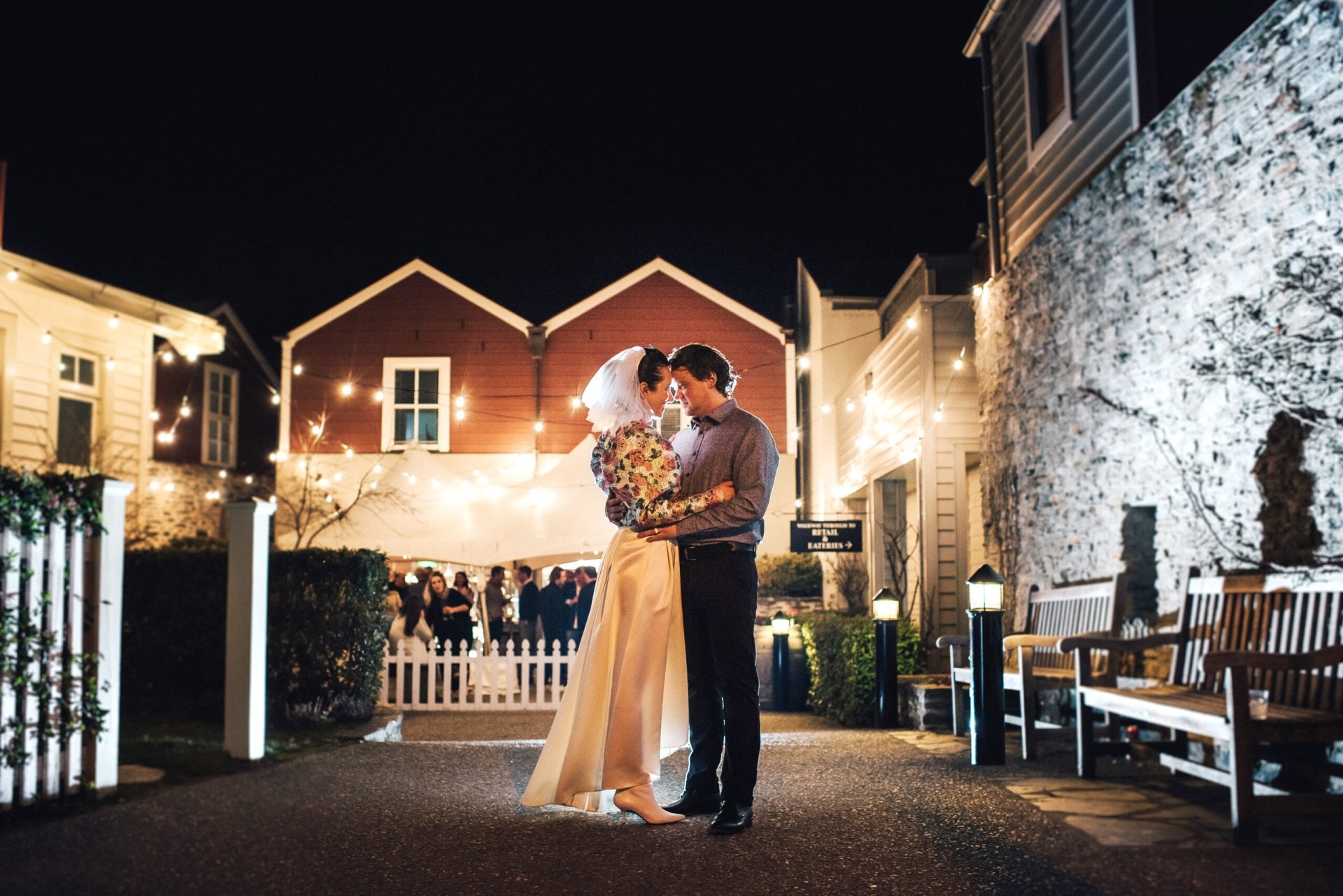 "We went to bed at midnight but the partying went on until 2am. There were lots of sore heads the next day!"
The couple is currently waiting for the borders to open so they can honeymoon in Spain, but PJ admits she wouldn't change a thing about her wedding day.
"It was such a celebration of life and how lucky we are in New Zealand to be able to gather together when so much of the world is still restricted. It was a dream day."
3. Renique and Logan Williams
A crowded airport isn't the dream setting for a wedding, but that's where Renique and Logan Williams got married two years ago.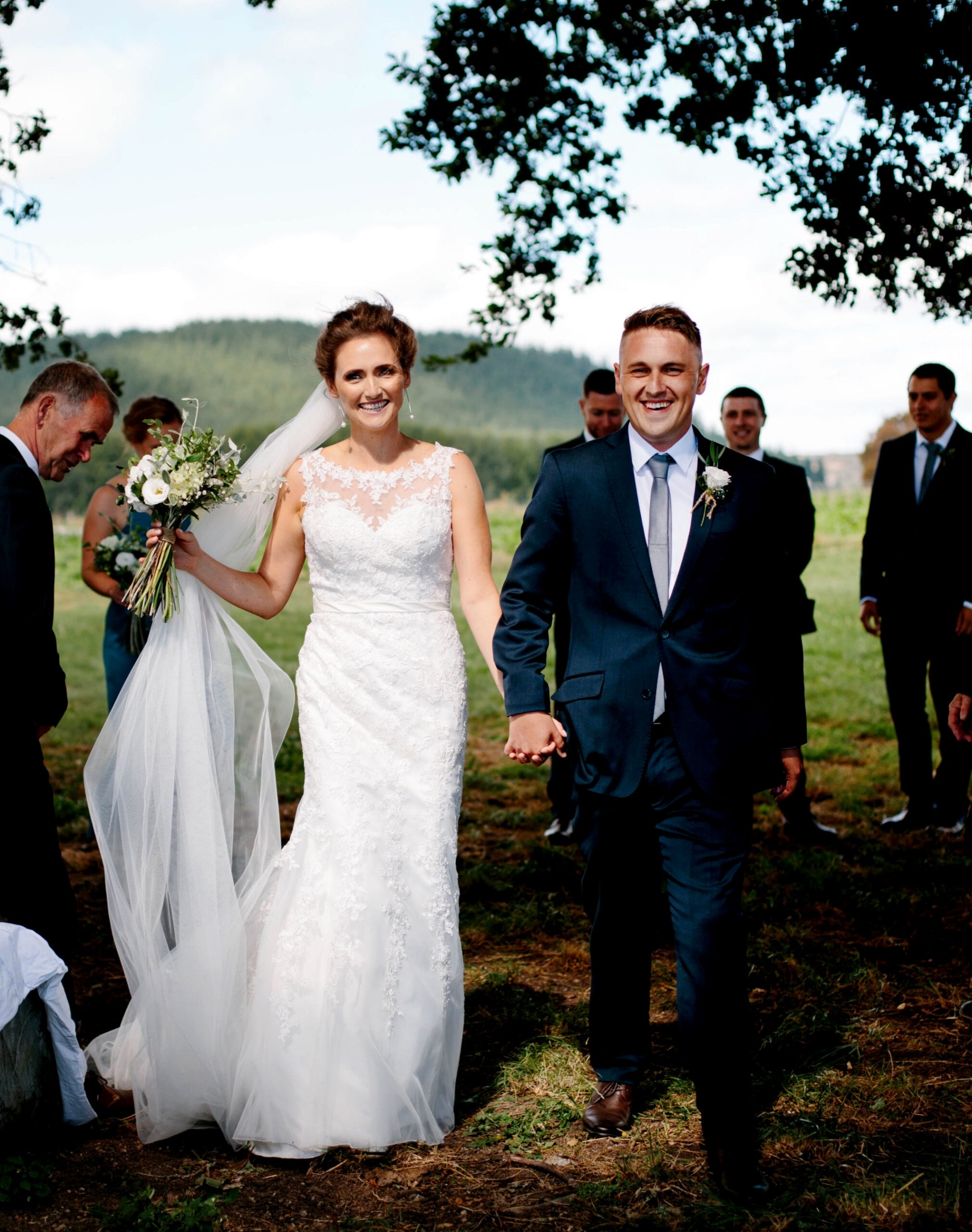 The couple, who met at Otago University, hadn't planned to get hitched at Auckland International Airport, but timing wasn't on their side. "We'd planned a traditional wedding on my parents' Reporoa farm in March 2019, but the friend we wanted to marry us hadn't qualified as a marriage celebrant," says speech and language therapist Renique, 30.
When the Auckland-based couple met marriage celebrant Samantha Johnson at a barbecue, they told her about their dilemma.
"Sam said, 'Why don't I do the official paperwork part of it beforehand and then your friend can still step in at your farm wedding,'" adds Logan, also 30, who works in training and development.
It seemed the perfect solution, until travel agent Sam rang the couple to say she'd been offered an overseas work trip and was due to fly out the day they'd arranged to get married.
"She said, 'I've got a two-hour layover at Auckland Airport so I could marry you then if you'd like.'
We had a great connection with Sam and figured we'd rather be married by her than by someone at a registry office we didn't know."
So on the last Saturday in February, the couple drove from their Mt Albert flat to Auckland Airport with two friends as their witnesses. They opted for the international terminal, because "it seemed more glamorous than the domestic terminal!"
"Sam asked us if we wanted to get married at the sushi place or in the bar, so we headed upstairs to the Blue Marble Lane bar and ordered some champagne and fries. Sam said the official words and we signed the paperwork. Then we had a quick kiss and that was it."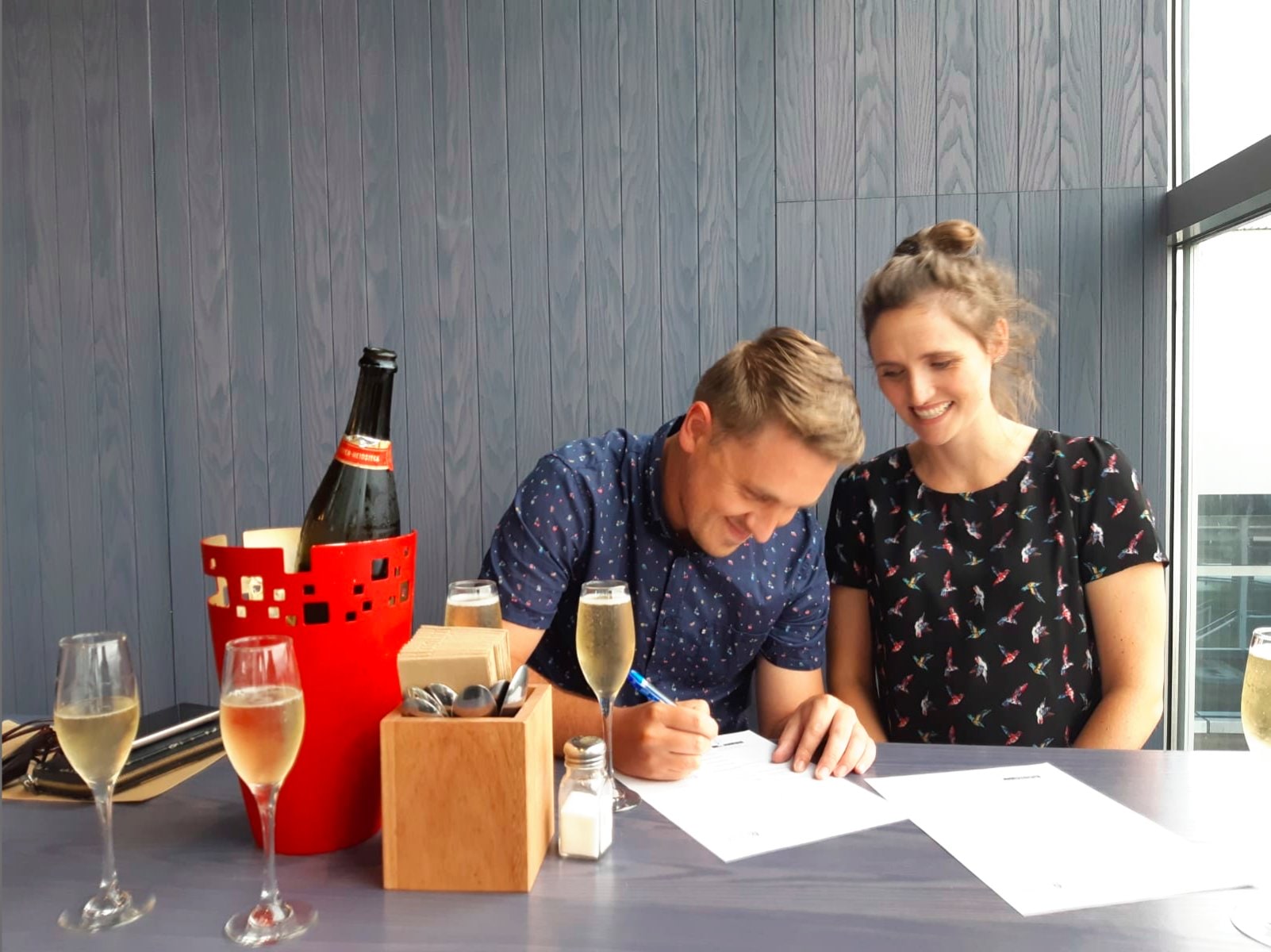 Despite the ceremony being so brief, Renique admits it was better than she'd imagined. "The fact that something so big was happening in our lives but no-one around us knew what was going on made it quite exciting. We didn't even tell the bar staff."
That night they went out to dinner with friends, and two weeks later had their traditional white wedding in front of 120 people.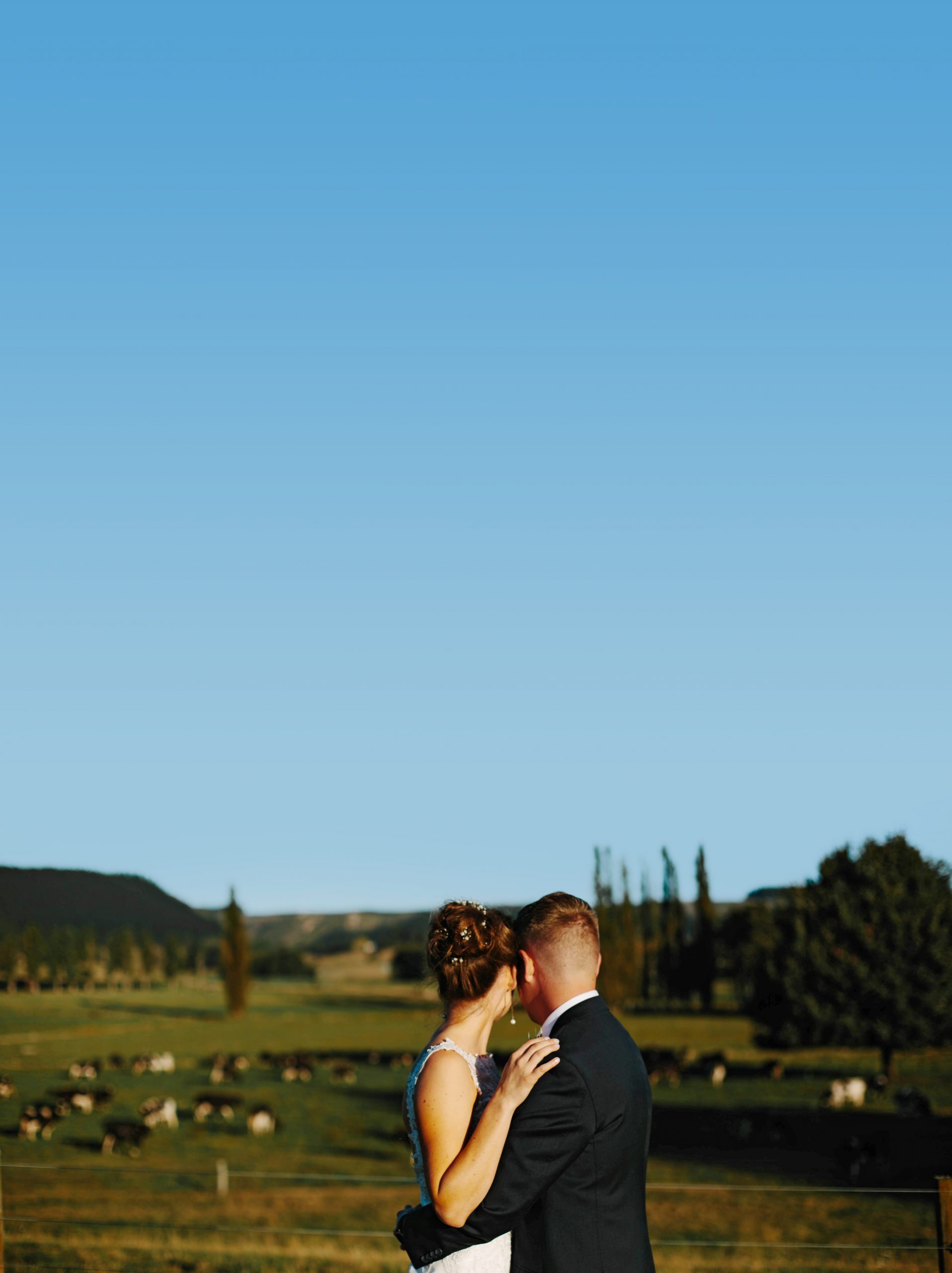 The couple, who are expecting their first child in February, honeymooned in Vietnam and Singapore a few months after that.
"We had a giggle when we passed the airport bar. It still seems quite surreal that we got married there!"
4. Callie Fleegar and Sandi MacKechnie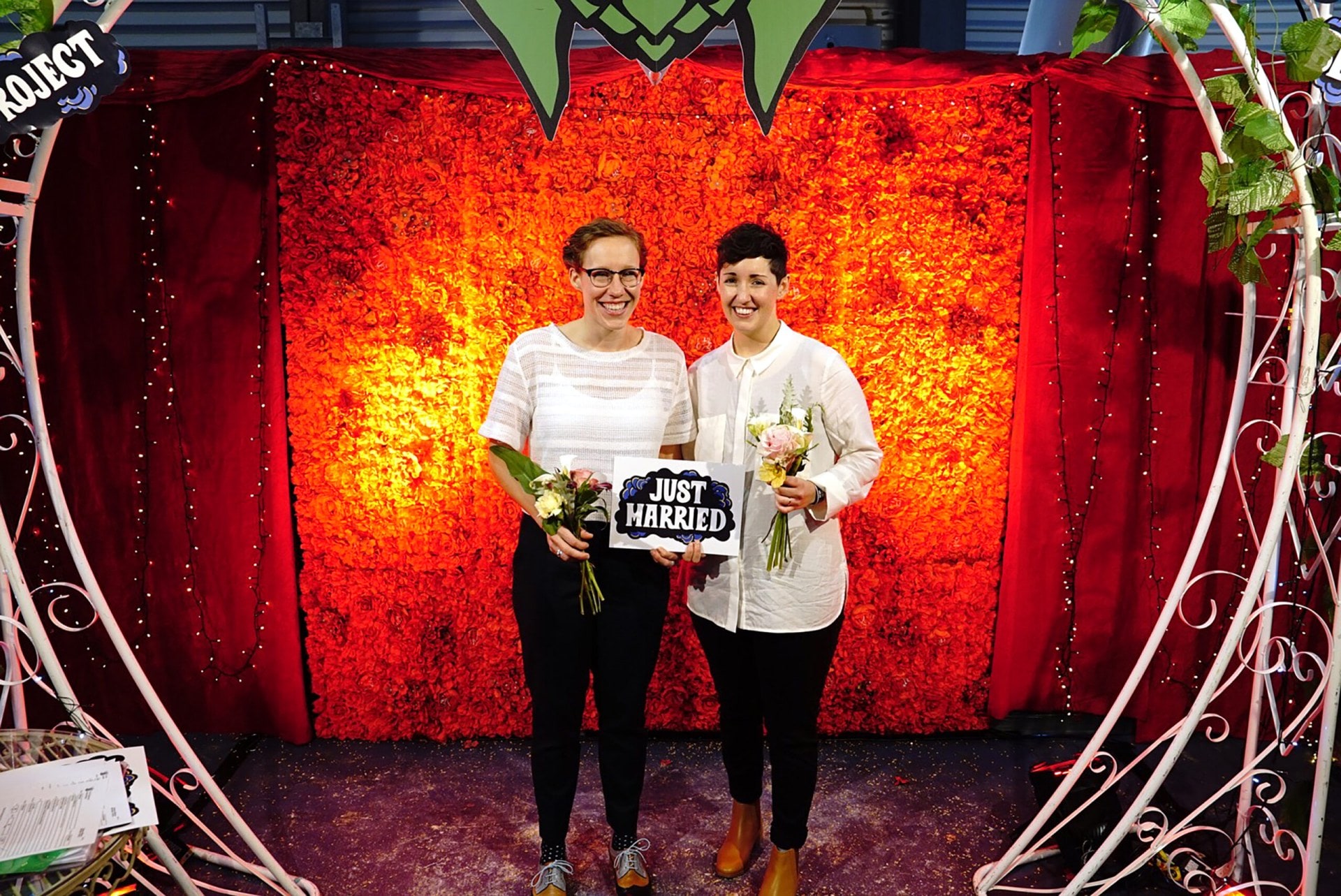 Picture a craft beer festival. Now picture a wedding taking place among the plaid shirts, beards and IPAs.
That's what happened to Callie and Sandi, who were married at Wellington's annual beer festival, Beervana, in August 2018.
It was the culmination of a relationship that started in 2013 when Wellingtonian Sandi, 31, met American Callie, 30, at a party in Vancouver.
"Sandi was the first woman I'd ever dated," says Callie in her soft American drawl. "I was studying in Vancouver and Sandi had moved there for her OE. We met at a friend's party and I loved her Kiwi accent. I'm ashamed to say I knew nothing about New Zealand apart from Lord of the Rings, but I thought Sandi was an incredible woman."
A few years later, things hit a snag when Sandi was made redundant from her graphic design job and, shortly afterwards, so too was Callie.
"That put an end to us applying for Canadian citizenship," explains Sandi. They didn't fancy moving to Oregon, where Callie is from, so they relocated to Melbourne for a year. But in 2016, wanting to be closer to family, Sandi moved with her partner to Wellington.
Although both women knew they'd found their soulmates and Callie had proposed not long after arriving in New Zealand, saving for a house meant a wedding wasn't a priority.
But then the craft beer-loving couple saw an ad on Facebook from Wellington brewery Garage Project, who were launching a beer called We Choose Love at Beervana – and to market the brew, they were inviting couples to either get married or renew their vows.
"We are total opportunists, so when we saw the ad we didn't hesitate."
They'd never been fans of a traditional ceremony and had often tossed around wedding ideas, including getting married at a dinner with just their families.
"I can't imagine standing at the end of an aisle with everyone watching me," says Sandi. "It makes me cringe. Plus we've seen so many people get stressed out about organising big weddings. We're like, 'Why do people do this?'"
They showed up at Beervana around noon on a Saturday, one of four couples to be married (with another four renewing their vows) across the two day festival. Both were dressed casually in black jeans and white tops.
"We wanted to be able to enjoy Beervana afterwards," says Sandi.
As 4000 or so thirsty punters swirled around them, oblivious to what was going on, wedding celebrant and Beervana organiser Beth Brash conducted the 10 minute ceremony. Standing in as witnesses were staff from Garage Project and Wellington on a Plate.
"We'd written our own vows the night before," says Callie. "It was probably the only traditional thing about our wedding."
The couple didn't tell anyone, apart from their flatmates, but rang their parents from the five- star hotel they'd booked that night.
"Our families obviously would have liked to be there, but they were thrilled for us," says Callie. "It was such a lovely way to get married, just us among all these people having a good time. The fact that no one there knew it was going on was also quite cool, like having a secret just for us."
Although their plans for a honeymoon in South Africa, where Sandi was born, were scuttled by Covid, they're putting their energies into the townhouse they recently bought in Petone.
"My advice to anyone thinking about getting married is do what feels right for you. It's about what you want, not other people."