Food glorious food. Essential for survival but so much more than that. It's one of life's greatest pleasures, a source of comfort and security, integral to celebrations, and a key part of our cultural identity. But meeting the needs of our massive global appetite is heating up our planet, causing glaciers to melt and sea levels to rise. The food we eat contributes to a quarter of greenhouse gas emissions, and as there is no planet B, we need to adjust our diets if we want to reach New Zealand's goal of net-zero emissions by 2050. Here are some ideas on how to eat our way out of the climate dilemma.
Eat Less Meat
Vegetarians, you get a free pass and can skip to number two and vegans, you go all the way to number three. As for the other 94 percent of us, we're consuming too much meat. According to genless.govt.nz, most plant-based products have 10 to 50 percent lower emissions than animal-based products. And the EAT-Lancet Commission, a non-profit dedicated to transforming our global food system, says that we will need to reduce meat consumption by 50 percent by 2050.
Cristina Cleghorn, a nutrition researcher at the University of Otago who is leading the Healthier Lives project to assess the health and environmental benefits of sustainable New Zealand diets, agrees. "There needs to be a general shift away from the traditional New Zealand diet which is high in red and processed meat and, more recently, in processed food. These foods need to be at least partially replaced with less processed, more plant-based foods. This doesn't mean that people need to go vegetarian, but individual health and climate health would both be improved if people ate meat less frequently and in smaller portions."
Beyond following a vegetarian diet, try reducing your red meat consumption to once or twice a week, or eating meat with a lower carbon footprint such as chicken.
Eat Less Dairy
For many of us, life without cheese, butter and yoghurt would be a sadder, less creamy existence. The rest of the world thinks so too as dairy is our biggest export earner.
But half Aotearoa's emissions come from the agricultural sector, and dairy farming has the biggest carbon footprint of them all, with sheep farming in second place. The main culprit, comprising three-quarters of our agricultural emissions, is methane emitted from the digestive systems of cows, sheep and goats. Add to that deforestation to clear land (remember that forests capture carbon), nitrates from cow urine and faeces polluting our waterways, the degradation of soil through widespread use of fertilisers and harmful chemicals, as well as energy required for processing, transportation and refrigeration – and you can see why we might need to rethink how much dairy we are eating
It has been estimated that a person can save 390kg of CO2 emissions per year by following a dairy-free diet, but if you can't see that life would be better without feta, try replacing some other types of dairy you consume regularly with non-dairy alternatives. Most plant milks are fortified with the same amount of calcium and other vitamins and minerals as you find in cow's milk but produce a fraction of the emissions, even when they are transported from overseas. And if you want a truly local plant milk, Boring Milk and Otis Oat Milk are both made using oats grown in Central Otago
Eat More Plants
"Eat food. Not too much. Mostly plants." Even 14 years after publishing his book In Defense of Food, Michael Pollan is still right. Fruit and vegetables and other plant-derived foods provide us with all the glorious vitamins, minerals, phytochemicals and antioxidants that we can't get from other types of foods as well as proteins, fats, carbohydrates and fibre.
There is irrefutable evidence that a plant-based diet is better for the planet too. In 2020 researchers at the University of Otago published a food emissions database of 341 different foods. Whole plant foods, including vegetables, fruits, legumes and whole grains, were considerably less polluting than animal-based foods, particularly red meat. Following a vegan diet and reducing food waste reduced emissions by a whopping 42 percent. However, even just replacing one weekly serving of meat, seafood and eggs with legumes, nuts and seeds reduced greenhouse gas emissions by 7 percent. The EAT-Lancet Commission recommends that people eat a "planetary diet" which is illustrated as a plate half covered by fruit and vegetables, with the other half made up of whole grains, plant proteins, then increasingly small amounts of dairy, animal protein and sugar.
Eat With The Seasons
We have become so used to consuming whatever we want when we want it that importing produce from overseas has become acceptable as supermarkets try to cater to every consumer's whim. Researchers at the University of Sydney discovered that carbon emissions from transporting food add to 6 percent of global greenhouse gas emissions, with fruit and veges being the worst offenders. And I'm not just talking about the Californian lemons you're squeezing into your G&T in summer either. If you're eating New Zealand-grown apples in summer, remember that those apples were harvested in autumn and have been sitting in a cool store for nine months.
Support Local
Not only has locally sourced food clocked up less food miles but it's also fresher, which means it's more nutrient dense. Plus, by supporting growers in your region you're supporting your local economy. Jared Hiakita is a waste-minimisation specialist who is a growing a food forest in Hokianga where he lives with his wife and young son. "The conventional food system is built on a fossil fuel economy with no regard for preservation of traditional growing methods," he says. "I think one of the keys to mitigating global warming and regenerating the environment is focusing our efforts at a localised scale. Then we can start breathing life back into the microeconomies that existed in our regions, with minimal external inputs, high connectivity and a small carbon footprint." So check out your local farmers' markets, join a food coop or sign up to a vegetable delivery service. Pātaka Kai is a fantastic initiative where food is donated or can be taken for free from 242 pātaka (pantries) in different neighbourhoods round the country. Check out if there is one in your neighbourhood at patakai.co.nz.
Grow your own herbs and vegetables
It doesn't get more local than walking outside and harvesting your own homegrown veges. Easy crops to grow include silverbeet, salad greens, carrots, potatoes, beetroot and tomatoes. If you don't have much space, don't worry – most vegetables can be grown in a 10 litre bucket. Drill holes in the bottom, add some good-quality potting mix, put them in a sunny spot where they get six hours of sunlight a day and remember to water them.
Don't Forget About Edible Perennials
Unlike vegetables, which tend to be annuals that complete their lifecycle in a year, fruit trees are perennials, and will pump out food for you every year with minimal intervention, providing you give them a sunny spot. Other good edible perennials that will keep on giving include rhubarb, asparagus, sorrel, chives, artichokes, raspberries, blueberries and strawberries. In Jared's Northland garden he has focused on growing perennials that are rich in starches, fats and carbohydrates such as avocados, chestnuts, walnuts and green bananas. "One of the things that I really love thinking about and trying to implement as we keep planting is growing perennial plants that can provide us with the sustenance we need."
Reduce Food Waste
According to lovefoodhatewaste.co.nz every year New Zealanders send 157,398 tonnes of food waste to landfill, which, combined with other organic waste, contributes to 9 percent of methane emissions. After becoming increasingly alarmed about how much food was being wasted, Christina McBeth established Nourished for Nil, a Hawke's Bay charity that collects unwanted food from supermarkets, commercial kitchens, cafes, bakeries, orchards and pack houses, then redistributes it to around 250 families per day. Since they opened in February 2016, Christina says they've redistributed around 2.5 million kilograms of food. Christina says one of the biggest causes of food waste is not eating leftovers. She also recommends cooking for the number of people you have, making meal plans so you don't over-shop, and not throwing food away just because it's reached its best-by date. "One of the biggest source of food that is wasted is bread," she says. "People don't realise they can pop it in the microwave to freshen it up."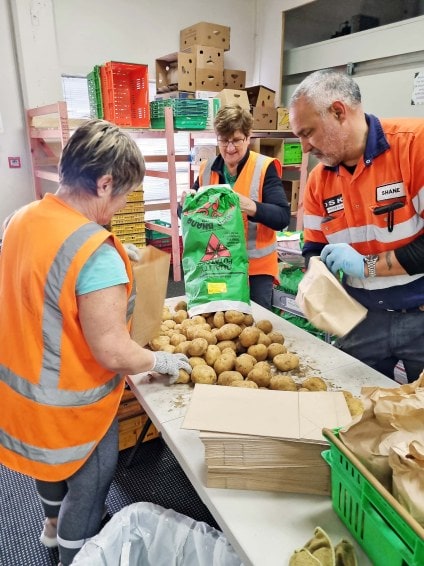 Make Compost
Recycle your food scraps and turn them into compost. Uncooked fruit and vegetables, coffee grounds, eggshells and teabags can all be turned into a rich conditioner for your soil which will help you grow more food. You can also get rid of cooked food waste, as well as meat, bones and cheese, using a bokashi composting system. This fermentation process uses inoculated bran to "pickle" your food waste and is small enough to fit on a benchtop (usually you have two buckets on the go), making it a great option for those without a big garden with room for a compost pile.
Limit Processed Foods
The closer a food is to its natural state, the less energy has been used to produce it. While processing whole foods, for example canning tomatoes or freezing peas, can give food a longer shelf life and helps reduce food waste, it's the ultra-processed foods, made from substances extracted from food that you want to avoid. We're talking hydrogenated fats, artificial flavours and colours, high-fructose corn syrup and emulsifiers. You'll find them in chips, cookies, cereals, ice cream and many types of fast food. Not only have ultra-processed foods been linked to a range of health conditions including heart disease, certain types of a cancer and a shorter life span but they are less nutrient-dense, which means we tend to eat more of them to fill ourselves up, which in turn puts more pressure on the overloaded food system.
Eat Sustainably Caught Seafood
WWF says that 94 percent of seafood stocks are overfished. Forest and Bird's Best Fish Guide ranks 85 seafoods on a traffic light system from best to worst choice. While you can eat mussels, salmon, oysters, Albacore tuna and cockles without a guilty conscience, sadly 75 other commonly fished seafoods are in the worst category, including snapper, whitebait, orange roughy and scallops. Download the app at bestfishguide.org.nz.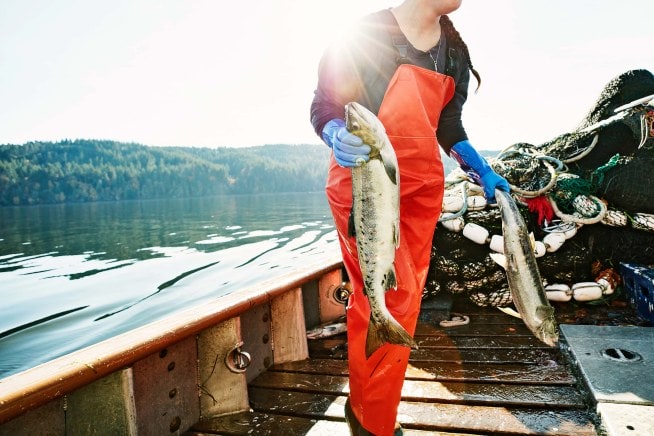 Eat Organic
If you want food that's grown without harmful pesticides and other chemicals, organic food is the obvious choice, but a 2017 study by scientists at Northeastern University and The Organic Center discovered that organic soils were also 26 per cent better at sequestering carbon from the atmosphere than non-organic soils. That's because compost, manure, legume cover crops and the microorganisms increase the amount of carbon-storing humic acid in the soil. They also bypass synthetic fertilisers like nitrogen, which happen to be New Zealand's second biggest contributor to agricultural emissions. If we can afford it, choosing organic produce is a useful step in the right direction.
Ditch Single-use Plastic
Plastic is made from fossil fuels that release large amounts of carbon dioxide into the atmosphere. According to Plastics NZ, each of us uses approximately 31kg of plastic packaging every single year, yet only recycles 5.58kg. Reduce plastic consumption by using your own reusable produce bags when you go shopping and shop from bulk bin stores where you can fill up your own containers.
Calculate Your Environmental Impact
Knowing what your individual impact on the environment is a great motivator for upping your game when it comes to protecting Mother Earth. Check out your overall footprint at futurefit.nz or carbonneutraltrust.org.nz.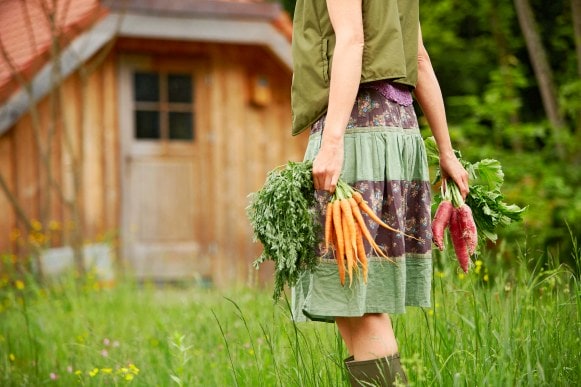 Avoid Palm Oil
Palm oil is so ubiquitous that it's now present in 50 percent of packaged food and a range of other non-edible products. The problem is that 85 percent of the world's palm oil is grown in plantations in Indonesia and Malaysia, which has resulted in widespread deforestation and has contributed to the Sumatran and Bornean orangutans becoming critically endangered. Unfortunately, New Zealand companies don't have to label palm oil on their ingredients list and you'll often find it listed as vegetable oil. One way you can find out if a product you buy regularly contains palm oil is to phone the supplier. The New Zealand Food Standards Code requires that a free customer service number appears on the product label.
Choose Products Certified Fairtrade And Organic
Yes, chocolate and coffee are wonderful, but they taste even better when you know that they've been grown without child labour. As well as offering growers a fixed minimum price for their products, Fairtrade certification also covers environmental standards such as emissions reduction. If you opt for organic and Fairtrade, even better, as you can also rest assured that the grower hasn't been exposed to toxic pesticides or herbicides.
Be Energy Efficient When Cooking And Storing Food
A 2020 study from the University of Manchester found that up to 61 percent of emissions for certain foods are generated from home cooking. A lot of our energy in New Zealand comes from renewable sources but you can still make emissions savings (and save money on your electricity bill!) by being smart about how you prepare food. Ovens produce the most emissions whereas microwaves, slow cookers and pressure cookers produce the least. You can also make a difference by ditching gas, defrosting products naturally and turning appliances off at the wall when you're not using them.
Plan Your Meals
By putting time into planning your meals you can make sure you're choosing nutritious meals that tread lightly on the planet without overbuying when you're hangry and short of time. Build meals around ingredients that are available in your pantry or garden so you don't need to buy as much from the shops and make extra so you can freeze the excess for later meals.
Support Locally Owned Takeaway Businesses
And Farm-to-table Restaurants
When eating out, choose restaurants that make an effort to use locally sourced ingredients and seasonal produce – you're supporting the local economy and it will taste better too. Avoid takeaway businesses that use single-use packaging or ask if they'll let you bring your own re-useable containers.
Make Small Changes
In an ideal world we'd all go vegan, start growing all our own food and biking everywhere overnight, but this would difficult for most of us to sustain. You're more likely to make permanent changes if you start small. Perhaps have a meatless Monday or begin buying most of your fruit and veges at a local farmers' market. If we all start making small changes to how we eat, collectively we can reduce our overall carbon footprint.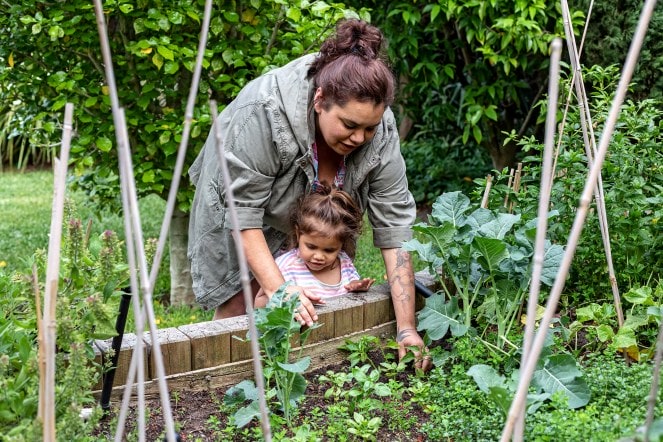 Quick Wins
* If you're making bolognese, swap half your mince for lentils; it's good for the budget as well as you and the planet.
* Check your oat milk: most of it comes from Sweden; look for oats grown in Australia or New Zealand instead.
* Aim for variety in the plant foods you eat, not just volume. Can you eat 30 different plants a week? It's not as hard as it sounds if you include herbs, seeds and nuts.
* Eat smaller fish. They're lower in the food chain, therefore more sustainable.
* If you're good at growing one thing, trade with the neighbours. They might be happy to swap their lemons for your bumper crop of rocket.
* Practice "root to tip" eating – use every bit of those veges including the stalks, stems and skins. Celery leaves are great in soups, broccoli stalks can be added to your stir-fry.
* Check out websites for ideas for those bits and pieces you've got left in your fridge at the end of the week. There are websites and apps where you enter the ingredients you've got and they come up with ideas for what you can make with them.