Eating oysters has become almost a personality trait of mine. They're hard to resist at any restaurant but challenging to source at home. Same goes for truffle fries. If you're craving that sea-salty umami flavour, I've got the perfect alternatives to satiate that craving without the need to head to the Viaduct's Soul Bar.
Prawn Bisque Pasta pairs well with my elevated caesar salad – arguably, the second best thing since sliced bread. The crunchy leaves, creamy dressing and butter parmesan dousing is something to salivate over. Grilling your romaine lettuce adds a juicy, mouth watering feel that has you dipping and diving for more. Plus, quail eggs – I think that is even higher up the food chain than oysters.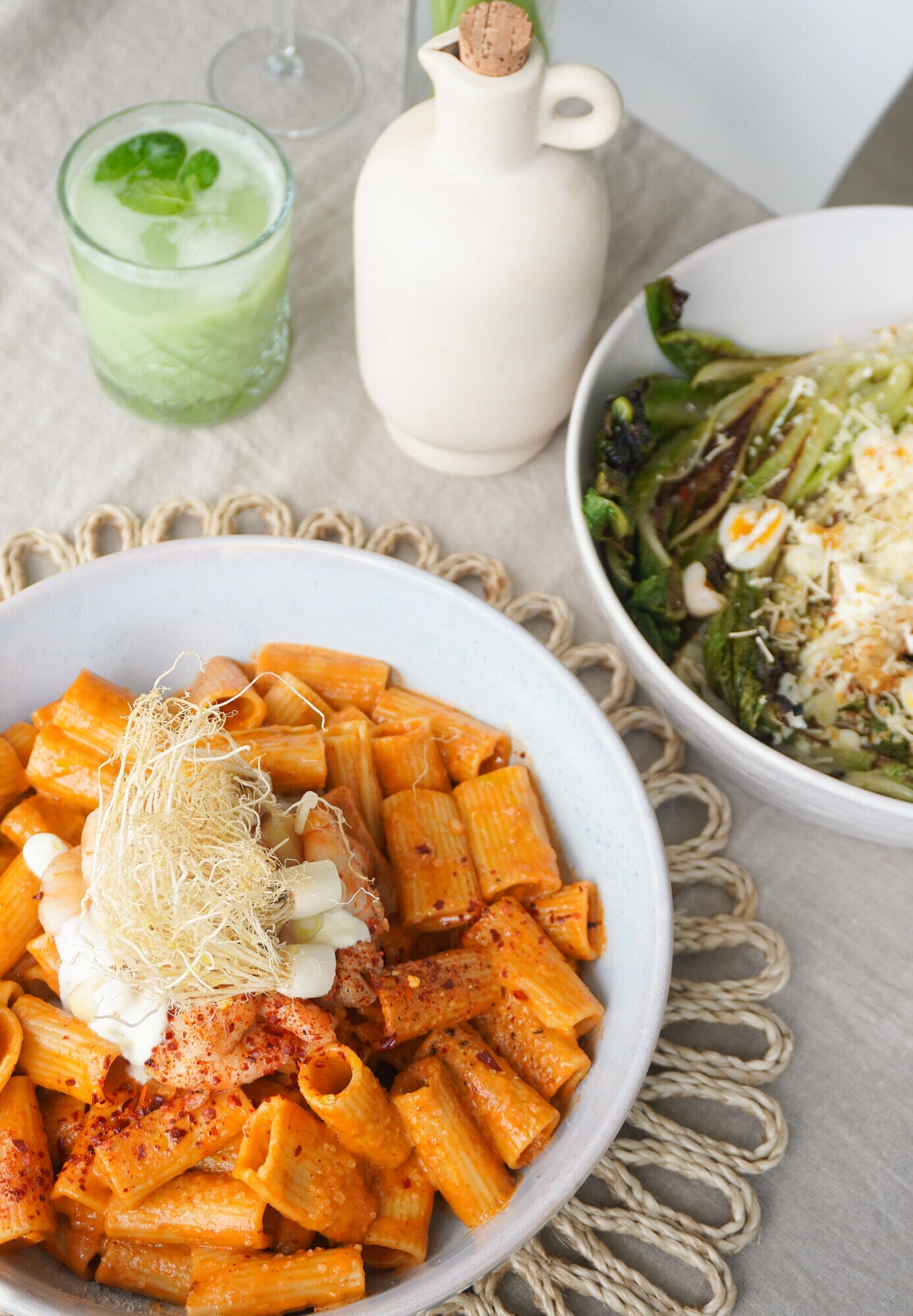 Prawn Bisque Pasta
A bisque is a french style soup, made from turning crustaceans into stock. Cheffy tip – you can pretty much interchange any soup, sauce and dipping into another form by adjusting the texture and intensity. I am always using tomato soup as a base for a casserole, and soups reduced down to sauces.

Prawn Bisque Sauce Ingredients
700g Prawn (approximately – I suggest grabbing enough prawns to feed your party and use the shells and heads in this sauce)
2 shallots
1 cup white wine
Herbs such as bay leaves, parsley, dill
1.5L fish stock
2 tbsp tomato paste
50mL double cream
Lemon juice to taste
30g butter
Use any pasta of your choice. This dish works well with a fettuccine or paccheri.

Method
Heat a large saucepan, adding the oil of your choice. Add the prawn shells and heads and fry. I like to get a very solid colour on these to intensify the flavours. Once the shells are orange, add shallots and tomato paste and stir continuously.

When they become lightly coloured, add ¼ cup of white wine to deglaze your pan. Reduce this down, then add the fish stock and bring to a boil. Add your remaining wine and herbs. Simmer for a further 20 minutes. Add the salt and lemon zest to taste

Remove the bay leaves from the pan. Add the soup to a blender in batches. You want to whizz it efficiently to blend all of the shells into the sauce. Once blitzed, pour through a fine sieve. Once sieved, it is recommended to go through again with a muslin or choux cloth. This is going to get rid of any shell remnants and provide a clean smooth texture. Add back into a clean saucepan, with lemon juice and cream. Season to taste, balancing the acidity from the lemon and 'fresh ocean taste.' Heat until a gentle simmer. Note – cooked lemon juice has an incredibly different taste to fresh lemon juice. I try to add it at the last possible minute, but make sure you allow time to balance the acidity with the saltiness.

Boil your pasta in heavily salted water according to the guidelines. Once cooked, add a ladle of pasta water to your sauce, along with 30g of butter to add shine and textural satisfaction.

Just as the pasta is cooked, I transfer the sauce out of the saucepan and use this pan (without washing) to cook the meat of the prawns. Stir around the remnants of the sauce with the cooking prawns to glaze. Once the translucent touch is just removed, the prawns are ready. Plate and eat fast, before your neighbors steal the leftovers! I love to top mine with fresh olive oil, chilli flakes, and pickled spring onion roots!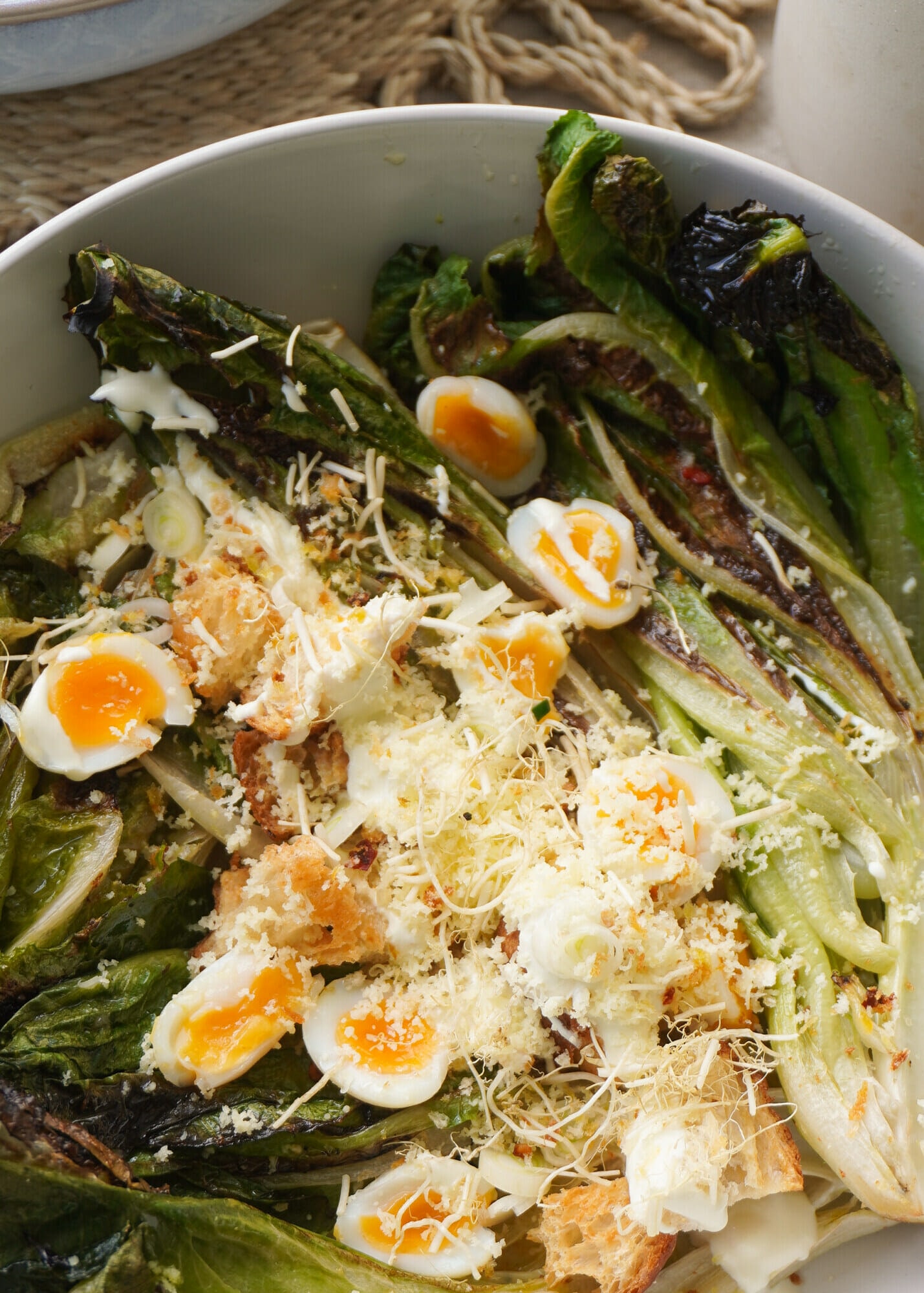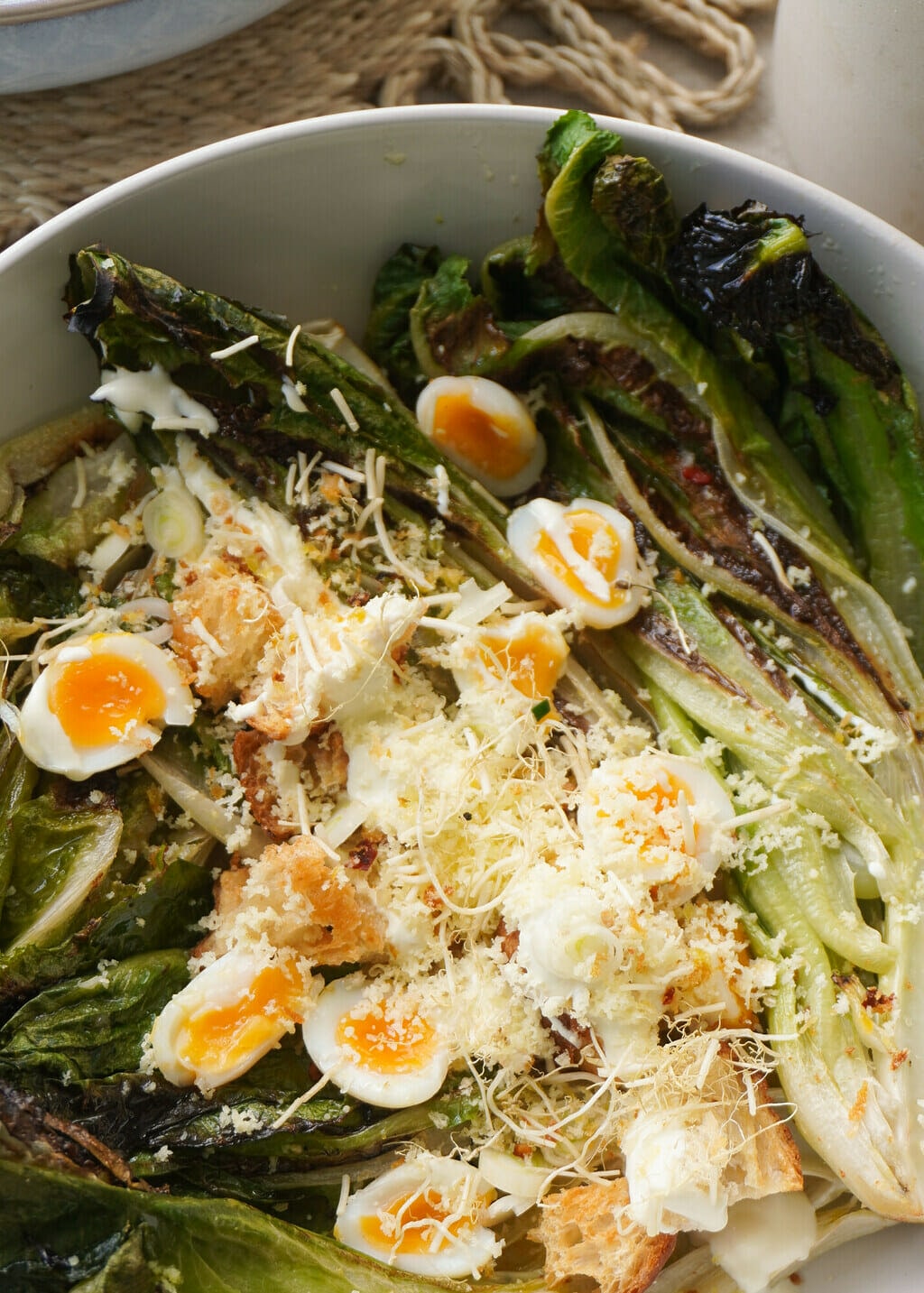 Grilled Caesar Salad
Ingredients
1 large head of romaine lettuce, or 2 small ones
Olive oil
Garlic powder, onion powder, chilli flakes
1-2 cups diced 'old' bread
Parmesan (powder or grated)
6 Quail Eggs

Method
Turn your oven on the grill setting. Add the chopped croutons, garlic powder and olive oil to the pan. Add in the oven while the grill is heating up. Get them as crispy as you like!
Add your quail eggs to pre boiled water, that is now simmering. Cook for 3-4 minutes. Add to iced water and peel the skins off. Slice as desired.
Once your croutons are cooked, remove and use the same tray for the rest of your dishes, keeping all the goodness! Add halves of romaine lettuce, doused in olive oil, garlic powder, onion powder and chilli flakes. Place under the grill until the tops of the leaves go a dark crisp brown colour. Note – this is definitely something I would do under the grill or on a BBQ – doing this in a warm oven will wilt the lettuce instead.

Dressing Ingredients
6 anchovy fillets (essential – don't skip this please)
1 garlic clove
1 large egg yolk
1 large full egg
1 large lemon (juiced)
1 tsp dijon mustard
⅔ cup oil of your choice (homemade garlic oil, made from sunflower oil is my favourite)
3 tablespoon parmesan
Salt and Black Pepper to taste

Method
Roughly chop the garlic and anchovies and add to a blender. Add in the egg, and additional egg yolk. Blend until lightly combined. Add salt, dijon mustard and lemon juice. Once completely combined, slowly drizzle in your oil of choice – doing this too fast will 'split' the oil instead of thickening it. Once thickened, add parmesan and seasoning to taste.
To serve:
Add the lettuce to the bottom of your desired dish. Spread on the dressing, then sprinkle in parmesan powder. Add sliced eggs, bread crumbs, and a final wink of seasoning. This is best eaten right away, but will last in the fridge to snack on.

I promise to you, the sea saltiness of the prawn pasta, with the grilled parmesan, bready, crunch salad to pair will satisfy your inner oyster feen. Pour yourself a glass of chardonnay and say 'bon voyage' to your taste buds to the beach.