A great salad can easily become a satisfying meal on its own if you follow a few simple rules.

Aim For Texture:
Use salad ingredients that have a variety of textures from juicy (think tomatoes, beets, nectarines etc), to crisp and crunchy (lettuce, cabbage, nuts & seeds, croutons, cucumber etc) to creaminess (avocado, feta, blue cheese, boiled new potatoes etc). Texture brings a salad to life!

Mix & Match Flavours:
Each mouthful should be an explosion of flavours so you want some really punchy ones in there like the sweetness of dates, the piquant of parmesan or rocket, the tartness of sundried tomatoes, the herbaceousness of herbs like basil or parsley or sorrel. Aim for a mix of complimentary flavours.

Dress Well:
I'm not talking about dressing up to eat a salad but rather that you make sure the base of the salad, whether that be leafy greens or grains, beets or potatoes or some other starchy vegetable or a protein like chicken, tofu or prawns, is well-coated in the dressing by tossing it in a big bowl before transferring to the serving dish. Merely pouring the dressing over the salad means it all ends up at the bottom of the serving dish. Follow this rule and your salads will be forever improved.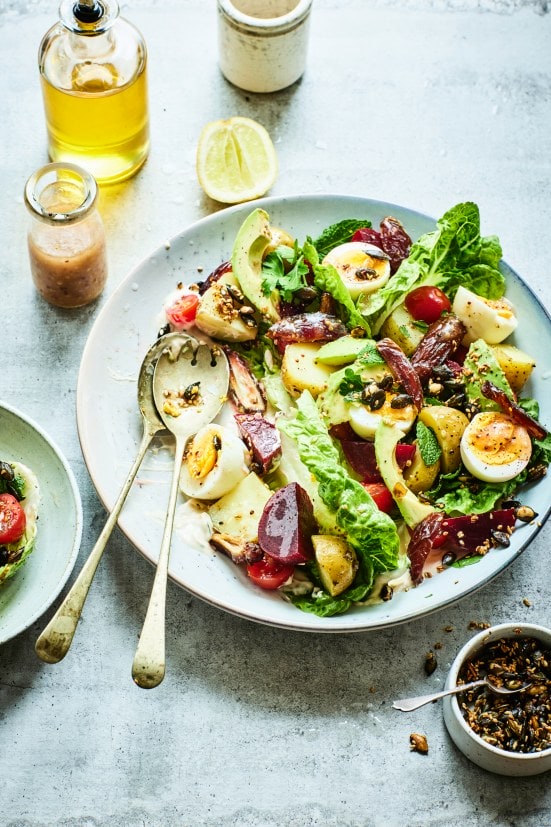 Super Salad Recipe
Serves 2-4
3 hard boiled eggs
6 small new potatoes, boiled
4-6 cooked baby beets, I use tinned or Leaderbrand
6 cherry tomatoes
1 avocado, scooped and sliced
1 buttercrunch lettuce , leaves separated
¼ cup plain yoghurt
1 tablespoon pomegrante molasses (optional)
4-6 medjool dates, halved
Small handful of mint and/or parsley
½ cup pumpkin, sesame and sunflowers seeds, toasted

Basic Vinaigrette Dressing:
4 tablespoons quality olive oil
6 tablespoons red wine vinegar
1 teaspoon wholegrain mustard
Squeeze of lemon
Salt & pepper to taste
Shake the dressing in a jar to mix. Taste and season.
Half the eggs, new potatoes, beets and tomatoes.
To assemble: Whisk yoghurt briefly with pomegranate molasses and spoon onto serving plate, spreading roughly over the base. Toss lettuce leaves with half the vinaigrette dressing and scatter these onto the yoghurt. Layer up the remainder of the ingredients – eggs, potatoes, beets, dates and avocado slices – scatter over torn herbs and half the toasted seeds.
Serve with remaining dressing and more toasted seeds on the side. Enjoy!