Never work with children or animals, goes the old saying. But Canterbury photographer Amanda King has laughed in the face of both those rules, starting out as a family photographer and, for the last four years, snapping enormous Angus bulls, bison and sheep for her By the Horns art prints business. HQ is an 1100ha farm in Hororata, about an hour west of Christchurch. It's her husband Fraser's family farm, a far cry from Amanda's upbringing in the Brisbane suburbs.
When she's not looking after their children – Greta, seven, and Dudley, five – Amanda will be wandering around the farm photographing the couple's 300 cattle and 3,600 sheep. "Most of the animals I photograph come from the farm," says Amanda. "But if I'm out driving and see an interesting animal, I'll contact the farmer to see if I can photograph it." The reaction she most often gets from farmers is disbelief. "They'll say, 'Why would you want to photograph my cow?' But once they see my work they understand."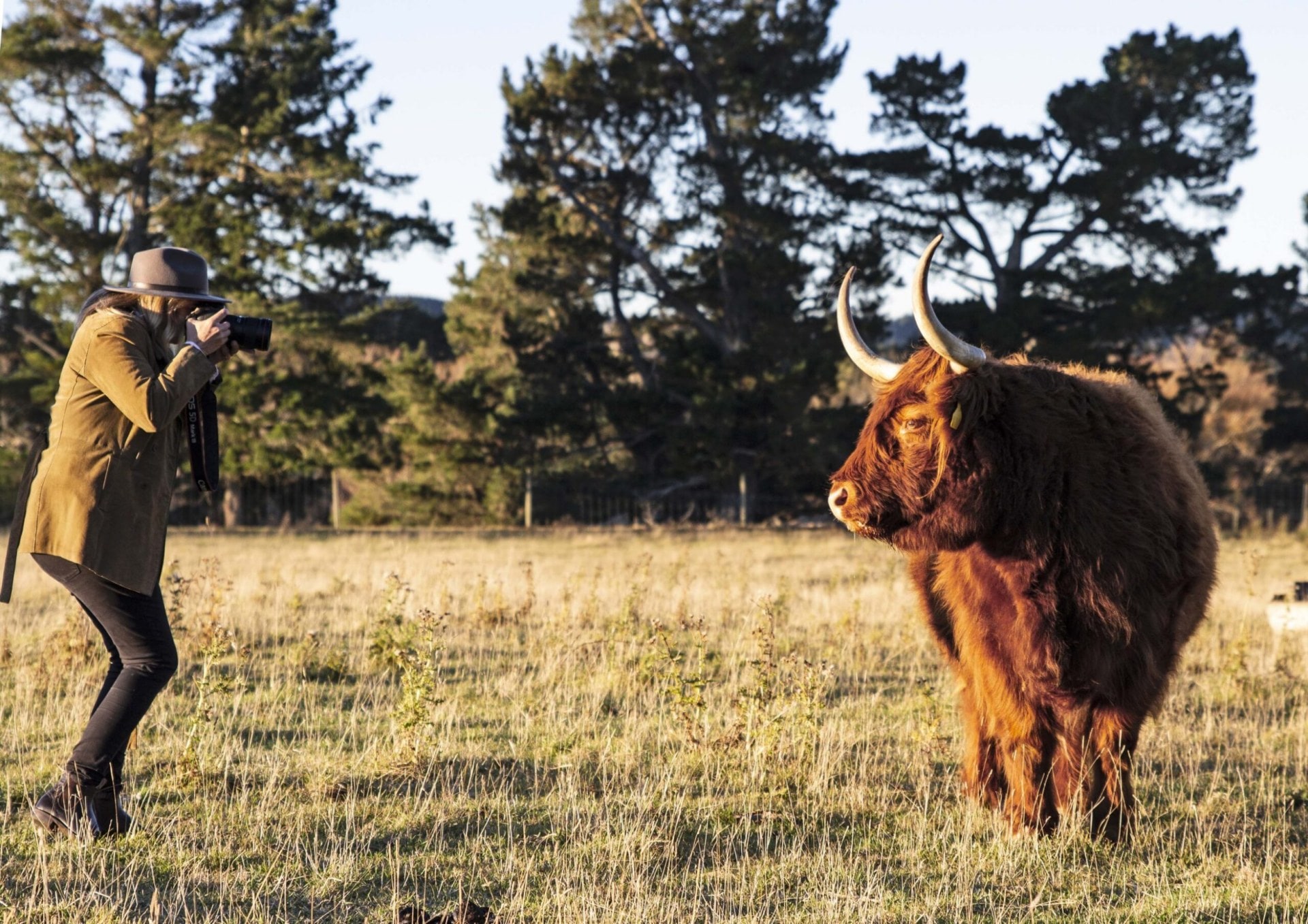 The result is Amanda's striking, limited-edition animal portraits that hang on walls everywhere from New Zealand and Australia to the UK and Europe. "The furthest places I've sold my work are Sweden and Saudi Arabia. There's also a restaurant in Minnesota that features my prints as well as a brewery in Texas."
Amanda, a former primary school teacher, developed her love of photography while living in the Wairarapa, when the school she was teaching at sent her on a photography course. Before long, Amanda was photographing families as a side hustle.
A few years later, Amanda was looking for a large print to decorate the walls of the Hororata farmhouse. "I couldn't find anything I liked, so I photographed a Highland bull and had the image framed." Friends liked it so much they asked her to do the same for them. "I started a Facebook page and by 2018, By the Horns had become a full-time job."
Amanda tries to introduce three to five new prints a month, in both colour and black and white, and says her aim is to let the animals shine. "I just let them do their own thing and try not to disturb them too much."
Although there haven't been any close shaves, Amanda says she tries to spend as little time as possible in the paddock and prefers to have the farmer nearby. "I had one bull pawing the ground at me, so I got out of that paddock really quickly! "
She's often surprised by which images capture people's imagination and admits they're sometimes the prints she thought wouldn't work. "I once wanted to photograph a bull but he'd been rolling around in the mud and was really dirty. I thought he'd ruined the shot but that muddy bull turned out to be one of my biggest sellers."
Although she's best known for her animal prints, Amanda also turns her lens onto seascapes, flowers and rugged scenery, and has recently branched out into wool hats and weekend bags she designs herself.
New Zealand, she says, is now home. "I love what I do and feel very fortunate to live where I do."