There's something about reading a biography or memoir that totally encapsulates you. You become enthralled by the subject's lives, often leaving you Googling for more. From your favourite figures, to hidden stories you might have never known about, these non-fiction books are the best way to get your true-story fix.

A great memoir isn't just a laundry list of events in someone's life. It should weave a story through almost as a novel would, and should definitely share a few tales that haven't already made the news. The difference between a biography and memoir? A memoir or autobiography can lend an air to intimacy. You're hearing the author's thoughts, feelings and opinions directly. A biography can give you a more unbiased view of the person, written by a third person

There are a range of fantastic biographies and memoirs out there and it can be hard to narrow down what's worth the read, especially as celebrities seem to be releasing them on the daily. We've curated a list of our favourites for summer. Pick a shaded spot, stock up on your favourite snacks and let us know what you think

Some of our favourite bookshops to take a look at: Bookety Book Books, Unity Books, Good Books.



Friends, Lovers and the Big Terrible Thing by Matthew Perry

There's a lot more to Matthew Perry's story than you think. The memoir chronicles Perry's battle with addiction, and what fuelled it, despite seemingly having it all. The stories shared are ones not even the Friends cast mates knew, and Lisa Kudrow's forward is a reminder of what the press can do to someone in that position. A must read for summer.



Here For a Good Time: Organised Thoughts from a Disorganised Mind by Chris Parker

Having made a name for himself as an outspoken, white and charming stand-up comic, Chris Parker's book is anything but bland. Having become an Instagram sensation during lockdown and keeping New Zealand upbeat, to landing the winning role on Celebrity Treasure Island, his book is a collection of short stories, essays and musings on living his life as an openly gay, unapologetically camp man in Aotearoa.



Spare by Prince Harry

With the spectacles of the royal family in recent years, it's to no surprise that Prince Harry's memoir is top of our list for 2023. Releasing in January, it's time for Harry to share his side of the story, without all the cameras and royal parades that come with his family and title. We believe this will be the precursor to any Netflix show that might arrive!



I'm Glad my Mom Died by Jennette McCurdy

Millennials will know McCurdy as the loveable Tom-boy Sam Puckett from the Nickelodeon hit, iCarly. It was this role that shot her to fame, at fifteen years old. The memoir shares the heartbreaking accounts of her struggles as a child actor, and the complicated relationship with her mother. The book has been a sell-out, for good reason!



A Normal Family by Chrysta Bilton

What is a "normal family" and how do you go about making one? When her gay mother picks a man to help start her family, it took a verbal agreement, a couple thousand cash and a turkey baster. Now as an adult Chrysta has realised there's more to her biological father than anyone thought, as 35 other siblings pop up out of the blue.



Anna, The Biography by Amy Odell

Anna Wintour is one of the most famous yet mysterious fashion icons. Amy Odell interviews close friends, collaborators and notable people in the industry to weave together the story of how Wintour became the powerful editor she is today. For those who loved 'The Devil Wears Prada,' this is just for you!



Mean Baby by Selma Blair

Becoming very public with her MS diagnosis has put Blair under the spotlight again. Having always been a sharer, she casts back to her childhood, before her days of fame – the precursor for her roles in Cruel Intentions and Legally Blonde. There's battle with addiction, complicated family relationships and a touch on what her diagnosis means for the future.



The Palace Papers by Tina Brown

If there's anyone qualified to write a book on the royal family, it's Tina Brown. Having written a biography on the late Diana and worked within English journalism for over 40 years, Brown takes us behind the palace walls to tell the real story of the Windsor's post Diana's death. This is the perfect book to team with Prince Harry's Spare.



The Bookseller at the End of the World by Ruth Shaw

What would it be like to own a bookstore in one of the far corners of New Zealand? Ruth Shaw is just that, owning two tiny shops in the remote village of Manapouri, Fiordland. She's seen it all – being held up by pirates, working with drug addicts, and now meeting different characters in her little store. Shaw pulls together stories from her very full life, from the westernmost town in New Zealand.



Semi-gloss by Justine Cullen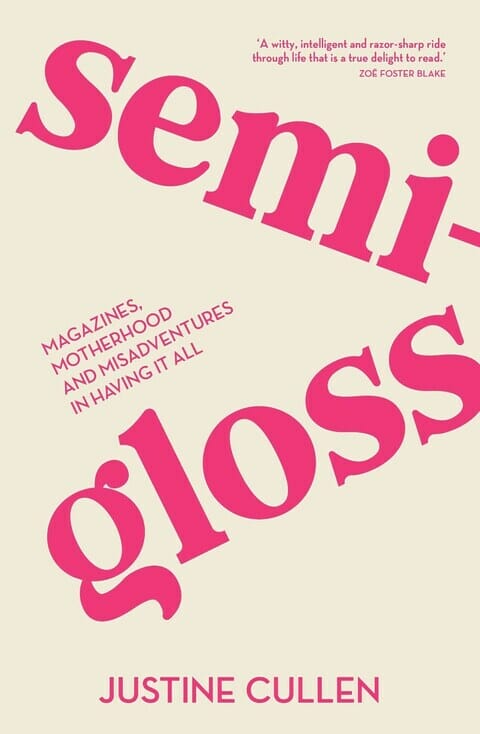 Although she's spent half her life as a magazine editor, Justine Cullen ensures this is not the Australia Devil Wears Prada. Cullen takes on a realistic, sometimes bumpy ride of her life and all the mistakes she's made along the way. She shares the candid life behind the glossy job, the life lessons learned when a magazine suddenly closes down, and how she's navigated divorce and new families all at the same time.