Fiona Fraser chews the fat with three champions of cheese to find out why this dairy delicacy is so all-consuming.
Annie Nieuwenhuis
Annie Nieuwenhuis adores her goats, and loves hand-making cheese from their milk.
"It's magic," she says. "You take this liquid from the milk can, pour it into a 70-litre pot, pop it in the water bath and watch it turn into a solid cheese that people love to eat."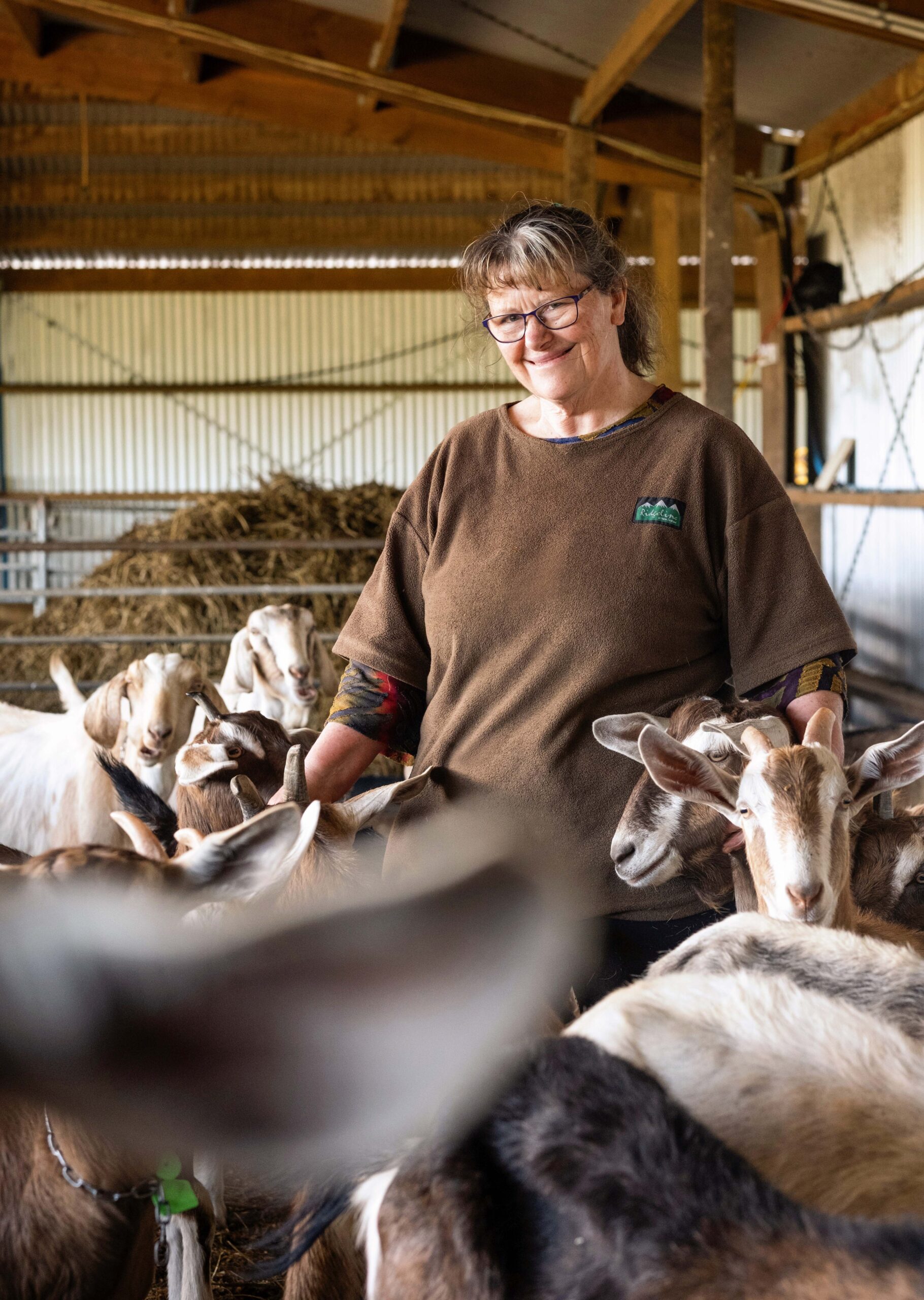 She and husband Geoff, who were recently named this country's Champion Cheesemakers at the New Zealand Cheese Awards, started Nieuwenhuis Farmstead Cheese in central Hawke's Bay after discovering a previously unexplored love for goats. They'd been rearing calves on their farm when Annie, "on a bit of a whim", suggested she might try raising a handful of goats. That was in 2006, and Annie was instantly hooked.
While the trained veterinarian dabbled in making a bit of cheese from the milk in her country kitchen, she, Geoff and their family of five wanted to know more.
"We decided to take some time out to travel the world when the kids were aged six to 16, and during our trip we looked into different aspects of cheesemaking, and how similar families in places like France were living sustainably with only a small flock of goats. I remember one guy in the Loire Valley saying you had to treat your curds like a French bride. I was a bit bemused at the comparison – but what he was saying was you need to be gentle and kind and spend time on your curd.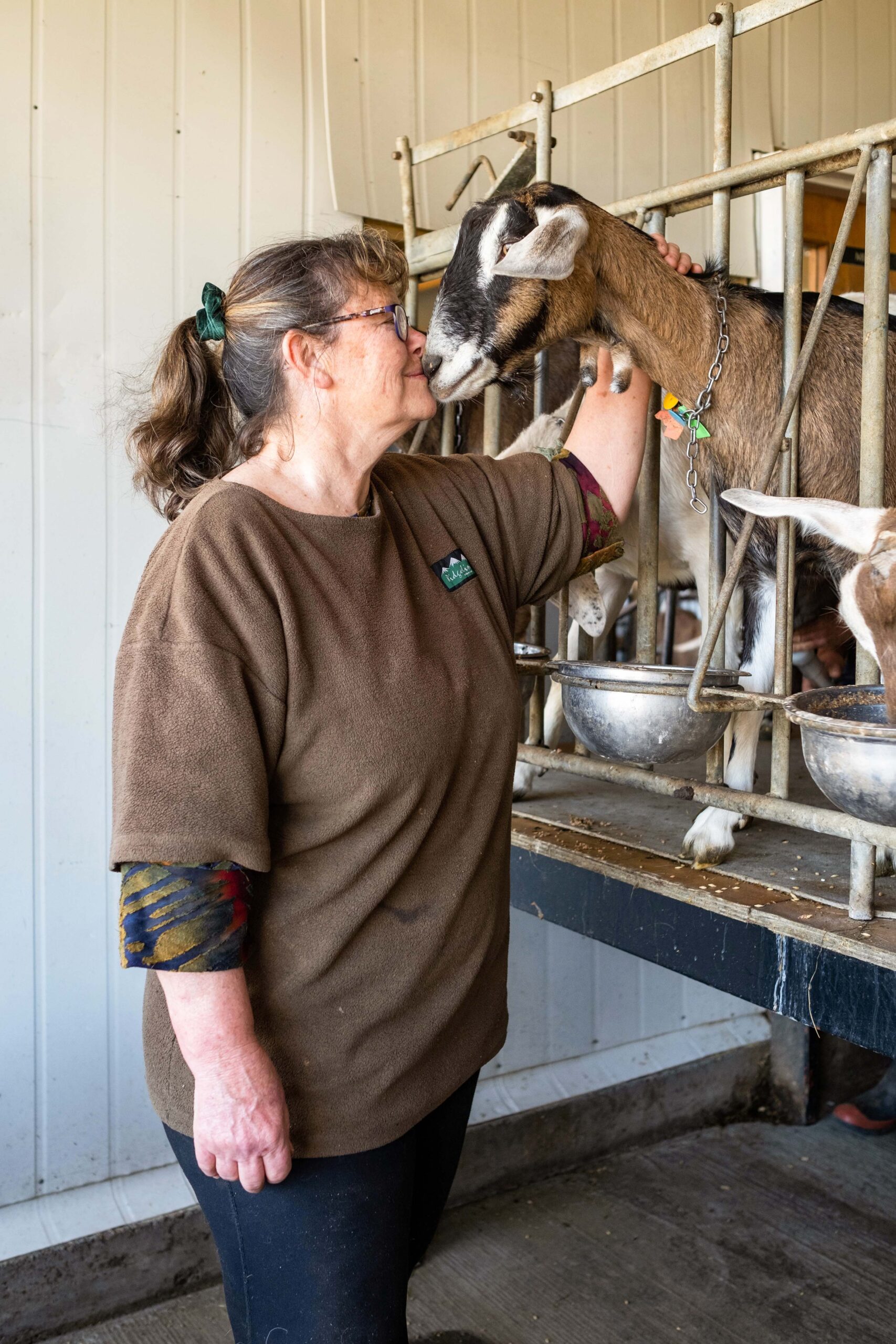 "We learned so much on our adventure, and were able to quickly establish that our goal was not to be big, but to remain home-based and family oriented."
Once back on New Zealand soil, they ramped up production, buying a new farm, increasing their herd, and building two huge barns to house it in.
"We moved a 10-bedroom villa onto the site and turned two rooms – the old nursery and the former mail room – into our cheese room. We didn't use any contractors. Instead, everyone pitched in building, laying the driveway – everything!"
Geoff took a short cheesemaking course in Putāruru, "which gave him the necessary science- based approach to cheesemaking. Then, I added my creative approach, and we started handcrafting our cheeses."
With eight in the range, including "light, lemony, fresh" options like Cloud, through to the multiple award-winning Poukawa Fog, they've made a huge splash in the cheese scene. But Annie says that producing cheeses at volume is relentless.
"We spend over 200 days a year, 18 hours a day consumed with the art of making cheese and there's no machinery – it's 100 percent done by hand. It becomes your life, and it means that during periods like Christmas and Easter, when most people take time off, we're still busy. We're probably more than a little obsessive!"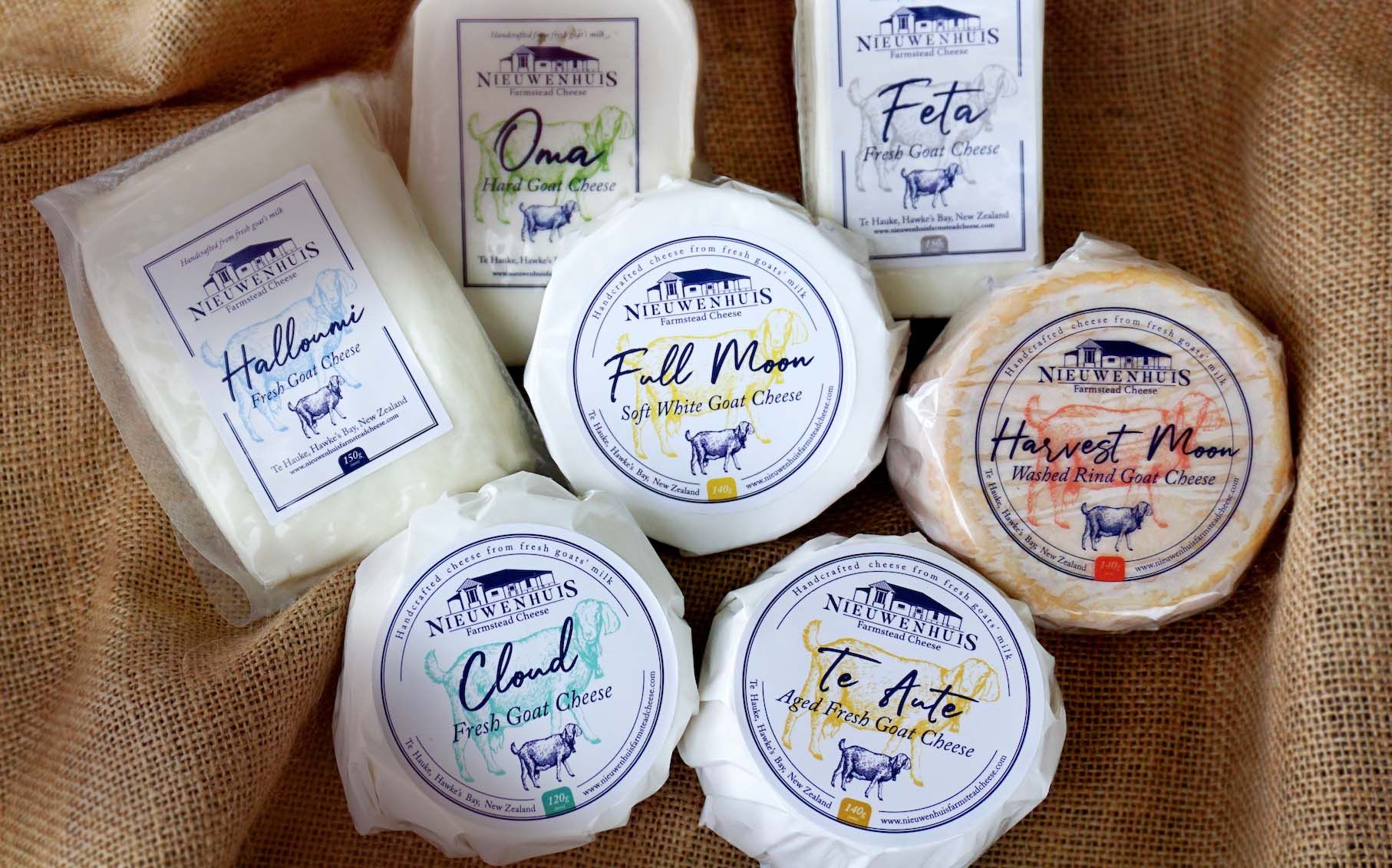 When most people take time off, we're still busy. We're probably more than a little obsessive
And that's why family has remained firmly at the centre of everything Nieuwenhuis does. "Everyone has to be on board," says Annie. Even now, with their family grown, son Thomas does their label designs and manages social media. "And our girls come home to help us with milking. One of my daughters is studying business and commercial law but she just really loves our goats – it's possible that she may, one day, take the business on. We'll be making cheese until we're at least 80, so she's got a bit of time to decide!"
And what of the goats, the animals that started it all? Annie says they're amazing – and easy to fall in love with.
"They all have their own personalities. They thrive on routine, and they love to come up and nudge you. It's a bit like having 50 or 60 dogs!
"There are a number of women in the cheesemaking world who've started, like me, with goats. They're easy to handle and it's enjoyable to raise them."
She also thinks goats appeal to women's nurturing and caring side. "You have to have compassion, I think, to do this. Your goats come first, and the cheese is sort of a by-product. To live this life, you really have to love it – there's no other way."
Juliet Harbutt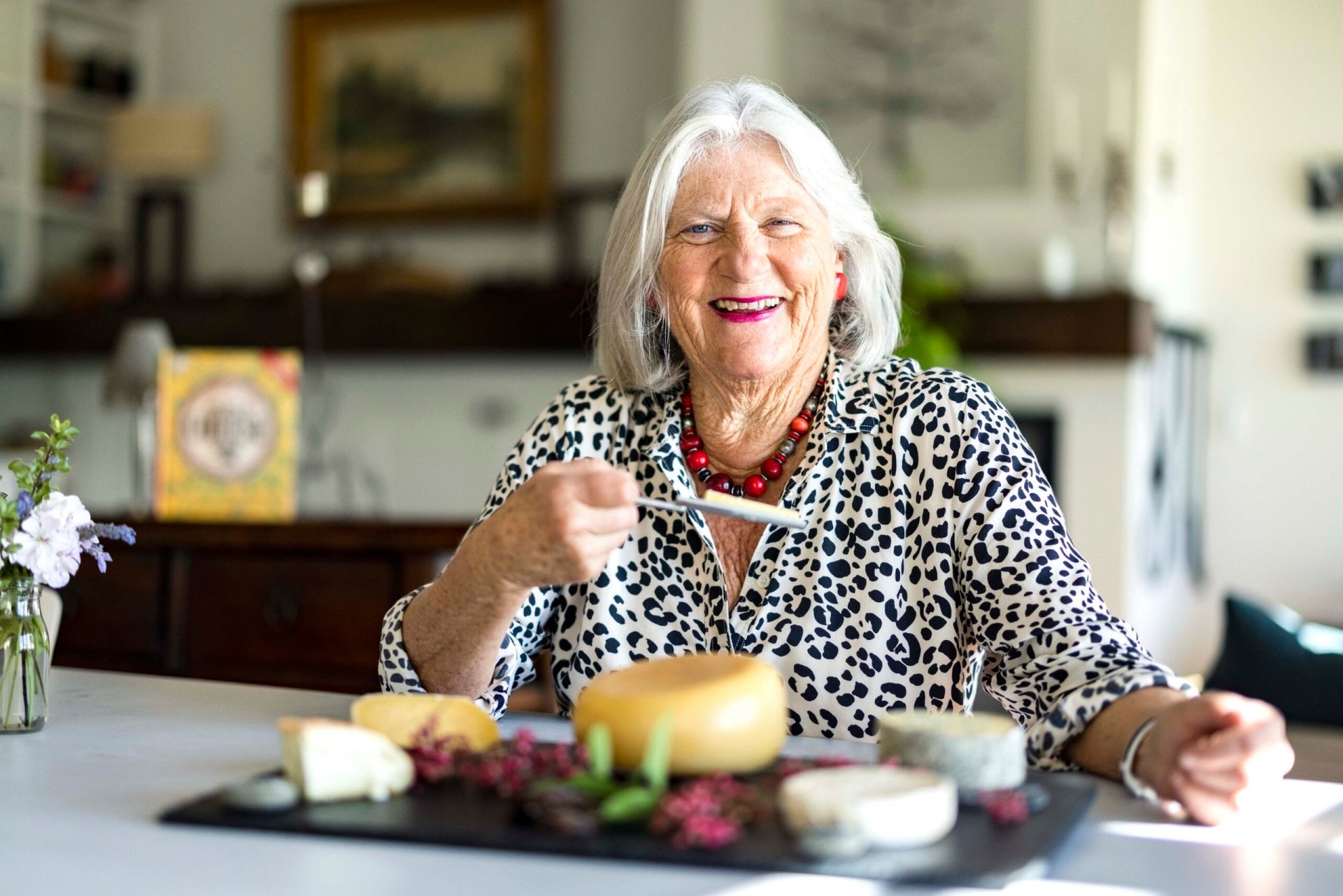 A voracious appetite for the stuff led Juliet Harbutt into a full and busy career revolving almost entirely around cheese. A worldwide cheese expert, who returned to New Zealand in 2016 to launch her successful Hunter Gatherer Tours, Juliet opened the Jeroboams wine and cheese store in London, going on to consult on cheese for places such as Harrods and Fortnum & Mason – and even, for a time, for the Prince of Wales. She founded the British Cheese Awards, which she still judges from time to time, and wrote World Cheese Book – it's the bible on cheese, published in nine languages.
"When I opened my London shop, I discovered that there is no consistent way to categorise cheese," says Juliet. "With wine, it's straightforward – you have varietals. But with cheese, you might have blue cheese, or yellow cheese, or it might be cured or semi-cured, but there's no consistency with the classification. So, I developed my own system based on the type of rind they grow."
Juliet, based in Havelock North, now runs cheese- tasting experiences from her own home where, using her system, she introduces the fromage-curious to some well-loved (and lesser known) cheeses, matching them with a selection of wine and cider to bring out their flavour.
"The thing about cheese," says Juliet, "is that just like in wine-making, it is influenced by the terroir. And more than that, the type of milk – cow, sheep or goat – and what the animals eat."
That's why there are differences in the tastes and textures in the cheeses we see coming in from Europe, as well as those made by clever cheesemakers here in New Zealand. Juliet's passion for cheese – and words! – make a cheese tasting with Hunter Gatherer hugely entertaining. "A good aged cheddar should taste like cheese and onion," she remarks as she bites into a piece. "A blue should be buttery and spicy, and you might catch a hint of cocoa. A decent parmigiano you'd want to smell of fresh bread and yeast, and taste a little like pineapple."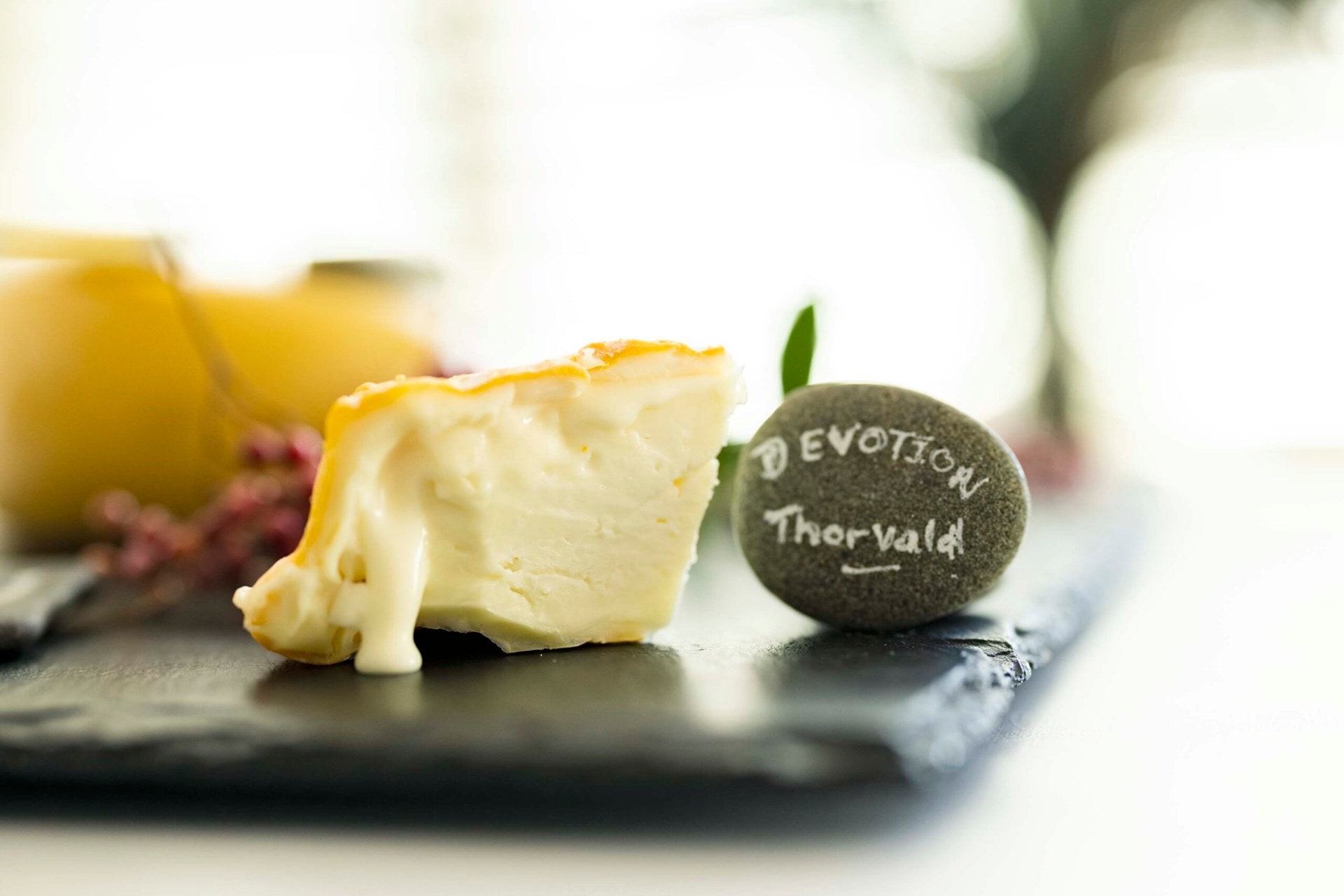 A good aged cheddar should taste like cheese and onion. A blue should be buttery and spicy.
She's also quick to clear up the perennial brie versus camembert debate. Don't worry if you can't tell them apart – there's a reason for that. "In France, they taste very different. But what we tend to do in New Zealand – which is completely unforgivable – is use an identical recipe to make a camembert and a brie, with one a bit bigger or smaller than the other. So people will sit there thinking, 'Oh, I mustn't have a very good palate, because I can't tell the difference.'"
Juliet says the best cheese she's ever tasted was a Spanish variety made from goat milk she experienced in a mimosa orchard in Spain. "I sat down at this table outside and a cheese was brought to me covered in hairy grey mould. It was called garrotxa, and honestly, I nearly died and went to heaven. It was so beautiful – it had captured the smell of the mimosa, it tasted like marzipan, and was pure white inside."
But, she hastens to add, we have some equally memorable cheese coming out of New Zealand.
"Hōhepa and Nieuwenhuis are as good as anything around the globe, and I love the Dutch cheese coming out of Mahoe and Mercer."
While she'll happily taste all the cheeses the world has to offer, Juliet says she's unlikely to be tempted to ever make her own. "I looked into it once, and thought, 'There's a lot of cleaning going on. And very early mornings'," she laughs. "And I couldn't see that fitting into my lifestyle."
Alexis Murti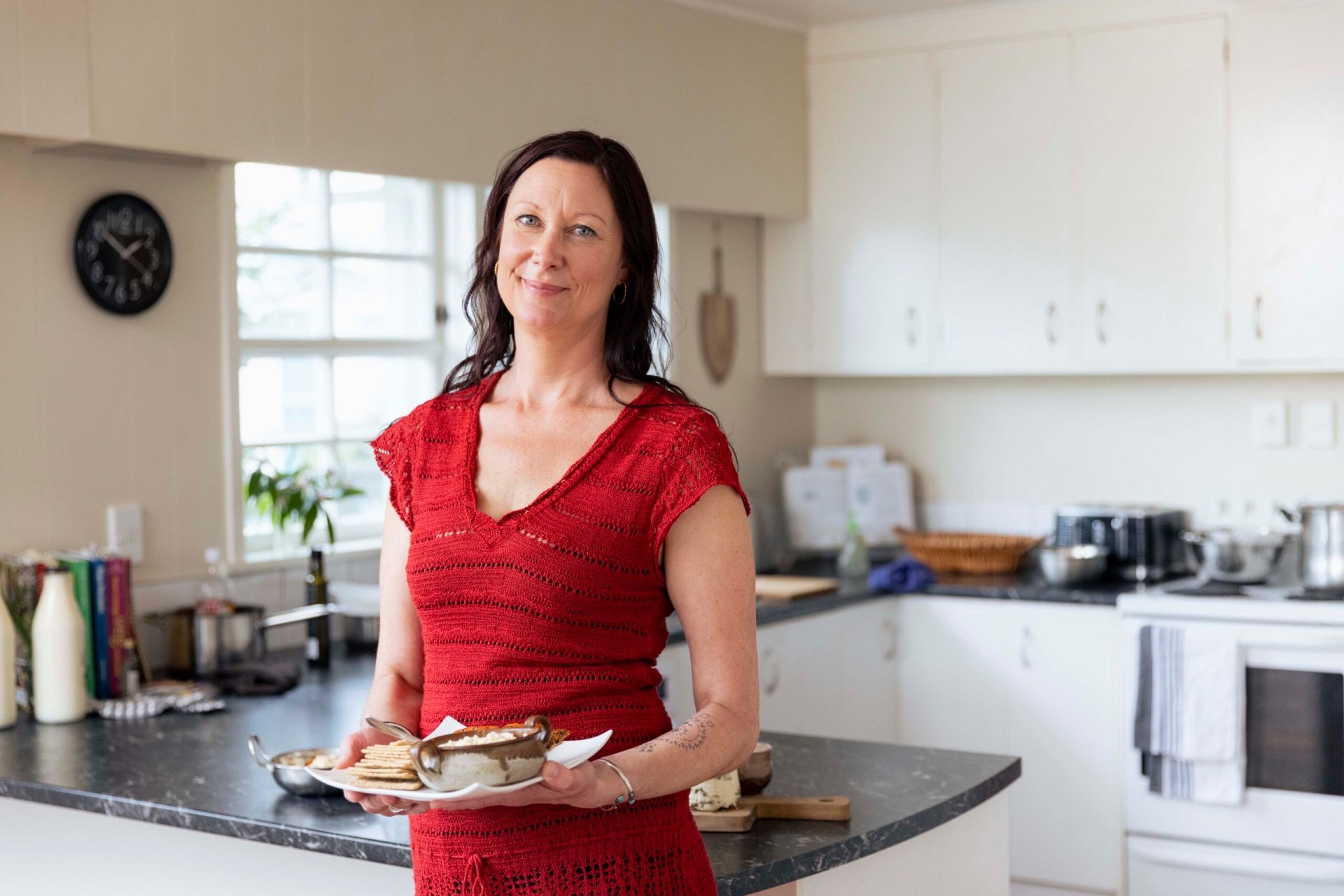 Providing nutritious homemade food for her two growing boys was the catalyst to Alexis Murti beginning a career in cheese. She'd just moved on to a lifestyle block in Ōtaki, north of Wellington, and was busy growing vegetables and making fresh bread and pasta for her family when her then-husband suggested she might enjoy adding cheese to her portfolio.
"I'd been listening to an interview on the radio with a cheese expert called Katherine Mowbray, who'd explained how easy it was to do at home. Next thing I knew, my husband had enrolled me in a workshop to give it a try," Alexis recalls. "Over that one five-hour course, I learned how to make brie, mascarpone, ricotta and quark – and found I was totally enthused about the whole experience."
Better yet, the tutor running the course needed a hand executing her workshops, so Alexis happily stepped in. "Effectively, that meant I did the dishes for her!" Alexis says with a laugh. "But I also picked up a whole lot of cheese knowledge – how each variety works and how they're made."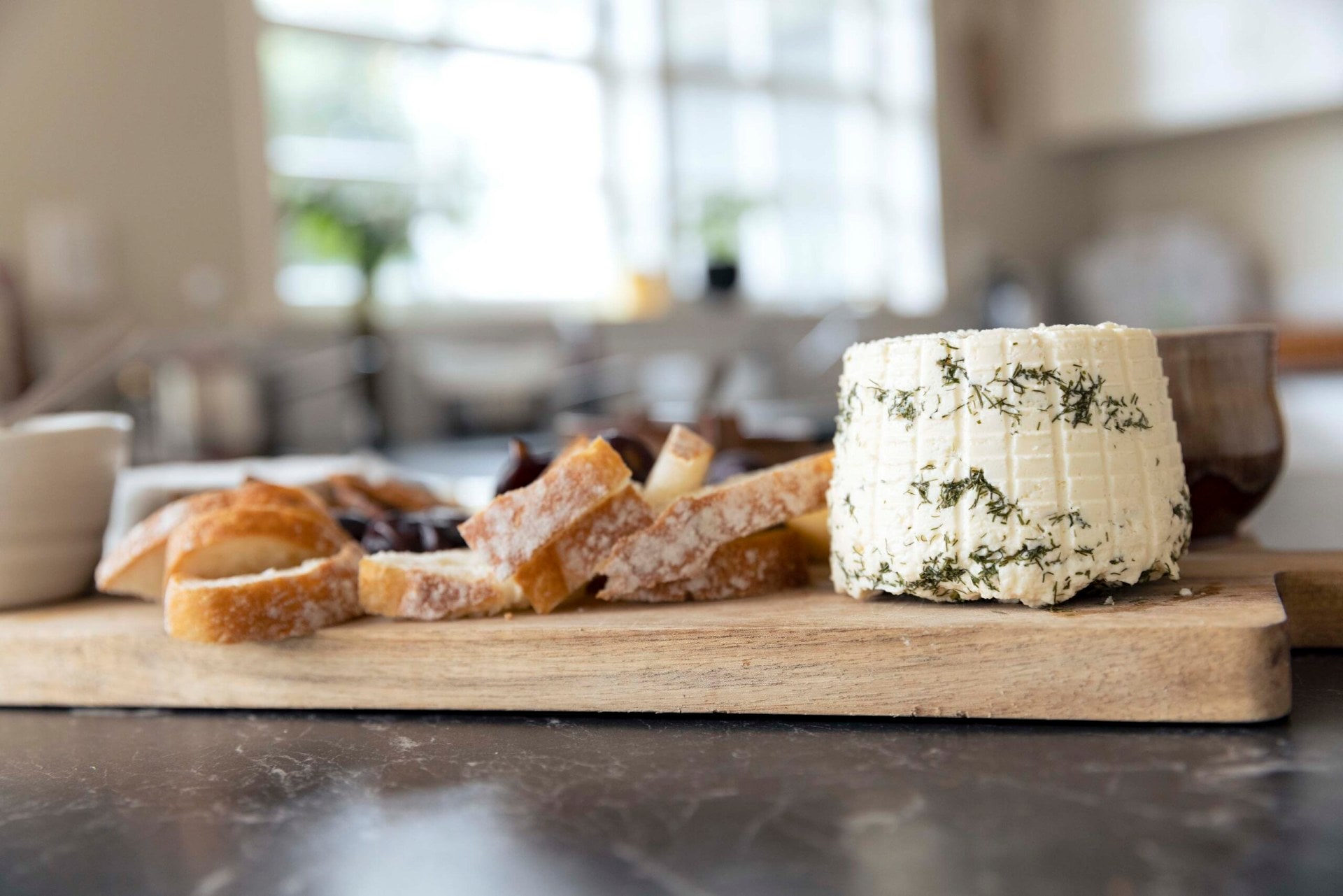 Eventually, Alexis was asked if she'd like to take over the business – called Curious Cook – and run the workshops herself. "At first I thought, 'There's no way I can stand up in front of people and teach!' But the idea slowly began to take shape, and I knew I would really enjoy passing on the joy of cheesemaking to others."
The idea slowly began to take shape, and I knew I would really enjoy passing on the joy of cheesemaking to others
Her workshops, held in Wellington, cater for individuals or corporate teams looking to find what Alexis refers to as "their potential future hobby!"
She says people love that they don't need a lot of gear to get started at home. "Obviously milk is your key ingredient. You need some rennet, a chilly bin, a few bowls, slotted spoons and a thermometer."
That's it? "Yes. It's simple, it's inexpensive, and it's so yum! I find it a really cool way to use my time."
For novices, like she was almost 11 years ago, Alexis recommends ricotta as a good first step.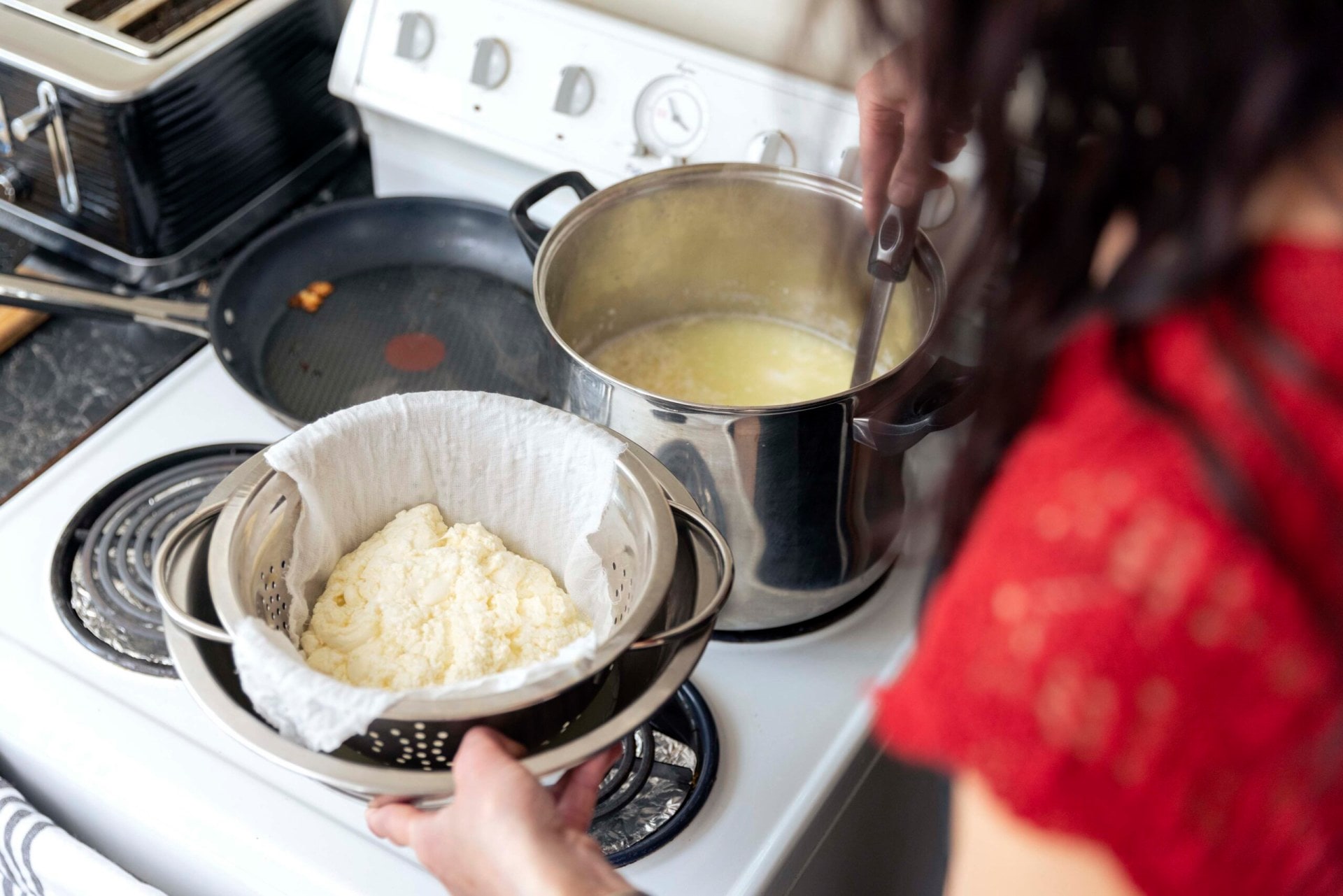 Mozzarella, on the other hand, "can be temperamental", she admits.
"I've had a few instances where it's not behaved as I'd hoped it would, and that can be down to many different factors – even what the cow has eaten or how it's been conditioned! It all plays a role in the quality of your cheese."
At Alexis' place, she says there's "generally something in the fridge" she's working on – when Woman catches up with her, there's a chilli-infused feta in progress, and she describes how she's also "dabbling in smoking some cheeses. I'm always experimenting! Unfortunately, though, I've never been able to make a good blue. I love eating it, but can't get it right at home. In fact, I'm embarrassed to say I can eat any blue cheese in the world, but can't stomach my own."
PHOTOS BY FLORENCE CHARVIN AND REUBEN LOOI