Sharon Stephenson talks to enterprising Kiwi women who love the preloved – and the earth.
Monday morning in Wellington's Cuba Street smells of stale beer and wet wool. It's not a pleasant combination but it's what happens when you're sandwiched between a bar and boxes of clothes left on the footpath.
Alana Moran (not her real name) has smelt it all before: often the charity shop employee's first task of the day is to pick up the assorted clothing, books and appliances dumped by people who can't be bothered taking them to the tip.
"People do a clear out over the weekend and leave crap on our doorstep," says Alana, who admits sharing isn't always caring. "We've had soiled mattresses, broken appliances, ripped clothing, even dirty nappies!"
While few of the second-hand stores Woman contacted for this article were keen to reveal how much it cost them to clean up other people's mess, Alana estimates her store has spent around $10,000 in the last year sending unsellable items to the landfill.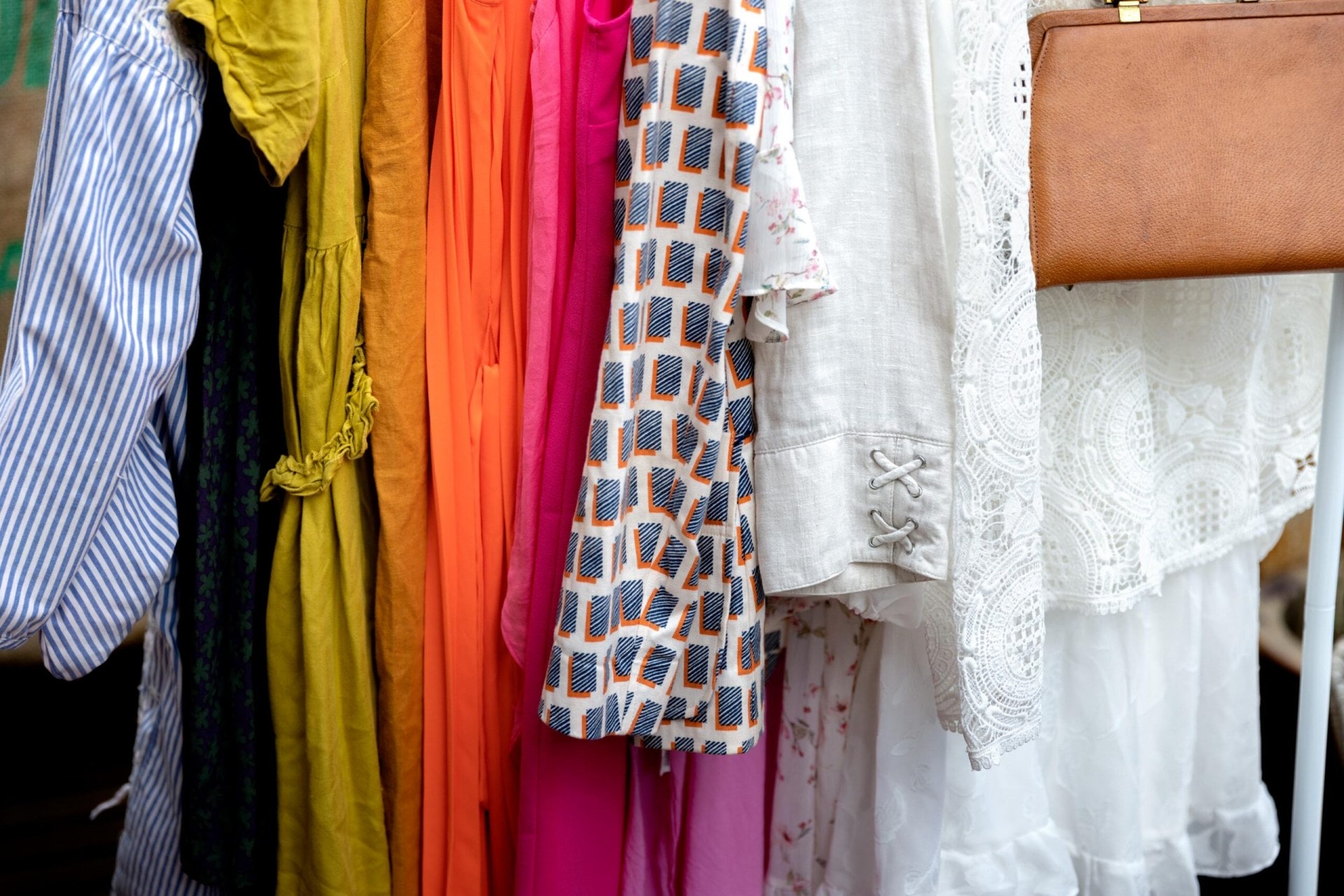 "It's money and time that could otherwise be put to better use. Plus it pains us to add to landfills because that's not what we're about."
Across the ditch, it's estimated around AU$13 million is spent annually sending unsaleable items to the dump. Which equates to around 60,000 tonnes of clothing that doesn't biodegrade well in landfill. Cue methane gas which in turn traps radiation, which contributes to a rise in greenhouse gases and global warming. Although the Kiwi second-hand market is smaller, there's every reason to believe we're following a similar trend.
You'd be hard pressed to find someone who'd argue about the merits of the "circular economy" – the idea that products such as clothing and furniture, or materials such as paper and plastic, are constantly regenerated to reduce pollution. Reuse stuff = save the planet, save money and give an item a second life.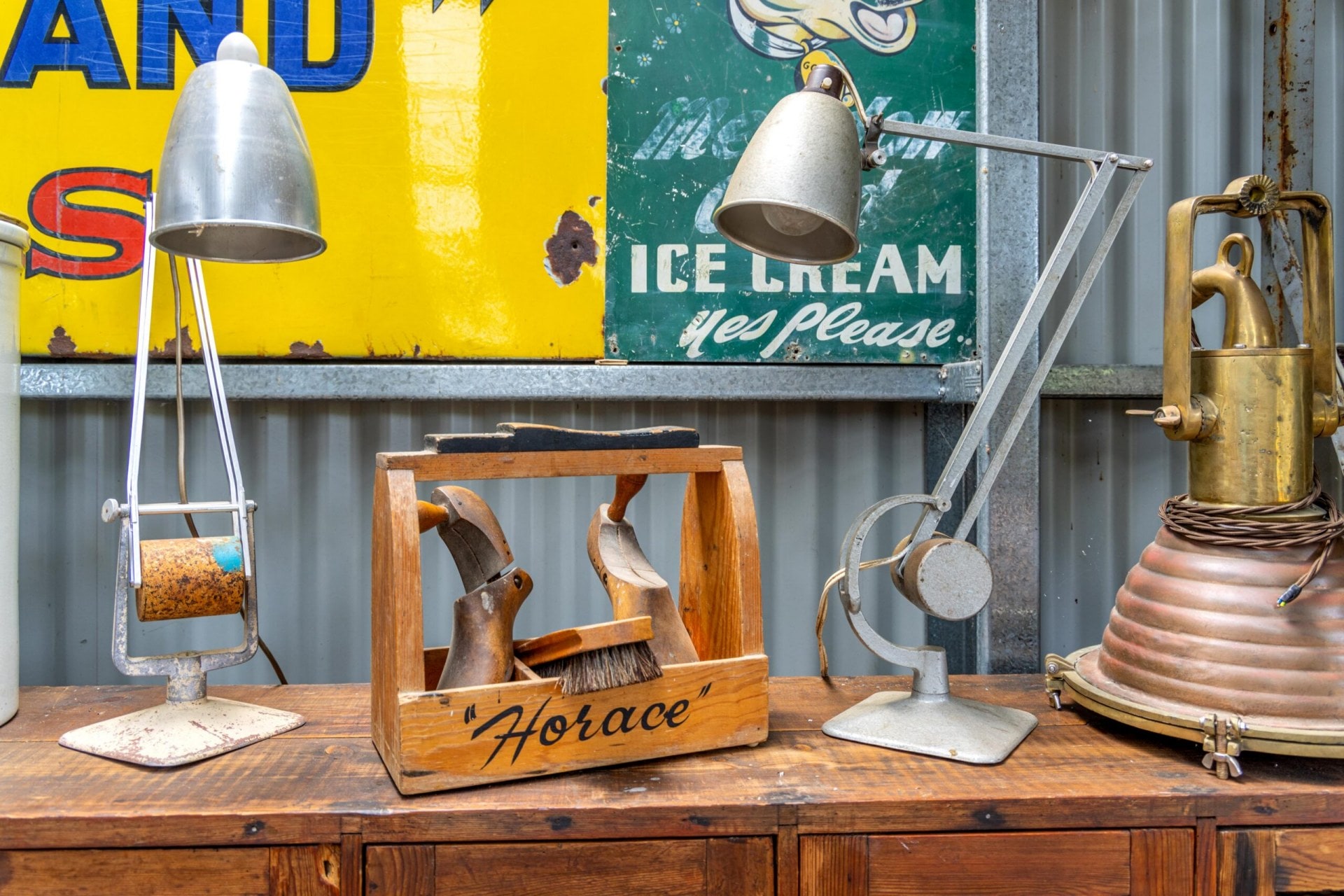 In fact, it's estimated that if everyone bought just one pre-loved item a year, it would save 203 million kilos of waste, equivalent to the weight of one million polar bears. And those polar bears need all the help they can get – according to a report published by the United Nations Environment Programme, the fashion industry is responsible for 10 percent of annual global carbon emissions, more than all the international flights and maritime shipping combined. And those greenhouse gas emissions are tipped to surge by more than 50 percent by 2030.
So it's heartening to see that second-hand is becoming the new black. A recent Trade Me survey showed that in the first six months of 2021, 58 percent of Kiwis sold a preloved item and two-thirds of us bought something second-hand.
"The survey paints a picture of a thriving second-hand economy," says Trade Me Head of Marketplace, Ivan Fuyala. "That means millions of Kiwis are caring for the environment and saving money."
Clothing, shoes, books, CDs and DVDs were among the most popular items traded but there's more where that came from: Ivan estimates the average New Zealander has at least 26 items they could offload.
"That adds up to around 133 million second-hand items in homes across the country that are no longer used or needed."
The global pandemic has been a boon for the second-hand trade with more of us using lockdown to clear out cupboards and sell items that no longer spark joy.
"Around 43 percent of survey respondents thought that the effects of Covid-19 are likely to cause NZ's second-hand economy to grow," says Ivan.
Overseas it's a similar story, with a study showing that one in three Europeans are buying more second-hand goods than they did prior to the pandemic. And that they'll keep doing so: one in five Spaniards, for example, have signalled their intention to spend more on second-hand goods than on new products in the next five years.
So far, so sustainable. The trick is to ensure that the items you Marie Kondo from your home are what op shops can use.
"If you wouldn't give it to a friend then don't give it to us," says Alana, with what may or may not be an eye-roll.
"Every year we're inundated with more clothes than we can sell so we only want clean items that aren't ripped or past their shelf life. And in the case of appliances, that are in good working order."
Aimee Egdell
Aimee Egdell, owner of Auckland's three Tatty's consignment stores, doesn't have to deal with widespread dumping, given that her shops in Ponsonby Road and High Street are in high-profile locations with a strong police and security presence.
But it doesn't mean that she or one of her 25 staff haven't turned up to work to find items such as knives, sex toys or even illicit substances on their doorstep.
"We probably throw out a bin of unsellable items a week which costs us about $150," says Aimee, who opened the first Tatty's in 2006.
What Aimee doesn't know about the second-hand trade would probably fit on a Post-It-Note: her mother founded national chains Recycle Boutique in 1982 and Paper Bag Princess in 1999 and she grew up working in their shops.
"My parents eventually retired to Arrowtown and although I wasn't ready to take over their business, I couldn't stop buying second-hand clothes which I eventually had to do something with."
That something was Tatty's, which operates on a consignment basis – around 40,000 sellers bring in their unwanted clothes and get 50 percent of the sale price.
If their clothes don't sell after six weeks they can either collect them or they'll be donated to the Auckland City Mission. "We've sent about 50 black sacks of items to the City Mission every week for the past 15 years," says Aimee.
They also hold rummage sales where every item is $5, donating unsold clothes to the Women's Refuge.
"It's actually hard to find charities to give clothes to," she says.
While Aimee recognises that the circular economy is a good counterpoint to overconsumption and environmental damage, she highlights another positive: having fun with fashion.
"The old saying about one person's trash being another person's treasure absolutely rings true. Preloved clothes are a great way to have fun with your wardrobe without spending too much."
Gareth Marshall, the Salvation Army's National Family Store Manager, would prefer not to call what ends up on their doorstep "dumping".
"Our 131 stores around New Zealand rely on the generosity of the public," says Gareth. "And our staff and volunteers know what sells and what doesn't."
The Sallies are the godfathers of Aotearoa's second-hand trade, having been around since the 1920s.
"Our family stores fund all our programmes in the communities where they're based, from food banks and budgeting services to youth groups."
Some unusual items come through the door, from the home-made coffin they sold last year to the tongue cleaners that, not surprisingly, didn't exactly fly off the shelves.
"We do end up with some unsellable stock but it's not a huge amount. We partner with rubbish removal companies and some of it does end up in the landfill. But it's minuscule compared to the amount of items we give another life to."
It's not just second-hand stores making great strides in the sustainable space. Woman met three women breathing new life into preloved furniture, makeup and clothing and asked them why buying used is better for the planet and for our wallets.
Tab Coleman
If "op shop" weren't the first words Tab Coleman ever uttered, they probably weren't too far behind.
"When my mother was pregnant with me she used to visit London's Portobello Road Market, so I absorbed vintage shopping while I was still in the womb," jokes the 34-year-old.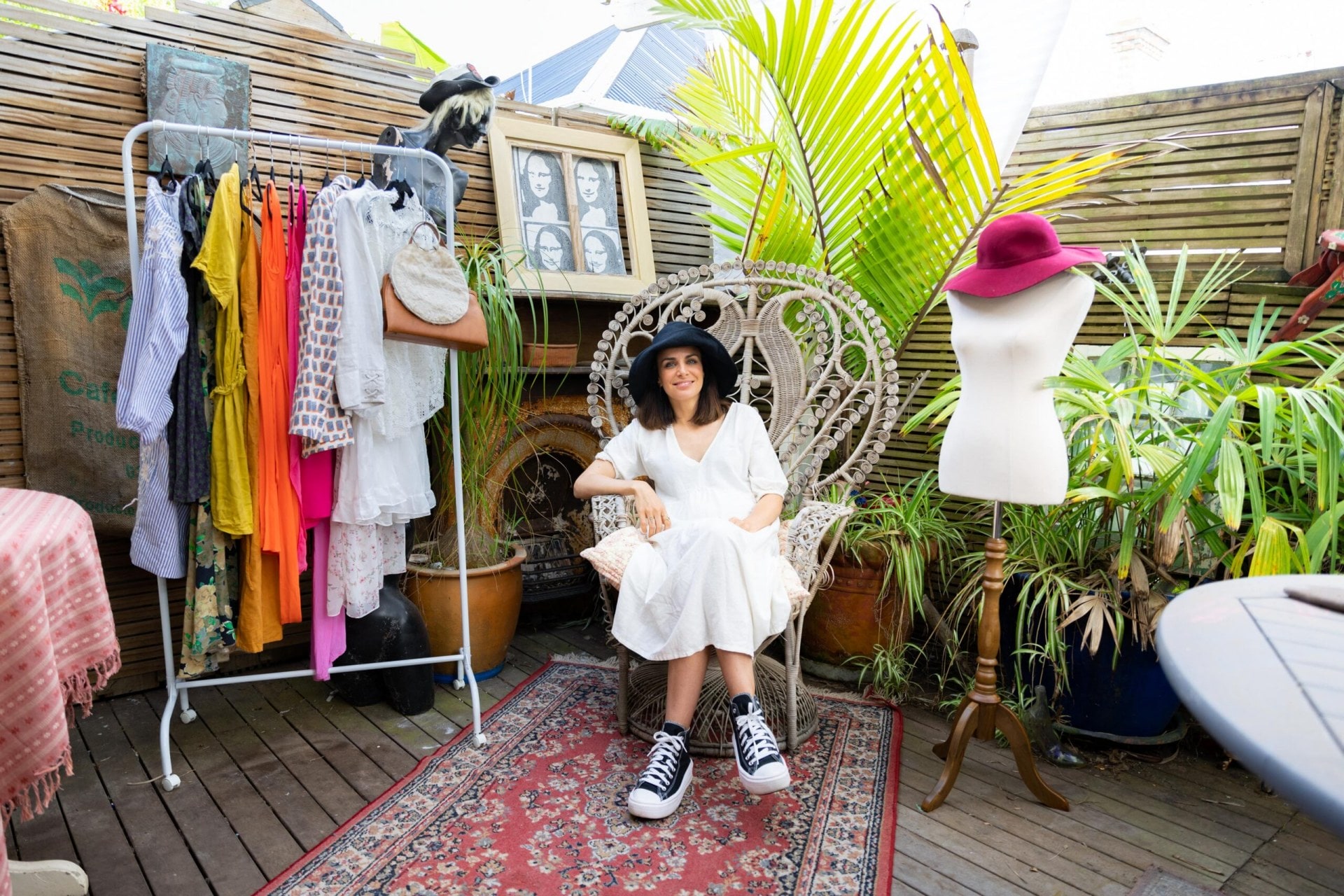 After a detour into public relations, Tab has come full circle, starting The Thrift Shop, an online shop for preloved clothing she sources from op shops and markets across Auckland.
"It's a chance to give garments another lease of life and stop them from going into a landfill because the effect of fast fashion and the wastage of the fashion industry is shocking."
She's not kidding: figures show that of the 100 garments produced worldwide each year, 75 percent is sent to landfill by consumers, 12 percent is put back in the system through donating or recycling and only around 1 percent is recycled into new fibre.
"We can't keep doing this. Fast fashion is not only not sustainable it's also unethical."
Tab is speaking to me from the Devonport home she shares with her husband Ben Partington, who runs a retail marketing agency, slotting this interview around their two-year-old son Remy's nap time. Clothes cover every surface of an upstairs bedroom, the result of Tab's successful foraging.
"Starting The Thrift Shop was a natural progression because not only did I want a business that did something positive for the planet but I also love op-shopping and the thrill of the hunt."
It's why Tab chose not to go down the more popular consignment route, which involves selling others' clothes for them. "That would take away the fun part of the job – rifling through op-shops."
Tab spent her early years in London, with a clinical psychologist mother and father Jaz Coleman, the lead singer of UK band Killing Joke.
Her parents separated when she was four and a year later, her mother moved Tab and her sister to Auckland. Love wasn't in short supply, but money was.
"Mum was a single mother so thrifting became a natural part of my upbringing. Every Saturday we'd drive around garage sales. Back then, it wasn't cool and I'd often lie about where I got my clothes."
After an advertising and PR degree, Tab headed to London where she worked with clients such as Maserati and Nissan. Back in Tāmaki Makaurau, she married Ben and they started a family.
With her maternity leave running out, Tab began to dread going back to PR. "It never really sat right with me, plus I wanted to be more present as a parent and with the high pressure job I had, I couldn't see that working. I know it's a cliche, but life is precious and we should do what gives us joy."
While tossing around ideas for a business, Tab got an email from Facebook Marketplace telling her she'd made enough money from her side-hustle – reselling clothes she found at op-shops – to pay for the family's groceries that week.
"Ben was so surprised. He said, 'You're already running a business and doing well'. I realised this could be my new career."
That was in early 2020; three months later, Tab had researched the market, sourced stock and built her own website.
"The first few months were tough, as any new business is. I was driving around Auckland, laundering, photographing and sending clothes off to their new owners. It was also pretty lonely because I was used to working in big teams, being able to share ideas with colleagues."
She admits eyebrows were initially raised about her venture. "People said, you were in PR and now you're going to be selling op shop clothes? I also worried about making a go of it because my initial target was 30-40 garments a week and I wasn't sure if I could reach that."
She needn't have worried: the business immediately took off, so much so that she's looking at hiring staff.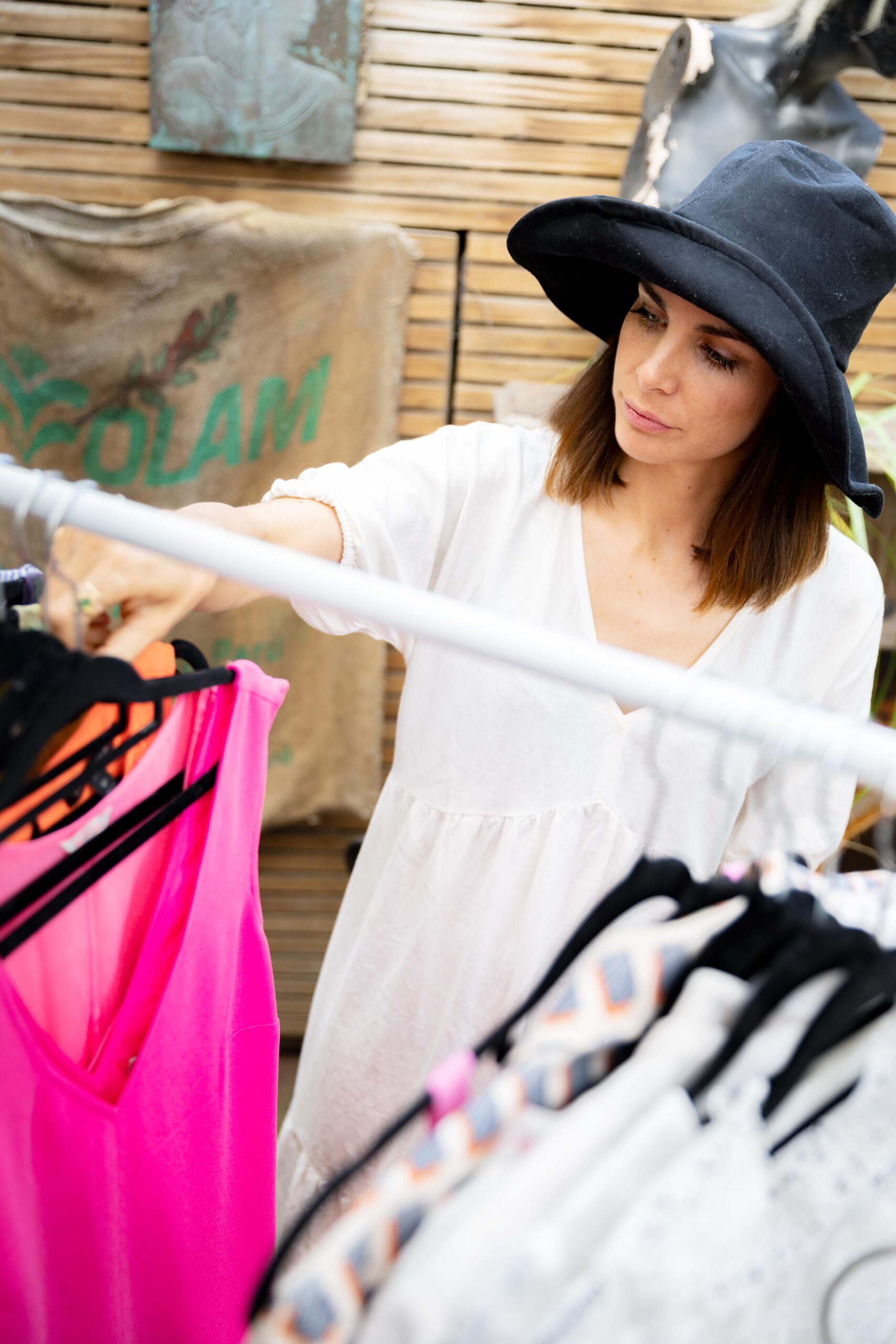 While Remy is at daycare three days a week, Tab sources the bulk of her stock. Photographing garments and uploading them to her website and social media is tucked around his nap times.
But she loves the direction her life has taken: "I've never worked harder but never loved work so much".
Ironically for a woman helping to clothe the country, Tab's wardrobe is tiny.
"I've sold most of my clothes! These days I wear the same things 80 percent of the time."
She's also a proud voice for all things eco: using minimal packing in the business and growing her own veges.
"Wearing preloved clothing is thankfully becoming the norm and being able to contribute in a small way to keeping clothes out of the landfill makes me feel good."
Rachel Okeroa
As a 10-year-old at Titahi Bay's Kura St Primary School, Rachel Okeroa (Te Ati Awa) remembers singing the song Reduce, Reuse, Recycle.
It clearly had an impact because the 23-year-old is now an antiques dealer who hunts out and restores vintage furniture and objects.
She and her partner Tim Maher, a builder, started their business, Waimea Vintage, in January 2021.
Initially it was a pop-up shop in Waikanae, north of Wellington, but as word spread of how gifted they were at breathing life into vintage finds, so did their need for a bigger premises.
Today the couple operates from Tim's workshop – a sprawling warehouse on the fringes of Ōtaki. It's a good thing Rachel doesn't like sleeping much because she spends hours scouring Aotearoa for items she and Tim can revive.
"We usually spend a few days each week on the road," says Rachel as she wipes linseed oil over a set of 1920s kauri drawers.
"We usually go to smaller towns and check out the op-shops but also knock on doors to see if people have anything they want to sell."
Most, she says, are welcoming, inviting her and Tim in for a cuppa or a beer.
"New Zealand isn't an old country so it can be hard to find vintage stock. But we've managed to unearth some great stuff. That's the thing about this business, you never know what you'll find."
Fossicking for gems is second nature for Rachel, whose childhood was steeped in thrifting.
"I'm the youngest of five so money was tight. I grew up going to op-shops with my parents every weekend which helped me develop a good eye."
She thought about studying environmental science at university but was instead side-tracked by a landscaping job, encouraged by her mother who has long owned her own landscaping business.
She met Tim three years ago, drawn together by their passion for all things vintage, especially clothing. One of their first dates was to an op-shop.
In November 2020, the pair were walking on the beach near their Waikanae home when Tim floated the idea of opening a shop.
"I was nervous because I've never run my own business. It was a huge leap of faith to quit my job and start learning how to restore furniture, which Tim is teaching me. But I feel strongly about restoring New Zealand's heritage. Buying an old piece is actually an eco decision because you're saving it from the landfill and respecting history at the same time. Vintage also lasts way longer than modern furniture which usually only has a 10-year shelf-life, plus each piece comes with its own backstory."
Rachel believes she's found the perfect job at the perfect time.
"People are increasingly rejecting the notion of fast furniture. They want things that last a lifetime and are different from everyone else's. Thankfully, they're also looking for new ways to become sustainable because we need to for the future of this planet."
Anastasia Donnachaich
"Someone should do something about this," are words we probably all say. But how often do we follow them with action?
Anastasia Donnachaich can put her hand up: the 25-year-old Aucklander is one of those motivated people who spotted a wasteful issue and developed a sustainable solution to it.
Her business Second Skin launched in September 2020 as an online consignment store where customers can buy and sell pre-owned skincare, haircare and beauty products.
I know what you're thinking, especially in a Covid world – how hygienic is that? But Anastasia has strict criteria around the products she sells.
"I won't accept things like an opened jar of moisturiser or a used mascara because I don't believe they're fit to be purchased pre-owned," says Anastasia. "But for moisturisers with pumps or serums with droppers, as well as haircare and fragrance, we definitely accept those. And we thoroughly sanitise them."
Here's how it works: sellers send their unwanted beauty products to Anastasia, she features them on her website and the seller gets 50 percent of the sale price.
"There's so much wastage in the cosmetics industry, I had to do something about it," says the 25-year old from the Epsom home she rents with her partner William Idoine, a data analyst.
That includes some big numbers: 120 billion units of packing are procured globally by the cosmetics industry, but only 9 percent of plastic is recycled. Staggeringly, 80 percent of cosmetic products purchased by consumers aren't actively used.
"People often buy skincare that doesn't end up working for their skin type, a product with a fragrance they don't like or the wrong shade of foundation. It's how the number of unwanted products on our bathroom shelves build up."
Anastasia has always been fascinated with cosmetics since her older sister, a model, took her to NZ Fashion Week shows when she was 10.
"I'd go backstage and watch the models being made up, then my sister would recreate the look on me at home."
Before Second Skin, there was a commerce degree and two years working for a not-for-profit organisation, helping to mentor small businesses, something that proved handy when she jumped into the self-employment pool.
But her business might not be here if it wasn't for Covid. "In early 2020 I quit my job and we were about to head off on our OE when the pandemic put a stop to that. Lockdown gave me time to think about what I really wanted to do."
As luck would have it, around the same time, Anastasia suffered a reaction to a skincare product.
"I had researched it carefully and it cost $55 but it left my skin red and inflamed. I wasn't happy because I had this product I couldn't use. I thought there had to be someone else who could use it rather than it going to waste."
She hit up Google and found that although reselling cosmetics was common in the US, it wasn't here. After six months of research and dipping into her savings, Second Skin was launched.
Anastasia admits she suffered a few sleepless nights.
"It was hard in the beginning because I suffer from anxiety and self doubt. Because I'm young and don't have a cosmetics background, I thought people wouldn't be interested. But clients have really embraced it because it gives them the chance to pass on unwanted products but also get premium products a lot cheaper."
That includes around 350 sellers, many of them repeat customers. Anastasia estimates 1000+ products have changed hands since she started.
It's work she was meant for. "I've always wanted to make a positive impact in my work so any business had to be something that helped others. I've always been committed to a sustainable lifestyle, including packaging, eating less meat, working for a not-for-profit and reducing my waste. So this is my dream job."
IMAGES BY MARTIN HAUGHEY AND LUKE HARVEY