Jayne Rose is a glass-half-full kind of person – she tries to always look on the bright side of life, knowing it helps her get through the tough days on her prolonged cancer journey.
"I have had cancer for 17 or 18 years. I've had more than 15 operations, radiation and I've now had lots of chemo," the 53-year-old Warkworth woman says.
"I lost my dad to cancer, he died with a melanoma that broke his spine. But I think there's always someone worse off than me."
And, she says, another motto she lives by is "fake it till you make it".
"I try to make sure I always feel positive, because that just really picks you up when you're really low and not feeling so good. If you have a good energy and you're with positive people, it drives you forward, it helps you through the process," she says.
Multiple skin cancer operations have changed the shape of her face, but it was losing most of her long, curly hair through chemotherapy to treat breast cancer that prompted Jayne to attend a Look Good Feel Better class.
"What a beautiful experience it was. I had the most amazing time," she says. "There are so many other people with so many different experiences of cancer, all going through the same thing at different stages. It was the most amazing opportunity to talk and catch up with people."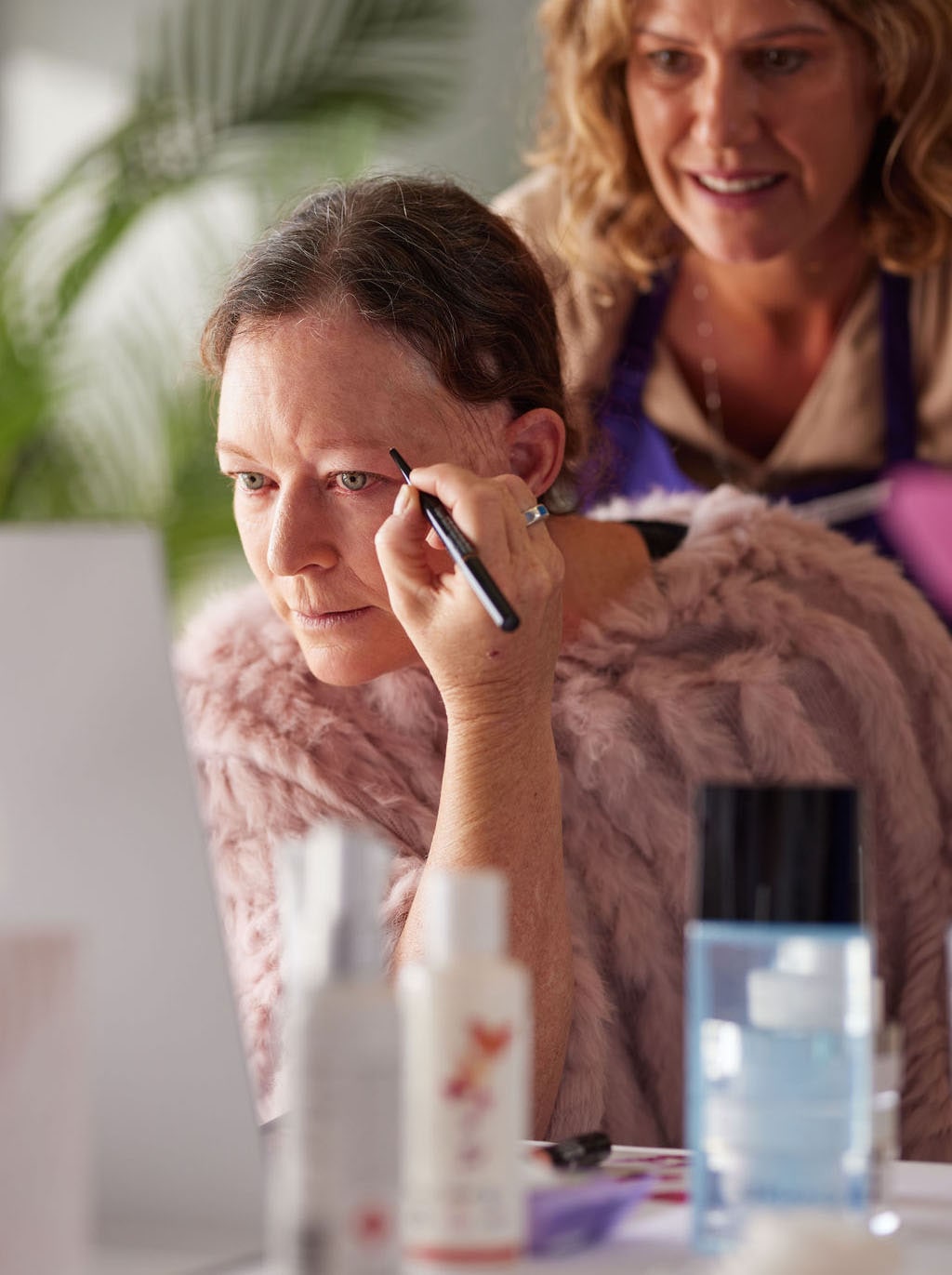 Look Good Feel Better provides the free sessions to anyone with any cancer at any stage. With the onset of Covid, many of its classes were moved online, providing a crucial link for participants to feel that they are not alone. For many it meant they did not miss out on the valuable tips and tricks provided when they were immune compromised during treatment.
With the support of funding from Dry July, Look Good Feel Better has held more than 400 classes online in the past two years, and created "how-to" tutorials for the charity's website – including wig care, scarf tying, skin care, hand and nail care, make-up and how to draw eyebrows.
They also held several Q&A sessions at the Men's Speakers Series, with high-profile speakers and medical experts, complementing the men's classes.
Remaining connected and have a sense of her former self was important for Jayne.
"You make yourself lovely and you feel good. If you feel good on the outside you feel good on the inside, it actually brings you alive. A little bit of the makeup made you feel like you look much better, you've got more colour. I felt really beautiful."
Jayne still uses the tips and products from the class, and she says that has been the biggest transformation.
"I've actually become somebody that's quite different now, I've got my confidence and feel that I can go out and enjoy my life," she says. "I'm still quite feisty and I'm doing fine."
With registrations now open, Dry July not only gives Kiwis the opportunity to say "cheers" to the health benefits of taking a break from alcohol, but to also raise funds for cancer charities across the country.
To sign up, sponsor a friend, join as a team or workplace please visit dryjuly.co.nz.