Change is the only constant, says actor Kate Elliott. She talks to Siena Yates about her progressive approach to parenting and her exciting new career path.
A lot has changed in the last 12 years. Trump has come and gone at the White House, #MeToo and #BlackLivesMatter have been part of everyday language, self-care has turned into a movement, Tinder has changed the face of dating, gay marriage has been voted in, and we continue to deal with a global pandemic.
And a lot of that has changed us as individuals. For actor Kate Elliott, who is currently pregnant with her second child, the 12 years since she had her first baby, Dee Dee, have been a time of immense learning and growth.
For one thing, being pregnant is a little different this time around. When Kate was expecting Dee Dee, she was dropped by two international agents and faced unsettling job insecurity. Luckily, the world has evolved a little since then and now the actor can celebrate both her baby and the fact that her hit series The Gulf is airing its second season on Three. It is, surprisingly, the first series she's worked on which has gone to season two, which has been a learning curve in itself.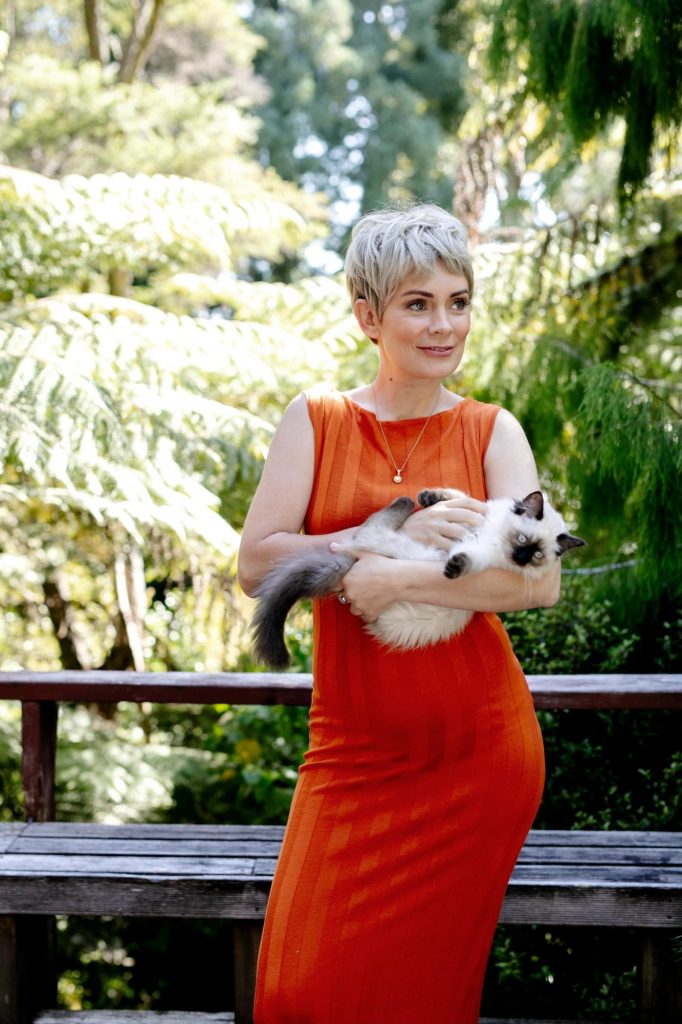 "Follow-ups can be difficult. I found this season slightly more challenging just because this is a first-time experience for me. Playing a character I've already played before was a new feeling; it sat in a different place in my body," she says.
"It was kind of uneasy because I'd already explored her and she comes quite naturally to me, so I felt like I wasn't working hard enough or something. I was like, 'I'm not being tortured every day so therefore I'm not working hard enough.'"
She laughs, admitting, "That's probably not a particularly happy way of thinking about things!"
There's another thing she's been working on though; how to take better care of herself and her mental wellbeing. It's something she's struggled with throughout her career and – having started acting at just 14 – most of her life. It's particularly difficult off from the darker, more troubled characters Kate often plays.
"I'm not very good at that thing of being able to sort of go back into your own body and remind yourself that you're whole and you're safe," she says.
"It's a fact that you're igniting the adrenaline and the physiological responses in your body, so when you're doing good work, you should feel it… but also, you're getting secondary trauma and you should probably look after yourself after that."
She's learning though, and says as well as being "a huge therapy fan", she copes by keeping a solid support network and "just doing things that I love in my own time, reconnecting with Dee Dee, and when I go home, trying to be actively present".
That, and celebrating her wins, like when she found out The Gulf had been renewed for a second season. "You gotta hold on to those ones; those big, kind of monumental, joyous moments, because they don't happen all the time."
The past 12 years have also seen the end of two marriages for Kate – the first to Pluto frontman Milan Borich, the second to David Benge – and she is now expecting a child with partner Damien Shatford, a commercial director she met through mutual friends, and worked with last year on a short for L&P.
"He's really happy. This is his first child so he's very excited about it all and is incredibly supportive. He's gonna be a great dad. He's super sharp and the funniest person I've ever met. I hope the baby gets his sense of humour," she says fondly.
Perhaps one of the biggest changes though is that Kate, 39, is traversing a new world of gender inclusivity after her 12-year-old Dee Dee came out as non-binary and pansexual last year and now identifies as they and them, rather than she and her.
The change in pronouns is something Kate is "still learning and practising all the time" and that's something that excites her.
"The number of things that Dee Dee's taught me… I'm learning things every day and most of it I've heard first from them," she says. "It's been interesting because… the way they've admired females since they were about five or six was a new experience for me."

But it was also an unexpectedly funny one; Dee Dee explains their levels of attraction through the lens of their anime obsession: "I like anime boys, but real-life girls."
Dee Dee's coming out followed soon after Kate came out as queer herself, discussing her sexuality publicly for the first time in 2019. She told Express Magazine that it was a result of talking with Dee Dee.
She said, while it wasn't something she ever expected to discuss with her then-10-year-old, Dee Dee is "living in a very different world to the one I grew up in, in the early '80s". Dee Dee asked if Kate was straight and Kate responded that she identified as queer and that meant, "I just like human beings."
In much the same way, that kind of open, honest and non-judgmental conversation is what allowed Dee Dee to not only come out, but to feel strong enough that they're currently trying to start an LGBTQ+ community group at their Catholic school.
"They're a very progressive, brave young human, which is pretty cool," Kate says proudly.
This learning curve is also why Kate and Damien are being far more mindful when it comes to raising their new baby. The first step is picking a name that isn't gendered or won't lead people to assume the child's gender.
The rest, Kate says, is just "having an open mind to the fact that gender is a social construct and not pushing any gendered activities too heavily. I mean, it's pretty ridiculous that what you have between your legs should impact the colours you wear and the activities you should enjoy," she muses.
Past that the pair are set to tackle the age-old balancing act between their careers and parenting. Because they both work in film and TV, they're confident they can swap duties whenever one of them has work. There's already a plan in place for Damien to take the lead on baby duties while Kate shoots a third season of The Gulf, should it get the green light next year. That was important to Kate, who shirks the idea that women should give up work for motherhood.
"I know you're supposed to be like, 'Just the baby's important,' but that's not really the truth. There are other things that are also important to me and there are a whole lot of other facets to being a human."
Having a partner in the industry helps a lot.
"He's always been super supportive of everything I was taking on in the film world and a great sounding post to all ideas and schemes. It's nice to be with someone as ambitious as I am," she says of Damien.
"He gets the hours, the commitment, the travel and just the disassociation when you're halfway between one job and another and then home life, and that whole, 'Where does self sit?'"
That's something she's been thinking about more and more lately; juggling a career, her own interests, motherhood and "trying to figure out where you are as a human; which part of it is you and which part of it is a character".
"Being like, 'No, this is just for me and it's mine, and I'm allowed it' – that doesn't come naturally."
The big thing weighing on her mind in that respect is another major life change. Kate recently began studying toward a new career path. Through an intensive 16-week course with an LA-based company, she's training as an intimacy coordinator and hopes to work with film-makers and crews to ensure actors of all genders don't have to experience what she's been through.
Kate has been in the industry for 25 years, starring in such productions as Fracture, The Insider's Guide to Love and The Cult, and for that reason, she knows better than many the immense emotional toll sex scenes can take – even when they go exactly to plan.
"I've never done an intimate scene that hasn't been at least mildly traumatic. I've done one sex scene that I haven't cried in," she says. And that's not because anything has gone horribly awry, it's simply because "your emotional self is not looked after".
I've never done an intimate scene that hasn't been at least mildly traumatic
There's so much going on – from self-image concerns to making sure their onscreen partner is OK – that actors are very rarely able to focus on the scene itself.
"Especially when you're a younger actor, you expect the people above you – like the director – to know what they're doing, which isn't really fair. When you're a 17-year-old actor, you're like, 'Oh, that 36-year-old male should know how to handle my shower scene appropriately,' and they don't know. I don't think people are really taught," she says.
In Kate's first film, House of Sticks, her character was a sexually abused, self-harming, bulimic teen who "had to come onto the neighbour who was in his seventies". She was only 14 at the time.

"I don't think I'm traumatised from that but there were definitely things that could have been handled a lot better, you know, even just maybe a 'How are you doing, Kate?'
"You're putting yourself in an incredibly emotionally vulnerable position and it's not very often that you have rehearsed the scene beforehand… in terms of choreography, nothing is figured out, it's all sort of like on the day, just: 'We're gonna need some groping.'
"And, as a young actor, you're taught to never say no, so you're often breaking your own boundaries because it's, you know, 'There's somebody waiting for your job around the corner, so don't be difficult, smile and nod, do what you're told.'"
Changing how things are done behind the scenes not only creates a healthier, safer and more respectful environment for the cast and crew, it also creates a better end product. Kate cites shows such as Normal People – which was the catalyst for her exploration into this field – and Euphoria as examples of how well-coordinated intimate scenes can elevate a production.
"Intimate scenes are beautiful and they should be celebrated. The last thing we want to do is become the fun police, but all you have to do is look at those examples to see that, actually, intimacy coordinators make these scenes better and more beautiful, more intense, because you've taken out the anxiety of worrying about all of these other things." Instead, she says, you can focus on "your connection with the person that's in front of you".
Kate hopes to begin work as an intimacy coordinator here in New Zealand in 2022. But fans can rest assured, she'll continue to act as well.
"This is the plan: I have the baby in August, we do The Gulf again in November, and then I can start doing intimacy work next year – I mean, all fingers and toes and eyeballs crossed," she says.
It sounds like a lot to take on, but as Kate puts it: "I'd rather be busy than waiting around for the next role."
While she's done her share of directing, producing, writing and even DJing, she says, "None of them has felt as monumentally important to me as intimacy coordination. It just feels like something that should have been around for years. It's amazing and it's definitely something that's needed everywhere."
With everything that's happened in the last 12 years and all the change Kate is currently facing, you could expect it to be overwhelming, but, she says, she actually finds comfort in it.
"The only thing that is constant is that everything changes. It's the one thing that I think is really important to focus on; the fact that everything changes all the time," she says. "I find that relaxing and soothing. Whether things are really good or really bad, things are gonna change."

Related article: Kate McLeay Helping Inmates Through Mindfulness