Alexia Santamaria finds out how this more collective style of home ownership works, and talks to those who've given it a go about why it's kinder to the planet and the sense of community they love.
At a time when house prices in many New Zealand cities are at record highs, it's worth thinking outside the box when it comes to owning property. Co-housing is a clever alternative, only recently gaining some momentum in New Zealand.
A group of people pitch in together, buy land and develop houses, townhouses or apartments as a collective. While that might make you think of a 1970s-style hippie commune or religious cult, today's co-housing is far from that. It's a modern sharing of resources and funds to achieve a more sociable style of living.
While co-housing has been popular in Scandinavia since the '60s and exists in parts of the US and Australia, it hasn't been huge here so far. This could be about to change, as two new co-housing developments, Cohaus in Auckland and Toiora High Street Cohousing in Dunedin, both open their collective doors, and the Ahi Wai Eco Neighbourhood in Whangārei hope their plans will be bricks and mortar reality by next year.
One of the first co-housing developments in the country was Earthsong in Ranui, West Auckland, and it's still going strong after almost two decades. It was conceived in the mid-90s, and in 2002 its first residents moved in. Earthsong continues to flourish and there's always avid interest when units come to market or up for rent.
While the basic concept of co-housing is the same, the execution can look a little different depending on where the site is and the people behind it. Cohaus is a 2400sqm site close to Auckland's CBD with a mix of apartments and townhouses, plus the original 1890 villa. Earthsong is a village-style 1.2-hectare plot of land with 32 houses and a common house.
In Dunedin, Toiora High Street has 24 units, built around a central green space, all with kitchens at the front and private living spaces at the back.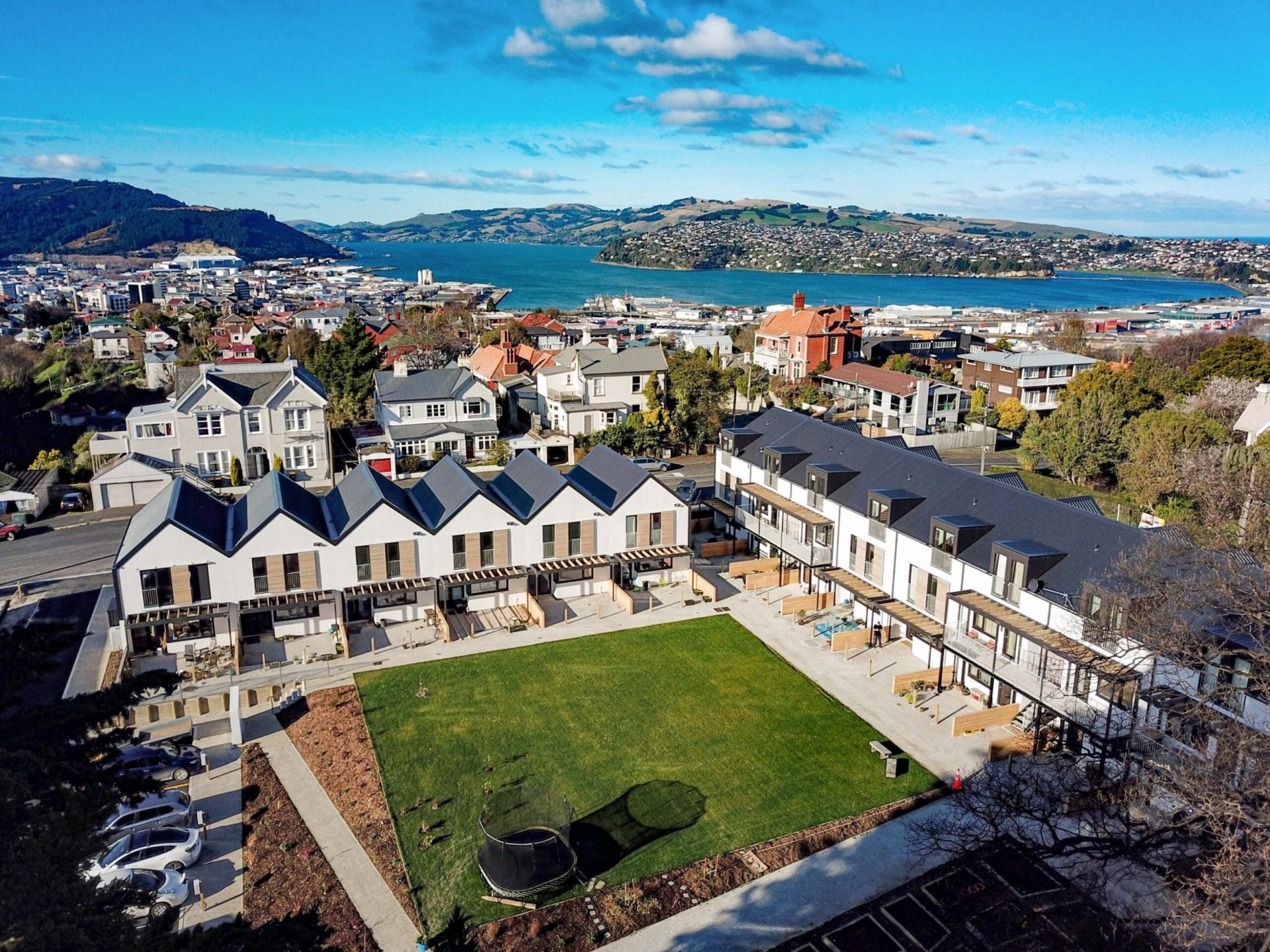 No matter how they're structured, all these developments seem to hark back to simpler times when people knew their neighbours, chatted on doorsteps, had street barbecues and lived with a sense of community spirit. While those who grew up in the '70s in New Zealand may remember this as the norm, many Kiwis now have little or no interaction with the people who live around them.
Being Together
Jym Clark has just moved into Cohaus with his partner Biddy and their young baby, and says the social style of living was a big attraction for them.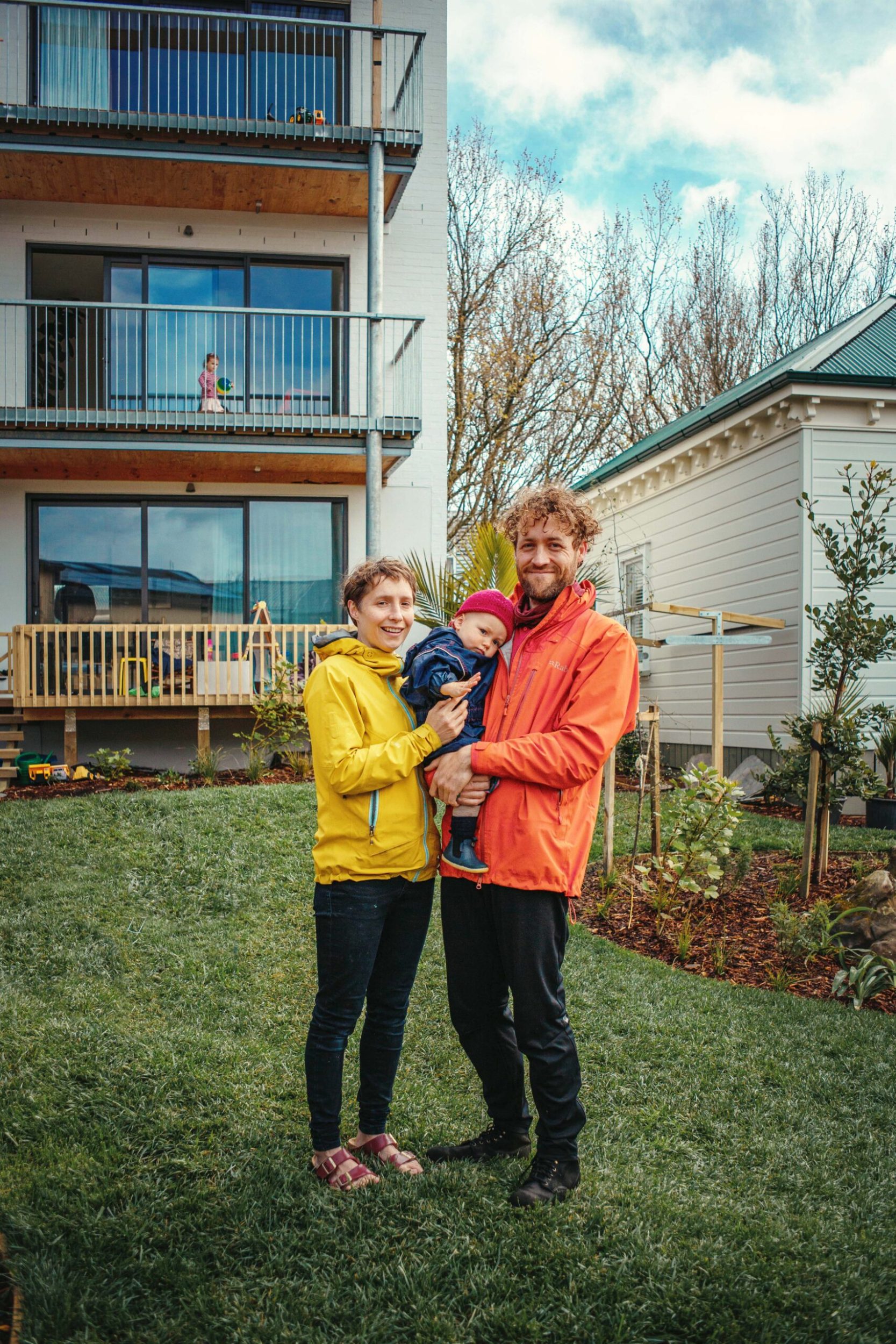 "It was definitely one of the larger draws for me. With a young baby to look after, I knew it could get lonely but here there's a real sense of community so that never happens. You end up going to the playground with other parents, or just hanging out over a cuppa. In non-lockdown times we can even put the baby monitor on and go next door for dessert. You see people for shorter times but more regularly. The feeling of social connection was amazing in level four lockdown – with 20 bubbles in one place there was no isolation. There was a Slack account page and the contactless drop-off baking economy was in full swing!"
Earthsong takes this connection one step further with communal dinners twice a week.
"It is optional," says long-time resident Amanda Garland, "but the majority of the people living here do actually take part. You and your cooking team cook for almost everyone in Earthsong once a month – and pay for all the ingredients – but for the other seven dinners you don't need to do anything. It works really well."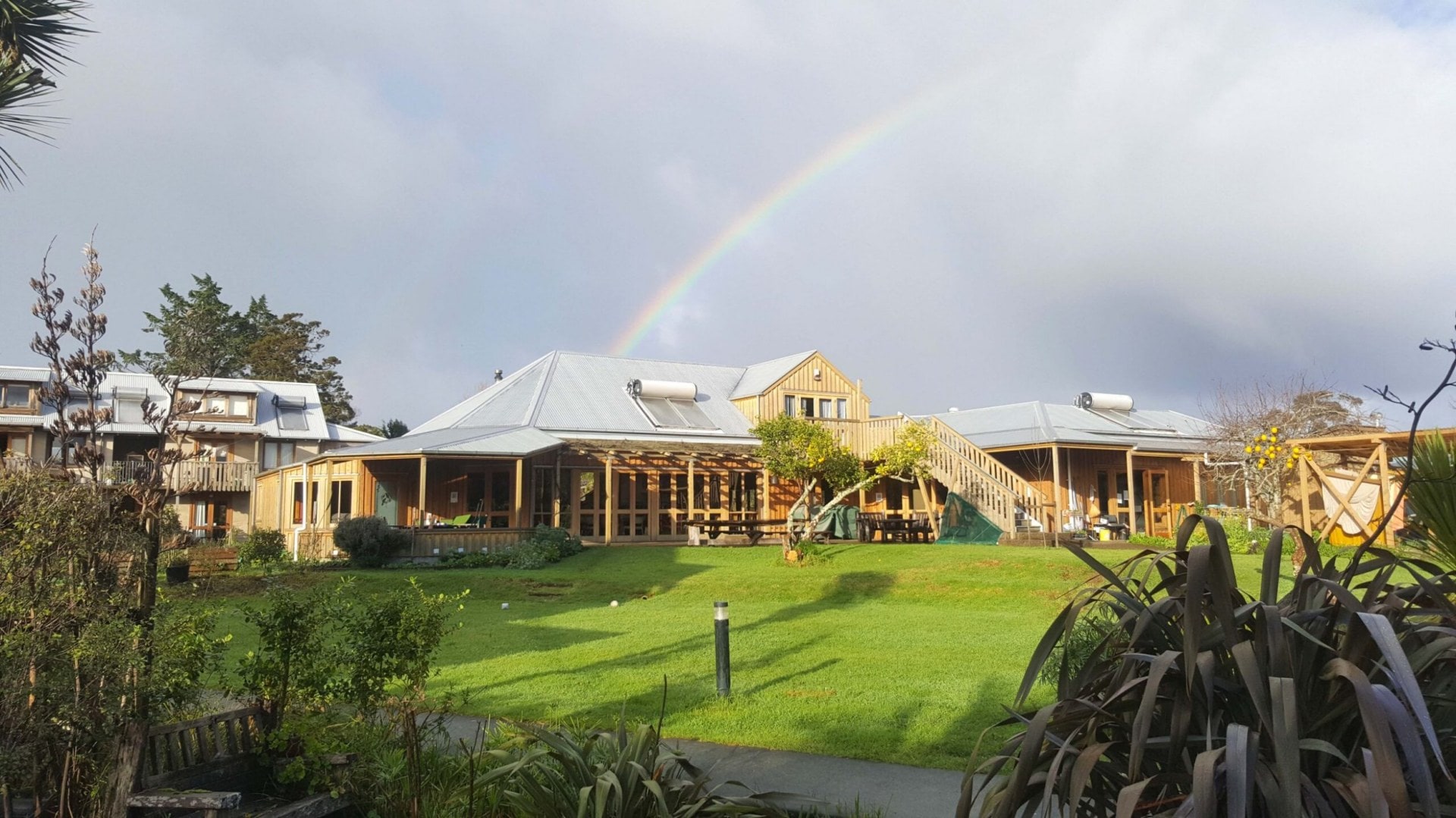 If you need extra veges or herbs to add to your dinner offering, they're not hard to find. One of the most striking features of Earthsong is the abundance of food growing. Everywhere you turn there's an edible garden or a fruit tree loaded with citrus, feijoas or plums, depending on the season. There are vege gardens in backyards and communal areas. Beehives, bush, a pond and lovely looking chickens in a coop all add to the idyllic, calming feel.
Decisions, Decisions
But, of course, there are compromises to be made in any co-housing situation. "Living somewhere where decisions are made by consensus means we need clear communication," says Amanda. "High levels of co-operation and a deep respect for each other are essential."
Jym agrees: "It really helps to have a pragmatic group of people like we do. There were a lot of decisions to be made as Cohaus was being designed and built over the last four years, but fortunately everyone just wanted to see it forge ahead so there weren't too many disagreements. We had a mix of online and in-person meetings which worked well. It certainly helped having an architect leading the charge – as future residents, Thom and Helle of Studio Nord were really invested in making it an incredible place to live."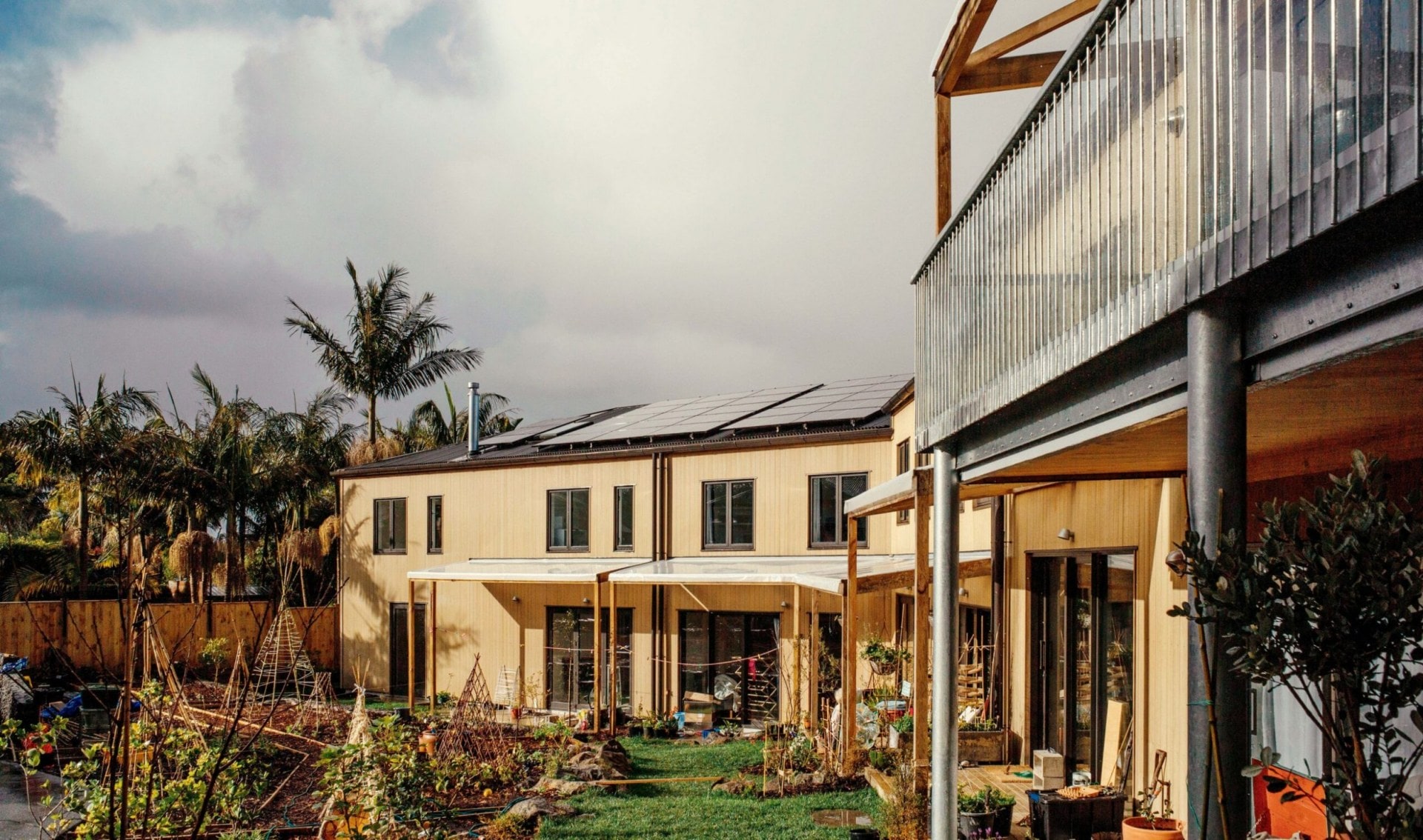 Earthsong ensures calm, constructive communication with a coloured card system, which they use for both decisions and discussions at meetings.
"Because we really explain the whole situation so thoroughly to anyone wanting to live here, it's not often that we have huge disagreements. We find the cards work so well. When we have discussions there's, among others, a yellow card you can raise if you have a question and a blue if you have an opinion. The fascinating thing is if we deal with the questions first, often some of the opinions change as they just actually needed more information. Anyone who has committed to living here knows we're not trying to do something just for ourselves – it's all about doing better for the community, group and ultimately the planet."
The Bigger Picture
The environment is definitely a consideration at both Auckland developments. At Cohaus people own bikes and there are six shared cars – two full EVs and four hybrids. "There's a booking app which people use, but being so close to the city it's pretty easy to get places on bikes," says Jym. Both Earthsong and Cohaus use solar energy, and there are communal laundry facilities, although you're welcome to have your own if you like.
So does it really work out cheaper? In purchase price alone, possibly not. "We ended up paying close to market rate in the end," says Jym. "But there are all kinds of other savings you make.
You don't need such big houses as there is a shared unit that you can book out when you have guests. We're close to everything we need, so we save on petrol. People share things, so not everyone has to own a mower or a drill or other things you don't use every day."
Amanda agrees: "While the actual price of a unit is probably close to market rate there are many other savings, for example our monthly internet bill is $3. Power is bought in bulk, solar energy cuts cost, as does tank water, and growing so much means grocery bills are less."
While it is slightly more affordable, it seems the overriding attraction of co-housing is the sense of togetherness many of us have lost in modern times.
"It's all part of going back to values of community," says Amanda. "I think we've strayed so far from the sense of community we had in decades gone by and it'd be incredible for us as a society to reconnect and go back to sharing our resources, knowledge and support of each other as human beings."