This is the story of a Ukrainian couple, Vitali Shypilov, 34, and his wife Lilya Veli, 36, who, with their two-year-old son Mark, were caught up in the maelstrom of President Putin's invasion of their country in February 2022. In a conversation with Peter Macky in Kyiv, they talked about their experiences.
Vitali and Lilya have a thoroughly modern marriage; they met online and because of the Covid pandemic, Vitali became a house husband with Lilya pursuing her career in television. She's been with a production company for the past 13 years directing television commercials and short films.
The couple live in Bucha, a city of 40,000, known for its parks and amenities, and within commuting distance of Kyiv, 30km to the southeast. Lilya relocated there 10 years ago to be close to friends, moving into a spacious third-floor apartment in a well-maintained complex. Her home benefits from large windows, which provide plenty of sun and make the most of expansive views across single-storey dwellings to Hostomel Airport, in the distance to the north. It's a military airport, famous in Ukraine for hosting the world's largest cargo plane, the Antonov-225 Mriya.
When they first chatted online six years ago, Vitali was a self-employed businessman from Ukraine's northern city of Kharkiv. Two months later, Vitali, deciding he "couldn't live without Lilya", moved to join her in Bucha.



Two years ago, Mark was born. Neither of them would know at the time that Bucha would soon have an international reputation as a place synonymous with war crimes as chilling as those committed in Srebrenica during the Bosnian War, and that their proximity to Hostomel Airport would be potentially lethal. Or that Kharkiv, Vitali's home city of 1.4 million residents, would be under relentless bombardment by President Putin's forces, with parts reduced to rubble.
Putin's forces crossed the border with Ukraine in the early hours of February 24. Russian troops entered the Chernobyl Exclusion Zone, attacked Snake Island (now famous for its commander's response to the suggestion his forces might surrender), and the invaders reached Bucha, on Kyiv's outskirts. It was expected to be a stopover en route to the prize, Ukraine's capital, whose armed forces were determined to frustrate Putin's forces. Against all odds, they prevailed, but not before Vitali and Lilya and their fellow citizens went through hell. Many didn't make it. I ask Vitali and Lilya: "How did you know the war had started?"
"We remember this morning, every second of it," Vitali says. "It was 6am. I woke early and was not sleeping because they were very turbulent times; we were suspecting that something might happen.
"I opened the Facebook feed and read the news. When I heard an explosion I realised: It's started.
"Lilya was still asleep and didn't hear anything. I approached her and Mark, they didn't wake up, they'd not heard the explosion. I was standing in front of them and didn't know what to say. Lilya sensed I was there and as she sat up I said: 'Everything is bad, the war has started'."
With that the phone rang. It was Lilya's mother phoning from the Crimea. Even though it was annexed by Putin in 2014, she's still based there. " 'Darling, you don't need to worry,' she said.  'Putin has promised that he will kill not one civilian; the operation is about military structures'.
"While she was telling me this, I could look out our windows and see houses which were close to the airport in flames," Lilya says.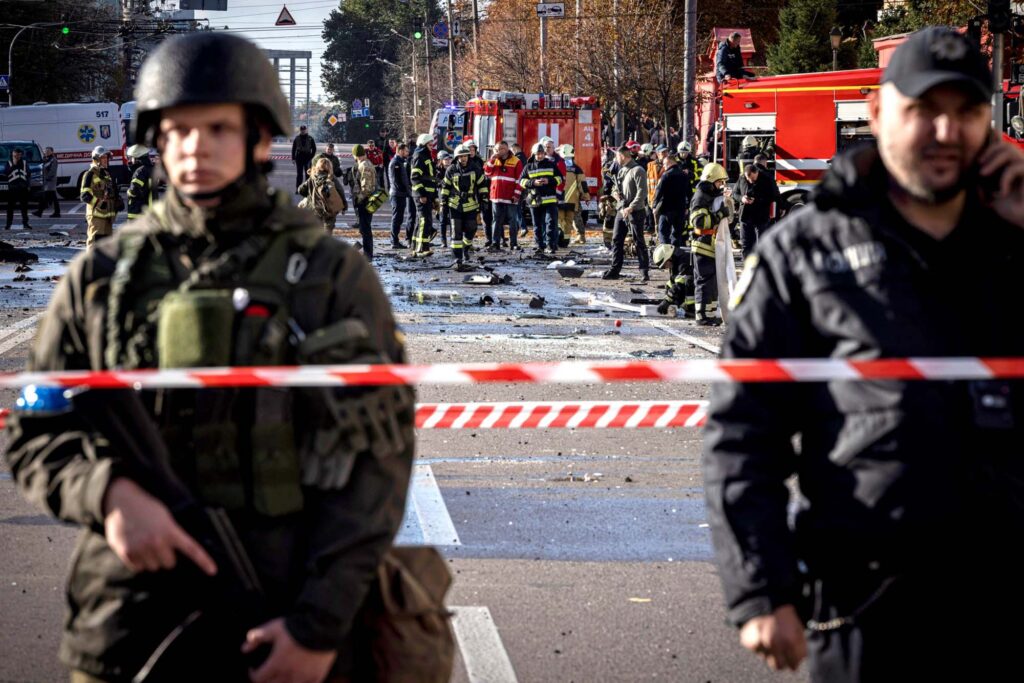 Of the intelligence reports, did they believe them? "It's been an issue of family conflict!" Lilya says. "I said we need to pack an emergency bag but Vitali's response was: 'This is so unbelievably crazy, a person cannot act like that, it is so crazy'. So we did nothing to prepare."
Vitali, moving on: "I knew we were almost out of petrol and rushed to the petrol station. It's normally a 10-minute drive but it took me two and a half hours to get to the front of the queue and they ran out just as I got there.
"We had zero petrol. We normally walk around Bucha and don't need it.
"Our apartment has plenty of windows all around. We realised it was not safe that day (on February 24). We put tape on them and made a safe place behind the sofa, far from the windows near the walls, which were shaking with each explosion. Some windows started to crack, and Mark started crying.
"That's when we realised we needed to move to the ground floor, when Mark was so scared. He's only two, but he helped us with the decision. He helped us see sense.
"We had friends in the same apartment block who lived on the ground floor and we asked them if we could move in with them that night because it was safer. None of us had a cellar. We stayed one day and one night. We were too scared to go anywhere because there were explosions all around us."
Lilya continues, happy to tell their story: "Before we moved downstairs at around 11am there were Russian helicopters, about 30, we could see from our apartment windows. We are on the third floor with views to the northwest. A helicopter was hovering over our neighbours' houses, firing missiles towards the airport.

"The first night (February 24/25) was the worst night. You don't know anything, you can't see anything, but you can hear and feel the shelling and missiles. They started coming from one direction, then both, 180 degrees: the Russians in one direction, our forces from the other.
"On February 25 we decided to move to Mykhailivka-Rubezhivka, a small village 7km to the south. We had friends there with a large house and a big garden. It wasn't the best choice because it was under occupation by the invaders, but we didn't know that at the time.
"We decided to move there, a bit further out, because there were explosions all around and I knew from online chat that Russians were shelling and using grad missiles which are notoriously inaccurate. They can land anywhere. It was a hard choice to know where to go because it wasn't safe anywhere."
Vitali: "We managed to get petrol from our neighbours and used back roads to avoid the Russians, taking 40 minutes instead of 10, never knowing whether we would make it. We saw houses in flames and smoke rising up everywhere but we knew a safer way to get to the village. When we approached it, there was a plane overhead, flying very low, which kept returning. We felt very vulnerable."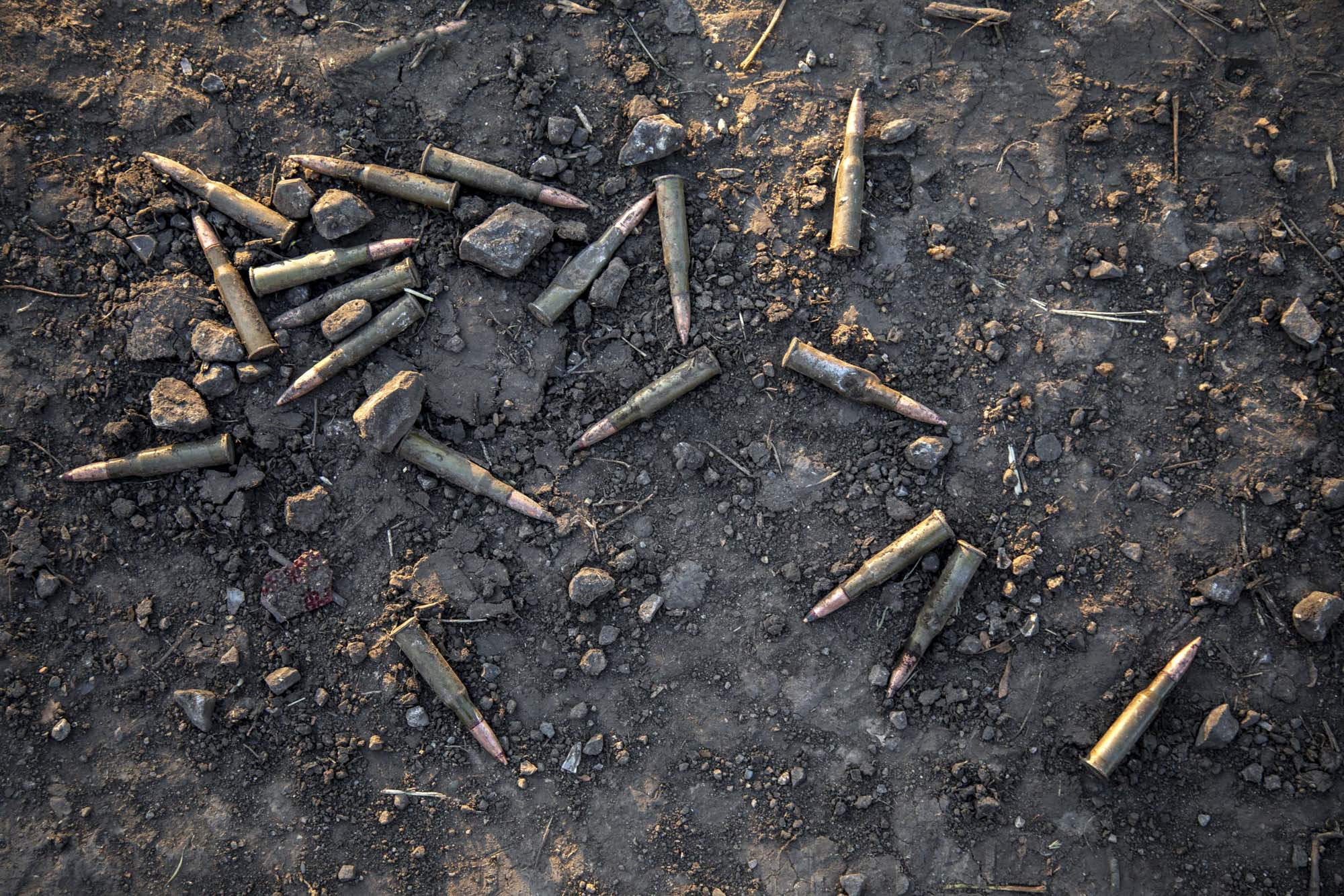 Lilya: "Having got there, we were stuck in this small village in a perilous position, in a big house which was very cold, close to freezing. We ended up being under occupation until March 12."
Was this the worst experience? "No," Vitali says. "The worst was yet to come."
Wanting to know more about their living conditions, I asked, when you were in Mykhailivka-Rubezhivka, where did the groceries, your food come from?
"When we were moving out on February 25, we knew we had to take the most important belongings with us," Lilya says. "But we were so frightened, all we took were some small cans and a big bowl of food for our cat. No clothes for us or Mark, no food for him, but [laughing] we did have food for the cat."
Vitaly lost 10kg because with so little food available, it was important that Lilya ate well since she was breastfeeding. And, as they related their story to me, they had to think about their cat. Vitali told me, almost apologetically, how he had "something small in the morning, like porridge" and then "a small snack" in the evening. The situation was dire, with no means to remedy it, other than to risk their lives. They heard from their neighbours who only had chicken wings, which had spoiled because there was no electricity. After they ate them they were very sick. Then they had nothing.

Vitali and Lilya also forgot their documents, and Mark's birth certificate, but they did take a "huge toy" for him. When the war started, Vitali made a CD of their photographs. "We had all our life on that CD, it's very important, it's precious, but then I forgot it too!" Vitali says. This charming, intelligent, loving couple made some terrible decisions, but you can't blame them. They were under attack and in mortal danger, with the added responsibility of their young child.
Having moved to the small village of Mykhailivka-Rubezhivka they were still at risk; it's less than 10 kilometres from Hostomel. On the rare occasions they had cell phone reception, they each heard, on two instances, that their apartment building was on fire. Lilya didn't know what to do. "Shall I tell my husband? When shall I tell him?" Five minutes prior, Vitali had to make the same decision because he'd heard the same story. They ended up confiding in the other, stories the other already knew. Fortunately, there was no truth to the story. Their
home survived.
So, what was the worst thing? On March 12, they saw cars with white flags and realised something had changed. With their neighbours leaving, they decided to leave too. It wasn't an organised evacuation, it was impromptu. They had no internet and in the absence of information, put some white tissue on the car to show the Russians they were civilians, hoping that might help their chances, and set off.
"The route we needed to take was across an embankment, it was narrow so tanks couldn't drive there but cars could," Vitali says. "It was terribly exposed. Occasionally tanks would fire at cars as they crossed, killing or harming the occupants. It was the only way we could go. We were heading to the west of Ukraine and luckily, we still had enough petrol.
"The most scary moment was crossing the embankment and then the expressway [the main road between Kyiv and Lviv]; there was no other way to the west. It was random, whether you got through. We knew we could all be killed but we really had no choice.
"There were a dozen cars in the convoy. After we crossed the highway, my body was shaking from the stress."
They showed me a video of the same area, taken at
the same time. You can hear the sound of bullets hitting the car. Being on that road then definitely was a life-or-
death gamble.
I ask, "Did you think halfway through, this is crazy, we should turn back?"
Vitali: "We didn't have a choice. Nowhere was safe and we didn't have a way back. The place where we were staying wasn't safe. It was very exposed. Of course it was a big risk but we had to get out of there. Yes, it was a big gamble. We were very lucky."
So on March 12, they left their refuge for the safety of a town in the west of Ukraine and got through.
Lilya: "We drove as fast as we could, at 120km an hour. I kept telling Vitali to drive faster! We wanted to get as far as possible before the curfew. We didn't think about the car. Our little Ford Focus was an angel with strong wings that day. For us it was psychological. There was almost no traffic in the other direction, but we passed wrecked cars which had crashed because someone was driving too fast. It was wartime. No one was going to stop them or us."
Vitali: "This is the first time I've recounted this, had to recall all this."
Lilya: "It takes a lot to remember, because of the stress but we know it's important to record the memories for the family. And for others to know what happened. We both know this. We went to a place. We didn't know anyone. Our friends arranged it. It was our first normal night in three weeks. We'd not been able to go outside because of the Russian tanks. We did not dare.
"There was no electricity from February 26. There was no heating. We were afraid to have a fire. All we could do was close the windows and pull the curtains.
"We tried to keep warm as best we could. It was no more than 10 degrees; with a small fire we hoped the Russians wouldn't see. Water came from a well 30 metres from the house, but it was dangerous outside, it was a risk every time. It was Vitali's job, and he went early in the morning, when it was safest."
Vitali: "One time I got water and saw tanks quite close and managed to get back to the house. We've since heard people were killed looking for water or supplies. We were lucky. One day when we were in the village, someone destroyed the Russians' fuel tankers, and starting that day, the Russians were furious and started targeting civilians. Out for revenge, they were crazy. It was another reason for us to leave. The tanks, the planes, the helicopters and now crazed troops. A lot of people died."
Vitali was alluding to the atrocities which put Bucha on the map. The city is now synonymous with war crimes. According to local authorities, 458 bodies were recovered from the town, including nine children under the age of 18. Ukraine's government has asked the International Criminal Court to investigate what happened in Bucha as part of its ongoing investigation of the invasion, to determine whether war crimes or crimes against humanity were committed by Putin's forces.
Vitali and Lilya can now start to think about their future. Vitali's career as a private entrepreneur has been on hold with his business being affected by Covid-19 and now with the war. Being out of work for him is a short-term situation.
In the meantime, Lilya: "We share the housekeeping, since Mark was born, we do everything absolutely equally. Whether washing the dishes, playing with Mark. It depends on who's busier, it's very liberal, very modern and it works for us. We're very happy.

"My career's been affected by the war. On my channel I'm happy that they didn't fire anybody, they just cut our salaries. Regardless, if I didn't work, as was the case in January, I still got paid. It's a private company and they paid us. On other channels they paid the full salary but with fewer employees."
I ask, "Did you think the Ukrainian army would win when the war started?"
Vitali: "I didn't have any doubt. I knew the army would keep them out. I had no doubt. And if I was called up by the authorities, I would join."
To conclude the interview, I ask Vitali and Lilya: "Has anything good come out of this?"
Vitali: "Yes. It's consolidated the nation. I can tell you this: before the war, I used to speak Russian, we all did. Now it's only Ukrainian. I still swear in Russian, or when I'm annoyed with our cat."
Lilya has the last word. She pauses and focuses. For a woman who was relaxed during the interview, she now chooses her words carefully. There was no doubting her resolve: "We're all in this now and we're going to win."
Vitali and Lilya were interviewed by Peter Macky on September 19, 2022, in Bucha, a suburb of Kyiv, Ukraine.
Translator: Aryna Satovska in Kyiv.
Copyright Peter Macky and Aryna Satovska.