Rachel Clare talks dirt with a sheep-shearing, horse-mad couple who are growing a rainbow of vegetables and flowers in coastal Waipū.
When Auckland couple Jen and Gus Ross began their quest to find a block of rural land to start a sprayfree market garden, they had one condition: it had to be close to the beach. So when Jen saw a Trade Me listing for a 4.5ha block of land for sale in coastal Waipū, Northland, it seemed like it might just be the perfect spot.
"But Gus refused to look it because it was a horse property," says Jen.
"Jen is obsessed with horses," explains Gus. "He looked at the listing," says Jen, "and said, 'No. I can see the stables, I can see the arena. I have visions of you living your horse dream.'"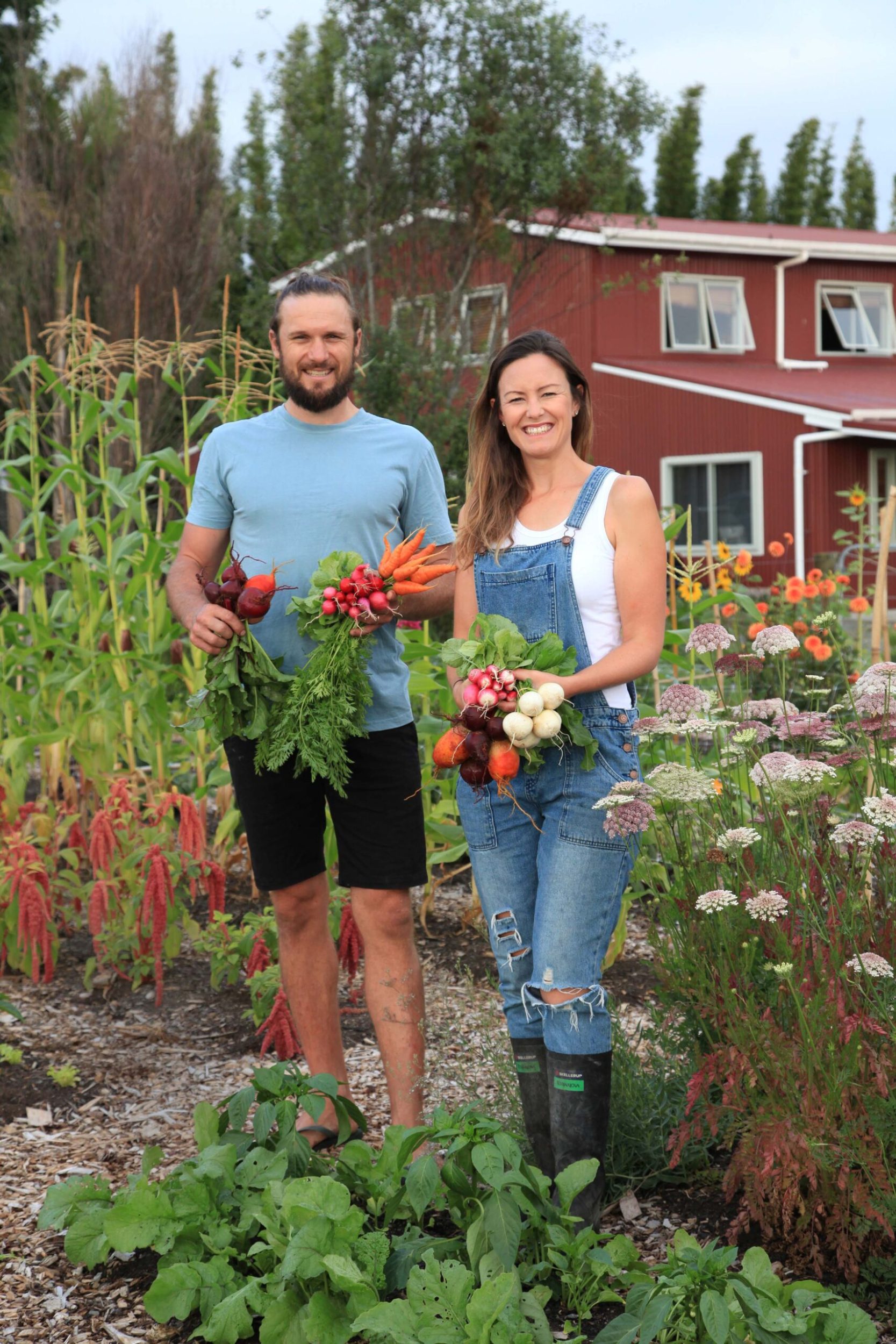 Despite Gus's reservations, on the way home from a property-hunting mission up north, Jen managed to persuade him to check out the site. The landscape sealed the deal. "We dropped down into the valley after driving along near the beach and the land was as flat as a pancake and just beautiful, with all the native bush around it," says Gus, who grew up on a farm at Wairoa.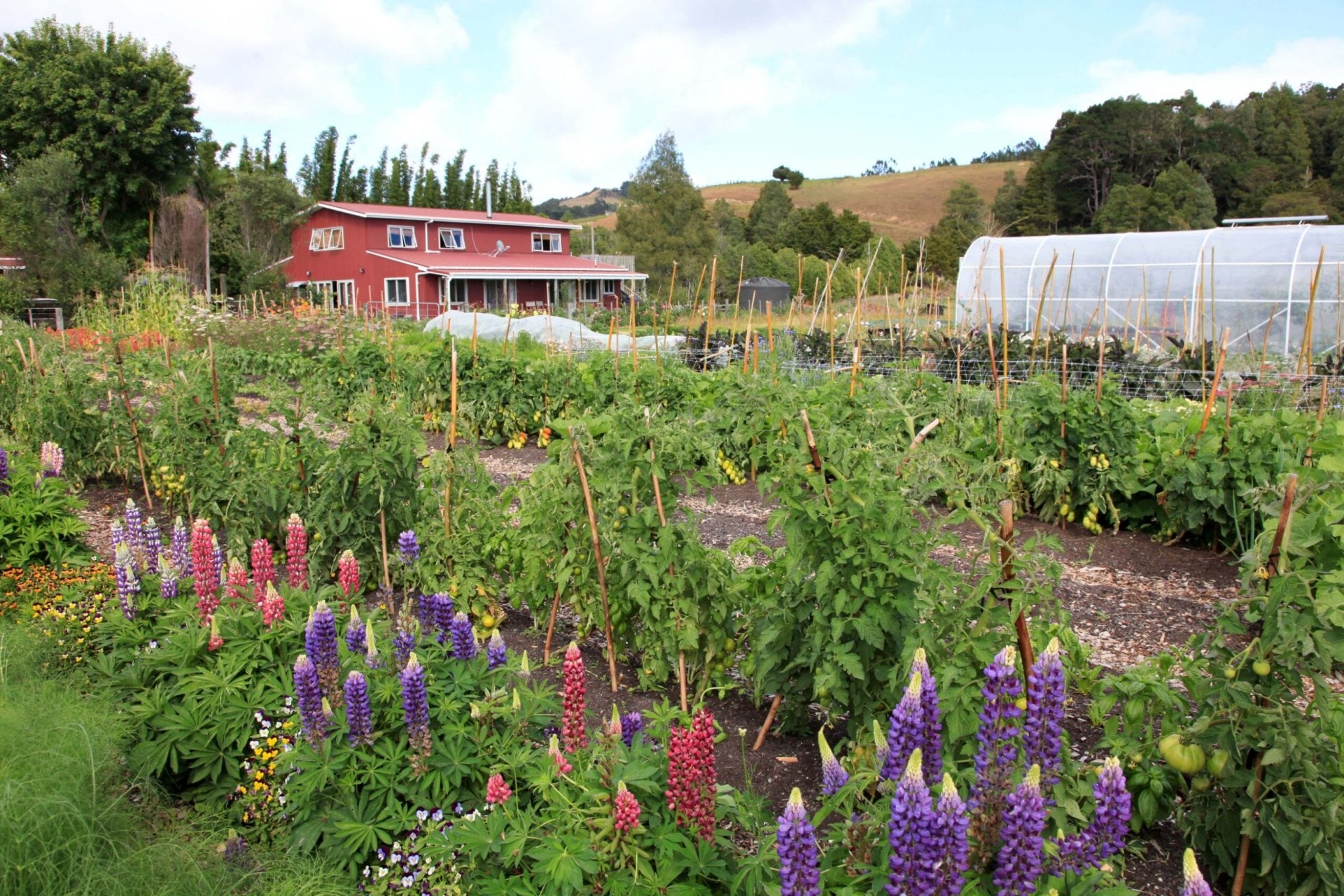 The Rosses' dream of a sustainable coastal, rural lifestyle had been brewing for at least five years, and although the animal nutritionist (Jen) and the organic produce exporter (Gus) had lived in Auckland for nine years, Gus had always hankered to go back to the land. In fact, he'd never really left it.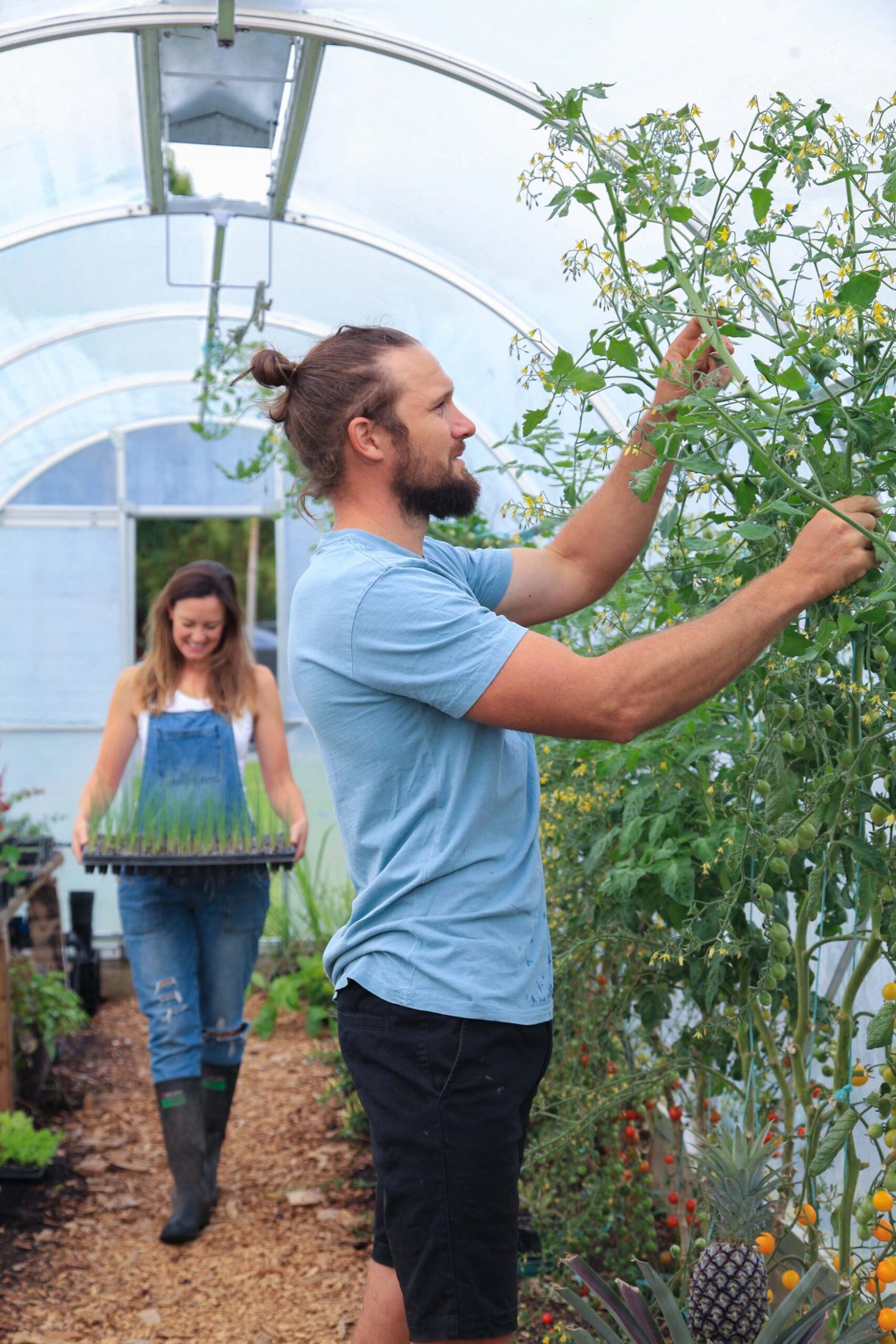 In Auckland, he'd work in Newmarket from Monday to Friday, then spend his weekends shearing sheep on lifestyle blocks. He even had a flock of 100 Texel sheep – a Dutch breed renowned for its lean meat and super-soft wool – which he grazed on three different properties at Whitford, south-east Auckland. The couple occasionally bottle-fed lambs at their townhouse in suburban Papakura, on the outskirts of South Auckland, "which was as far into the city as I wanted to go," says Gus.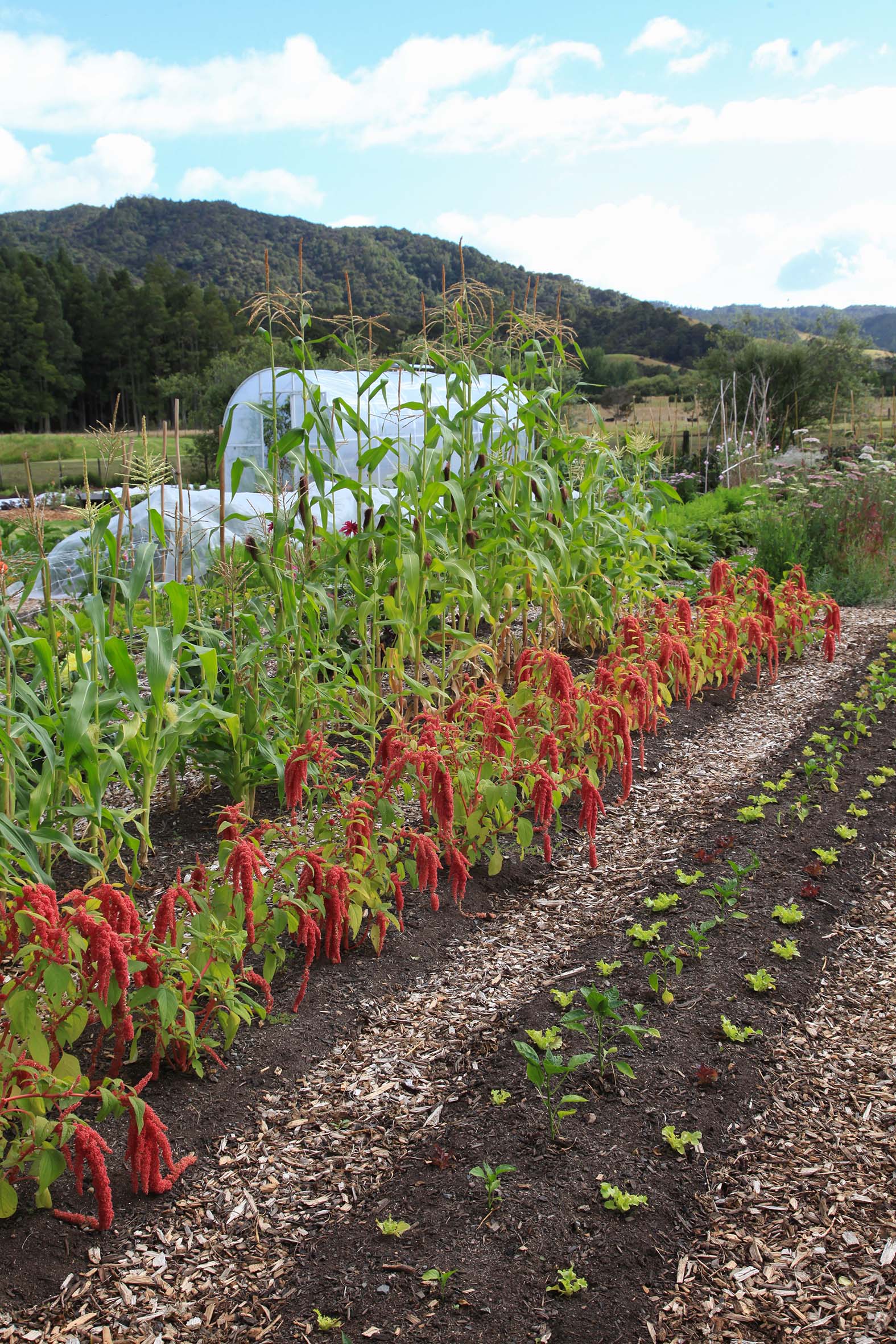 During a stint living in the UK, when Gus worked as a shearer and Jen as a rousie, they discovered that they made a good team, and developed a vision of working together. "We had no idea what we were going to do," Jen says, "but it was always going to be something on the land."
As environmentally aware foodies who love to cook, they decided to develop a spray-free market garden in which they could grow a wide range of vegetables and flowers, while raising their own livestock.
Since moving to Waipū at the end of January 2020 – with fur baby Phoebe the Irish terrier and the majority of the Texile flock, now at their forever home – they've established 100 raised beds in which they grow more than 50 different types of flowers and veges at a time, and they've acquired Honey the house cow, hens, quails, and a tribe of 18 Swedish blue ducks who excel at slug control.
"There's a saying in permaculture that if you are overrun with slugs, you don't have a slug problem, you have a duck deficiency!" says Jen.
The garden's name, Left Fields, which Gus's graphic designer brother-in-law came up with, cleverly references the land but also acknowledges that swapping city living for the good life in the country seemed to many of their acquaintances to come out of left field (although, given Gus's city flock, would it really have come as that much of a shock?).
Compared with other market gardens, which use heavy farm machinery to plough up fields, the style of cultivation at Left Fields is also a detour from the norm. As the Waipū soil is heavy clay instead of nice fertile loam, the Rosses have adopted the "no dig" method, in which garden beds are created on top of the ground. As well as providing plants with a nutrient-dense humus to grow in, this means the precious eco-system in the existing soil is left undisturbed, which is better for soil health and, consequently, plant health.
To make their no-dig beds, Jen and Gus lay black plastic or tarp on the ground for several weeks until the grass dies. This is then topped with cardboard, followed by around 30cm of an organic vegetable mix enriched with chicken manure, sourced from landscape supplier Kerigreen. The pathways are lined with pine mulch from trees that the couple chopped down when they moved onto the land.
"The worm life has gone crazy," notes Gus. "They're breaking down the cardboard and pulling that compost down into the clay and amalgamating it and making it one, helping to aerate the soil and build soil life. We're building soil as we go." One of the joys of no-dig was that the Rosses could start planting straight away. Depending on what they're growing, some crops, such as root crops, are sown direct, and others are raised under cover in a plastic tunnel house, then planted out into the beds as seedlings.
So how do you decide what to grow when you have 100 glorious beds? "Did you go nuts?" I ask, wistfully wondering if I could offer to work for them for free, live in the Airbnb below their house, and eat fried Italian heirloom eggplant and tomatoes (one of Gus's specialities), washed down every morning with a glass of fresh milk from Honey the cow. Jen confirms that they did indeed go nuts:
"There are so many many exciting varieties out there. We almost have to put a brake on it sometimes but we wanted to grow a huge range of products for our community."
"We're not limited like supermarkets, where produce has to have a good shelf life," says Gus, "so we can sell stuff that's been harvested 24 hours beforehand. And it shines through in the quality because you get a product that's taken through to maturity and it's fresh – and it tastes like it – and that's been our best feedback."
Every week Left Fields posts a list of its produce – usually around 32 types of heirloom and modern vegetables – on Facebook, and locals can place their orders and collect them from Waipū village or from the farm at a prearranged time – or there's a home-delivery service for orders over $25. They also sell their produce at markets that are held every long weekend and have launched a new venture, the Roving Rural Market, which showcases the produce and wares of local growers, farmers and artisans, and is hosted at a different vendor's property each time.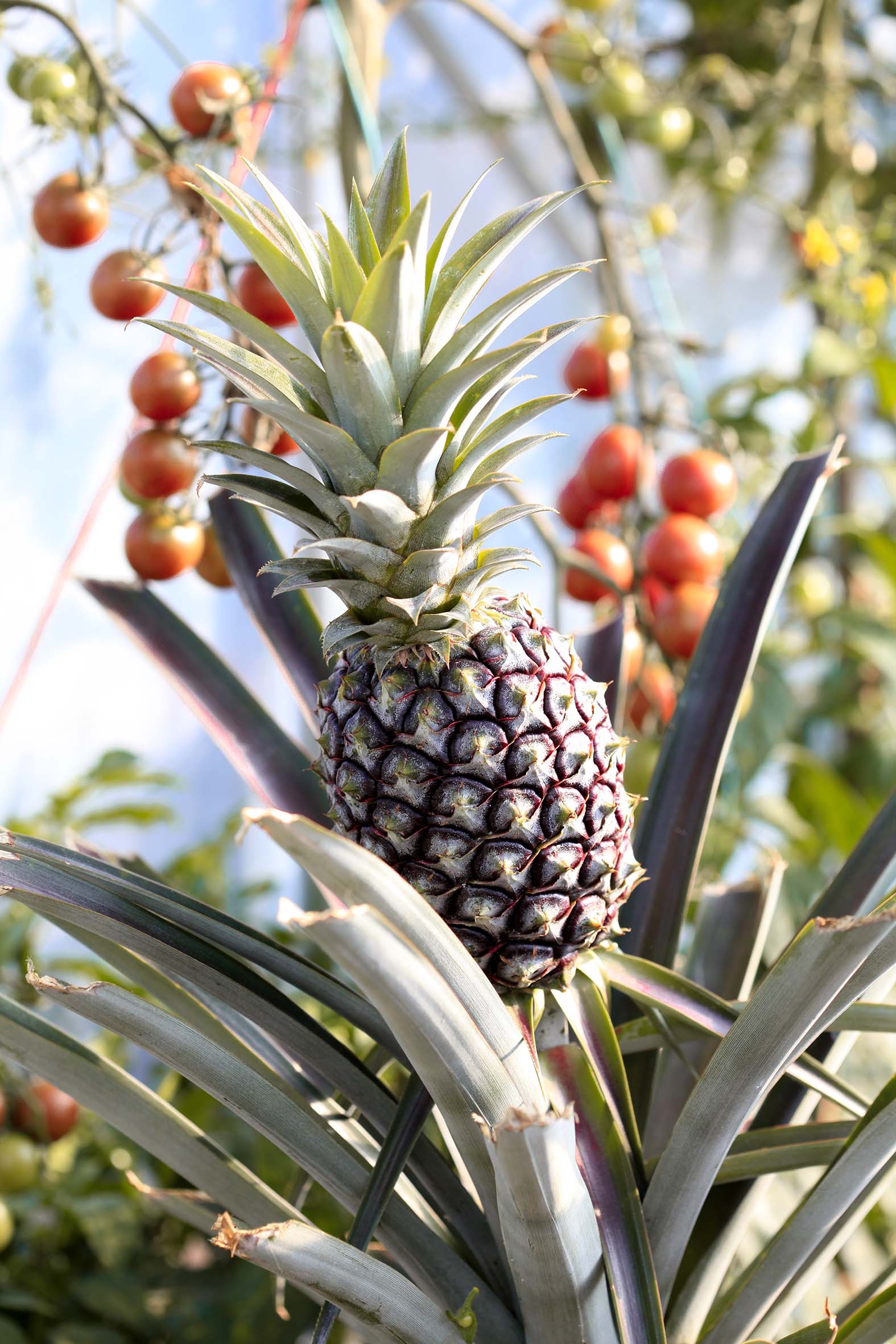 The couple love introducing customers to unfamiliar vegetables, such as stripy Italian eggplant, Japanese turnips or golden beetroot. "People's minds are blown," says Gus. "They'll sample some sorrel and say, 'How can a leaf taste like citrus?'"
Planted beside every third bed of veges is a bed of flowers. Not only are these a colourful island of food for pollinators, enticing them to the veges and distracting potential pests, but Left Fields also offers a pick-your-own-flowers service.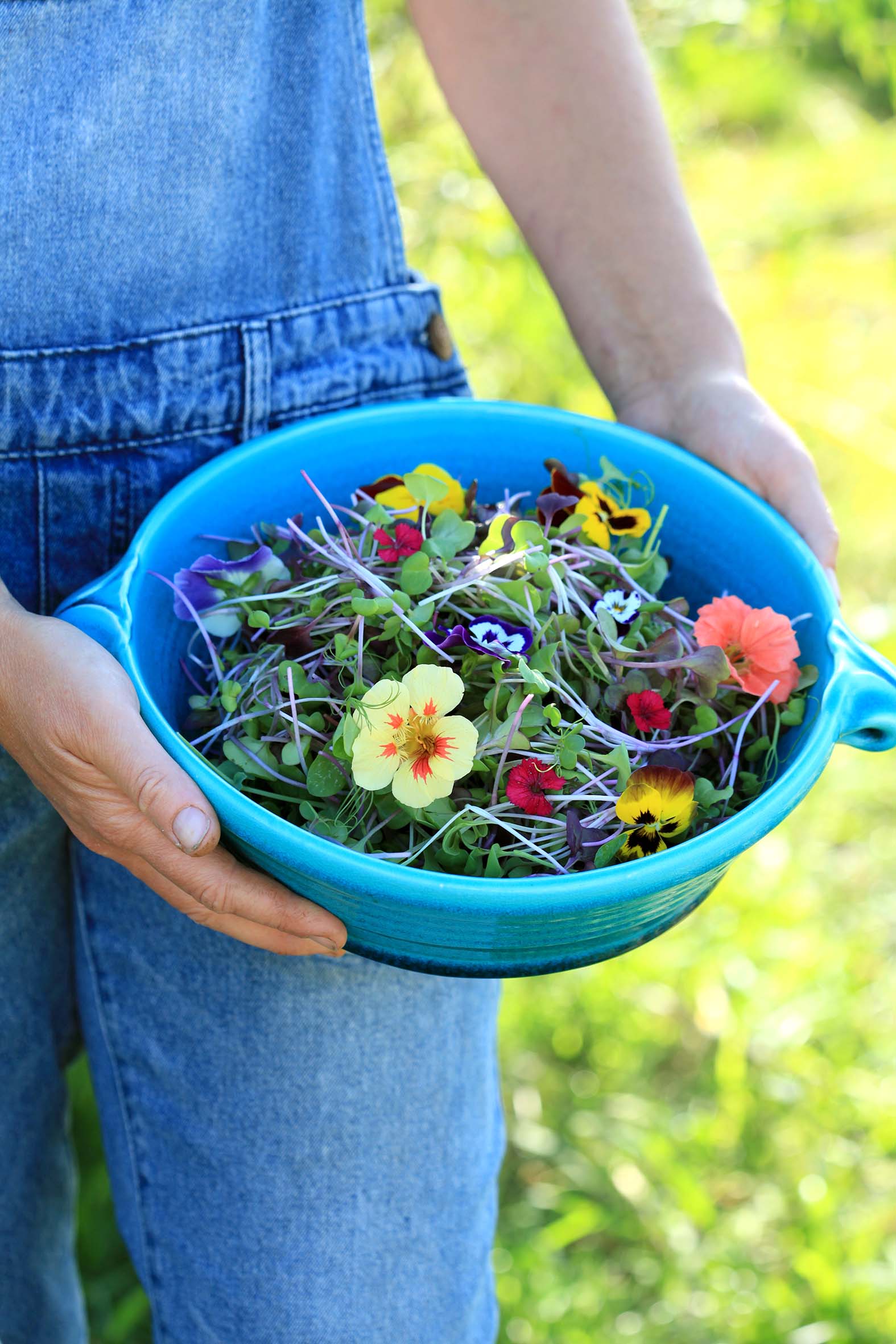 Visitors can make an appointment to come and fill buckets with beautiful blooms such as red-tasselled amaranth and gorgeous dahlias. Interacting with the locals who buy their produce has definitely helped them transition into their new town. "I think it's been a fantastic thing to allow us to become part of the community," says Gus. "We feel fortunate."
"The work is hard, but we love it," says Jen. She and Gus are up before sunrise and often working until after sunset but they make the most of coastal life, managing to fit in a swim every morning in summer, after they've delivered veges to nearby café Land and Sea. And twice a month Jen hires horses and rides along the beach with friends.
Getting her own horse is still on the cards though. "I'm actively shopping for one, although Gus is worried I might not set food in the market garden again when I do."