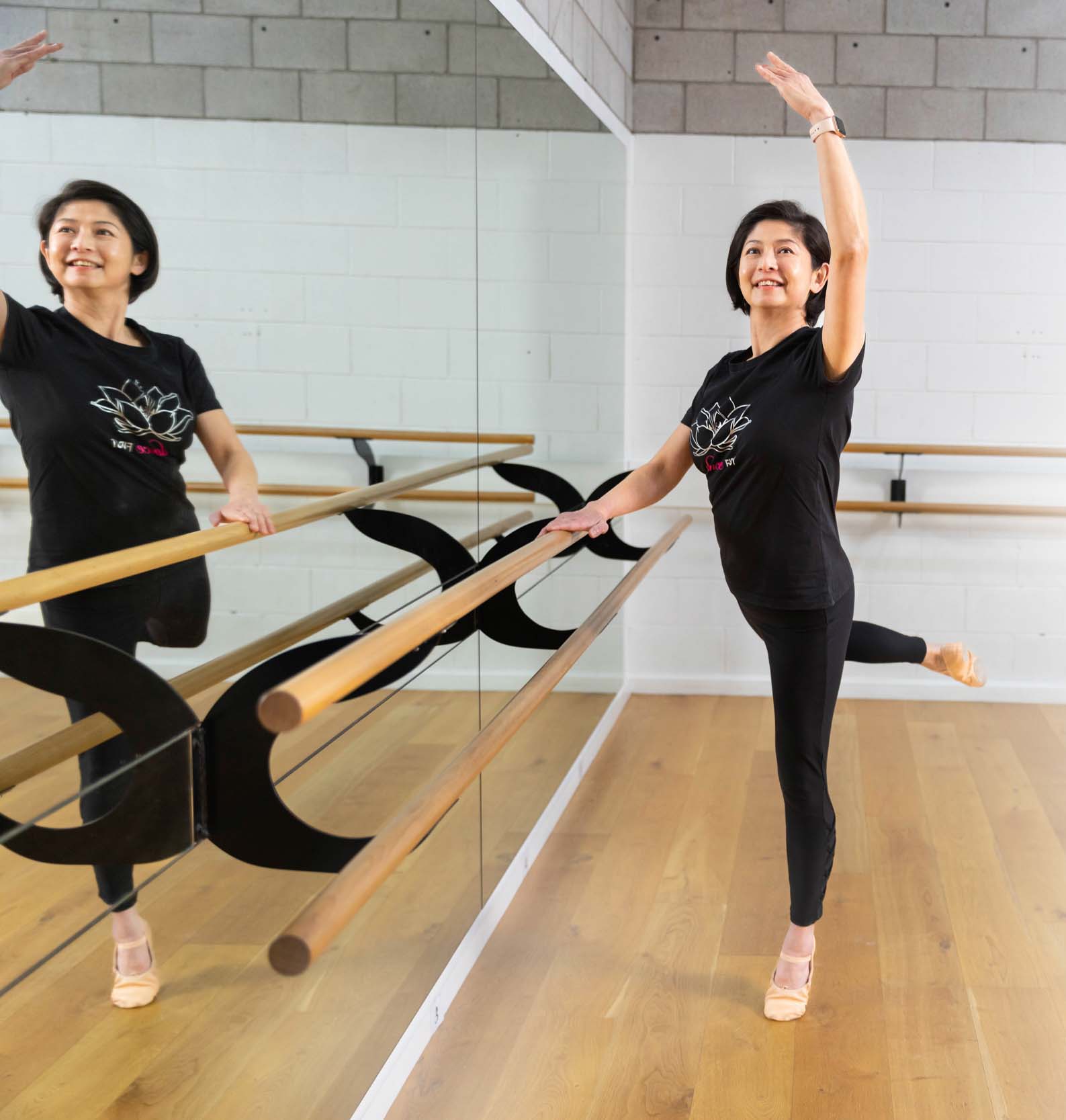 HOW DO YOU MOVE?
I dance. Three classes a week: adult ballet, jazz and pointe at Dance First studio in Howick.
WHEN DID YOU START DOING THIS?
I started 11 years ago when my boys were younger. They are now teenagers, but at that time the youngest was three. First it was just jazz, then seven years ago I decided to try adult ballet and then last year I decided to challenge myself with a pointe class too.
WHY DANCE?
I've always loved it. My parents did ballroom dancing when I was a child in Malaysia, and when I was at secondary school I took up traditional Chinese dance. It was the highlight of my time at school.
HOW DID YOU END UP IN NEW ZEALAND?
I came here for my studies – at Otago University. I went back home for a few years, then moved out here 22 years ago because I loved it so much.
WHAT PROMPTED YOU TO GO BACK TO DANCE IN YOUR THIRTIES IF YOU HADN'T DONE IT SINCE SCHOOL?
I think I just needed to do something for myself. Like many mums, I had lost myself in all the things you need to do when you have kids. I wanted to do something I enjoyed, so I decided to try jazz classes.
HOW DID THAT END UP AS JAZZ, BALLET AND POINTE?
I just loved it and ended up deciding to try adult ballet too. I had always wanted to do ballet, but when I was young I remember a girl sitting next to me in class saying she'd been to a ballet class and it was really hard. I was only about seven, but I remember it so clearly – she said she had to do the splits and it sounded really intimidating, so I never tried it. But adult ballet isn't like that; it's really gentle and easy and the teacher always gives different levels for each move so you can do it low or high impact.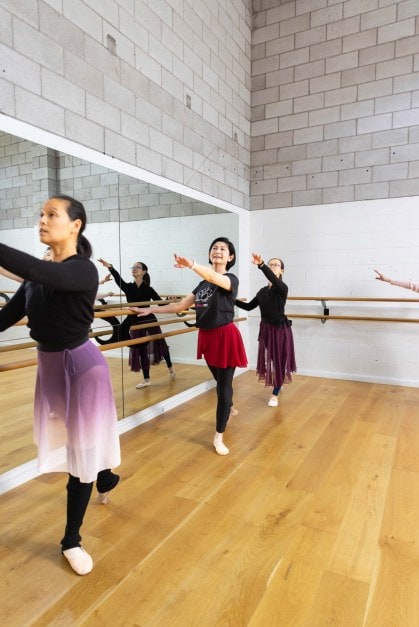 WHAT HAVE THE BENEFITS BEEN PHYSICALLY?
So many! I used to have lower back pain and aches but they've all gone. My posture is much better because ballet forces you to stand and sit up straighter. My fitness level and flexibility have improved and I now also do yoga stretch classes and short-distance running and walking too. I actually used to be quite lazy and make a lot of excuses, but I think when you start to exercise you get more energy and want to do more exercise. It's really interesting how that happens.
AND ARE THERE ANY MENTAL HEALTH BENEFITS?
Three times I week I just lose myself in the movement and music and stop thinking about work, traffic, the laundry, the kids and what I'm going to cook for dinner. When you're dancing you can only focus on that, not other things. It's also really social – you meet new people, and women are so supportive of each other. I've made friends and we share books and chat. Once a year we do a performance and I really notice how this changes the women in the classes I do. Some have never danced before and might not be confident in how they look. They say there is no way they will do a performance in make-up and costumes, but when they do, they really change, it raises their self-esteem levels so much.
It's amazing.
WHAT'S YOUR ADVICE TO ANYONE THINKING ABOUT DOING ADULT BALLET OR ANY OTHER DANCE CLASS?
Just do it. It really doesn't matter if you've never danced before. The teachers are so kind and understanding and most dance studios will have classes for absolute beginners. It's not about tutus and being up "en pointe". It's much more gentle than that, and most importantly it's about having fun. I really believe that if the mother in a family is not good, the rest of the family won't be either. It's so important to take care of yourself and do things that really bring you joy.