Auckland Writers Festival director Anne O'Brien talks to Sasha Borissenko about making the hard decision to leave the festival after 11 years, opening the door to the unknown, and working to a lean budget.
For almost a decade, Anne O'Brien has been responsible for the artistic programming and financial, operational, and production leadership of this country's largest festival of books and ideas, garnering audiences of more than 83,000 people and presenting more than 200 writers annually.
This year will be her last, because although she's relished the role, she's also spent years working on programmes while family and friends enjoyed holidays. The years of having refreshments delivered until she could finally clock off are coming to an end, she says.
"It's time I had slightly more flexibility in my day. I've tried to find a balance, but when you've been in the middle of everything for so long, it's impossible to unpick yourself."
During her illustrious career, she's never had any other job for more than four years, so it was time to bite the bullet, she says.
"I've always been naturally good at English and maths, and the thing I do best is take a lot of information and find order in it. You can do that with numbers, you can do that with ideas, and you can do that with a curatorial programme."
Hailing from Wellington, Anne is one of seven children – born in the space of nine years – to parents who were each the first in their working class families to attend university.
Feeling restless at 16, she decided to leave high school early to pursue an English literature degree, studying under the likes of Bill Manhire and Vincent O'Sullivan at Te Herenga Waka – Victoria University of Wellington.
Graduating at 19, Anne worked in childcare and at the Wellington Public Library before venturing to London to work in the financial sector during the wild days that followed the global stock market crash of 1987. Returning home in 1989, she helped wind up the investment division of Barclays Bank, which included one of the "strangest work tasks I've ever had to complete – counting gold in a bank vault under Lambton Quay".
After stints working at the Human Rights Commission, the Cancer Society, and other NGOs, Anne decided to take the leap into journalism by studying for a diploma at the former Wellington Polytechnic in 1998. This led to a job as a producer for RNZ's Nine to Noon with Kim Hill between 1999 and 2002. It's there that she also started to develop contacts within the arts community.
"I've always been interested in the arts, reading, attending theatre, film and dance, and engaging with arts festivals. It was part of my personal inner life and it was serendipity that I was eventually able to follow this path in my professional life."
Despite calling Wellington home, she made the move to Auckland when she met her British-born partner, creative director and producer Jonathan Alver. She secured a position as executive director of Women in Film and Television New Zealand in 2007, then freelanced, before landing the festival director gig in 2011. "The festival is a fantastic combination of things that I love and the skills that I have. The opportunity brought all those things together, which was great. It's been an interesting journey."
Anne's many highlights include hosting Japanese author Haruki Murakami on stage, meeting American feminist activist Gloria Steinheim in the flesh, presenting theologian Lloyd Geering at 100, and bringing a London theatre production to Auckland during a pandemic.
But there have also been times when she scheduled the unexpected that were particularly rewarding. "Those times when people see someone they've never heard of – that sense of discovery – that is what touches people. To discover talent and see that magic play out with and for an audience has been wonderful," she says.
"The festival is such a beautiful tableau for discussing the world and immersing yourself in story. What I've tried to do is play with format in order to broaden our audiences and extend our reach as far as humanly possible."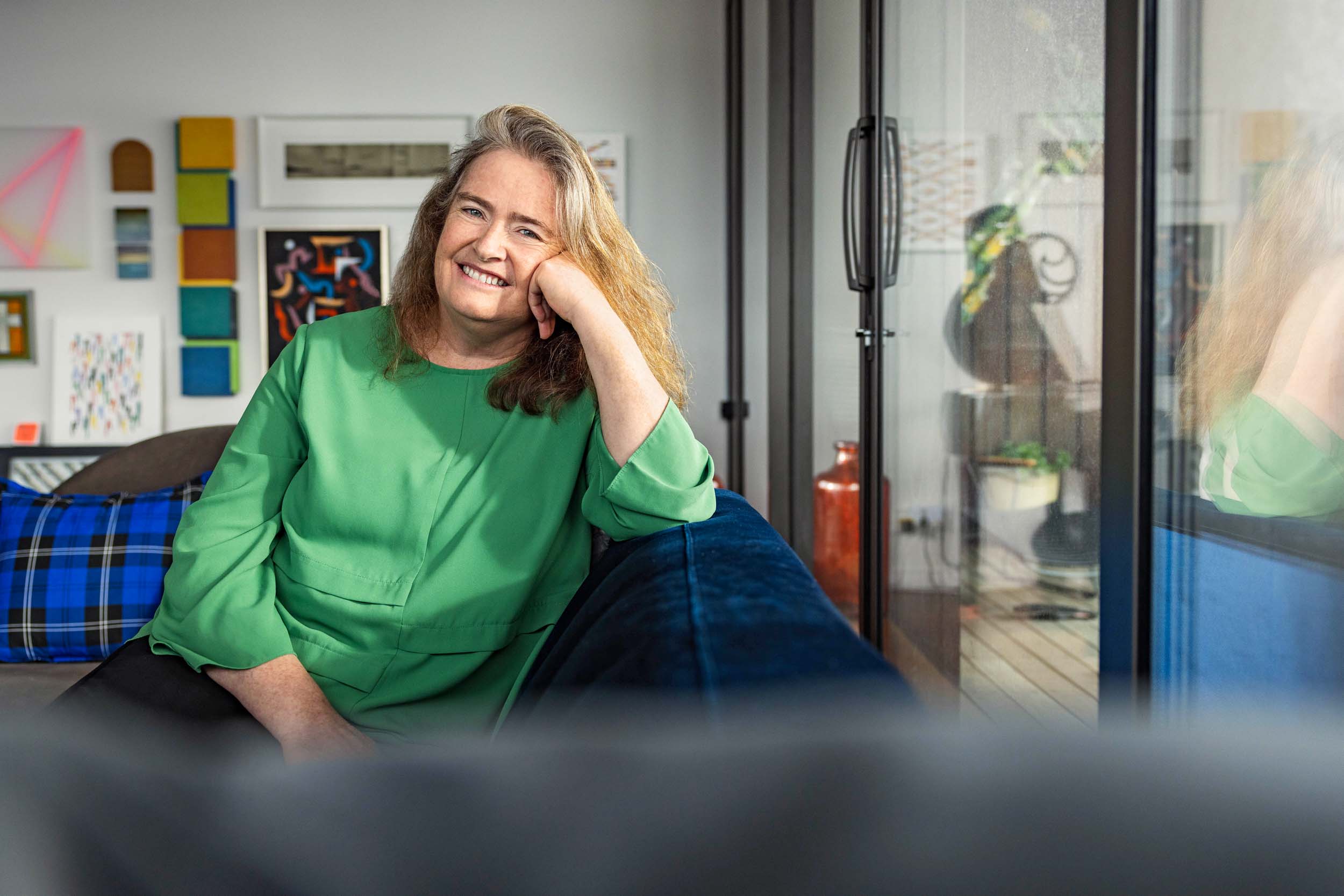 The festival offers a conduit for people to sit down together to enjoy conversation, talks and performance. Ideally, there's something for everyone, so that even those who don't initially consider themselves in love with literature can be part of a community, Anne says.
But with the highs come the lows. The job can be incredibly demanding and some days Anne has felt on the edge of the abyss, but she's tried to get herself to a place where she says, "Okay, today was a really bad day, but tomorrow will be better.
"I don't think, though, I could have done this job with the same amount of commitment and energy had I had children. It's given me the freedom to do what I need to do.
"I've never really considered myself to be a 'career' person. I've never had a linear career line. Rather, I've taken up opportunities that have presented themselves where I thought I could bring some value. I've always done things that have given me a sense of meaning and purpose."
While the pandemic and the resulting risk management have been tiring, Anne employed a pragmatic approach throughout, proceeding as if it was going to happen but being prepared to deal with changes at any time.
As for taking the festival online, it's never been her thing, she says.
"Live performance and theatre have been going on for thousands of years. There have been lots of pandemics. I reject the notion that the pandemic has led to the death of live performance. It's just a moment in time that we have had to navigate."
A bigger hurdle she's faced is securing sustainable levels of investment for the event. "People tend to think of theatre and music as art but not literature – maybe because it's a solitary pursuit and it's a more integrated part of day-to-day life."
Despite always having a lean budget, she's never done what she can't afford – and perhaps that can be attributed to her many years of working in the financial sector, she says.
"A lot of organisations have separate artistic directors and general managers – they'll be at odds, but I've always had both strings, English and maths, to my bow. I know how to run a budget sheet."
And perhaps that's been to her detriment, she says, because if you can create a quality product on a tight budget, there's little incentive for the powers that be to invest more money, but that comes at the cost of the team and limits the ability to develop.
"We could do with more funding, we could do with more staff, but our audiences are engaged and loyal. We've built a strong reputation with writers locally and internationally, and although it's been hard work, there's enough money in the kitty to keep it going while we continue to pursue strategic alliances.
"If I could cherry-pick the bits I love in the job, I'd stay forever, but that's the nature of work, isn't it?"
Anne has been contemplating whether to leave her post for a long time, and she's not always sure she's made the right decision, she says.
"I've often told people that you should do the thing that makes you scared because otherwise you're doing what you already know, and not doing anything new.
"So, I'm now doing the thing that makes me really terrified. I want to keep on working and I can't know what's beyond the festival door until I open it."
Anne does not have any plans yet, but she's keen to craft a portfolio career, which might include the arts, events, comms, project management, running a business, or all of the above.