At Rotorua's Recycle the Runway fashion show, a nine-year-old and his mum come out on top with their creative garments made from textiles that would otherwise have ended up in the tip, writes editor Niki Bezzant. 

The worlds of high fashion and landfill-destined refuse don't often collide. But a fashion show in Rotorua recently combined the two, and to stunning effect. At the Recycle
the Runway fashion show local designers and dressmakers were given the challenge of creating bespoke, one-off garments using pre-loved and recycled items.
The Recycle the Runway show is an annual fundraiser for Dress for Success, a charity whose kaupapa is to empower women to achieve economic independence. Women returning to the workforce are given the gift of confidence, in the form of professional attire for interviews and the start of their working journey.
This year, a new category was created to take recycling to the next level. To generate awareness of the environmental impact of clothing, and to inspire Kiwis to love their clothes for longer, the Vanish Landfill Challenge category (sponsored by the laundry brand of the same name) asked designers to use textiles headed for general landfill waste and bring them back to life in the form of new creations. It's estimated that in Aotearoa around 220,000 tonnes of textile waste is discarded each year.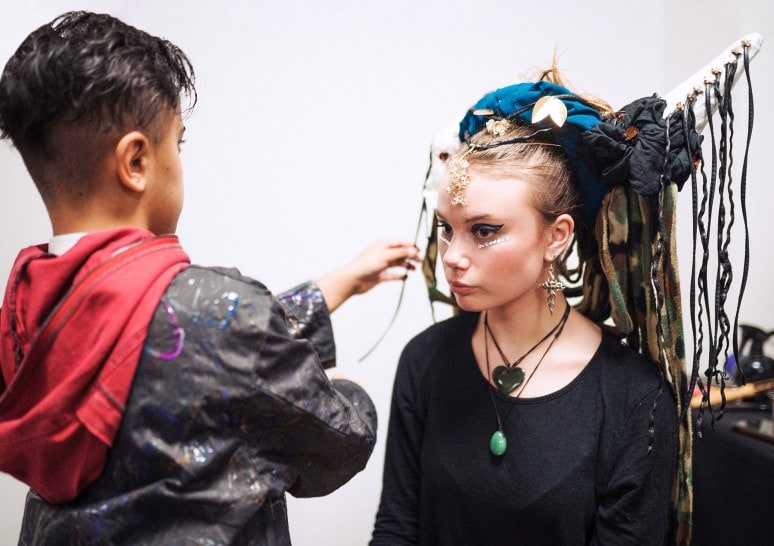 In the Landfill Challenge category, Angela Tamata and her nine-year-old son Essjay stole the show. Angela took home first place, followed by Essjay in second place. The duo created four pieces between them. Angela's three pieces were a bag, arm warmers and an avant-garde jewellery piece.
"Not long before we did this challenge, I had cleaned out my shed and we had heaps of stuff in
the rubbish," remember Angela. "So I pulled out Christmas decorations, old pyjamas and some chains and things."
The arm warmers were made from an old sleeping bag, and were modelled on the night by Angela's nephew, who couldn't resist buying the creation himself after the show.
Essjay made a new garment – a fantasy headpiece – with pre-loved materials including blankets, which he tore into strips, and an old Christmas wreath. Along the way he burnt his fingers with a hot glue gun and pricked himself with pins.
"I kind of wanted it to look like Maleficent," he says, referring to the film character played by Angelina Jolie. Essjay says he felt "amazing" when he was announced as a winner on stage. And he's already planning his next fashion show entry. 
"I want it to look like a zombie mummy kind of thing," he says. 




Both Angela and Essjay are grateful to their nanny, Ani, who helped them both put their entries together, and who is "where we get our creativity from", according to Angela. 
Participating in this event was a natural progression for Angela, who has recently left her full-time job to dedicate her time to getting her brand, Kiddiewinks, off the ground. It's her goal to repurpose pre-loved garments into new affordable clothing for kids, that she hopes will inspire and encourage feelings of self-worth and confidence.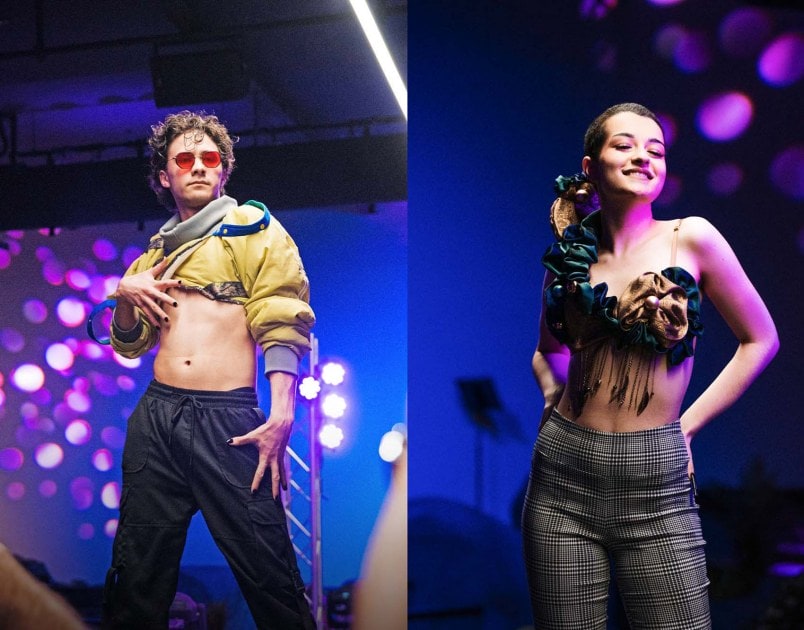 "I want to make sustainable clothing for kids, but fashionable. And because I have the knowledge to make patterns and I can pretty much make a pattern for anything, I can make cool clothes out of recycled fabrics. They'll be one-off pieces," Angela explains. 
They won't be pricey, though. "I wouldn't want to sell them as expensive one-off pieces. I can buy a bag of clothes for $5 and make four or five outfits out of it."  
Angela's motivation comes from her own experience. "I would like to uplift our babies,
because I know what it's like. When I was broke – really, really broke – my kids had to wear the same clothes all the time. It's really demeaning for them. So if I can help beat that for some people, then I'm going to."




Tips to take your pre-loved pieces from drab to fab


Wear, Repair, Repurpose. You may have worn and repaired your favourite garment to the brink, but don't throw it away just yet! Clothing can be repurposed many ways so it stays out of landfill. Some of our favourite ways to repurpose include turning old shirts into tote bags or repurposing old cotton clothing into reusable make-up remover pads or beeswax cloth food wraps.


Arm yourself with a beginner's sewing kit. Whether it's a ripped shirt, a missing button or a fallen hem, owning a basic sewing kit ensures you can quickly repair clothing. Our sewing kit essentials include a needle, black, white and brown thread, scissors, measuring tape and clothing chalk. Take your sewing kit one step further with iron-on menders. They're a great cost-effective option to repair minor tears in fabric, such as a rip at the knee of jeans. 


Get crafty. Salvage an old pair of jeans, a jacket, or any well-loved clothing item by using clothing paint to add a personalised touch with a hand-painted design.


Wash with care. Help clothes live many lives by ensuring you follow washing instructions every time. Certain materials require a more delicate approach and cooler temperatures.