There's a saying on the hiking trail: hike your own hike. It's tramper's speak for "you do you", assurance that there is no right way to follow your own path. I like that reassurance. My path has always seemed a little disjointed.
New Zealand is my homeland, but for most of my adult life my home has been England. I feel a push-pull across the distance in between, living with the guilt of feeling connected to another place, and a strange sense of being untethered – not wholly belonging to one place or the other. This year the great unsettledness of the pandemic has brought me back to New Zealand, and given me a chance to reconnect with my country. And I decided to meet it the best way I knew how: on foot.
I'm walking Te Araroa, a 3000km trail from Cape Reinga to Bluff that zig-zags down the North island and along the geographical spine of the South. It takes about five months to complete all up. I've never done a long distance hike of this magnitude before, but for someone whose mind has a habit of constantly racing ahead, trying to see around the next corner, I find the act of hiking keeps me right in the moment; it's a simple meditation of putting one foot in front of the other. And in these chaotic times, five months of meditation sounds just about right.
Truth be told, three years ago this meditation almost killed me. I had gone to North America to hike in its expansive wildernesses, an attempt to declutter my mental junk room. It was in California, on one of many day walks in the Joshua Tree desert, that things went wrong. I lost my footing and fell from a high boulder into a canyon, breaking my pelvis and leaving me unable to even sit up, let alone walk. There was no phone signal, and my own terrible lack of risk management meant I'd not carried a PLB or left my plans with anyone. All I could do was lie there in the scorched dirt, hoping someone would find me. By some miracle they did, four days later.It's the kind of story that made people ask me whether I'd ever want to go hiking again; whether I could imagine pulling on my boots and setting out, especially on my own. But being out on a trail is when I feel most alive, and having so narrowly evaded death, living was something I was determined to do more of. (Only, with much, much better preparedness).
So, in October I set off on Te Araroa, and the moment I took the first steps into the clifftop flax at Cape Reinga I felt a big weight lifted off my shoulders. Which is odd, given I had at least 14kg of gear on my back. For the next four days I made my way down the Aupouri Peninsula, meeting seabirds and seals, occasionally overtaken by a ute packed with fishing gear, but otherwise on my own. I camped above bays and behind dunes, eating instant noodles as a family of wild horses ran past. Heading east, the trail delivered me along riverbeds, farmland and paddocks of curious livestock, through lush forest damp from rain, and into the breathtaking bays of Paihia and Russell.
But I soon discovered there's more to this path than the scenery. To know a place you have to know the people, and to be wandering through a small town or quiet rural backcountry with a whopping great pack on your shoulders is an instant invitation for an exchange. Being someone who craves solitude I have to actively work at connection, but out on the TA, it's not felt like much work at all. People have been openly curious, and extraordinarily generous. There was the cheery school bus driver who'd finished her run and pulled over for a chat. The camp host who gave me a fresh, just-smoked fish for lunch. The fellow tramper who brought a cold beer to my cabin door.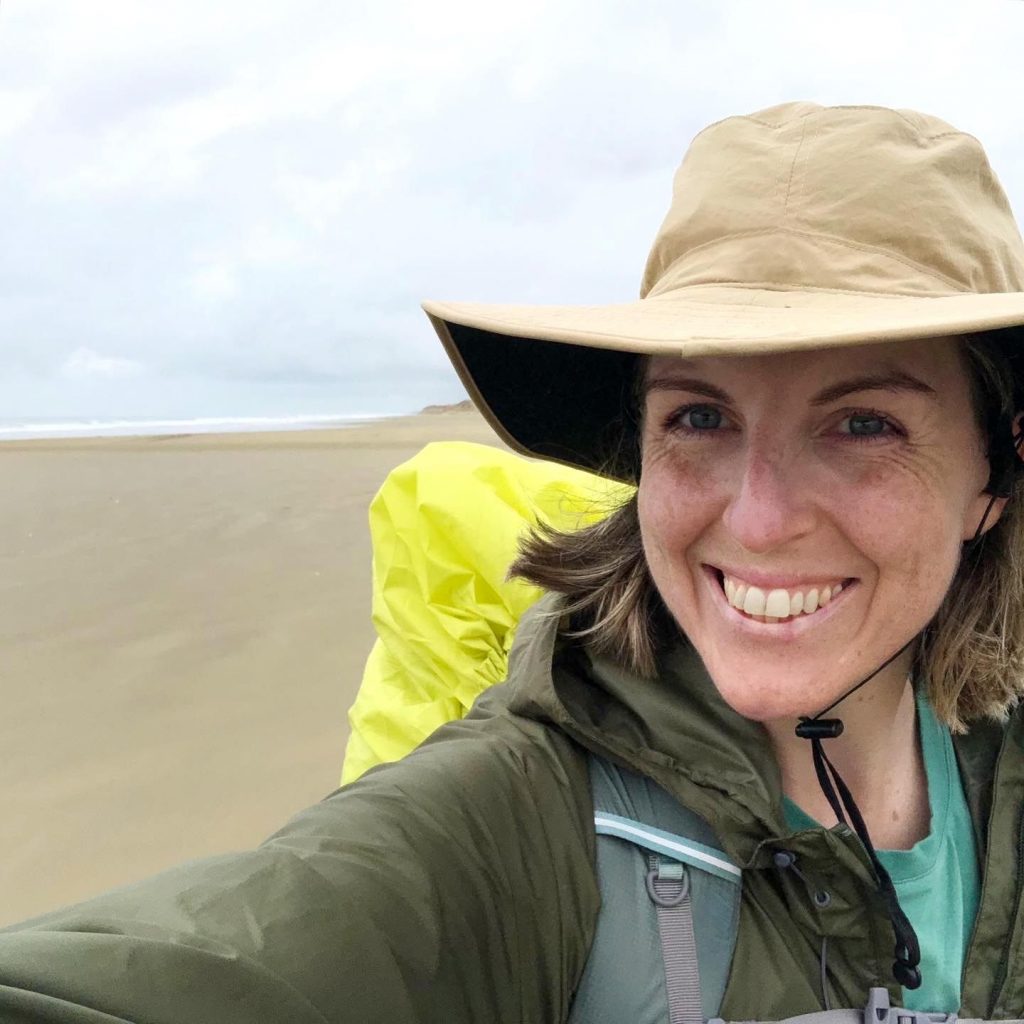 And of course, there are the walkers following the same trail: people of different ages, origins, and motivations, but by the nature of the journey, an instant community. That, I've come to realise, is what I've been missing: a sense of community. And even though I prefer to hike by myself, I've never really felt like I'm on this journey alone. At any point I might overlap with one of my fellow trampers, join them at the next campsite for dinner, exchange messages with tips and support… I hadn't expected people would be the most magical element of walking New Zealand, yet they're already the heart and soul of it.
All this said, a journey is there to challenge you, too. It's why so many of us are out there: we're looking for something, or hoping to be changed. And as I learned in California, things can always go wrong (even when you're well prepared). The first three weeks on Te Araroa I've been stuck in a campground due to a snap lockdown, forced to skip a notoriously treacherous forest section because of severe weather, and – the latest surprise – laid up with a stress fracture in my foot.
It's been so tough to press pause. But as I've learned before, healing is much like hiking: you take it one day at a time. And, as before, I know that bones will mend when given time and the trail will be waiting for me once they have. And all the while this unexpected community I've so briefly been a part of continues to give support and encouragement. So what if my journey has got a bit disjointed: hike your own hike.
While I can't wait to get back to Te Araroa, and getting to know more of New Zealand, I'm trying not to let my mind keep racing ahead, trying to see around the next corner. Right now I'm here, both feet still on home soil. (Albeit one in a moon boot.) I've no idea when the next obstacle will appear, nor the next moment that will take my breath away and fill my heart to bursting… only that they're out there. And that's life, on and off the trail.