Ain't it funny? They were one of Hollywood's hottest power couples, and now it seems Jennifer Lopez and Ben Affleck can't deny their feelings any longer.
As far as celebrity Instagram announcements go, Jennifer Lopez's steamy photos marking her 52nd birthday were about as show-stopping as they come. But it was the final frame in the series of barely-there bikini shots, posed on the back of a super yacht off the south coast of France, that really got the world talking – confirmation in the form of a passionate kiss that she and her former flame Ben Affleck are well and truly back on.
Yes, that's right: 17 years after their 2004 split, the Hollywood power couple once known as "Bennifer" is officially back together, with Ben whisking J.Lo away on a lavish birthday trip – and fans couldn't be happier. While the rumour mill has been abuzz for some time, the couple's smooch, simply captioned "52… what it do…" is the first acknowledgment of their rekindled romance.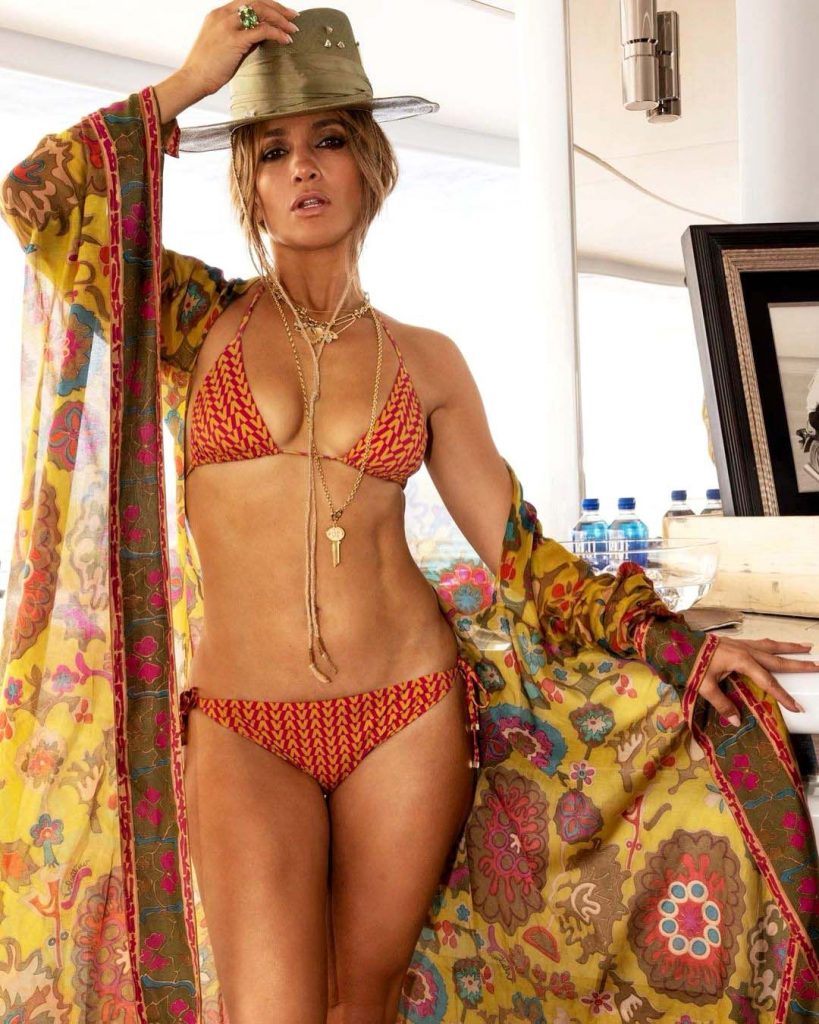 For celebrity fans, the love story is like its very own romcom; a passion that has defied all odds to burn as strong as ever, nearly 20 years later.
"What are the chances that two A-list ex-lovers of the 2000s, who spent the better part of the last two decades struggling with their own separate demons, divorces and career reversals, would end up emerging in 2021 as single and available at exactly the same moment?" wrote a Guardian pop culture commentator. "And that they'd fall in love with each other all over again? It's just the sort of over-the-top, high-concept romantic hokum Hollywood has always found irresistible."
Bennifer met in 2001 on the set of Gigli, a film that flopped spectacularly, but that birthed a love story for the ages.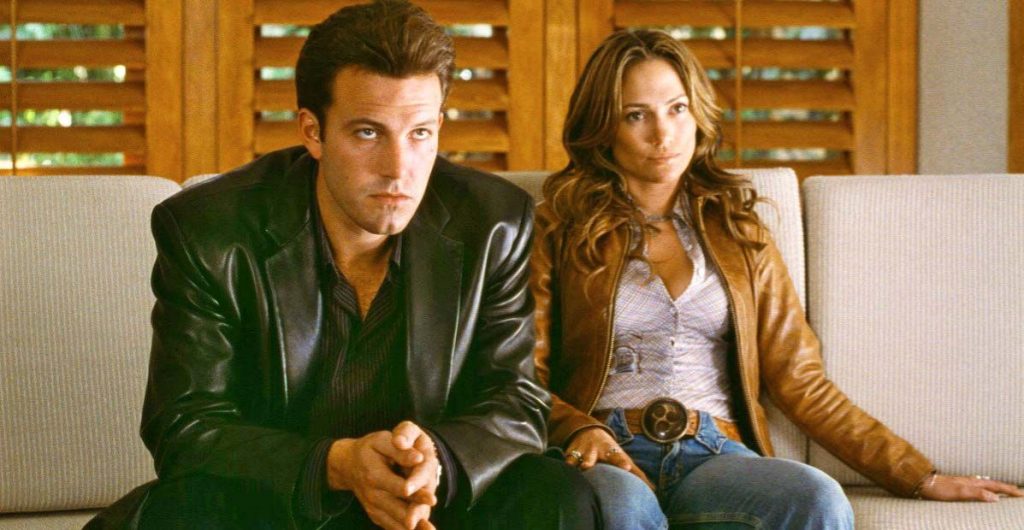 At the time, J.Lo was still married to her second husband, Cris Judd (prior to that she was married to producer Ojani Noa for just 11 months). In 2002, she and Ben went public with their relationship just weeks after she split from Cris and soon before she filed for divorce.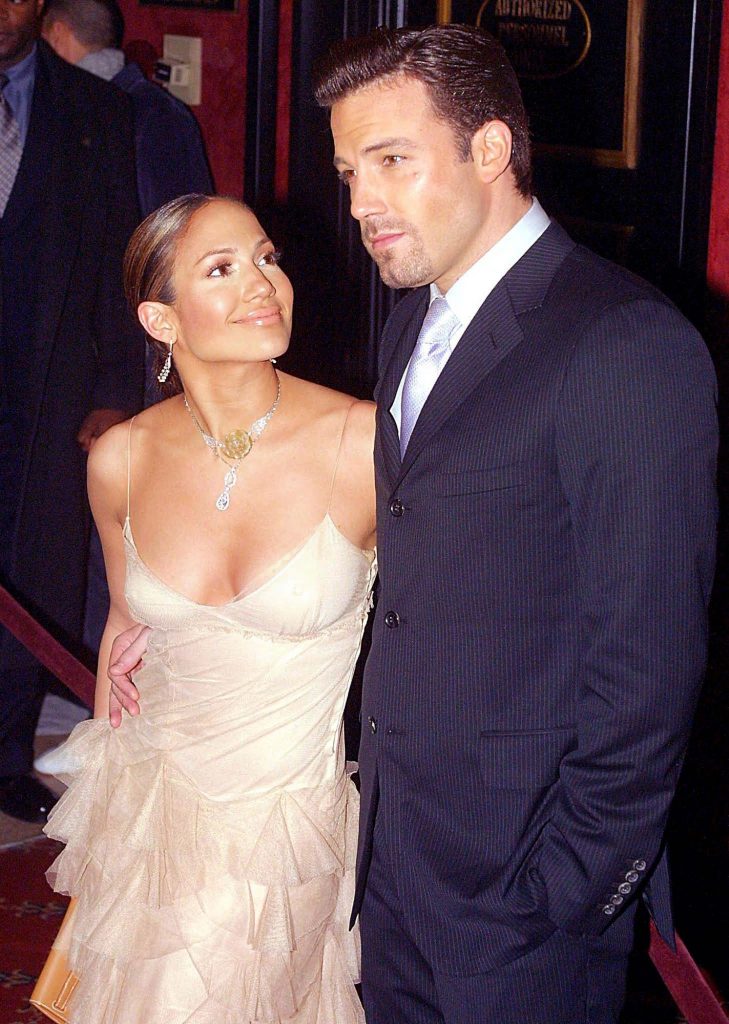 Looking back at the furore around their hook-up, she says, "We didn't try to have a public relationship, we just happened to be together at the birth of the tabloids, and it was like, 'Oh my God!'"
Because of that timing, public interest in the pair was like nothing pop culture had seen before. Their every move was watched, documented, bought and paid for, and the pair seemed to relish the attention. Ben famously appeared in J.Lo's Jenny from the Block music video, too, further cementing themselves as Hollywood's most powerful pair.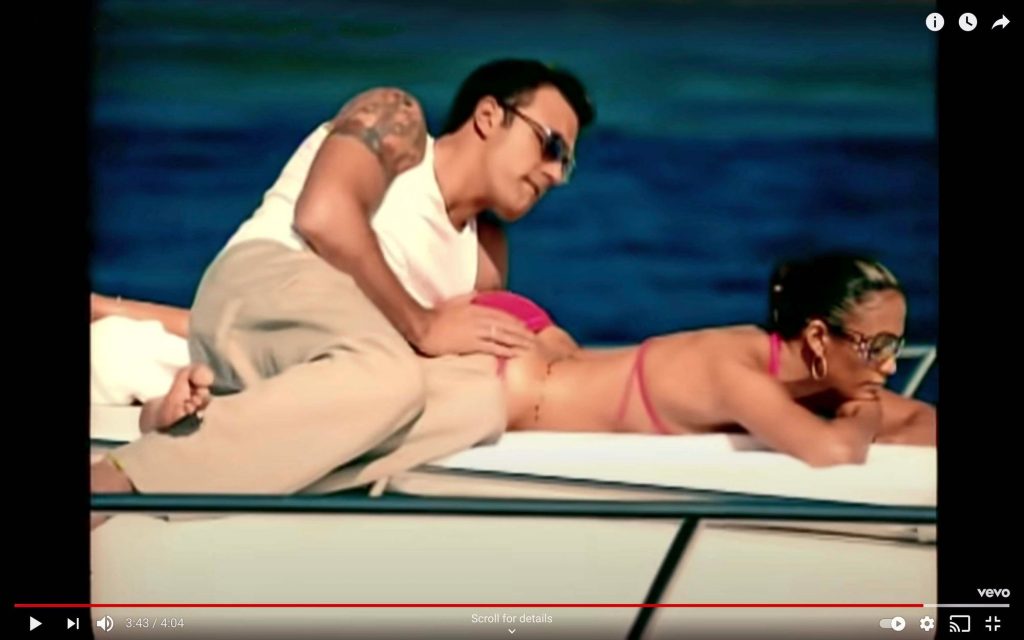 And when they got engaged later that year, J.Lo didn't just announce it, she announced it by way of a full interview with none other than Diane Sawyer, showing off her now-legendary 6.1ct pink diamond ring, which reportedly set Ben back a cool $2.5million.
At the time, it seemed Bennifer were the real deal. However, just days before they were set to wed in 2003, they released a joint statement postponing their nuptials, blaming the press.
It read: "When we found ourselves seriously contemplating hiring three separate 'decoy brides' at three different locations, we realised that something was awry. We began to feel that the spirit of what should have been the happiest day of our lives could be compromised. We felt what should have been a joyful and sacred day could be spoiled for us, our families and our friends."
Barely four months later, the relationship was over.
J.Lo has since spoken about the pressure they faced, saying, "It was a tough time. Our relationship, I think, did suffer because of that. That's not the only reason… but I think it definitely played a part in the dynamic of our relationship."
She also maintained, however, that she had no regrets about their time together, and even said, "I would do it all over again. I really would. I just feel like everything is part of your story and your journey and is meant to be, and helps you grow if you're willing to look at it. And I'm willing to look."
Despite their connection, the pair moved on relatively quickly, with J.Lo marrying singer Marc Anthony just five months after the split. She and Marc – who previously dated in the '90s – separated seven years later in 2011, and share 13-year-old twins Emme and Max Muñiz.
In her book True Love, J.Lo reflected on the short time period between relationships. "Ben and I split up at the moment when I thought we were committing to each other forever," she wrote. "It was my first real heartbreak, it felt like my heart had been torn out of my chest. I sought out comfort in another person, tried to find someone who could make me feel loved and wanted in my loneliest hour.
"Marc came back into my life three days after I should have been at the altar saying 'I do' to another man. Thinking back, maybe deep down I knew that this was a Band-Aid on the cut, that my wound hadn't been stitched or healed, but I pushed all that to the back of my mind because life takes unpredictable twists and turns, right? And you've just got to go with what you feel is best in the moment."
Ben, meanwhile, was married to actress Jennifer Garner within a year and they became parents to Violet, 15, Seraphina, 12, and Samuel, nine. After a decade together, amid rumours of infidelity and alcoholism, they announced their separation in 2015 and finalised their divorce in 2018.
Over the years, Ben and J.Lo have seen their fair share of romances. Ben spent a year with TV producer Lindsay Shookus (though it's alleged they "were having a full-blown affair" from as early as 2014, when Ben was still married), briefly dated Playboy model Shauna Sexton, and spent most of last year dating actress Ana De Armas before parting ways in January.
J.Lo, meanwhile, spent five years with dancer Casper Smart, had a brief fling with rapper Drake, and was recently engaged to baseball star Alexander "A-Rod" Rodriguez, whom she dated since 2017.
But barely a week after confirming her split from A-Rod in April, the public got its first hint that Bennifer might be back on, with reports the pair were sharing secret visits. The following month, things ramped up with rumours that they spent a week- long holiday together in Montana.
"The chemistry is unreal," told a source. "They picked up where they last left off and are enjoying each other's company right now."
It's said the pair have been taking turns flying between Ben's home in Los Angeles and J.Lo's in Miami, and have kept in touch every day since Montana, apparently "committed to making things work".
"Ben's really making a huge effort. J.Lo thinks he's really stepped up and loves this version of him. It's comforting to her and she is smitten. They are giddy together and you can tell she's really happy."
The pair are reportedly already talking about the future.
"This is not a casual relationship. They are taking it seriously and want it to be long-lasting."
Their families have also been spending time together, including a trip to Universal Studios with three of their kids, as well as Ben joining the Lopez brood at a family birthday party and later, some "low-key" time at J.Lo's place in the Hamptons.
Things are going so well that E! reports J.Lo "is packing up her Miami rental".
"She will be between LA and the Hamptons this summer, but LA will be her base. She is looking at schools for her kids in the fall.
"As far as J.Lo sees it, she and Ben have their whole lives now to set things up in a comfortable way. She intends to be an involved stepmum who's there for Ben in that area, plus she'll want him to make the same effort with her kids."
Even Ben's ex-wife Jennifer Garner seems to have given Bennifer her seal of approval, with sources saying, "What matters most to her is Ben being a great dad. They've been in a good groove when it comes to co- parenting for a while, and their kids' happiness is her main priority."
Importantly, J.Lo is also said to be a huge help for Ben on his sobriety journey. The actor has been open about his struggle with alcoholism over the years, after first seeking treatment in 2001 and completing a 30-day rehab program in Malibu. That was the first of multiple rehab visits, including stays as recent as 2018, though he had a very public relapse in 2019. This January, however, Ben said he was feeling "really good" about where he's at in his journey.
"The process of recovering from alcoholism has been really instructive. I think it's great for people who aren't alcoholics, you know? Like, 'Be honest, have integrity, take accountability, help other people'. It's a good set of things that they teach you. It took me a little while to get it – I had a few slips, like most people – but I feel really good."
According to those close to the pair, J.Lo is perfect for Ben at this stage of his life and journey, as she helps to keep him on track.
"She's strong and has no issue keeping him in line. She's sober – she never drinks – and now Ben is too. It's working really well for them."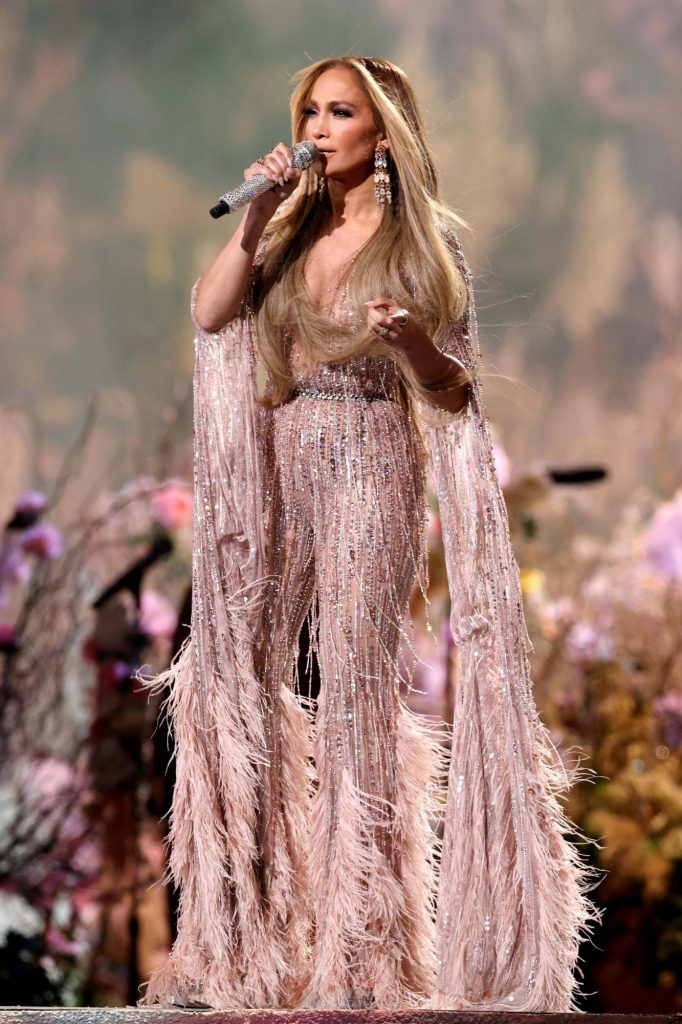 In a recent interview, J.Lo gushed, "I'm super happy… I know people are always wondering, 'How are you? What's going on? Are you okay?' This is it. I've never been better."