Revive your obsession with grandma core, the Hamptons and buttered scones with this simple but impressive apple pie.
Sunkissed pastry, roses for apples, and the most supple pastry cream your inlaws will have ever tasted – this is the only bouquet that won't make it through the night. Place it center stage at your next party and watch as your guests try to imagine how many hours it took to achieve this, while smiling knowing it was in and out within the hour.




Pastry Recipe
Ingredients
(p.s. Please invest in a kitchen scale – it will completely changed my baking, everything rises and cooks well knowing you have exact qualities)
250g all-purpose flour
125g unsalted butter, cubed
100g caster sugar
1 egg
Method
Use your fingers to smash the butter into the flour. Once the flour coats the butter, add egg and sugar, then combine using your hands. Roll out the pastry on your kitchen bench. Lift the pastry over your rolling pin and place it into your pie dish. Press around the crevices to fit correctly.
P.S having a dough scraper is another must-have kitchen tool – any mess is gone within minutes!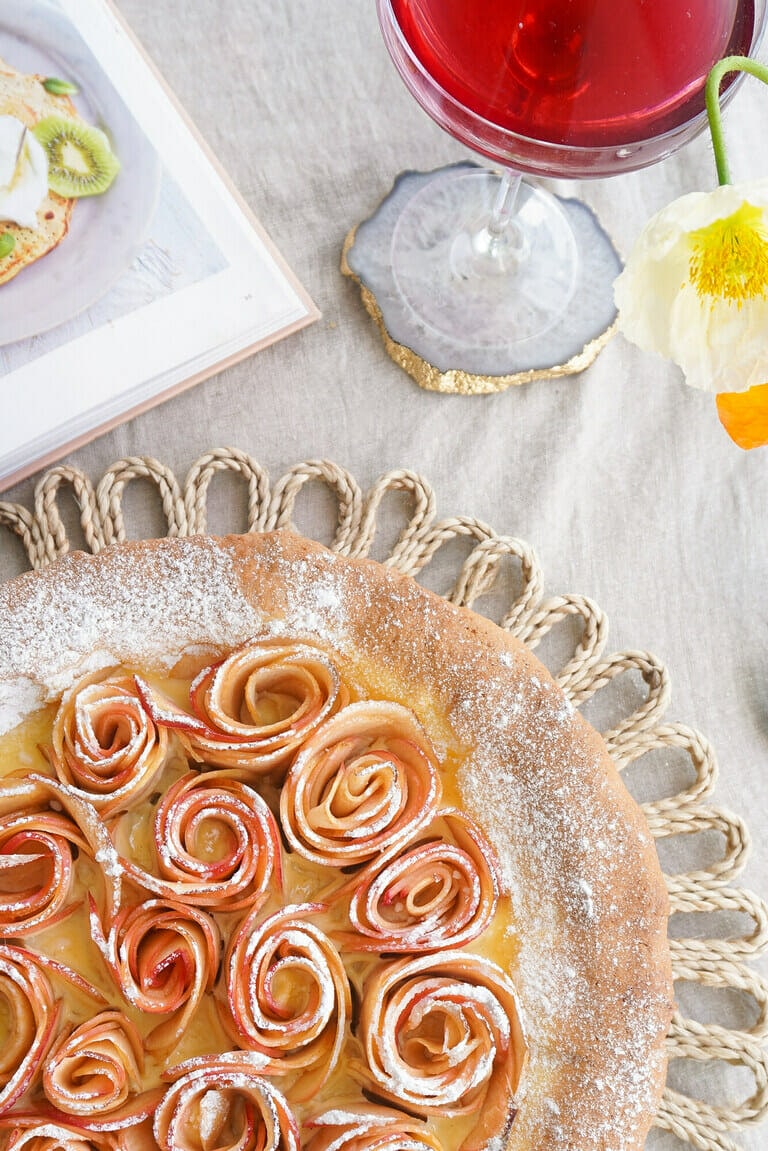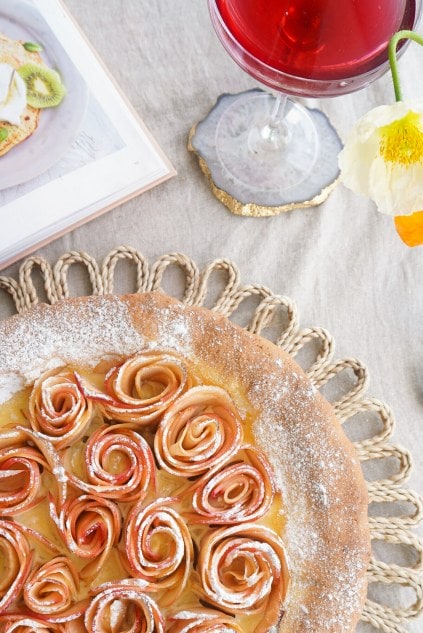 Pastry Cream Recipe
Ingredients
375ml milk
125ml heavy cream
1 whole vanilla bean
100g granulated sugar
2 egg yolks
30g cornstarch
30g unsalted butter
Method
Using a medium saucepan, combine milk, cream and vanilla. Try using a heavy bottom saucepan, this is going to help maintain the heat of the milk, without worry of burning it. Simmer for 20 minutes. Once steeped, remove any remaining vanilla skins. Set aside.
In a medium bowl, whisk together the egg yolks, sugar and cornstarch until combined. Slowly stream this into the milk mixture. Heat through on medium, stirring constantly until it begins to thicken. Don't stop stirring otherwise the egg will cook separately from the milk and your custard will split. Immediately pour through a sieve and stir in the butter. Transfer to a cold dish to chill.




Apple Rose Recipe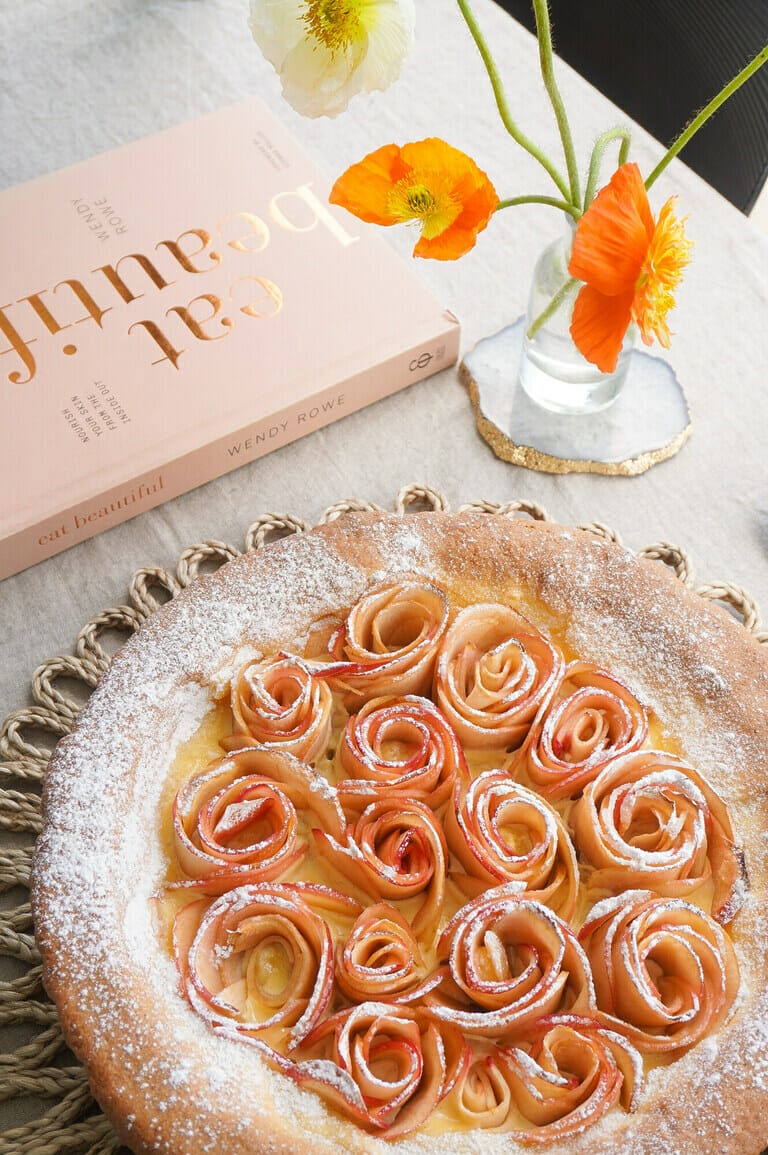 Ingredients
5 ripe pink lady apples
Lemon juice + water
Method
Use a mandoline or vegetable peeler to thinly slice the apple into half moons. Add to a bowl of lemon juice and water. Warm through for 5 minutes until the apples are malleable and do not snap.
To assemble, place a half moon down on the surface with the flat side at the base of your bench. Next, place an apple on the right of it, slightly overlapping. Add an additional 8-10 apple moons. Add a small round of leftover pastry to the first apple and begin to roll into a rose. Place them into a muffin tray to hold their shape while you build the rest.
Assembly:
Preheat your oven to 165℃. Spread the custard into the pastry. One at a time, place the apple roses into the dish until complete. Add to the oven and cook for 20 minutes. I like to keep the apples a little crunchy, as this adds a different texture to your regular apple pie.
Chill, and serve with your favourite ice cream. Sit back, and watch everyone smile over your latest creation!