Super historical, slightly witchy and a bit like a doll's house is how bespoke designer Faith Walmsley describes the house she and her husband relocated to rural Waipipi, complete with its resident ghost.
Who lives here?
I live here with my husband Nicholas Cole, our six-year-old daughter Vita, our cat Tulip Rose Fashion, and possibly the ghost of Madame Milfred, a clairvoyant who worked out of the house in 1915 when it was on Ponsonby Road – we found her advertisement in an old newspaper.
Where is it?
Waipipi, a rural area on Auckland's Āwhitu Peninsula.
Describe your home.
It's an 1870s three-bedroom weatherboard cottage, which we bought from Craig Walker Building Removals in Kumeu. It was originally the cookbook store Cook the Books on Ponsonby Road. It was quite draughty when we bought it. We moved it to a paddock on a 20ha block of family land in Waipipi in 2012. The roof arrived separately from the house, and Nick and I put it back together.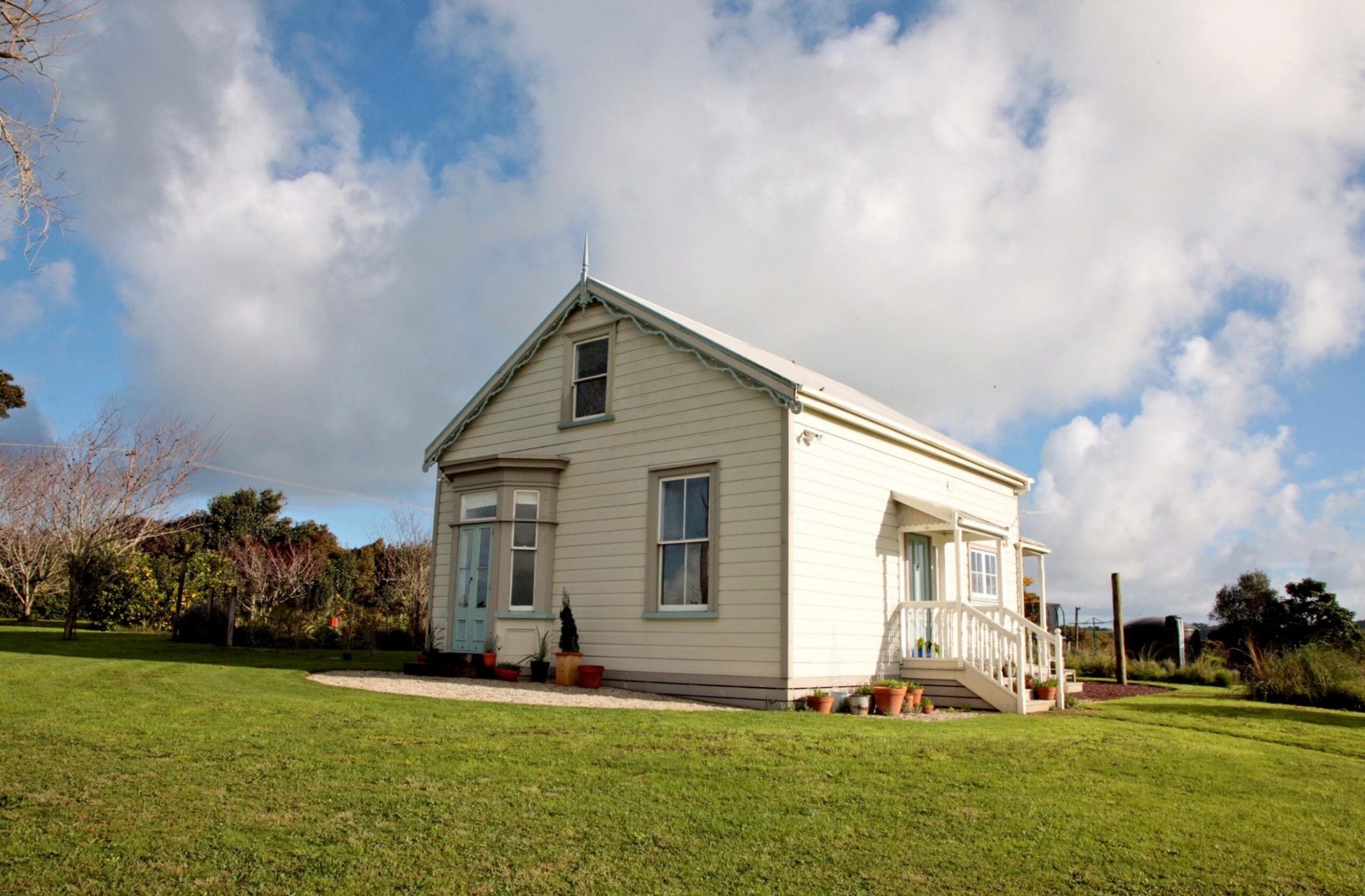 What attracted you to it?
It's super historical, very cute, slightly witchy and a bit like a doll's house. We also liked that it was a manageable size, meaning it was more affordable to put back together, especially as we did everything ourselves apart from the plumbing and electrical. We didn't use builders, or painters and decorators. We knew it would look good on our site and appreciated that it was a blank canvas with lots of original features, such as the doors, windows and panelling. It looks like it's always been here now.
Why did you decide to settle in Waipipi?
I grew up on a dairy and beef farm here, which has been in my family for 100 years. The home farm is just down the road from us and we live on one of the beef farm blocks. I met Nick while I was living in the UK for six years. At the time I was working in the textile industry and Nick was a product designer and mechanical engineer. When we returned to New Zealand in 2009 we asked my mother if we could move a house onto a piece of family land.
You and Nick run a design studio, Walmsley & Cole. How would you describe your decorating style at home?
Colourful, a little bit modern and with a twist on tradition. We try to have fun while favouring considered design, with many influences, and basically design the things we want in our life and home. We're into being unique rather than trendy. It just happens without much overthinking. We've bought pieces for our home over many years. I guess that's why our house looks "on brand" – we buy what we like, not what's supposedly on trend, and we don't worry about everything matching.
What are you influenced by?
Everything! Liberty prints, art, vintage fashion, traditional crafts, music and space-age design. We both have heads full of ideas, and have great fun bringing them to life. We also love stately British National Trust homes and gardens. A favourite is Sissinghurst Castle Garden in Kent. When we lived in the UK, we visited it a few times. It was once the home of writer and garden designer Vita Sackville-West, hence our daughter's name.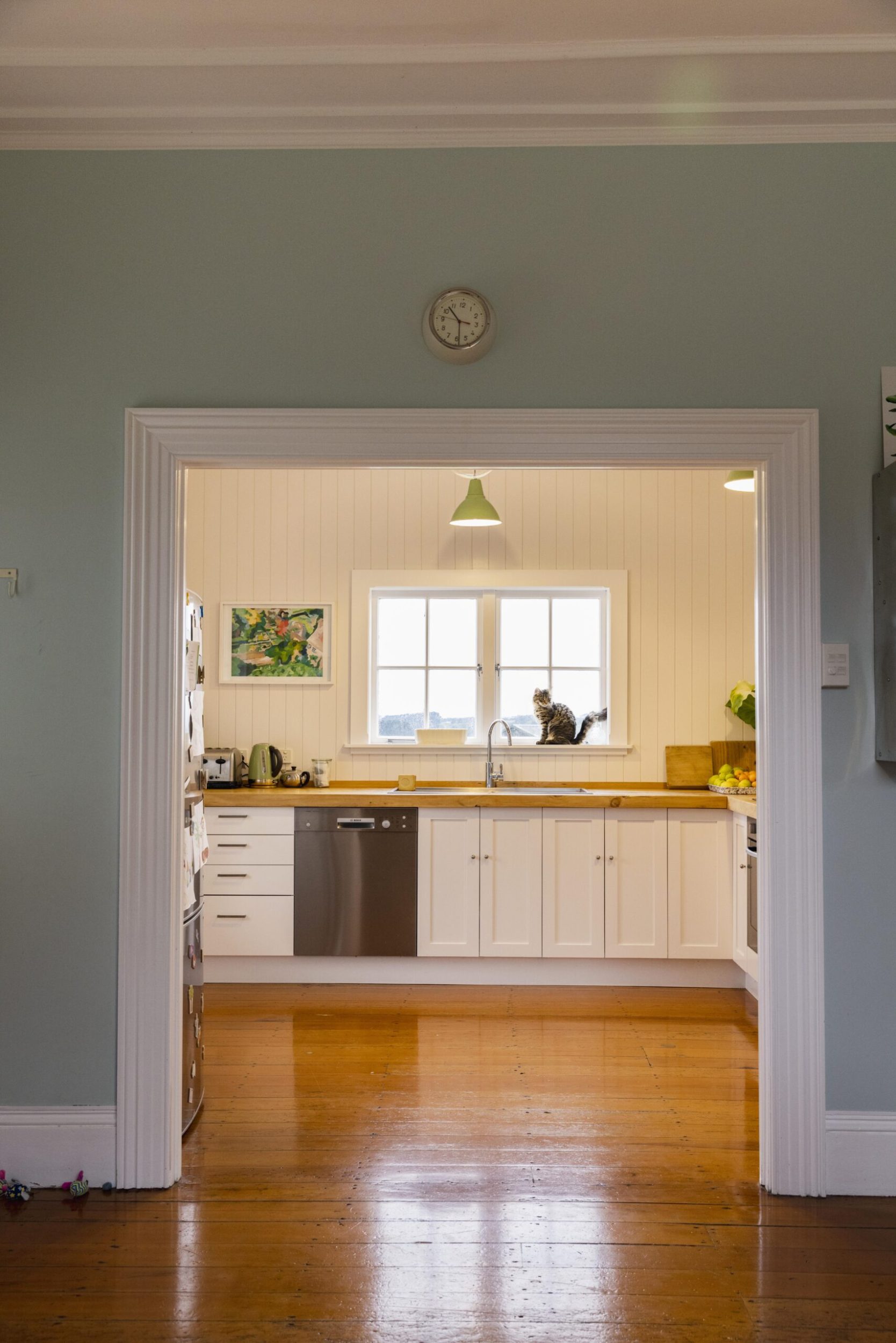 What changes have you made to your home while you've lived there?
In 2015 we reduced the size of our lounge and put the original third bedroom back – when the house was a bookshop, the walls had been knocked down between the front rooms. We also built a studio and workshop so we could move the business out of the spare room.
What's it like running a business together?
We create a range of bespoke items, including silk scarves, wooden candleholders, cushions, mirrors and face masks. We get on really well and have quite different work styles – I'm more painterly and Nick is more technical – but we work well together, producing products we both love. We're on the same wavelength and have similar tastes (apart from chintz, lol!). It's an equal partnership and we understand each other's work processes. Plus, we're both a little introverted.
Are there any repetitive motifs in your work?
Gardens, animals, wiggles, scalloped edges, curves versus hard edges. We like whimsy, humour and fun.
What was the inspiration for turning your paintings into a collection of silk scarves?
We wanted to start a brand, and I'm a prolific painter. It made sense to turn our love of art and textiles into a useful product. I love the tradition of silk scarves made by designers such as Hermès and Gucci. They're fun to design and I love the process of storytelling on an accessory.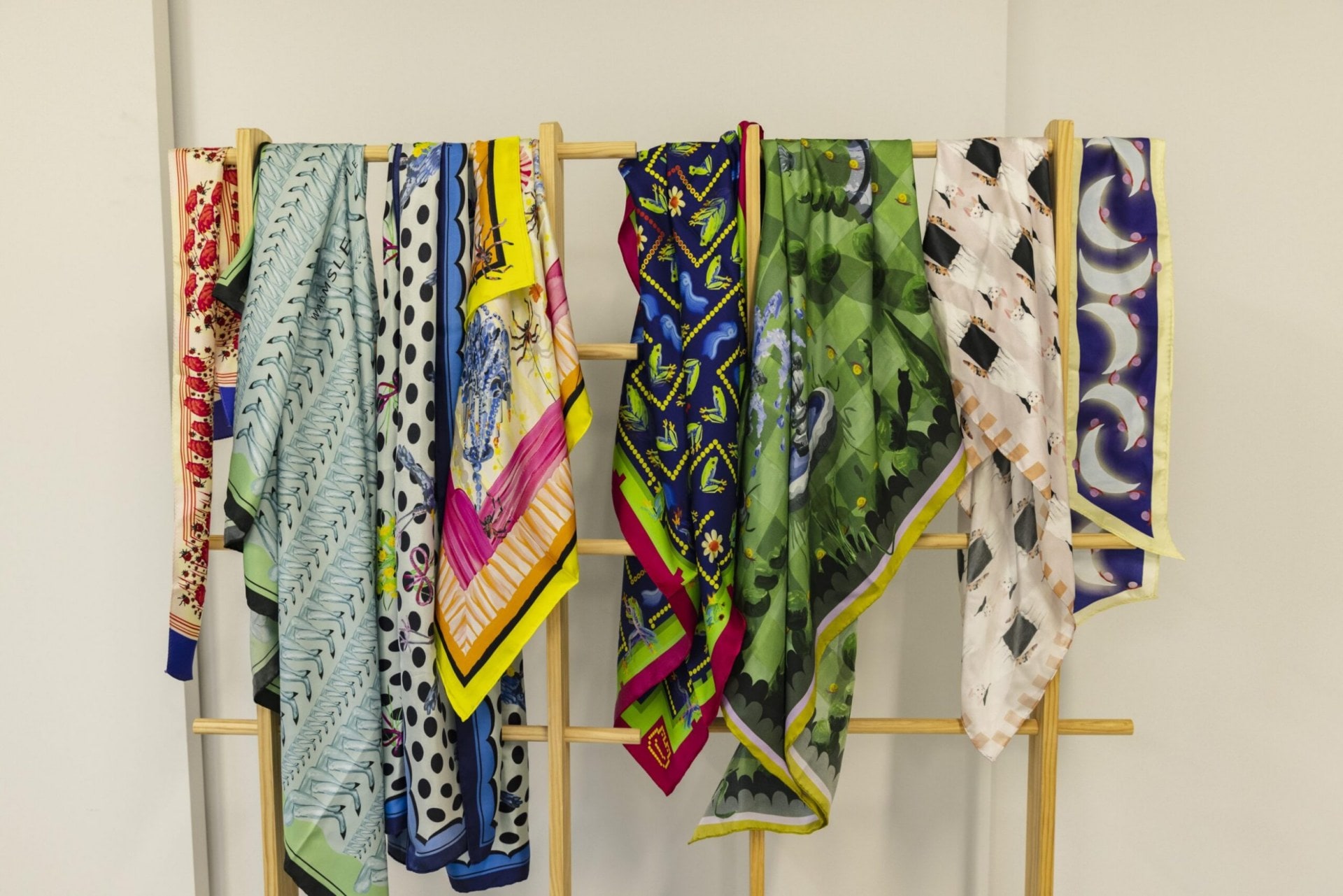 You also design and make a unique range of mirrors. How did that come about?
Years ago, some macrocarpa trees on the farm fell during a storm. Nick and my brother Campbell had them cut into
big lumps and popped them into a shed to dry out, knowing they'd be useful one day. We like to make all sorts of things, so last year we bought a wood lathe and decided to make some colourful mirrors for our home and to sell. We do a modern twist on the traditional bobbin woodturning technique, creating a mix of soft wiggles and hard edges. We like to make unusual shapes like triangles, diamonds and rhombuses that are hard to come by in mirrors. Nick's made a lot of furniture for our home and studio, including the kitchen bench.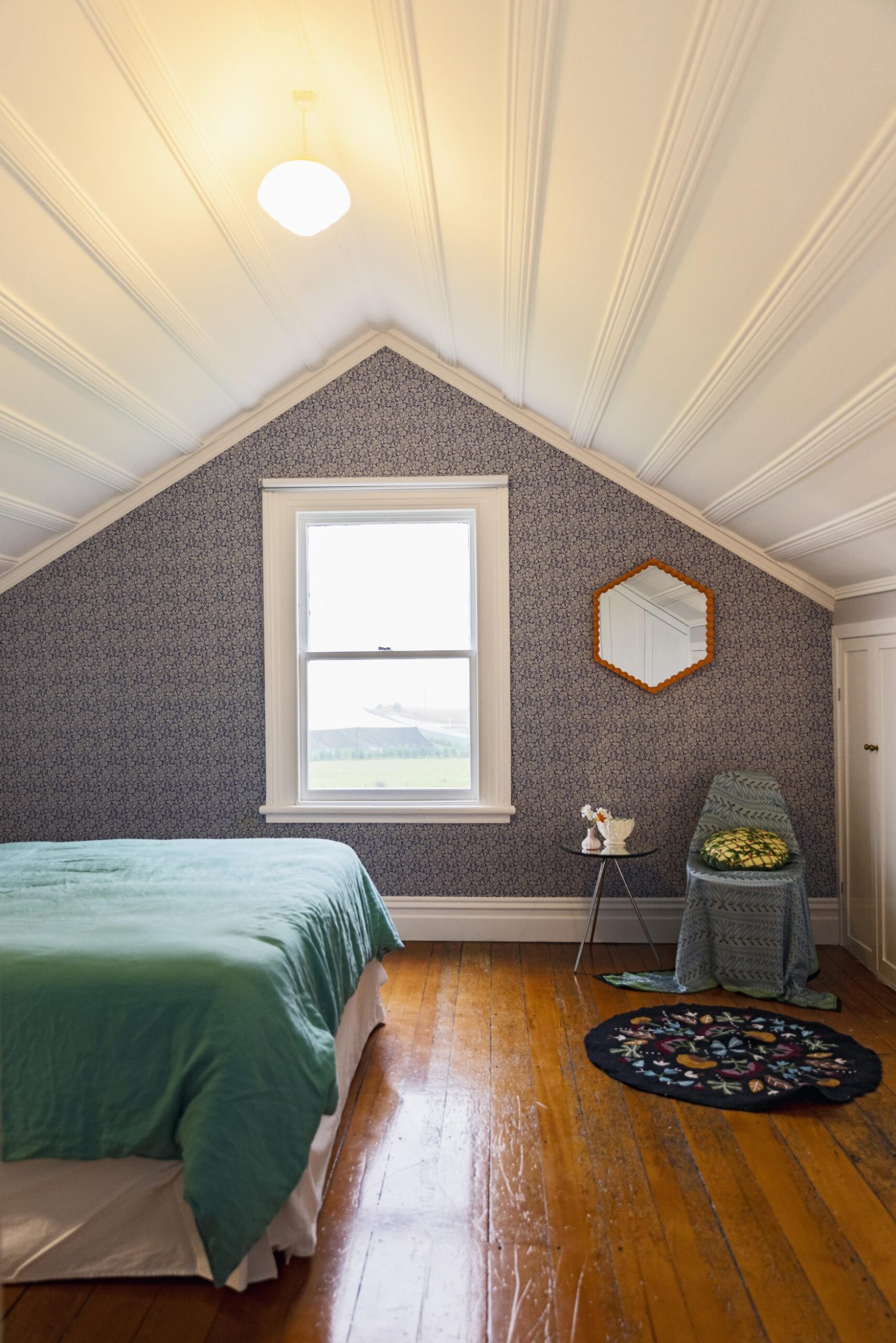 Do you have any renovation tips?
Choose a project that is affordable and manageable. We chose the cottage over a five-bedroom villa as we knew that's what our time frame and budget would allow. We recommend living off-site for a major renovation. When it comes to furnishings, shop around for everything, and buy pieces that have meaning to you – don't get caught up in trends and don't buy everything all at once.
What's next for your home?
Our next project is to bulldoze the laundry and bathroom.