I feel deeply in love with New York City when I was 16 while I was an exchange student living with a Jewish family from Queens. The diversity of New York was everything that was portrayed in the movies; romantic, gritty and full of life.
Since my teens, I've put on my vagabond shoes and visited the Big Apple frequently to be inspired and re-energised. During my most recent trip earlier this year, I wanted to do something different. So I took my 26-year-old nephew, Braden, with me to share my love of New York with someone. He told me it was the best experience of his life and he left loving New York as much as I do. Here are the top 10 things I recommended to him.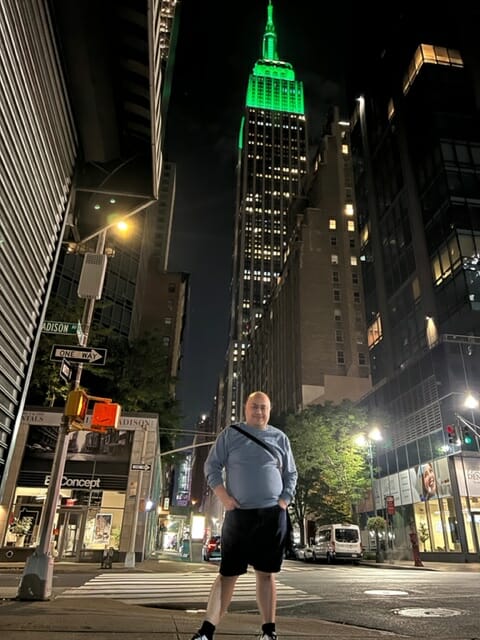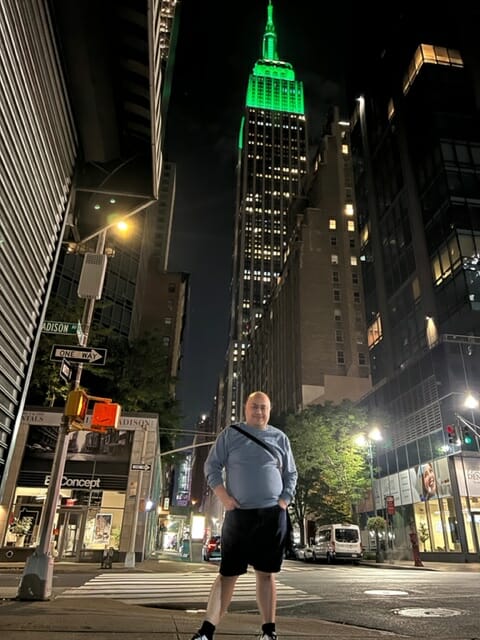 1. Take a walking tour of the five boroughs
If you love people-watching and admiring diverse urban neighbourhoods, then New York City is the place to be. Immerse yourself in the city experience by walking around the different and diverse boroughs. You can kill time by getting lost in the streets. Listen to the urban sounds, immerse yourself and hear the different accents, admire the mix of historical and modern architecture and the people and their different fashion styles. You will have to pinch yourself because the atmosphere makes you feel like you're in a movie.
Most tourists tend to stay in Manhattan and are often too scared to use the subway and venture out of the city centre. But be adventurous. Although they may seem standoffish, most New Yorkers are friendly and are willing to help – even on the subways. Having Google Maps on your phone is essential in order to get from A to B with ease.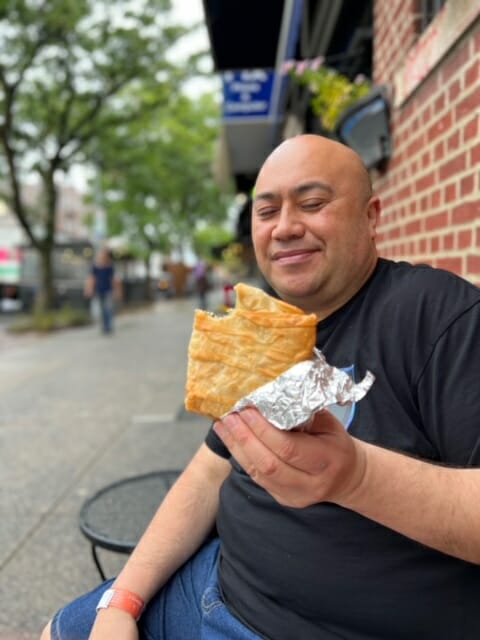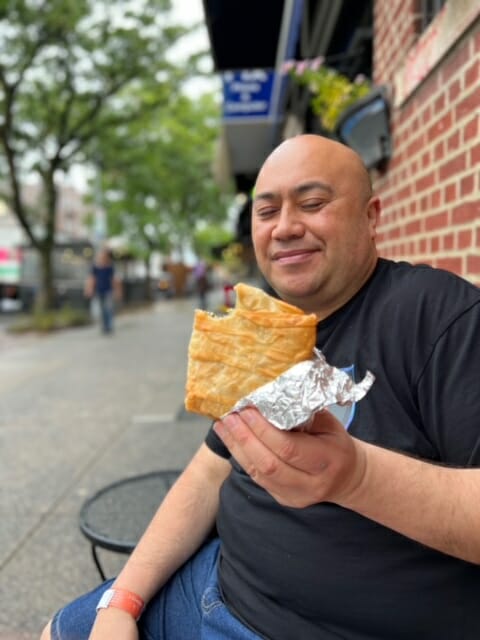 2. Try the many different foods NY has to offer
New York has been described as the cultural capital of the world, with more than 800 languages spoken in the city. With hundreds of diverse international communities there are many opportunities to try authentic ethnic cuisine and give your taste buds a treat. We were in New York for 10 days and each day we visited a different borough to try different foods. We visited Queens for Greek, Coney Island for a traditional Coney Island hotdog, Brooklyn for Puerto Rican cuisine, Little Italy for pizza, and Harlem for fried chicken. Researching popular local foods places on the internet or YouTube will help you plan your culinary tour.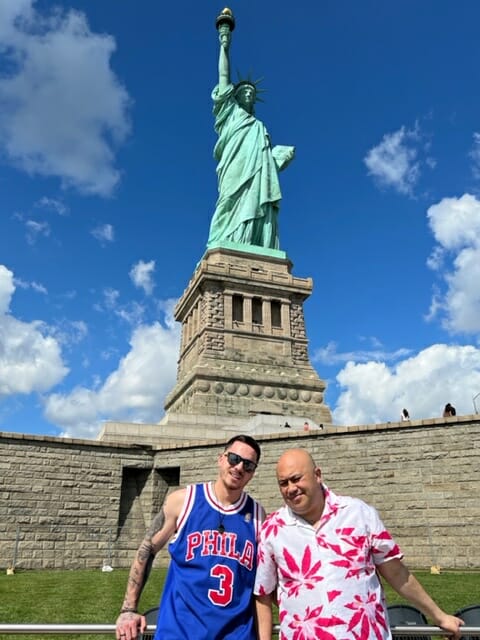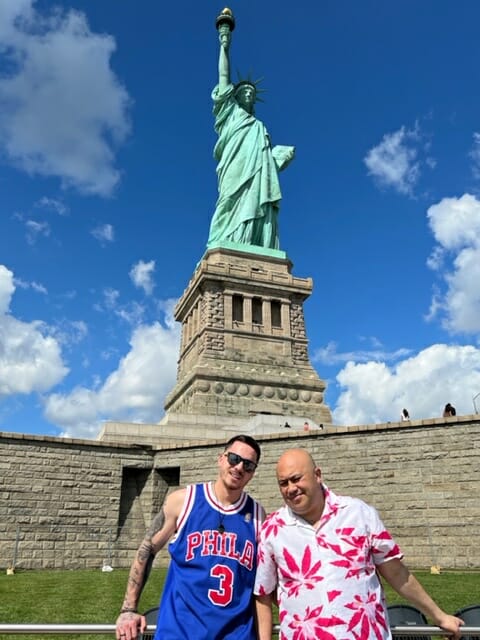 3. Take a photo in front of the Statue of Liberty
Nothing is more iconic in New York than the Statue of Liberty. So, taking a selfie with Lady Liberty is a must when visiting. The statue is on a small island by the city so to get a selfie you'll need to take a ferry. That in itself is an experience because you get to view the city from the water. If you're on a budget and wish to save money, you can hop on the free Staten Island Ferry, which runs every 30 minutes to and from Manhattan to Staten Island, 24 hours a day. The ferry passes the Statue of Liberty for that money shot. If you'd like to get a close-up, regular ferries travel to the island from Manhattan and will cost you around $US24. 
Visit: statueoflibertytickets.com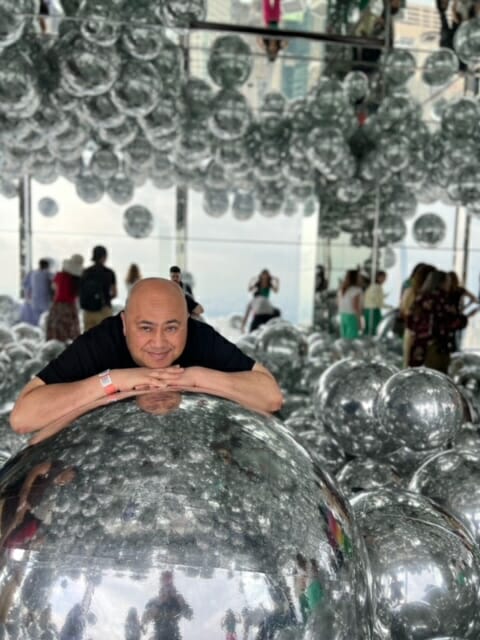 4. Visit an observation deck
New York is known for its many skyscrapers and five of the most famous buildings have observation decks for tourists to view the city from above. Although the Empire State Building is the most famous of the skyscrapers, it's not necessarily the best observation deck to visit. The art deco building is so iconic that you want to have it in your photos when you're viewing the city from the sky. That's not possible if you're on top of it. My favourite observation deck is the Summit One Vanderbilt. It is 1219 feet tall and the newest observation deck in the city. The view is jaw-droppingly breathtaking, with three levels and multiple rooms with different experiences, including a room full of silver helium balloons. The experience is high tech and modern and will provide a "wow" factor to your NYC visit.
Visit: summitov.com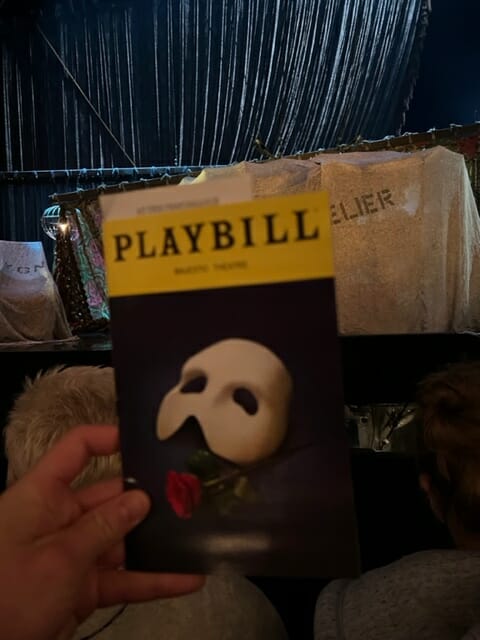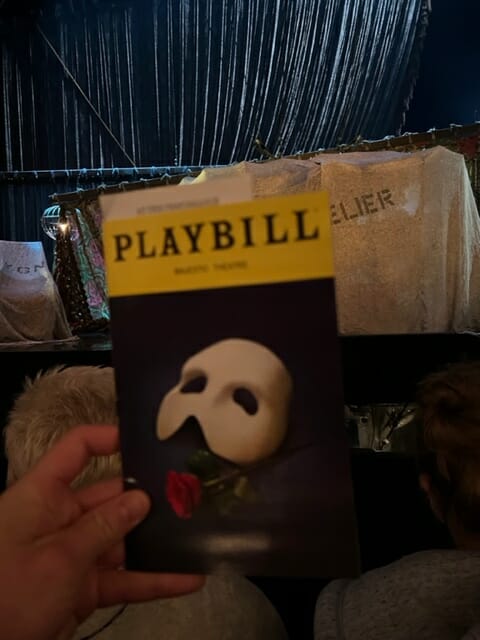 5. See a Broadway show
New York is famous for its theatre district and it would be a crime to visit the city without seeing a musical or play and witness the best actors and dancers in the world honing their craft. There are long-standing crowd favourites like The Lion King or Hamilton, but there are also many, many more that will cater to all tastes, even those who are not theatre fans. It's also a chance to see your favourite film and TV stars up close and personal on the stage. During my visit I saw Funny Girl with Glee star Lea Michele and The Piano Lesson with Samuel L. Jackson. If you're a theatre geek like me, you might want to book your tickets before your trip, but that can be expensive. If you wish to save money, you can visit the TKTS booth in Times Square on the day you wish to see your show for discounted tickets.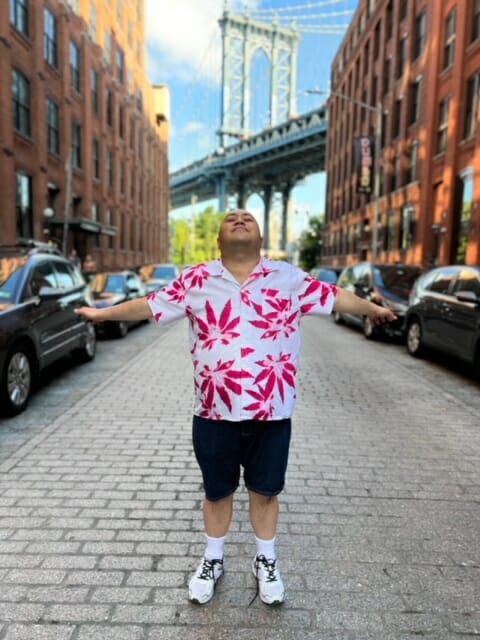 6. Walk the Brooklyn Bridge
This is a free activity and the 40-minute walk crossing Brooklyn and Manhattan will give you one of the most exquisite skyline and river views of the city. I recommend starting on the Brooklyn side and walk across to Manhattan for the best views. Before crossing the bridge, you might want to visit the intersection of Washington Street and Water Street in Dumbo, which is just walking distance from the Brooklyn Bridge. The intersection, where you will find cobblestone streets, historic red-brick buildings, and a view of the Brooklyn Bridge's sister bridge, the Manhattan Bridge, will give you the most iconic and Instagram-worthy street shot of New York City.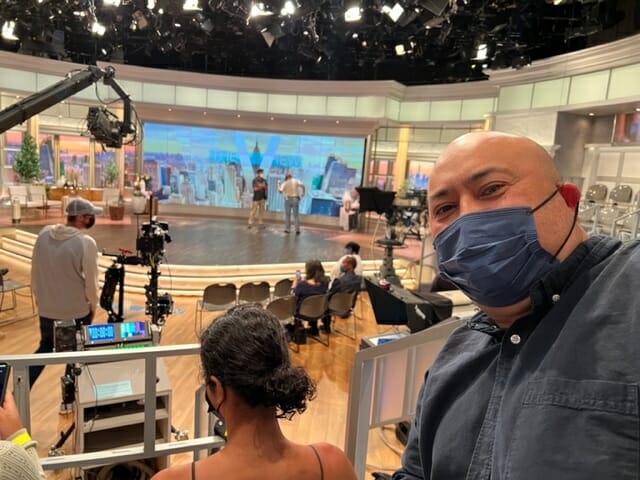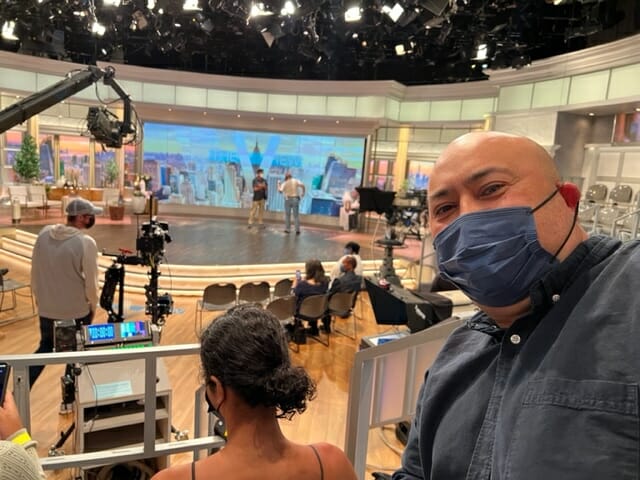 7. Be part of a live studio audience
New York is known more for its theatre, but many live TV shows are also filmed here. It's free to be an audience at a taping and it will give you the chance to see some of your favourite stars in person. Whenever I visit the city, I go and see the taping of The View, hosted by Whoopi Goldberg. Most live tapings will have a stand-up comedian to warm up and energise an audience before the show, so you're getting a free comedy gig as well. You'll also have a chance to experience the inside of some of the most historical TV studios in the world. Other shows that have a live audience include Saturday Night Live and The Late Show with Stephen Colbert. To request tickets to an array of shows, visit 1iota.com.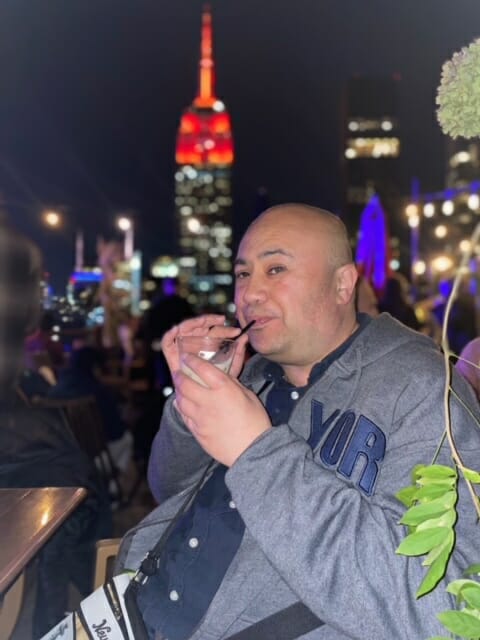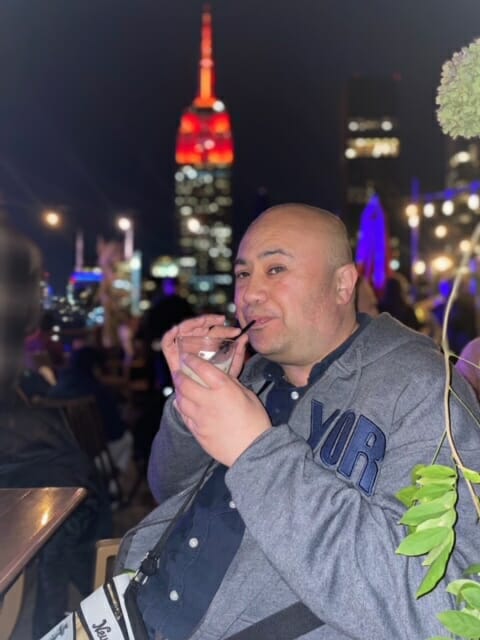 8. Have a cocktail at a rooftop bar
Treat yourself after days of sightseeing by having a drink – or two – at one of New York's many rooftop bars. Enjoy a cocktail while you admire some of the best views of the city. My favourite is 230 Fifth in Manhattan – it's the city's most famous rooftop bar. The two-floor establishment has a little something for everyone, including an outdoor area for you to sit, drink and admire an amazing view of the Empire State Building – and dance to great '80s music. There's also a lower level where you can boogie on the dance floor with skyscraper views from the large windows.
Visit: 230-fifth.com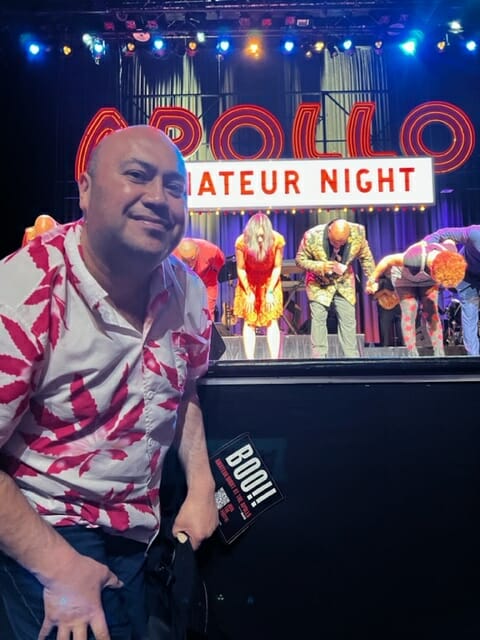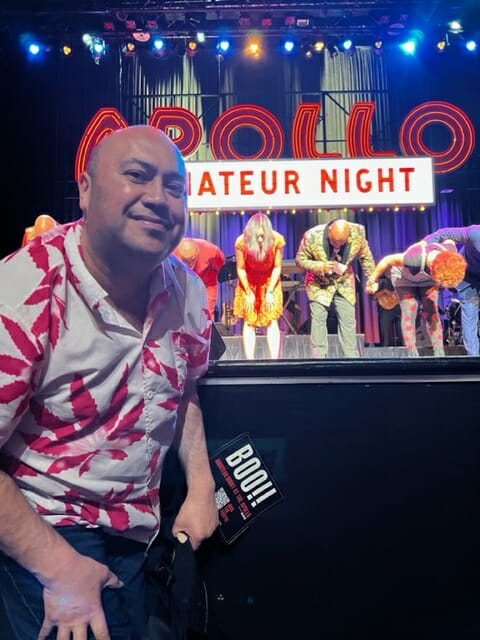 9. Visit the Apollo Theatre for Amateur Night
Each Wednesday night the world-famous Apollo Theatre in Harlem hosts its own Amateur Night. The historical theatre's weekly event has discovered legends in music, including Michael Jackson, Ella Fitzgerald, James Brown, Stevie Wonder, Lauren Hill and much more. The show is spectacular with the resident band and host putting on an energetic performance. Then there's the new talent trying to make it in showbiz. The audience have the power to decide which acts stay or go, via the strength of their applause. The calibre of the performers are of such a high standard it's hard to believe they are referred to as amateurs. If you attend this show, you might be witnessing the rise of a new star.
Visit: apollotheater.org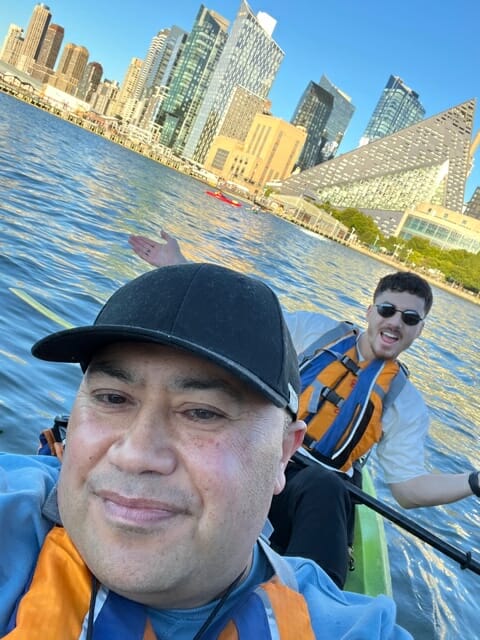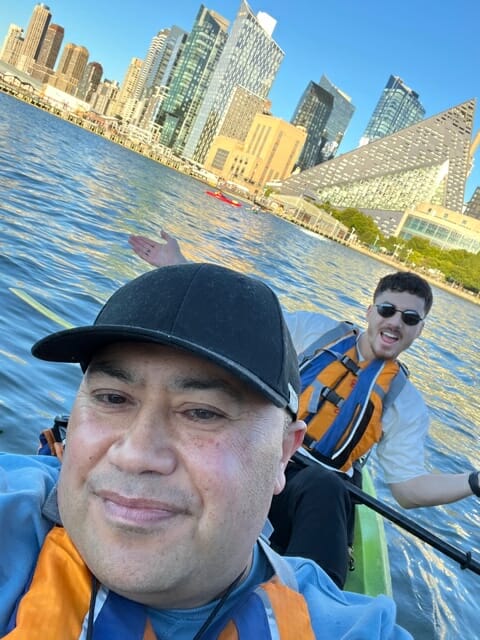 10. Kayak on the Hudson River
Walking around the city is the best way to experience what New York has to offer. But for a change of pace, why not kayak on the famous Hudson River? It's a great way to experience the city from a different angle and perspective. There are a few companies along the pier that hire kayaks and take groups out on the water, catering to all levels of experience. I spent $US65 and went to the Manhattan Kayak Company. Novices like me received a quick lesson on how to paddle to prepare for the 90-minute trip, which offers breathtaking views of the city from the water.
Visit: manhattankayak.com
This is public interest journalism funded by NZ on Air.