Read our quick tips and dive into the local art market – you'll be supporting Kiwi artists and you might just find a piece you'll love forever.
Whether you're a curious-eyed newbie, an old-school patron or just looking for something to fill an awkward space, buying art can be daunting. Getting your hands on the right work can be difficult, but we're here to help. With Thrive's mini-guide to traditional auction-buying, getting in touch with local artists via social media, and even freeing your mind to expand your perception of what art actually is, we've made it easy – even your kid could become an art buyer.
With New Zealand's borders as closed as they have been for more than a year, it might be a stretch to describe our geographic isolation as ideal. But it is… for buying local art, anyway. We don't need to go head-to-head in multimillion dollar bidding wars with one-percenters to secure over-inflated artworks or a Banksy – we can get world-class art right here.
If we focus our attention inwards (mindfulness-style) we'll see that what we're looking for is already within our borders. When we aren't in lockdown, we can head along to one of our many local auction houses and pick up work by both established and rising local artists. Top Auckland auction houses often offer work by up-and-coming artists, which helps establish a market for the artists' works, adding value to your purchase. If you can't get there in person, try online bidding.
Consider less traditional options too. Without going on a philosophical deep dive into what is, and what is not, art, we can assume that we know what we like when we see it. Considering the intrinsically visual nature of art, good quality prints of well-known works can fill the gap between you and the millions of dollars you don't have to buy an original. A print can possess all the qualities you love in a work and, thanks to technology, be made to a scale that suits your needs, which isn't possible with the real thing.
If you do go down this route, please be sure to take the artist and their practice into consideration. If they're printmakers, photographers, painters… alive, and local, do the right thing, and purchase prints directly through them or whoever represents them.
Speaking of representation, dealer galleries try to exhibit each of their artists at least once a year, so make sure you're on their mailing lists to ensure you don't miss out on any of your favourite locals' shows. And check out the fine institutions on these pages to help find your footing in the ever-changing landscape of art.
Sometimes we just want to own a particular artist's work because we love their style or it's in fashion. Many of them are aware of this and produce merchandise. From postcards, poster prints, clothing, toys, homeware… even sex toys – they're doing it all.
Artists whose work centres around pop culture and themes of mass production and consumerism usually have a wide variety of merchandise available. You only need to take one or two conceptual steps in the direction of convenience before you can start seeing an artist's merchandise as their actual work, or at least an extension of it. Some artists consider their art and merchandise one and the same, and I'm sure our wallets think so too.
One of the most well-known and reputable local auction houses, Art+Object have been around since 2007. They hold regular auctions (at least one a month) which are often themed or focused on particular genres of art, as well as special-collection auctions. You can often pick up a bargain here. If you're unable to get along to their Auckland space at 3 Abbey Street, just behind the Ponsonby end of K' Road, they have an extremely easy-to-use online bidding app you can use to lock down the work you want.
Gow Langsford began life in a converted gas station in Auckland's Grey Lynn in 1987, and has been run for more than 30 years by its directors, John Gow and Gary Langsford. These days Gow Langsford has an exhibition space in Kitchener Street, near the Auckland Art Gallery. The gallery represents some of our most established contemporary painters as well as a few international artists.
Established in 2003 by former Gow Langsford gallerist Michael Lett, this eponymous dealer gallery has grown to represent arguably the widest range of career artists in New Zealand. Over the years, numerous Michael Lett artists have been nominated for, and won, the Walters Prize and have represented New Zealand at multiple Venice Biennales. Located at 312 Karangahape Road, on the corner of East Street, the gallery is currently directed by Michael Lett and co-owner Andrew Thomas. If you're after work by New Zealand's most innovative and world-class artists, Michael Lett should be top of your list.
4. Artist-run and non-profit spaces
Considering the large number of active artists in New Zealand, the number of dealer galleries we have is pretty dismal. Thankfully, we have a handful of artist-run and non-profit spaces that exhibit many artists who don't have dealer representation. They're one of the best venues to see new and established artists' work and are usually willing to put you in touch with artists to arrange private sales. Spaces like RM and Neo Gracie in Auckland, Enjoy and Play_station in Wellington, Blue Oyster in Dunedin and Physics Room in Christchurch are among the most reputable artist-run and non-profit spaces, so be sure to opt into their mailing lists to remain up to date with their exhibition schedules.
The Auckland Art Gallery's gift store stocks a wide variety of New Zealand art prints and merchandise, along with a lot of other great gift ideas, like jewellery, homeware and books. It also stocks international artists' merchandise, so is a good choice if you're looking to buy it locally. Their online store is easy to navigate, but a wander through the bricks and mortar store is a great way to end (and spend) a tour of the multiple exhibitions New Zealand's largest art institution has on offer all year round.
Artist, stylist and creative all-rounder Jiho Yun has done a great job covering all the bases with her online store. Items available from her well-designed and easy-to- navigate website include her own artwork, art prints, jewellery, homeware and a variety of items produced in collaboration with other local brands and artists. Jiho's store also has a variety of beautiful products imported from overseas artists and design studios. If you're looking to buy something unique, artisanal and artistic, you'll definitely find something here.
7. Personal Instagram accounts
There aren't enough dealers to go around, so the art you see being exhibited and promoted represents only a fraction of what New Zealand's artists are making. Many artists are more than happy to be contacted via social media with purchase inquiries, so if you see something you like on your timeline, don't hesitate to get in touch with the artist. Do respect the fact that sometimes an artist won't want to sell a work. A lot of art, no matter how much you want it, isn't made to be sold or owned, and often that is the point of the work. Bonus: with no dealer involvement, there's no commission to consider – a ready-made discount.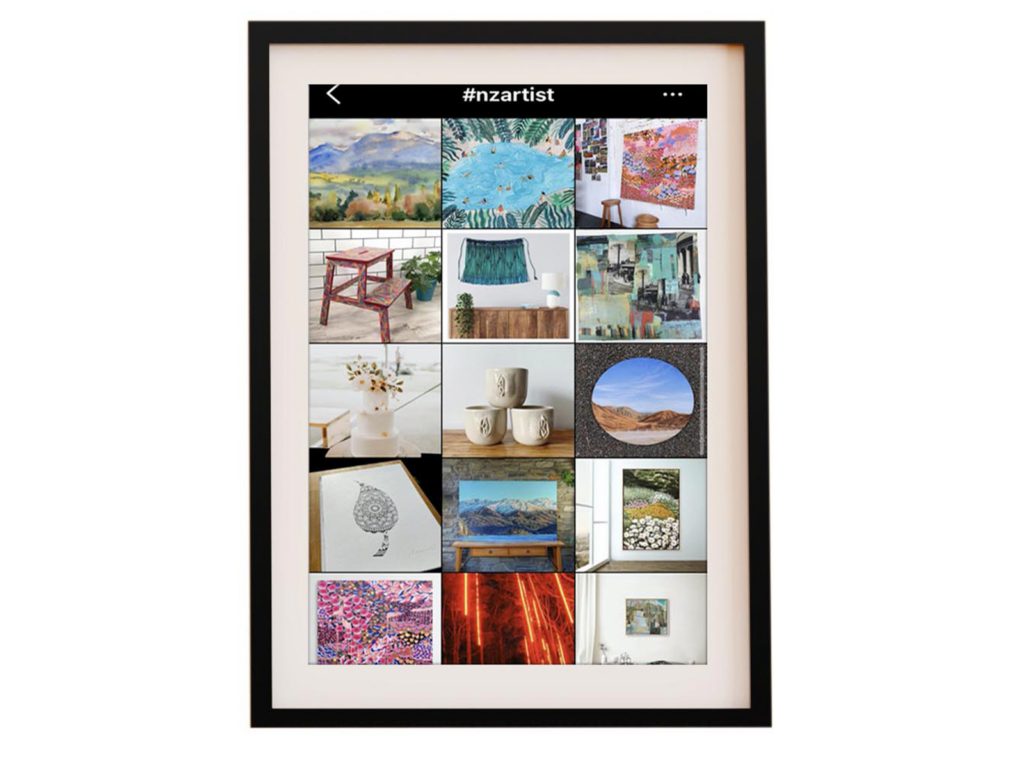 A guide to buying New Zealand art
The key to all art-buying, as long as it's not an investment, is to look for what YOU like – not for what others will like. You have to live with it after all.
Research the artist, especially if investment plays a role. You don't want to buy an artist's work right before or just after they've been cancelled for a host of inappropriate behaviours.
Research similar works by the artist that have been sold, to ensure you're getting a good price.
And on that note, make sure they're not undercutting their own dealer. That could lead to a whole lot of legal frustration.
If you're unable to view the work in person, ask for a condition evaluation to ensure your new work doesn't introduce some undiscovered breed of mould into your home or just look plain shabby when you receive it.